2021 Asian Olympic Qualifiers
How The Asian Qualifier Influenced Team USA
How The Asian Qualifier Influenced Team USA
The Asian Qualifier will have some serious impacts on Team USA at the Tokyo Olympics in men's freestyle. Here are the biggest stories.
Apr 14, 2021
by Jon Kozak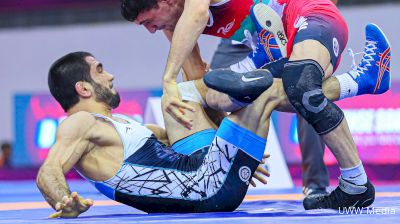 Unlock this video, live events, and more with a subscription!
Get Started
Already a subscriber? Log In
Unlock this article, live events, and more with a subscription!
Get Started
Already a subscriber? Log In
The Asian Olympic Games Qualifier went down over the weekend in Almaty, Kazakhstan. 2 Olympic qualifying spots were on the line for the finalists at each weight. This was also the last continental qualifier before the "Last Chance" tournament in Sofia, Bulgaria May 6th-9th where the final two Olympic spots will be determined.
Check out some of the top storylines from the Asian Qualifier and how the results impact Team USA at the Olympics in Men's Freestyle.
Jordan Oliver's path to the Olympics
All eyes were on 65kg at the Asian qualifier for American fans and Jordan Oliver's camp. This weight remains the only one not qualified for USA's men's freestyle team. It's also one of the deepest weights in the world regardless of style.
The top 4 in the Asian 65kg bracket were Ilyas Bekbulatov, Amir Yazdani, Ernazar Akmataliev, and Haji Ali. Yazdani and Ali were drawn in on the top side of the bracket, while Bekbulatov and Akmataliev were on the bottom.The undisputed best of that bunch is Bekbulatov. He transferred from Russia to Uzbekistan and has experienced major success for both countries. Bekbulatov cruised to the semi-finals with two shut-out techs and seemed to be on his way to another against Akamatliev. Up 8-0 and attacking, Bekbulatov was launched by Akmataliev and pinned with less than 10 seconds left in the first period. With the pin, Akmataliev moved on to the finals and qualified for the Olympics.
Akmataliev vs Bekbulatov: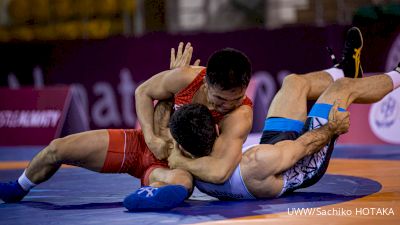 Unlock this video, live events, and more with a subscription!
Get Started
Already a subscriber? Log In
Amir Yazdani dominated his way to the finals on the opposite side of the bracket with 2, 10-0 techs (including over Ali in the semis) before falling to Akmataliev in a wild 15-13 finals match.
Bekbulatov and Ali join an incredibly deep field at that Jordan Oliver will have to navigate at the World Olympic Qualifier. It is also important to remember only the finalists at this tournament will qualify for the Olympics. Oliver's path at the tournament will be left up to chance as their will be no random draw and no true second.
Higuchi Misses Weight, Takahashi Ready To Fill In?!
While Jordan Oliver's path to Tokyo Gold got more crowded, Thomas Gilman's may have opened up a bit. 2016 Olympic Silver medalist, Rei Higuchi was set to attempt to qualify for Tokyo but never wrestled a second after failing to make weight. It's reported he missed weight by only 50 grams (that's less than 2 ounces) and now Japan is left with one of their best weights still not qualified for the Olympics.
Yuki Takahashi is Japan's second string wrestler at 57kg and, according to United World Wrestling, will get the nod to attempt to qualify the weight in Bulgaria. Unlike other second stringers, Takahashi was a 2017 World Champion and World Bronze in 2018. On paper, Takahashi is the best wrestler to enter the last qualifier, but he only has less than 4 weeks to prepare.
Bekzod Makes His Second Olympics - NLWC With Seven Olympians
2 time world bronze medalist and former Clarion All-American, Bekzod Abdurakhmanov qualified for his second Olympic Team at 74kg for Uzbekistan. He defeated Bat Erdene Byambasuren (MGL) and Elaman Dogdurbek Uulu (KGZ) to reach the finals where Bekzod forfeited to Younes Emami (IRI). Along with his two world medals, Abdurakhmanov boasts an 11-1 tech fall win over Jordan Burroughs at the 2016 Rio Olympics (this remains the only time Burroughs has been teched in his 207 match career). Abdurakhmanov would go on to lose in the bronze medal match at the 2016 Olympics and will a threat to medal this summer.
While Bekzod qualifying for the Olympics is notable in itself, it also continues the trend of success the Nittany Lion Wrestling Club is having this Olympic season. With Abdurakhmanov's qualification, the NLWC now has seven athletes training in State College who will also be competing this August in Tokyo.
Mohammadian Has Entered the Field at 97kg
Mohammad Mohammadian burst onto the scene at the Matteo Pellicone in January 2020 after he teched Bo Nickal and pinned Kyle Snyder. He now qualified Iran for the Olympics at 97kg after his dominant gold medal winning performance over the weekend. In his three matches, Mohammadian recorded 3 tech falls and outscored his opponents by a combined score of 36-4. Mohammadian will be a medal threat in Tokyo and is the biggest threat to Kyle Snyder outside of Sadulaev.
Here's Mohammadian's win over Snyder from January 2020 at the Matteo Pellicone:
Unlock this video, live events, and more with a subscription!
Get Started
Already a subscriber? Log In
Full finals results for Men's Freestyle from Asian Qualifier (finalists qualified for Olympics
57
Gulmjon Abdullaev (UZB) 10-0 over Minghu Liu (CHN)
65
Ernazar Akmataliev (KGZ) 15-13 over Amir Yazdani (IRI)
74
Yones Emami (IRI) forfeit over Bekzod Abdurakhmanov (UZB)
86
Javrail Shapiev (UZB) 7-3 over Zushen Lin (CHN)
97
Mohammad Mohammadian (IRI) forfeit over Magomed Ibragimov (UZB)
125
Yusup Batirmurazev (KAZ) 4-2 over Lkhagvagerel Munkhtur (MGL)