2021 Asian Olympic Qualifiers
What The Asian Olympic Games Qualifiers Means To Jordan Oliver
What The Asian Olympic Games Qualifiers Means To Jordan Oliver
Whoever qualifies for the Olympics at this event will not be in the field with Jordan Oliver at the Last Chance OGQ.
Apr 9, 2021
by Andrew Spey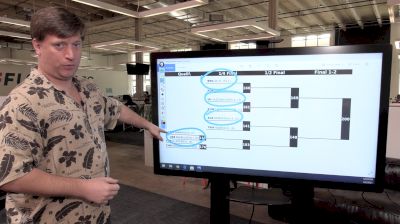 Unlock this video, live events, and more with a subscription!
Get Started
Already a subscriber? Log In
Unlock this article, live events, and more with a subscription!
Get Started
Already a subscriber? Log In
Almaty, Kazakstan is hosting the Asian Games Qualifier, which means two more countries are going to receive bids to the Tokyo Games at 65kg in men's freestyle.
Watch The Asian OGQ LIVE on FloWrestling
Semifinals Scheduled for Sunday, April 1:00 AM ET
That's important to Jordan Oliver and all the Team USA fans out there (which should be most of everyone reading this), because 65kg is the only weight class the men's freestyle team has yet to qualify for Tokyo.
Jordan will get the opportunity to do just that in Bulgaria in early May. We won't know the exact field through which Oliver will navigate but after this weekend we'll know two countries that won't be entering competitors.
The Asian OGQ 65kg MFS bracket is scheduled to start late Saturday night (though at a very normal time in Kazakhstan). The semifinals are the most important round though, as the top two wrestlers qualifier their country for Tokyo, and there are no true-second bouts.
So win in the semifinals and it's mission accomplished. The full schedule is below, in Kazakh and Eastern time.
| | | | |
| --- | --- | --- | --- |
| Kazakhstan Time | Round | Eastern Time | Central Time |
| 10:30 AM | prelims | 12:30 AM | 11:30 PM |
| 1:00 PM | semifinals | 3:00 AM | 2:00 AM |
| 2:00 PM | repechage | 4:00 AM | 3:00 AM |
| 6:00 PM | finals | 8:00 AM | 7:00 AM |
So be sure to set your alarms.
And here's who's in the bracket in Almaty, Kazakhstan.
Ilyas Bekbulatov, UZB
Haji Ali, BRN
Amir Yazdani, IRI
Ernazar Akmataliev, KGZ
Dzhamshed Sharifov, TJK
Hasibagena Hasibagena, CHN
Junsik Yun, KOR
Mohammed, Abdulkareem, KUW
Kerim Hojakov, TKM
Hussein Al Azzani, YEM
Bekbulatov is the most dangerous and accomplished wrestler in the field, so it's good that he's on the larger, bottom side of the bracket, and opposite Ali and Yazdani.
By the way, here's that bracket.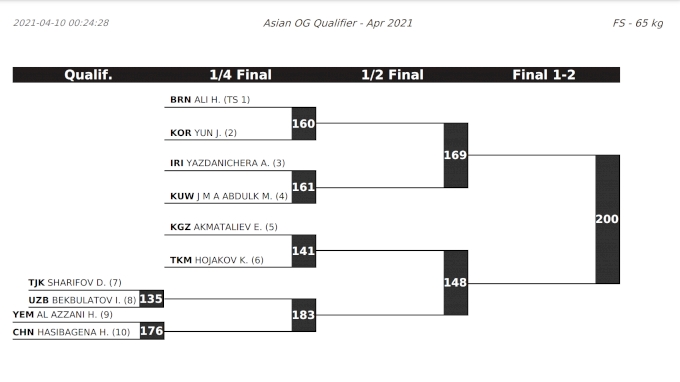 Now competing for Uzbekistan, Bekbulatov was very active for the Russian federation. He's a four-time champion of the prestigious Yairguin tournament, winning both that and the European Championship in 2018.
Bekbulalov never got a chance to wrestle in the World Championships, however, and found himself stuck behind reigning 65kg World Champ Gadzhimurad Rashidov. So after 2018 he started the process of transferring to Uzbekistan. Ilyas has already found success in his new country, winning the 2020 Asian Championship.
He'll be a medal contender in Tokyo should he made it to the finals this tournament, which he is favored to do.
Bekbulatov's stiffest competition on his side of the bracket will likely from Akmataliev of Krygyzstan. Ernazar is just getting started on the senior circuit, having wrestled at the junior level as recently at 2018. He placed fifth at the 2019 U23 World Championships, defeating Jaydin Eierman along the way.
Sharifov (not the 97kg Sharifov who wrestles for Azaerbaijan, totally different guy) and Hasibagena would be decent dark horse picks to make the finals if Bekbulatov wasn't in their quarter of the bracket.
One of the four competitors on the topside is going to earn the Olympic bid, and it will likely be either Haji Ali or Amir Yazdani who are separated in opposite quarterfinal bouts. Both should have no trouble with their first round opponents.
Amir is the third Yazdani trying to become an Iranian wrestling legend. Reza, the Leopard of Juybar, cemented himself in the Persian Pantheon by winning a pair of both gold and bronze medals at world championships in the upperweights, while Hassan Yazdani is in the midst of writing the next chapters of his storied and Olympic gold medal-winning career. Amir won a cadet world silver in 2015 and is poised for a breakout season now that the Iranian federation has given him nod at 65kg.
Haji Ali was a mid-level performer for Russia until he made the switch to Bahrain, who also brought over Adam Batirov, a world silver medalist in 2018 and who competed at the 2019 World Championship but is curiously not entered in this tournament at 74kg, hinting at a possible retirement.
Ali vs Yazdani should be a brawl. That's also a very good chance that whoever emerges victorious does not bother to wrestler in the championship bout. That's not uncommon in these qualifying tournaments where only the top two wrestlers earn Olympic quotas.
With take two names out of the field above (my picks are Bekbulatov and Ali but I've been wrong before) and consider the rest possible entries in the World Olympic Games Qaulifier. They will be added the following list of notable potential entrants that Jordan Oliver will be contending with for the final two slots in the Tokyo bracket.
Here Jordan Oliver, USA
David Habat, SLO
Vladimer KhinchegashviliI GEO
Magomedmurad Gadzhiev, POL
Ilman Mukhtarov, FRA
Niurgun Skriabin, BLR
Selahattin Kilicsallayan, TUR
Vladimir, Dubov, BUL
Alexander Semisorow, GER
Vasyl Shuptar, UKR
George Bucur, ROM
Andrei Preperlita, MDA
Sebastian Rivera, PUR
Stay up late and tune in to find out who makes the finals in Almaty. Or gets a normal night's sleep and just find out the following morning. You have that luxury, go ahead and do whatever you like!