2021 USA Wrestling Olympic Team Trials Watch Party
A Dozen Interesting Facts And Figures From The Olympic Trials
A Dozen Interesting Facts And Figures From The Olympic Trials
Beyond the brackets, the Olympic Trials were filled with interesting facts and figures. Here's a look at a dozen of them.
Apr 8, 2021
by Andy Hamilton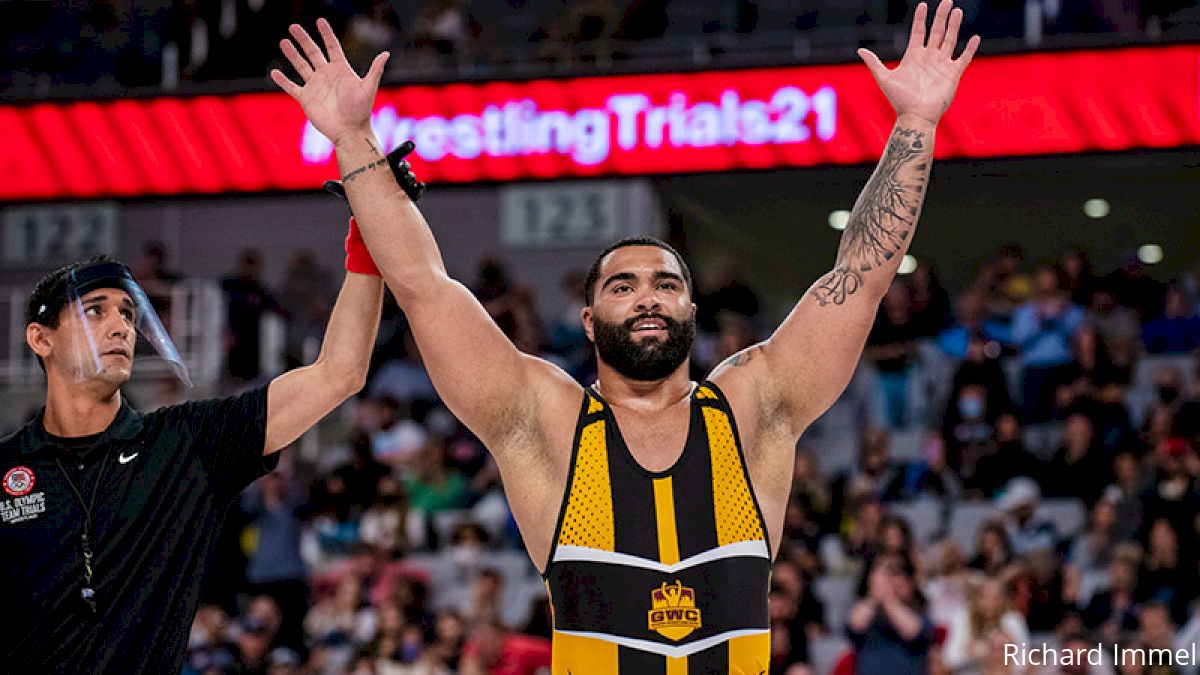 Unlock this article, live events, and more with a subscription!
Get Started
Already a subscriber? Log In
Gable Steveson connected on his shots with supreme efficiency. Thomas Gilman controlled the center of the mat and cashed in on the edge. Adeline Gray feasted on top without her bread-and-butter turn.
Beyond the brackets, the Olympic Trials were filled with interesting facts and figures. Here's a look at a dozen developments:
— Steveson tore through the heavyweight bracket, outscoring his opponents by a combined 42-4 count. Gable was golden on his attacks, particularly in the final series against Nick Gwiazdowski. The 20-year-old took 11 shots in the two-match sweep and scored nine takedowns. His only attacks that didn't yield points came late in the first period of the second bout when he fired off a double and then snapped Gwiazdowski down and tried running to a single to no avail.
Steveson was incredibly efficient throughout the tournament. He scored on three go-behinds in an 11-0 win against Greg Kerkvliet and transitioned into turns on two of them. He notched five takedowns and a step-out point in an 11-0 tech against Tanner Hall.
— Few wrestlers around the world — especially lightweights — control the center as well as Gilman, who repeatedly backed his opponents to the edge and then collected the dividends. The 2017 World silver medalist scored 34 points in the tournament, including eight on step-outs. Additionally, Gilman picked up a pair of four-point takedowns when he drove opponents to the edge and capitalized on desperation throw attempts, and he also picked up three takedowns on continuation sequences. Thus, nearly 65 percent of his points in the tournament came from action on the perimeter.
— Gray's leg lace has been a game-changer during her run to five World titles, but she didn't need it in Fort Worth. In her two-match sweep of Kiley Welker, Gray scored a total of two takedowns and eight gut-wrench turns.
— David Taylor's high-octane offense fueled his run to the 2018 World title. He averaged 9.6 points per match on his march through the bracket in Budapest. But Taylor's defense was the story in Fort Worth. He blanked Brett Pfarr, Gabe Dean and Bo Nickal twice during his run through the 86-kilogram bracket, outscoring his four opponents by a combined 25-0 count.
— It's a noteworthy development when Tamyra Mensah-Stock surrenders a point against a domestic opponent. The 2019 World champ outscored her opponents by a combined 38-0 margin at Final X in 2018 and 2019. She didn't allow more than two points in a bout at the 2017 World Team Trials and she ripped through her bracket at the 2016 Olympic Trials by a combined 36-3 count.
All together, Mensah-Stock gave up seven points in four years worth of Trials processes, which is what made 17-year-old Kennedy Blades' performance last week all the more impressive. Blades didn't dethrone the reigning 68-kilogram World champ, but she did register a pair of takedowns and a step-out point in the best-of-three series.
— Nick Lee racked up a tournament-high 55 points — 13 more than anyone else in the men's freestyle field in Fort Worth — but that's only part of the story. Lee scored 14 against Mitch McKee, 12 against Nahshon Garrett, 10 against Zain Retherford and 16 against Yianni Diakomihalis. It was the first time Diakomihalis allowed double-digits in a Senior-level match.
— Nobody wrestled more in Fort Worth during the past two weeks than Braxton Amos. After competing in both styles at the Last Chance Qualifier and the Olympic Trials, Amos spent 47 minutes and 10 seconds on the mat in 13 contested bouts. By comparison, G'Angelo Hancock, the guy who beat Amos in the 97-kilogram Greco-Roman final series, wrestled a grand total of 5:49 in two matches.
— There was just one 1-1 match in the entire tournament. John Stefanowicz beat Patrick Martinez on criteria in the 87-kilogram Greco Challenge Tournament final after the two traded passivity points.
— The tournament's biggest comeback belonged to Travis Rice, who rallied back from an 8-1 deficit with eight points in the final 71 seconds to win a 9-8 consolation decision against Joey Palmer in the 60-kilogram Greco consolations.
— The tournament featured 14 head-to-head battles between wrestlers who have captured an age-group or Senior-level World title.
In women's freestyle, Victoria Anthony and Whitney Conder posted wins at 50 kilograms against Emily Shilson. Jacarra Winchester swept the best-of-three at 53 kilograms against Ronna Heaton. Macey Kilty downed Maya Nelson in the Challenge Tournament finals at 62 kilograms.
In men's freestyle, Kyle Dake swept the 74-kilogram series against Jordan Burroughs, David Taylor took two straight against Bo Nickal at 86 kilos and the 125-kilogram bracket featured three clashes between age-group World champs: Greg Kerkvliet beat Mason Parris, Steveson beat Kerkvliet and Parris beat Dom Bradley.
In Greco, Adam Coon swept the best-of-three against Cohlton Schultz at 130 kilograms.
— Steveson, who turns 21 in May, is the youngest American Olympian this year, while Ildar Hafizov is the oldest at 33. The average age of each Olympic Trials champion: 26.7 for men's freestyle, 26.8 for Greco and 27.8 for women's freestyle.
— This will be the second trip to the Olympics for Gray and Helen Maroulis, who have each also made eight World Teams. This will be the first Senior-level team for Steveson and Alejandro Sancho. It will also be the first for Jordan Oliver and Jesse Porter if they can qualify their weights for Tokyo at next month's World Olympic Games Qualifier.