2021 USA Wrestling Olympic Team Trials Watch Party
Trials Notes: Stingy Dake Grabs The 74-Kilo Crown
Trials Notes: Stingy Dake Grabs The 74-Kilo Crown
Kyle Dake shut down Jordan Burroughs, the USA put together a star-studded women's freestyle team and more notes from the Olympic Trials.
Apr 4, 2021
by Andy Hamilton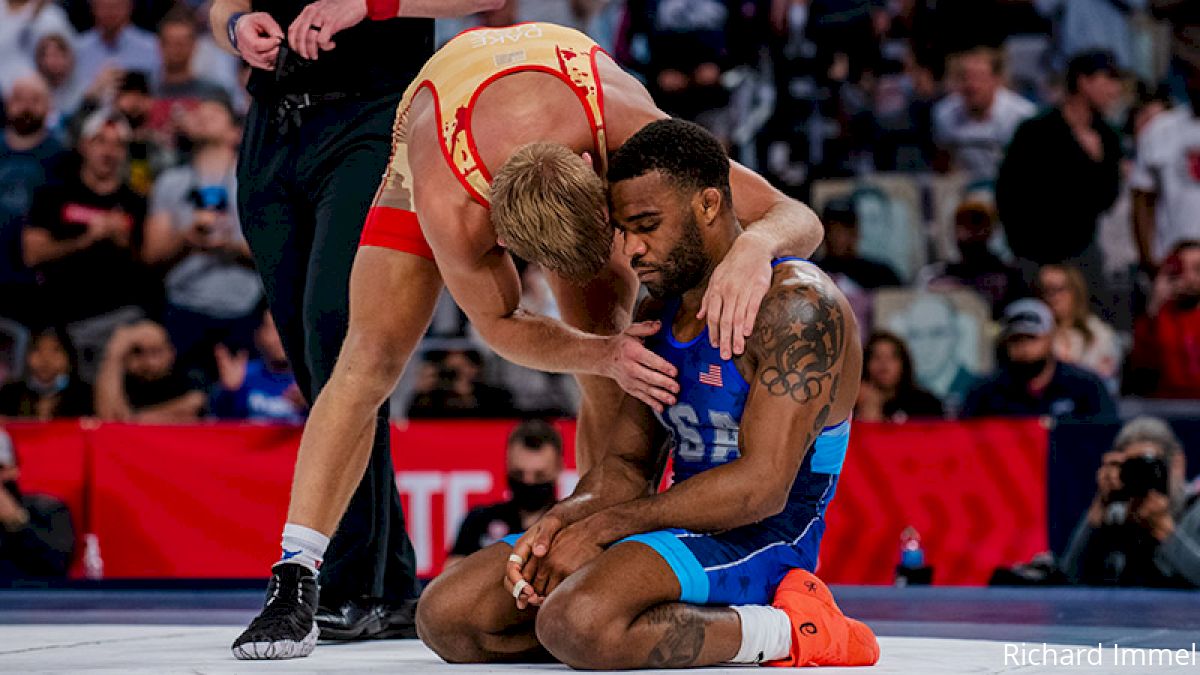 Unlock this article, live events, and more with a subscription!
Get Started
Already a subscriber? Log In
When time expired Saturday night and his decade-long domestic rulership over the 74-kilogram kingdom came to an end, Jordan Burroughs dropped to his knees in dejection.
Kyle Dake kneeled down, put an arm around the five-time World and Olympic champion and patted him on the chest.
"I just thanked him," Dake said after a two-match sweep in the best-of-three series at the Olympic Trials. "I told him I really appreciate him. He's pushed me for a long time. His work ethic, the way he approaches the sport, the fact he's a five-time World champion is something I strive to be. Right now I'm sitting at two and I'm looking forward to having an opportunity to go get that gold medal in Tokyo. I'm ready to rock and roll and I just had to thank him."
Collectively, the crowd inside Dickies Arena stood and offered its gratitude as well — both to Dake for a lockdown defensive performance and to Burroughs, too, for the way he's worn the crown since 2011 when he first burst onto the Senior scene as a fresh-out-of-college 23-year-old who took the World by storm.
At the time, USA Wrestling desperately needed a face of the franchise. Top young prospects were fleeing the sport for more lucrative careers in mixed martial arts and other professions, and the talent pool was running shallow.
In 2010, the American men's freestyle program hit a 35-year low when it failed to bring home a medal from the World Championships for the first time since 1975.
Then Burroughs came along the next year and took over the world. He disposed of two-time reigning World champ Denis Tsargush while blitzing through the bracket at the 2011 World Championships. He backed it up the next year by winning an Olympic gold in London. He pulled off the unthinkable in 2013, winning a World title four weeks after suffering a broken ankle.
During the past decade, we've watched him pile up World and Olympic medals — five golds and three bronzes — and we've seen him fend off one American challenger after another to retain the top run on the 74-kilogram ladder. Think about the guys he beat to make those teams. Andrew Howe, Dake, David Taylor and Isaiah Martinez were four-time college All-Americans who combined for 15 NCAA finals appearances out of 16 possible opportunities.
During the past decade, we've watched Burroughs serve as a cornerstone to an American men's freestyle resurgence that culminated in 2017 when the United States brought home its first team title from the World Championships in 22 years. Burroughs trailed in all five of his matches in that tournament but rallied back to win each of them and the Americans won the team title by a point over Russia.
But there was no late-match magic Saturday night. Dake stymied Burroughs and handed him his first shutout defeat in 206 matches on the Senior level, scoring a 3-0 win in the first bout. It took Burroughs until the final minute of the second match before he notched his first point of the night on an activity clock expiration.
Burroughs added a late step-out point, but Dake claimed a 3-2 victory and a ticket to Tokyo.
The key for Dake?
"Moving my feet, my hands, my head, not letting him get into a rhythm, trying to fake his fake, beat him to the bottom on a level-change," he said. "He's a super competitor, so I knew he was going to bring everything he had. He's really tough."
Now it's Dake's turn to wear the 74-kilogram crown after winning a pair of World titles at 79 kilos.
"It's been a long journey for me," Burroughs said. "I'm really thankful for this ride that I've had with USA Wrestling. It's not over for me. Because I've left the building as a champion on so many occasions, you forget what it's like to be on the other side. I've built resiliency because of the difficulties I faced early on in my career and this is a part of the process. You get beat, you dust yourself off, you rebuild and you come back and try again."
LOCKED AND LOADED
The American women's freestyle talent pipeline is adding more depth to the Senior-level talent pool each year, evidenced by the Olympic Trials finals. High schoolers Kennedy Blades and Kylie Welker wouldn't have been old enough to participate in the Trials a year ago, but they reached the best-of-three finals this weekend. So, too, did 20-year-old Macey Kilty.
And while the long-term future looks bright for Terry Steiner's program, so does the outlook for this summer in Tokyo.
USA Wrestling has never assembled a more-decorated women's freestyle Olympic Team than the one that came together Saturday night. Four of the weights are occupied by World champions — Jacarra Winchester (53 kg), Helen Maroulis (57 kg), Tamyra Mensah-Stock (68 kg) and Adeline Gray (76 kg) — and 2018 World silver medalist Sarah Hildebrandt (50 kg) and 2019 U23 World silver medalist claimed the other two spots.
Maroulis and Miracle secured their spots with victories in decisive winner-take-Tokyo third bouts. Miracle won by injury default against Kilty and Maroulis pinned Jenna Burkert with a nasty footsweep.
"I wasn't wrestling well (in the first two matches) and the coaches really helped me to get in the right mindset and just really go for it," Maroulis said. "I don't think about what I do before I do it. That just happened and I hit it."
PORTER'S HOUSE
Jesse Porter capped one of the most improbable Trials runs in recent history with one of the most bizarre endings.
The New York native trailed by five points in the true second-place match at last weekend's Last Chance Qualifier before rallying back just to get himself into the Trials. Then he ripped through the 77-kilogram Greco bracket as a #10 seed, blanking his first two opponents before knocking off two-time World Team member Pat Smith to reach the finals.
Porter handled Peyton Walsh 8-1 in the first bout of the best-of-three and raced out to a 7-0 lead in the second match, thanks to an early five-point throw. Then things got chaotic in the second period. Walsh charged back and evened the score 7-7, prompting Porter to turn up the offense in the final seconds.
"I thought I was down, so I was going hard," Porter said. "I thought I was down, he thought he was up."
Neither wrestler knew that Porter was winning on criteria by virtue of that five-point throw. Porter looked stunned when the official raised his hand in victory.
"These tournaments are great, great for technique because they bring out all your holes," he said. "That's another thing — I need to be more cognizant of that. But I saw the score was 7-7 and I was like, 'I need to score.'"
GOODNESS, GABLE
Gable Steveson's fast-track progression has happened so quickly that it's easy to forget sometimes that he's still just 20 years old.
Steveson needed a special consent form to wrestle in the 2017 Junior World Championships because he didn't meet the tournament age requirement and then demolished a field of older competitors. He wrestled in Final X in his first year out of high school and took two-time World medalist Nick Gwiazdowski to the wire in both bouts.
But Steveson is a different beast now. He's bigger, stronger and even more polished than before, and it showed this weekend in Fort Worth. Steveson outscored his opponents by a combined 42-4 count and beat Gwiazdowski 10-0 and 10-4 in their two bouts.
"Last time I just wanted to go out there to win," Steveson said. "This time it was about making a statement. Being able to beat him like I did was a phenomenal thing. Not many guys do that to him. This was all about making a statement and putting points on the board."
BULGARIA BOUND
There's work yet to be done for the USA men's freestyle and Greco programs. The Americans are booked for Tokyo at 15 of the 18 Olympic weights. Jordan Oliver (65 kg), Porter and Adam Coon (130 kg) have one more chance to qualify their respective weights for the Olympics. That'll happen at the May 6-9 World Olympic Games Qualifier in Sofia, Bulgaria.
"It starts right now," Oliver said. "Go home and jump back on that horse. There's not too much time to celebrate. This is something that needs to be done and this is something we've been focused on. We understand the process of being an Olympian and achieving the gold medal, and this is another step towards the ultimate goal."