2021 USA Wrestling Olympic Team Trials Watch Party
Pure Fire: Tonight's Best Upcoming Matchups
Pure Fire: Tonight's Best Upcoming Matchups
Here's our favorite upcoming matches for the 2021 Olympic Trials for the Friday evening session.
Apr 2, 2021
by Christian Pyles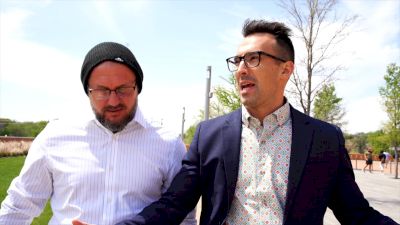 Unlock this video, live events, and more with a subscription!
Get Started
Already a subscriber? Log In
Unlock this article, live events, and more with a subscription!
Get Started
Already a subscriber? Log In
After an electric first session of the Olympic Trials, we have some incredible semi's set to go down for this evening's session.
Tonight we'll have the challenge tournament semifinals and finals to set the 2 out of 3 for tomorrow. These are the matches I'm most excited for. You can check out results here. Brackets can be found on Trackwrestling.
MFS 57kg
Vito Arujau vs Daton Fix - It's been a few years, but last time these two hit, Vito jumped out to a huge lead before Daton ran him down for the tech fall.
MFS 65kg
Zain Retherford vs Joey McKenna - As great as Joey looked against James Green, I can't help but be excited for this one. Joey jumped out to a 5 point lead before Zain ran him down last time. McKenna is wrestling as well as we've ever seen. I wouldn't have added this one had I not seen such an impressive showing from Joey in the previous round.
Yianni Diakomihalis vs Jordan Oliver - I mean, c'mon. Two of the best technicians at any weight. Their last meeting was a tech for Yianni, but a competitive match for much of the bout.
MFS 74kg
David Carr vs Jason Nolf - This is another one I wouldn't have added had the underdog not looked insanely good the previous round. Carr dominated his match against Massa. I think this is a very competitive match.
MFS 86kg
David Taylor vs Gabe Dean - I'm not giving Dean the shot many are, but the fact is he was in on the winning takedown late in their match this Fall. Therefore, I'm in.
Bo Nickal vs Zahid Valencia - Another no brainer. Haven't seen this one since 2016 where Zahid won in two straight to make the Jr World Team.
MFS 125kg
Gable Steveson vs Greg Kerkvliet - Freestyle Greg is here. He just beat Mason Parris 4-4. Gable is the man, but Kerkvliet is one of the few 125's that can move close to as well as Gable.
WFS 57kg
Alli Ragan vs Xochitl Mota-Pettis - Alli will get her first shot at revenge against XMP since losing to her at SR Nationals. XMP needed a buzzer beater to get to this match, but put up a whopping 15 points in her previous match.
WFS 68kg
Kennedy Blades vs Alexandria Glaude - Glaude was in Final X previously and Kennedy (a high school JUNIOR) just teched a tough Rachel Watters 10-0.
WFS 76kg
Kylie Welker vs Dymond Guilford - Another high schooler, Welker bumped up and has looked great so far. She'll have a huge test against the challenge tournament top seed Dymond Guilford.
GR 77kg
Jesse Porter vs Pat Smith - Porter put the field on notice with a 10-0 win over Ravaughn Perkins. Mr. Consistency Pat Smith is up next. Porter is super high flying and dynamic at this weight.
GR 97kg
Braxton Amos vs Lucas Sheridan - Amos looked great in his first match. I think he can make it interesting against the 97kg fixture Sheridan.