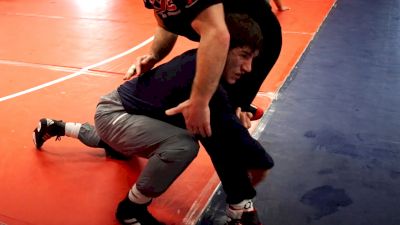 Unlock this video, live events, and more with a subscription!
Get Started
Already a subscriber? Log In
Unlock this article, live events, and more with a subscription!
Get Started
Already a subscriber? Log In
The unpredictable occurring at Olympic Trials is nothing new. In 2016 Frank Molinaro and J'den Cox made the team out of the 9 seed. Jake Deitchler was still in high school and made the 08 team in Greco.
Predicting the sleepers to make the team is no easy task, that's why they're sleepers. Here are a few of the wrestlers I think have a great shot to exceed expectations and make deep runs at Olympic Trials.
A reminder, here's the schedule for how to watch the Olympic Trials live on NBC/Peacock. We will have our live watch party going throughout every session of the Olympic Trials starting Friday at 11AM ET.
57kg
#6 Joe Colon - What do we know about Joe Colon? He's super strong, has the best underhooks and can gut just about anybody. While most of the wrestling community is debating Gilman/Fix part 8/9/10, Joe Colon remains slept on, probably just how the World Bronze medalist likes it.
65kg
#7 Frank Molinaro - A year ago G-Hulk came on FRL and retired. Then last week he was in the pre-seeds!? He made the epic run in 2016 through Metcalf and Pico en route to Olympic 5th. His draw isn't great as he'd have Henderson, Yianni (who teched him) and JO, just to make the finals. Frank's pedigree and skillset gives him more than just a puncher's chance. His post high c and ability to get 4's from his attacks could keep him within the margins
#5 Joey McKenna - This man owns the last win over Yianni, who many believe will win this spot. McKenna has only improved from this point and has been in three very competitive matches with Bajrang Punia. Joey is dangerous because he is so positionally sound, has a great lefty single/double and can turn with his gut. His draw is also tough with Green then Zain just to make the final, that's why we are sleeping!
#8 Anthony Ashnault - I don't think the last year represents close to the best version of Anthony Ashnault. I am a huge believer in his talent. He has the athleticism and attacks to get takedowns against some of the best in America. I know he didn't look great at the 150 or against Yianni. I also didn't think that looked like the Ashnault I saw make the challenge tournament finals at 70 and upset Hayden Hidlay. If we get that guy to Ft Worth, it could get interesting.
86kg
#10 Aaron Brooks - You guys realize AB's best style is Freestyle right? He has a handful of lighting quick attacks in his arsenal, he can also control center fantastically (see his NCAA final with Trent Hidlay). He's got the transition game on top to boot. He's young, talented, dynamic and coming right off of the NCAA season. On more than one occasion, we've seen that recipe cook up a deep run for an unlikely wrestler at the senior level. Could be the case for Brooks.
97kg
#6 AJ Ferrari - The kid is on a heater! Listen, I know. He is not on the Kyle/J'den level. That's ok. He is darn tough to get to, he controls the mat well and is no freestyle novice as a Cadet World medalist. He's coming off a great NCAA season and will have nothing to lose. I think he has a bright future in freestyle, though Kyle and J'den are going absolutely nowhere anytime soon.
60kg
#4 Taylor LaMont - We don't get too much hardware at the JR level at GR. Taylor LaMont's got one. I don't know if he's perfectly sized for this competition, but the skill level he's demonstrated says he'll be in the conversation.
GR 97kg
#6 Braxton Amos - No, Kyle Bratke doesn't have me at knifepoint. I believe it! Braxton's pedigree and performance at Last Chance a week ago makes me think he has the goods to contend and make the challenge finals, potentially beyond! Now is it ideal he'll also be wrestling in the freestyle tournament? Who's to say!? Can't underestimate the power of mat time!
WFS 68kg
#3 Kennedy Blades -High school JUNIOR!? I think she can go all the way to the finals. She has so much offense and aggression. She uses her length well and can counter attacks into her own offense very effectively. Earning a three seed as a HS Jr is preposterous by the way. Kennedy could be one of the next superstars in wrestling.
WFS 76kg
#14 Kylie Welker - Out of the 14 seed, she'll see Precious Bell round freaking one. I think she can contend with Precious, who has made Final X! Welker was competing down a weight, I think the move up actually benefits how high she could potentially climb here. She is certainly better than her seed may indicate.