2021 USA Wrestling Olympic Team Trials Watch Party
The Entire History Of The Jordan Burroughs - Kyle Dake Rivalry
The Entire History Of The Jordan Burroughs - Kyle Dake Rivalry
Everything you need to know about the Jordan Burroughs - Kyle Dake rivalry.
Apr 1, 2021
by JD Rader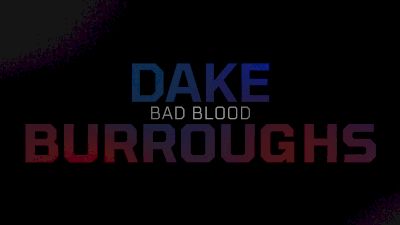 It could really happen. After almost a four year hiatus, Jordan Burroughs and Kyle Dake could wrestle once again; this time for a spot on the Olympic Team. The two had one of the best rivalries for a brief period at 74 kg until Dake moved up to 79 kg and won two World titles. Now, he's back down to try and take what JB has kept from him in the past.
Watch the 2021 USA Wrestling Olympic Team Trials Watch Party
LIVE on FloWrestling | Friday & Saturday, April 2-3
Below is a chronological breakdown of the entire Jordan Burroughs - Kyle Dake rivalry.
2013
After failing to make the finals of the 2011 World Team Trials and 2012 Olympic Team Trials, Kyle Dake had finally made it. He had to go through Nick Marable, David Taylor, and Andrew Howe just to make it Burroughs, who had been waiting for him in the finals after winning gold in London the year before.
Dake was confident going into the best-of-three series, but it was Jordan winning two-matches-to-none. The first one wasn't close, but the second one was an awesome back and forth battle that ended with Burroughs winning in overtime. The rules were a little different back then.
Watch Dake and Burrough's epic 2013 WTT match two below.
2014
In 2014 Kyle Dake sat on the sidelines with a foot injury while Jordan Burroughs won his fourth-straight World/Olympic medal, allowing him to once again sit until the finals of the 2015 World Team Trials.
2015
The two once again meet in the World Team Trials finals, and once again Dake had to go through David Taylor and Andrew Howe just to make it there, and once again it was Jordan in two matches. The first match came down to one key position where Dake threw himself to his back off of a JB double, and match two when Jordan shot a low single right off of the whistle and transitioned beautifully into three leg laces to take an 8-0 lead just seconds into the match.
2016
After Burroughs won another World championship in 2015, Dake chose to go up to 86 kg so that no one would have the advantage against him of sitting out to the finals.
Dake made it to the finals but lost to J'den Cox one match to two. Burroughs defeated Andrew Howe in two matches.
2017
2016 was the year Jordan failed to medal at Worlds/Olympics, so Kyle made the decision to go back down. The two met in the US Open finals with the winner getting to sit to the finals of World Team Trials. This match came down to the final seconds and wasn't without some controversy, but Burroughs made it five-straight wins against Dake. Team Dake did not like the way this match was officiated.
The 2017 World Team Trials finals was the last time these two met and also the closes Dake came to making the World Team in his three attempts at that point. After beat Isaiah Martinez and Alex Dieringer, Dake took match one from Burroughs. Dake used a huge four-point chest wrap to win on criteria 6-6.
Watch Kyle Dake beat Jordan Burroughs at the 2017 World Team Trials below.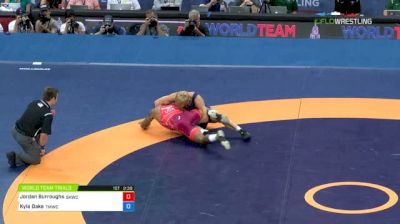 Unlock this video, live events, and more with a subscription!
Get Started
Already a subscriber? Log In
As fun as match one was, match two somehow topped it. Dake stormed out to a 3-0 lead, but Jordan came back to lead 5-3 before Dake got a step out and had a crotch lift with seconds to go, but couldn't get points.
Match three was all Burroughs. The four matches Dake had wrestled that day had caught up to him and Burroughs won 6-2 with both of Dake's points coming in the final seconds.
Burroughs would go on to win gold at the 2017 World Championships while Dake watched from home.
2018
After 2017 Dake moved up to 79 kg where he dominated his way to a World title without even giving up a point. Burroughs once again made the World Team at 74 kg and took bronze at the World Championships losing to Russia's Zaurbek Sidakov.
2019
2019 was more of the same. Dake won Worlds at 79 kg and Burroughs won bronze at 74 kg. At the end of 2019, Dake made the decision he was going back down to 74 kg with David Taylor sitting out to the finals as well at 86 kg. This resumed one of the greatest rivalries in US wrestling history.
2020
Unfortunately, the COVID-19 pandemic struck and deprived us of the Olympic Trials and this match. Fortunately, these two went on an episode of FRL and verbally fought each other for 40 minutes.
Watch Dake and Burroughs go to verbal warfare on FRL below.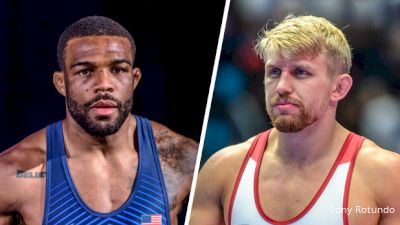 This heated things up even more, and the wonderful cinematography crew at FloSports struck while the iron was hot making a FloFilm about the rivalry. I highly encourage you to watch the entire film below.
Watch the flofilm Bad Blood: Dake vs Burroughs below.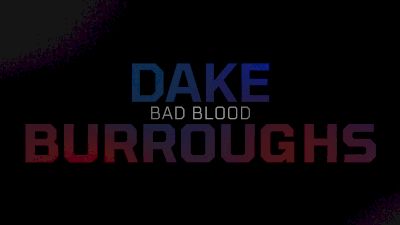 The drama didn't stop there. The two exchanged some thoughts via social media and made it clear they really did not like each other.
2021
It's here. We've seen it eight times before, and this time around is just as intriguing. Burroughs leads the series 7-1, but Dake is now a two-time World champion and while he still has to go through the mini-tournament, he gets a full day of recovery before he'll have to take on Burroughs in the best-of-three finals. It's been a long time since I've been this excited.