2021 USA Wrestling Olympic Team Trials Watch Party
Men's Freestyle Olympic Trials Mega Preview
Men's Freestyle Olympic Trials Mega Preview
We've had to wait for five years to witness an Olympic Trials, but it all goes down this weekend. Here are the big storylines for Fort Worth.
Mar 31, 2021
by David Bray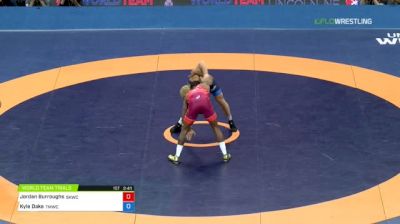 Unlock this video, live events, and more with a subscription!
Get Started
Already a subscriber? Log In
Unlock this article, live events, and more with a subscription!
Get Started
Already a subscriber? Log In
The 2021 US Olympic Trials go down this weekend. All the action will be streamed either through NBC Sports Network or NBC's Peackock streaming service. Meanwhile, we'll have a watch party live throughout the trials to keep wrestling fans in the loop. Before all the action goes down, check out the contenders and challengers for the 2021 Olympic Trials.
Watch the 2021 USA Wrestling Olympic Team Trials Watch Party
LIVE on FloWrestling | Friday & Saturday, April 2-3
57 kg
Even without Spencer Lee, this is still one of the most anticipated weights this weekend in Fort Worth.
Seeds: 1) Thomas Gilman 2) Daton Fix 3) Vitali Arujau 4) Seth Gross 5) Nick Suriano 6) Joe Colon 7) Nathan Tomasello 8) Sean Russell 9) Zane Richards 10) Zach Sanders
It's wide open and as you'll see in a second, I believe there are at least five wrestlers, who could make the Olympic Team on Saturday night.
Contenders
Vitali Arujau
While Thomas Gilman is the top seed, a 2017 world medalist, and has been on two of the last three world teams, he lost to Zach Sanders by fall last month, and in December fell to Seth Gross. While he won the last match against Daton Fix, he's 4-3 against him since 2018. Gilman was also out-placed by Nick Suriano at the Henri Deglane and lost to the wrestler Suriano beat in the finals. It won't be an easy road for the new Nittany Lion Wrestling Club wrestler to make the Olympic Team.
Daton Fix has made the most recent world team for the United States when he beat Gilman at Final X in 2019 but then lost to Gilman and Minghu Liu at the 2020 Matteo Pellicone. Fix would then be suspended by United World Wrestling and hasn't wrestled a freestyle match since that tournament. Fix wrestled 14 folkstyle matches since Valentine's Day up at 133, but now must make his way down to 57kg for the first time since the Pellicone last year. Fix's has never lost to anyone on his side of the bracket in freestyle but has not wrestled Colon before, and the last time he wrestled Arujau found himself in a quick 6-0 hole before storming back for the tech fall.
Vito Arujau has been outstanding on the Senior level since the U.S. Open in 2019 taking fourth at the US Open, third at the 2019 version of the Senior Nationals, winning the 2020 version of Senior Nationals, and beating Nahshon Garrett twice at the RTC Cup. At the Henri Deglane, he found himself in a 2-2 match with Gilman with one minute remaining before Gilman picked up a takedown and turn. His first-round matchup against word bronze medalist Joe Colon will be one of the marquee matches of the opening round on Friday.
Despite being the four seed, there's an argument to be made that Seth Gross could have been the top seed. He checks in at #1 in our domestic rankings and has wins over Thomas Gilman and Nick Suriano. While it's not an easy road, Gross must feel confident having to go through two wrestlers who he's beaten before.
Nick Suriano might be the most dangerous five seed in the tournament. His loss to Gross was back in 2019 and came in the final seconds while Suriano was winning. Suriano hasn't wrestled Gilman since January 2017 when Suriano was a true freshman at Penn State. It was a 3-2 match then, and as I mentioned earlier Suriano recently outplaced Gilman and picked up a win in the final of the Henri Deglane over the wrestler who beat Gilman. Could we see another matchup between Suriano and Fix? All they do is wrestle extremely long and controversial matches.
The most recent match between Daton Fix and Thomas Gilman at the 2020 Matteo Pellicone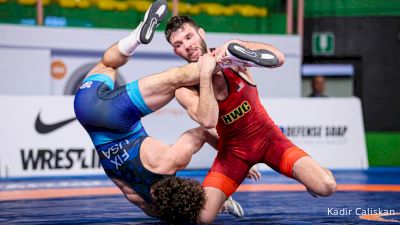 Unlock this video, live events, and more with a subscription!
Get Started
Already a subscriber? Log In
Challengers
It's not too often you see a former world bronze medalist in the six seed, but that's what you have in Joe Colon. Colon made the 2020 Matteo Pellicone finals beating Stevan Micic along the way and losing a close final to Thomas Gilman. Colon also beat Seth Gross at Beat The Streets and had a razor-close match with Nick Suriano at the 2019 version of Beat The Streets.
While Russell hasn't beaten any of the top contenders, he's coming in red hot after winning the Last Chance Qualifier after beating Darian Cruz, Jack Mueller, and Zane Richards in consecutive matches. At the 2016 Olympic Trials, Frank Molinaro and J'Den Cox were both #9 seeds before making the team and wrestling for a medal and bringing home a bronze medal respectively.
65 kg
Say what you want about Zain's international record, but he is the #1 seed for a reason. He beat Yianni in 2019 when it mattered most: to make the World Team. In between their Final X matches and the special wrestle-off after the controversial finish to match #2, Yianni beat Zain at the Yasar Dogu. Controversy aside, another best-of-three series will truly show who has the edge in this rivalry.
Contenders
Watch Zain and Yianni's special wrestle-off match below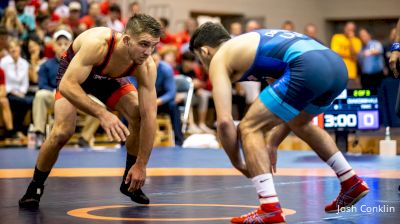 Unlock this video, live events, and more with a subscription!
Get Started
Already a subscriber? Log In
A fully optimized Jordan Oliver is a bad man. That JO went through a 2019 Senior Nationals field that contained Yianni, McKenna, Nick Lee, Jaydin Eierman, and Evan Henderson without giving up a single point. He's dropped matches to Bajrang Punia, Jason Nolf, and Alec Pantaleo since then, but if JO can rekindle that 2019 Senior Nationals fire, watch out.
In that 2019 Senior Nationals final with JO was Joey McKenna. Joey beat Yianni to make it there. Joey is the four-seed and will have a very tough road. The Ohio State grad will have to beat James Green, Zain, and whoever makes it out of the bottom side, but if he's on his game and anyone isn't that could spell trouble.
Watch Jordan Oliver and Joey McKenna's 2019 Senior Nationals final below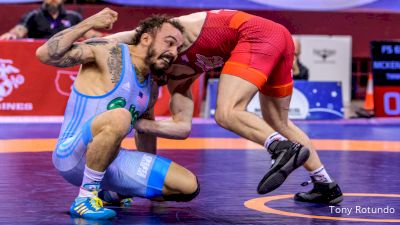 Unlock this video, live events, and more with a subscription!
Get Started
Already a subscriber? Log In
Sitting at the five seed is James Green. With two World medals, JG is actually the most credentialed freestyler in this bracket. With Green and McKenna both receiving byes in the first round, they actually have the exact same path to the Olympic Team. While tough, you're happy to have a first round bye off of the scale and to be on the opposite side of Yianni if you're JG as the cut will be tough and Yianni has beaten Green three times in the past year.
Challengers
Really I could have put the rest of the bracket in this section. Nick Lee is fresh off of an NCAA title, Mitch McKee can headpinch anyone, and Evan Henderson is as tough as they come.
Frank Molinaro officially retired about a year ago, so seeing his name in the seeds was a nice surprise. The question is: was this just a last second "why not when I'm qualified?" decision, or has Frank seriously been training? He shocked the world in 2016. Can he do it again?
It's been good seeing Nahshon wrestle again the past couple of months after taking most of 2020 off. Don't forget, this is a man that beat Joe Colon twice at Final X the year he won his bronze medal. He's up a weight now and while him making the finals would mean two huge upsets, he could do some damage on the backside.
Nahshon's first round opponent will be Anthony Ashnault. Schnault has had a bit of a rough go since winning Pan Ams in March of 2020. He's 1-3 with his only win coming over Evan Henderson. However, his losses are to Yianni, Pantaleo, and Bajrang. None bad by any means.
74 kg
The United States has been represented by Jordan Burroughs at 74kg at the last 2 Olympic Games. This weekend, Burroughs will get a shot at making his third, a towering achievement last matched by Kenny Monday, who made the 1988, 1992 and 1996 Olympic teams, incidentally also at 74kg.
The JB/Dake Rivalry
Jordan's chief challenger to this feat is Kyle Dake, the reigning two-time 79kg gold medalist.
Dake is one of the few Americans to have ever handed Burroughs a defeat. And while Burroughs has always gotten the better of Dake when it mattered most, their rivalry continues as one of the fiercest in the country.
The Bracket
Burroughs will sit in the best of three finals by dint of his bronze medal he won at the 2019 World Championship, the eighth world or Olympic medal of JB's career, another insane stat unmatched by any American in this current era.
Dake scored a gold at the same worlds in Nur-Sultan, for which he was rewarded with an automatic spot in the semifinals. That will make for a unique bracket.
Not 100% sure but I think this is what the 74kg OTT bracket will look like now with IMar out. pic.twitter.com/wXA9EP1llQ

— Andrew Spey (@SpeyWrestle) March 29, 2021
This means Dake will need to win two matches to get to Burroughs. Isaiah Martinez, another member of the small club of Americans who can claim a dub over JB, had to withdraw from the Trials due to injury. That left only seven qualifiers other than Dake and Burroughs.
Thus, Jason Nolf also has to win only two matches to get to Burroughs. The three-time NCAA champ snagged the #1 seed of the challenge tourney and will have to beat the winner of Massa vs Carr and then either Dake the wrestler from the bottom half of the bracket that beats Dake, to then get a crack at the King.
The First Round Matchups
Recently minted NCAA champ David Carr will have to get through two-time Senior Nationals champ Logan Massa. Carr outplaced Massa a couple weeks ago in St. Louis, but Massa will have an advantage in size (he wrestled 174-pounds, whereas Carr won the 157-pound bracket), and experience.
The winner of that match will get Nolf, who will be favored against either.
On the bottom side of the bracket, Tommy Gantt will have Evan Wick, and Vincenzo Joseph will get a rematch against Chance Marsteller a week after Chance beat him in the finals of the Last Chance Qualifier.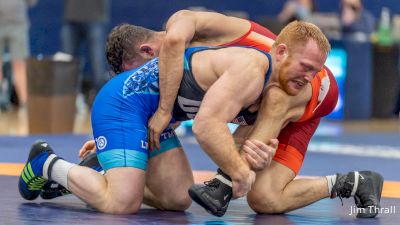 Unlock this video, live events, and more with a subscription!
Get Started
Already a subscriber? Log In
That result would make Chance the favorite, but Cenzo has a win in the not too distant past over Marsteller, albeit in folkstyle.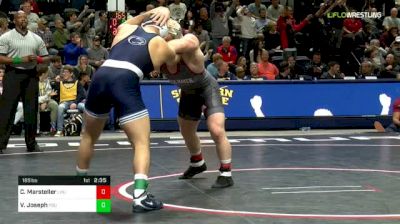 Unlock this video, live events, and more with a subscription!
Get Started
Already a subscriber? Log In
Gantt vs Wick also a rematch from the RTC Cup at which Gantt was the victor.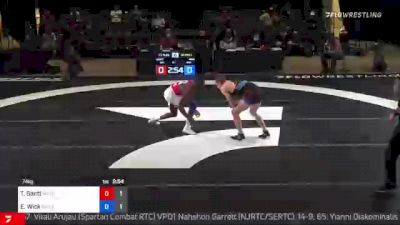 Unlock this video, live events, and more with a subscription!
Get Started
Already a subscriber? Log In
What To Expect After The First Round
The 74kg bracket will have a distinct cadence, as the three first-round matches on Friday will be followed up by three semifinal-ish bouts, then a challenge tournament final, then a best-of three series finale on Saturday.
There could be a surprise or two but the seeds holding is the most likely outcome. That would entail Dake beating Marsteller and Nolf in that order before a massive series with Burroughs.
No disrespect to the other wrestlers in the bracket, but most fans will be disappointed if we don't see Dake and Burroughs square off for all the marbles on Saturday. Indeed, that series will be the headliner of the entire weekend.
The weights already qualified for Tokyo. Russia is sending Zaurbek Sidakov. Will Burroughs get another shot at redemption? Or is it finally Dake's turn? Or will we be stunned by one of the other challengers? We will find out together!
86 kg
A year ago, 86 kg at the Olympic Trials was a foregone conclusion. David Taylor was a runaway favorite for good reason. He's the #1 ranked man in the world at the weight and #5 pound-for-pound. On top of that, two legitimate contenders, Gabe Dean and Zahid Valencia, were not in the picture a year ago.
Contenders
This weekend, Taylor remains the favorite to win the weight, but Zahid Valencia and Gabe Dean have established themselves as contenders as well.
Before considering Dean and Valencia, don't forget that David Taylor is a 2018 World Champ with wins over World and Olympic champs like Hassan Yazdani, Sarif Sharifov, J'den Cox, and, most recently, Jordan Burroughs. He's the top seed here for good reason.
Gabe Dean has come out of retirement and competed well in the past few months. He has recent wins over Nate Jackson and Bo Nickal who are in this field and was also within a takedown of beating David Taylor with seconds to go in a match on a Nittany Lion Wrestling Club card in November.
Zahid Valencia didn't compete between February and December of 2020 when he returned to competition in an 8-5 loss against five-time World and Olympic champ Jordan Burroughs. Since then, he earned a bronze medal at the Henri Deglane in France and a gold at the Matteo Pellicone in Italy.
David Taylor's victory over Five-Time World & Olympic champ Jordan Burroughs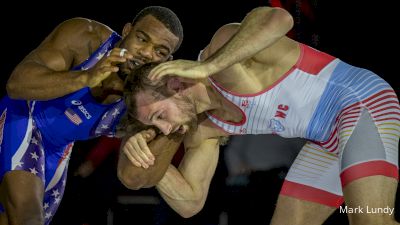 Unlock this video, live events, and more with a subscription!
Get Started
Already a subscriber? Log In
Challengers
While Taylor, Dean, and Zahid have earned contender status, this field is loaded with challengers who could upset the bracket. On the top side of the bracket, Gabe Dean will have to get by Myles Martin, the winner of the 195 lbs 8-Man Challenge both men entered, and David Taylor will need to beat either Sammy Brooks or Brett Pfarr.
Zahid Valencia's quarterfinal will be against either Nate Jackson or Aaron Brooks. Jackson has wrestled more matches than anyone during this pandemic and punched his ticket to the Trials at the Last Chance Qualifier over the weekend. That performance included victories over NCAA champs Mark Hall and Drew Foster and NCAA finalist Max Dean. Brooks is coming off his own NCAA title and actually beat Nate Jackson at the 2019 Dave Schultz when both were competing at 79 kg. Brooks and Zahid had a very contentious meeting at Senior Nationals in 2019.
Zahid Valencia vs Aaron Brooks in the semifinals at Senior Nationals in 2019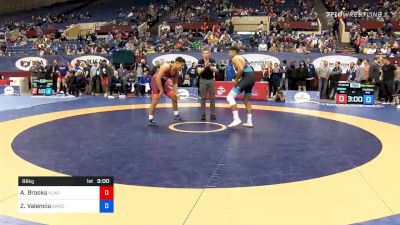 Unlock this video, live events, and more with a subscription!
Get Started
Already a subscriber? Log In
The winner of that bottom quarter will see either Pat Downey, Carter Starocci, or Bo Nickal. Starocci and Nickal have probably wrestled plenty of times in the Penn State room, but now they're slated to compete for all to see, and the winner gets Pat Downey. Starocci and Downey have yet to square off, but the last time Bo Nickal and Downey met, it was Nickal with the technical superiority victory at the 2017 US Open. If Nickal can repeat that feat, he could see Zahid Valencia in a rematch of the 2016 best of three Junior World Team Trials finals. Zahid won that series two matches to zero.
97 kg
Kyle has owned this weight class domestically for the past six years winning an Olympic gold, two World golds, and never failing to medal. However, that streak could be in trouble with the arrival of J'den Cox. In 2016 J'den was down at 86 kg making his first World/Olympic team and has failed to do so since. In 2018 J'den decided to go up to 92 kg where he's won two-straight World gold medals. Now, it's up to 97.
Contenders
The two wrestled in the 2015 NCAA semifinals with Snyder winning 3-2, but you can pretty much through that result out the window. The two have evolved so much there are once again so many questions and so much intrigue around this match. It really is a two pony race here, and maybe, outside of Kyle Dake vs Jordan Burroughs, the most anticipated match of the entire event. Two Olympic medalists and two World champions going at it. Doesn't get much better.
Watch Mike Mal break down some of the technique difference makers below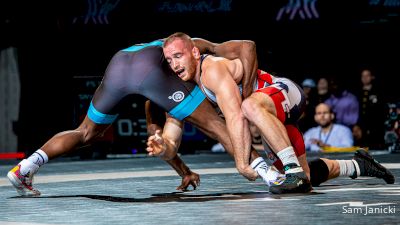 Unlock this video, live events, and more with a subscription!
Get Started
Already a subscriber? Log In
Challengers
Michael Macchiavello
While the rest of this bracket will take a backseat to the main event, it is still quite interesting. Moore, Zillmer, and Macchiavello have all split matches in the past. Moore has gotten the better of Zillmer in their past two meetings and Zillmer getting the better of Mike Macc in their past two meetings, but Macc beat Moore in their last meeting at the RTC Cup. Should be fun.
Despite meeting Snyder in the past two Final Xs, Kyven Gadson has become a bit of an afterthought at this weight. The former Cyclone has a pretty decent draw to make the challenge tournament finals against J'den. He'll have to go through Ty Walz and Kollin Moore, who have both beaten him the last times they've wrestled, but not something that is out of the question.
The last two men on this are young college superstars. AJ Ferrari became the most viral wrestler in recent memory with his post match interviews and antics en route to the 2021 197 lbs NCAA crown. Braxton Amos opted not to compete this year for Wisconsin, but was the #1 overall recruit in the class of 2020 and looked solid at the Last Chance Qualifier. He's also qualified for the Olympic Trials in Greco-Roman! If these two meet it will have to be on the backside, but could give us a glimpse of several possible future NCAA finals.
125 kg
No one is sitting out in the best of three finals. Nine competitors will wrestle to the finals on Friday. We'll then see whoever emerges from their respective sides of the bracket battle it out for the spot on the Olympic Team on Saturday Night.
The Contenders
Nick Gwiazdowski locked up the #1 seed by being the 2019 world team member who then qualified 125kg for Tokyo, which he accomplished by winning the Pan-Am Olympic Qualification Tournament. Gwiz also won World bronzes in 2017 and 2018 and made the world team in 2019.
The next two seeds, #2 Gable Steveson and #3 Mason Parris, are both junior world champs. Steveson won in 2017, when he was still cadet eligible (so 17 years old), and Parris won in 2019.
Steveson has recent wins over both Gwiazdowski and Parris. He beat Mason just a few weeks ago in the NCAA finals (and the Big Ten finals before that).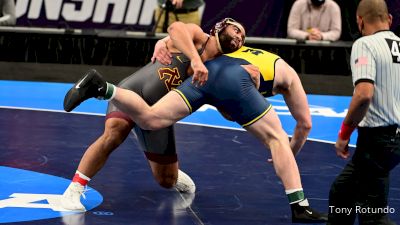 Unlock this video, live events, and more with a subscription!
Get Started
Already a subscriber? Log In
Steveson also defeated Nick at the RTC Cup in December of 2020.
Mason and Gwiz split their two matches at the same event. In the first match, Gwiz came roaring back from an early deficit to tech Parris. In their second matchup of the event, Parris gutted out a 10-7 victory.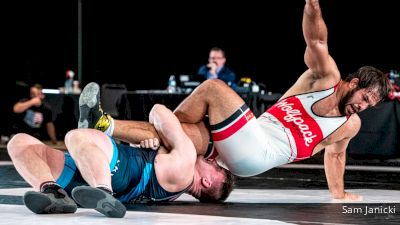 Unlock this video, live events, and more with a subscription!
Get Started
Already a subscriber? Log In
The Bracket
Before we see a potential rematch of Gable and Parris or the Saturday night best-of-three wrestle-off, the rest of the bracket has to take place (naturally).
Garrett Ryan and Jordan Wood will kick things off in the only pigtail of the 9-man bracket. Wood won the last folkstyle battle between these EIWA rivals.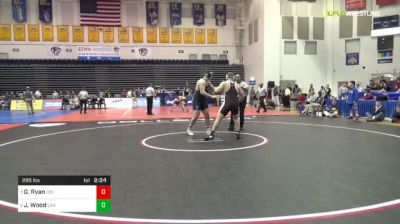 Unlock this video, live events, and more with a subscription!
Get Started
Already a subscriber? Log In
Ryan has stayed busy since graduating from Columbia, wrestling in a multitude of senior-level events and training back in his native Arizona with the Sunkist Kids. He also wrestled in America's Cup, splitting matches with fellow challenger Tony Nelson.
Unlock this video, live events, and more with a subscription!
Get Started
Already a subscriber? Log In
Wood has been busy winning three more EIWA titles and then qualifying for the team trials by finishing second at the Last Chance Qualifier.
Beating Wood in the finals of the Last Chance Qualifier was Tanner Hall, who has the unenviable task of taking on Gable Steveson in his first match of the tournament. Hall looked great in Fort Worth at the LCQ, though, so perhaps he can keep his hot streak going.
Greg Kerkvliet is an interesting wrinkle as the 7 seed. He wasn't expected to wrestle at all this NCAA season but came back for a couple of duals, Big Tens and the NCAAs, making it to the round of 12 where he lost to Cohlton Schultz, who will also be in Fort Worth trying to make the Olympic team in the 130lg Greco-Roman bracket. Parris will be favored in the opening round but Kerkvliet operating at peak condition is a problem.
The final first-round match is a battle of veterans. Dom Bradley and Tony Nelson have been near the top of the senior level heap for years. Gable, Gwiz and Parris have separated themselves from the pack, but Nelson and Bradley are world-class, and them being the #4 and #5 seed exemplifies the tremendous depth in this country at heavyweight.
What To Expect When Your Expecting To Watch The Trials
Both Bradley and Nelson have a shot at upsetting Gwiz and making it all the way to the best-of-three finals. But the odds are that the guy who repped the Stars and Stripes for the last three World Championships will at least make it to Saturday.
Gable will be heavily favored to emerge from the bottom half of the bracket. It's doubtful he runs into any trouble on his way to Saturday night.
And if it's Gwiz vs Gable, it'll be Gwiz trying to prove that 125kg still belongs to him, and Gable trying to make an even bigger statement than being an NCAA champ and co-Hodge Trophy winner. It should make for riveting wrestling regardless of the outcome.