2021 NCAA Wrestling Championship Watch Party
NCAA Notes: No ACLs, No Problem For Spencer Lee
NCAA Notes: No ACLs, No Problem For Spencer Lee
Two torn ACLs didn't stop Spencer Lee, Shane Griffith gave Stanford a champ, Penn State went 4-for-4 and the AJ Ferrari show continued.
Mar 21, 2021
by Andy Hamilton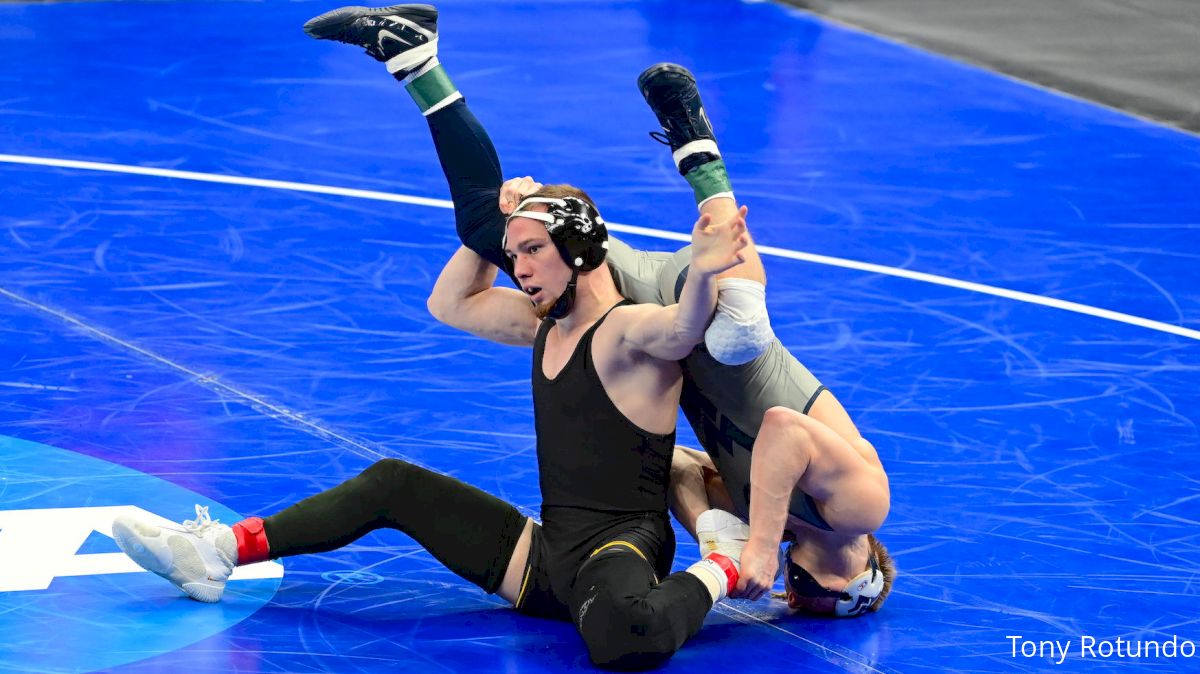 A mystery came unwrapped Saturday night when Spencer Lee stood in front of a national television audience and unveiled what's been underneath his two black knee sleeves.
For the past two weeks, Internet sleuths dissected Lee's Big Ten title bout and post-match dialogue between the 125-pound dynamo and his Iowa coaches in an attempt to uncover what kind of obstacles might be in his path to a third national title.
Turns out there were a couple.
Lee tore one of his anterior cruciate ligaments midway through the 2019 NCAA finals when he defeated Virginia's Jack Mueller. He tore the other two weeks ago in the Big Ten title bout.
"I'm wrestling with no ACLs," Lee said Saturday night during an interview with ESPN's Quint Kessenich. "Whatever, man. I didn't want to tell anyone because F excuses. Excuses are for wusses. That was a tough tournament for me. I could barely wrestle, I could barely shoot, I can't sprawl, but I believed in my coaching staff and everyone who believed in me."
This is how the 2021 NCAA Championships will be documented for Spencer Lee on the official NCAA bracket:
— A 16-1 technical fall in the first round against Virginia's Patrick McCormick.
— A 15-5 major decision in the second round against West Virginia's Killian Cardinale.
— A 10-2 major decision in the quarterfinals against Purdue's Devin Schroder.
— An 11-0 major decision in the semifinals against Central Michigan's Drew Hildebrandt.
— A 7-0 victory in the finals against Arizona State's Brandon Courtney.
The final tally — Lee 59, opponents 8 — is a lopsided run into the Iowa record books.
But Lee's third title chase — the one that moved him into a tie atop the school's all-time championship chart with Hawkeye legends Ed Banach, Barry Davis, Jim Zalesky, Tom Brands, Lincoln McIlravy and Joe Williams — will be remembered by the grind-it-out grit he displayed along the way.
Most of Lee's 75 career wins have followed a similar script with an early onslaught of takedowns and turns carving a path to first-period blowouts. During his run this week in St. Louis, he showed he could dig deep to put bouts away late, too.
He took a 3-2 lead into the third period against Schroder and broke it open with seven points in the final frame. Against Courtney, he went scoreless into the second period for the first time in more than two seasons.
After continually backing Courtney to the edge, Lee finally got to the previously undefeated Sun Devil for a takedown with 27 seconds left in the second period. He tacked on another takedown early in the third to put the match away.
"There's a lot of ways to win wrestling matches," Iowa coach Tom Brands said. "He's got some fresh injuries. I'm not getting into the details. We'll let him talk about that. But I just talked about the importance of him in a lot more ways than being on the mat and demonstrating his skill and being a point-scoring guru. It's more than that. It's the toughness factor. You watch him compete sometimes and maybe things aren't going his way and he's got a 14-2 lead and he puts his head on the mat and he may get criticized for that. But when it's time to show up, he's for real."
Now the focus turns to another question. Will Lee wrestle in two weeks at the Olympic Trials?
"We're getting ready," he said. "We'll see you guys there."
KEEP STANFORD WRESTLING
A last-second video review in the 165-pound title bout delayed Shane Griffith's title coronation, but it gave the Stanford sophomore an opportunity to soak in the sounds echoing through The Enterprise Center.
Though COVID-19 precautions limited attendance to 19,751 for the tournament's seven sessions, the small crowd joined together to chant "Bring back Stanford" and "Keep Stanford wrestling."
Coach Jason Borrelli and company have been fighting to preserve the Cardinal program since last July when Stanford announced its plans to drop 11 sports, including wrestling, at the conclusion of this school year.
"They haven't given us a straight-forward answer for why we're cut," Griffith said. "That's the main thing right now. We've tried to comply with them with everything they wanted — their demands. We keep giving them what they want and we don't get an answer in return."
Griffith's tournament run from the #8 seed in the bracket to the top of the podium amplified the Cardinal fight to keep wrestling.
"Just keep fighting the fight, whether it's a week-long battle, a year long, 10 years, who knows?" Griffith said. "I know we're going to keep fighting the fight.
"There's nothing more we're trying to do than keep this program at Stanford and the way things are rolling right now I think we have a good shot."
This weekend's showing certainly won't hurt the Cardinal case. Griffith became the school's second national champion and first since Matt Gentry in 2004. Stanford's 17th-place finish was the fourth-highest in program history.
"Hopefully this helps for the better," Griffith said. "From what they were saying, nothing was going to change their decision for no apparent reason. Hopefully this makes them look a little bad and more people raise awareness to the situation."
PENN STATELY
Penn State's mastery on the big stage continued Saturday night when the Nittany Lions went 4-for-4 in their individual title bouts. Roman Bravo-Young, Nick Lee and Carter Starocci toppled #1 seeds with overtime takedowns and Aaron Brooks finished his unbeaten run at 184 pounds.
The championship-round sweep ran the Nittany Lions' record to 16-3 in title bouts since 2017.
"I think they just believed and found a way," Penn State coach Cael Sanderson said. "It's great to see the toughness out of the guys and I think that's where that belief really kicks in."
Unlike recent years when the Nittany Lions locked up team titles or padded their winning margin on Saturday night, this one came in a runner-up finish. Iowa clinched its first team title in 11 years during Saturday's medal round and finished the tournament with 129 points. Penn State finished second with 113.5 and became the first team to crown four individual champions without taking home the team title.
"Obviously, we need a little bit more of a team effort," Sanderson said. "If you have four national champions and you're not winning the tournament, you've got to have more point-scorers. But it also shows you how good Iowa is. They've got a really good team this year and they competed really well and won a lot of tough matches. We need a couple more point-scorers in there.
"We're gonna learn if we lose and move forward. I think a year like this, especially for me as a coach, I need to do a better job in a lot of ways and nothing really reinforces that more than losing."
THE MR. FAST TWITCH ERA IS HERE
Oklahoma State's A.J. Ferrari became one of college wrestling's most captivating performers during his flex-filled freshman season. Whether he was firing off dynamic double-legs, deadlift stats or finger pistols, Ferrari was must-watch entertainment.
"I think he's done it in a playful way," Oklahoma State coach John Smith said. "He's not disrespectful to his opponents. He's not dancing around them or doing anything that's negative. I think he loves wrestling, he has fun, he has little fear and he's a young guy that's got a lot of spirit about himself and he just won an NCAA championship. He talks a big game, and he shows a big game.
"There is a fine line and you can't cross certain boundaries, and he and I discuss it all the time. But as you see, his interviews are electric and he enjoys talking about what he did and what he's done."
Ferrari brought fans along for the ride on social media, sharing his dance moves, workout routines and more through his Mr. Fast Twitch accounts and now he has another title to go by: 197-pound NCAA champion.
"I've been dreaming about this since I was a very young kid," Ferrari said. "I'm sure there's kids watching right now all over. Dreams can come true if you really see it, especially in a sport like wrestling.
"You can be any type of athlete. There's plenty of guys who weren't the most athletic guys who busted their butts and got here and won national titles, and that's what I'm here to say to young kids. If you have the dream of being an NCAA champion or at the highest level, being a World champion, it can be accomplished with the right people around you and with the proper mentality. And that's what I've continued to focus on and that's what I continue to implement. My coaches help guide me. I can get a little sidetracked at times, especially if somebody says something to me and it can really eat me up. And it motivates me, too, whenever I see people say stuff online.
"People say, 'Get rid of social media.' I see somebody talking crap and that's motivation for me to go in the weight room and put up 500 pounds for an extra couple reps."
FLIPPED SCRIPT
There weren't many runaway winners Saturday night, but Iowa State 157-pounder David Carr and assistant coach Brent Metcalf dominated the celebration game.
Twelve years ago inside the same building, Metcalf's 69-match winning streak came to a stunning end when he lost to North Carolina State's Darrion Caldwell in the 149-pound title bout. The match ended with Caldwell attempting a celebratory backflip that got cut short when Metcalf, then a junior at Iowa, shoved him in the back.
Metcalf got booed as he exited the arena and issued an apology the following week, but the conclusion of the match stuck with some college wrestling fans throughout the past decade and they were quick to pick up on the playful reenactment Saturday night.
When Carr went into a backflip Saturday night after beating Rider's Jesse Dellavecchia, Metcalf cut it short with a takedown.
"I'm a big visualization guy," Carr said. "That's something I visualized — doing a backflip, but not on Metcalf's watch.
"It was fun just to have that moment with my coach. He's pushed me a lot this year and he's one of the reasons why I'm on this big stage winning."