2021 NCAA Wrestling Championship Watch Party
Best Quarterfinals Of The 2021 NCAA Championships
Best Quarterfinals Of The 2021 NCAA Championships
If I have to limit my quarterfinals to watch to eight, these are my faves.
Mar 19, 2021
by JD Rader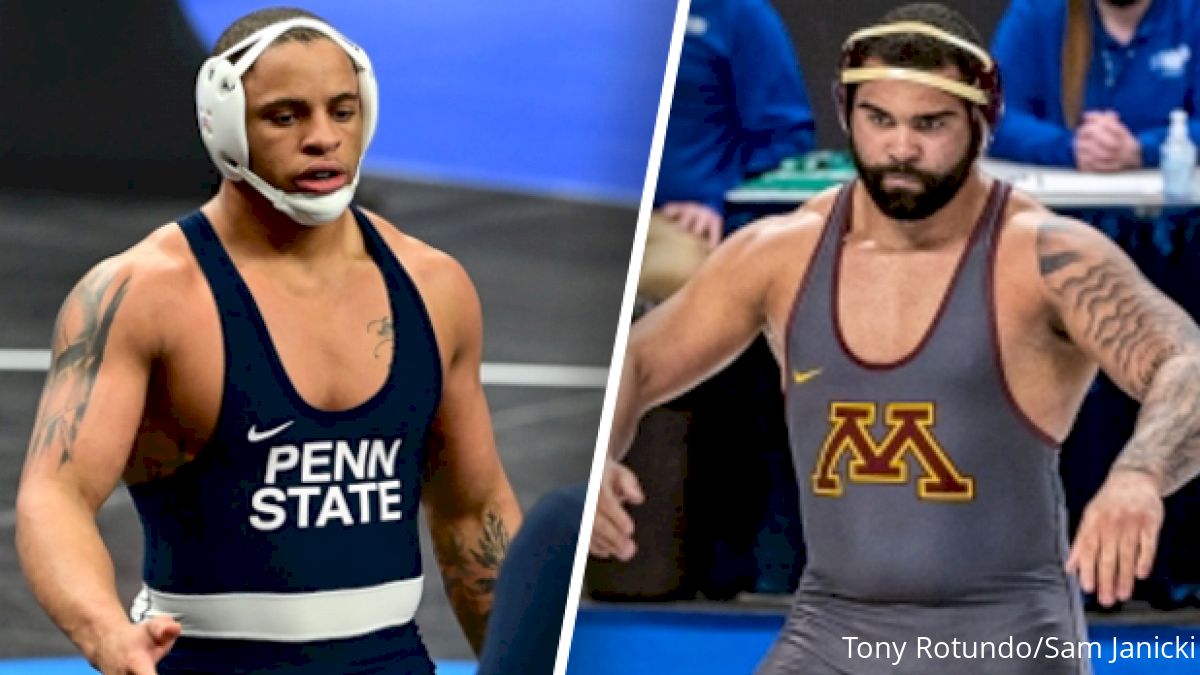 Unlock this article, live events, and more with a subscription!
Get Started
Already a subscriber? Log In
Remember, quarterfinal wins are worth seven team points, plus bonus. Iowa is in first with 33.5 points and eight quarterfinalists. Penn State is behind them with 28 points and seven in the quarters, and Missouri behind them with 23.5 points and four quarterfinalists.
FloWrestling's NCAA LIVE Watch Party
All-day Thursday, Friday & Saturday | March 18-20
NCAA Brackets in FloArena | NCAA Championships Hub
Really, all of the quarter-finals will be important and awesome. However, if I have to limit my quarterfinals to watch to eight, these are my faves.
125
#3 Brandon Courtney, Arizona State vs #6 Jakob Camacho, NC State
Both of these guys survived close ones in the round of 16: Courtney 9-7 over Eric Barnett and Camacho 10-8 over Dylan Ragusin. I expect another close one here in the quarters.
133
#4 Austin Desanto, Iowa vs #5 Micky Phillippi, Pitt
The pace of Austin Desanto vs the control of Micky Phillippi. It will be the first meeting between the two, and with both wrestlers only containing a single loss on their record this season, someone's one has to go.
141
#21 Real Woods, Stanford vs #4 Tariq Wilson, NC State
Real Woods showed up looking like the kid we thought we see at PAC 12s. He upset Dom Demas one match after beating Grant Willits and reversing the result from the PAC 12 finals. He's going to have to bring that A-game again tomorrow as Tariq has looked as solid as anyone at the weight through the first two rounds.
149
#12 Max Murin, Iowa vs #4 Boo Lewallen, Oklahoma State
Say what you want about Boo Lewallen's match with Josh Heil, but he's in the quarterfinal tomorrow and will be the favorite against Murin. Don't sleep on Murin, however. He took out Ridge Lovett in a redemption match from Big Tens.
157
#3 David Carr, Iowa State vs #6 Brayton Lee, Minnesota
Brayton Lee looked solid in his round of 16 win over Jacori Teemer, but David Carr is a different animal. His regular season dominance has continued in the postseason. Lee will also have to get over a bit of a hump. The two met in the 2017 Junior World Team Trials and 2018 Junior Nationals with Carr winning both matches close.
165
#3 Jake Wentzel, Pitt vs #6 Keegan O'Toole
Keegan got the biggest win of his career in the round of 16 with a win over 11 seed Cam Amine, and it's looking good for him to make the semifinals at his first NCAA tournament. Wentzel struggled in his opening round match, only winning 1-0 over 30 seed Evan Barczak before beating Peyton Robb 8-1.
197
#4 AJ Ferrari, Oklahoma State vs #5 Jacob Warner, Iowa
AJ Ferrari continues to be electric. My man shot down the ankle bands after a round of 16 victory. Jacob Warner survived a scare in the very first minute of the tournament, and then grinded out a 3-0 win over Lucas Davison.
285
#1 Gable Steveson, Minnesota vs #9 Greg Kerkvliet, Penn State
This will probably be another Gable beat down, but the intrigue and hypothetical 'what if' still loom slightly in this match. No matter what happens, you're still watching two #1 over all recruits from their respective classes. Also, don't forget that these two were supposed to be teammates at one point.