2021 NCAA Wrestling Championship Watch Party
A Buffet Of Notes To Consume On The Eve Of The NCAA Championships
A Buffet Of Notes To Consume On The Eve Of The NCAA Championships
Get ready for the NCAA Championships with notes on Hayden Hidlay's pursuit of N.C. State history, Gable Steveson's admiration of Spencer Lee and more.
Mar 17, 2021
by Travis Johnson
Unlock this article, live events, and more with a subscription!
Get Started
Already a subscriber? Log In
North Carolina State star Hayden Hidlay will enter what could possibly be his last NCAA wrestling tournament this weekend with a sparkling resume nearly unmatched in his program's history.
The humble senior from Central Pennsylvania doesn't like to play ranking games, but recently he's pondered what a Mt. Rushmore of Wolfpack greats would look like. To Hidlay, Nick Gwiazdowski is at the top of the mountain.
"I think there's a pretty clear criteria for what you need to do to reach the legendary status, and that's win it all," Hidlay said shortly before leaving for St. Louis where the NCAA Championships begin Thursday. "I think if I can take care of next weekend, I feel like I'll be in the same conversation as guys like him. He's obviously had a lot of success on the international scene getting multiple world medals. He's the standard. He's the kind of guy you want to be mentioned with."
Hidlay holds his former teammate in such high regard that he's willing to forgo the honor that surely awaits him – should the No. 2-seeded 157-pounder earn another All-America honor, he'd technically be North Carolina State's first four-timer.
Technically.
"I consider (Gwiazdowski) a four-time All-American for the Wolfpack because he's claimed here and he's reached legendary status, so to be able to join a group like that, that'd be pretty special to me," Hidlay said.
Gwiazdowski, who's gone on to international success after his collegiate career, earned his first NCAA podium finish at Binghamton. Hidlay watched his former teammate closely, and his respect for those who came before him has helped fueled him on his own run.
"He's one that is ahead of his years right now," North Carolina State coach Pat Popolizio said. "I think you can see the maturity and the reason why the leadership is where it's at at North Carolina State."
Second only to Gwiazdowski in career winning percentage at North Carolina State, Hidlay has been among the most consistent and explosive wrestlers in the country throughout his tenure. His folkstyle success has interweaved with freestyle accomplishments, but an individual NCAA title has eluded him thus far.
So far, Hidlay's got runner-up and fourth-place finishes to his name. He was the No. 2 seed last season before the COVID-19 pandemic wiped out the tournament.
But while the pandemic has shortened many individual seasons, Hidlay is an outlier. While others were sitting idle in the fall, Hidlay, along with his brother Trent and teammate Jakob Camacho competed at the U.S. Senior Nationals. The Wolfpack also wrestled in the RTC Cup.
"I think I got close to 10 matches in the fall leading up to the season, so although those don't count on my record, I still use them and it was technically part of the season," Hidlay said. "Although I wasn't wrestling folkstyle, it gave me a basic progression like the season normally would have."
Once the Wolfpack began collegiate competition in January, Hidlay picked up where he left off in 2020. He had won 20 straight last season before the NCAA tournament was canceled.
"Now it's about cashing in," Hidlay said. "We've got this big opportunity in front of us. We've got nine guys going to the national tournament and if we all put up some points, we can do some damage and bring home a team trophy. We felt like we could've done it last year. This year, there's a little bit of that intrinsic motivation where it's kind of worth double."
That could take on multiple meanings, especially for Hidlay personally as an opportunity to qualify for the Olympic Trials is also on the table this weekend.
"That's in the back of my head for sure," Hidlay said. "It'd be a really great way to finish off the season by winning it all and then qualifying for Olympic trials, so that plan is definitely in the works."
As for what comes next? Hidlay has made his decision whether or not he'll return to North Carolina State next season or solely focus on his freestyle goals. For now, he's keeping that information close to the vest. His family and coaches know, but he's waiting until the tournament is over to make anything public.
"I just feel like it'd be best for the focus of our team and myself where I'll wait," Hidlay said. "There's just so much that goes into this tournament. You don't want any outside storylines to happen. There's enough of that as-is."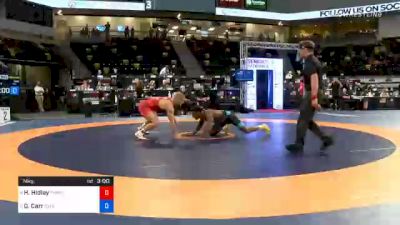 Unlock this video, live events, and more with a subscription!
Get Started
Already a subscriber? Log In
JUST IN TIME
A few days before they were set to leave for St. Louis, Rutgers wrestlers had what coach Scott Goodale called a "spirited, live and exciting" practice.
They were certainly fresh enough to do so.
Perhaps no other team needed action like the Scarlet Knights, who were idle all February as duals against Indiana, Michigan State, Nebraska and Maryland were canceled.
"Here we are, we've got guys that haven't wrestled in five weeks, and when I think of the Big Ten tournament, I think we really did a good job of wrestling ourselves into shape," Goodale said. "I think we got five guys going to the tournament that believe they can win matches and get on the podium at the national tournament."
Sebastian Rivera (125), Michael Van Brill (149) and John Poznanski (184) all put in extra work at Big Tens, where each had to wrestle back to win third-place matches. Jackson Turley (174) and Billy Janzer (197) earned at-large bids to NCAAs.
Rivera, who finished third at 125 in 2019, is the No. 3 seed at 141 and coming off one of the best matches of the year against Penn State's Nick Lee in the Big Ten semis. Goodale has watched the match again, as a coach and a fan.
Lee scrambled his way to an 8-6 win in sudden victory. The bout was so good, Goodale is hoping for a rematch between the two. Lee is the No. 3 seed.
"What was really working for Sebastian was his ankle pick where there were quick finishes," Goodale said. "We take a lot out of that, he has to continue to do that because that guy scrambles and makes it hard."
UNDISPUTED NUMBER ONES
Gable Steveson's goal this season was simple — widen the gap.
To do so, the NCAA tournament field's biggest star has drawn inspiration from its smallest. Steveson loves watching Iowa's Spencer Lee. In fact, Lee's Big Ten title win against Purdue's Devin Schroder by technical fall was one of just two bouts Minnesota's big man watched in State College two weeks ago.
"The way he wrestles and the way he takes care of his business on the mat is phenomenal," Steveson said. "He's separated himself so deeply in the 125 field that very clearly, there's no other person who can compete with him overall and everyone believes it too."
Like Lee at 125, Steveson is the unquestioned No. 1 seed and favorite at heavyweight. Michigan's Mason Parris, Steveson's closest competition over the past two seasons, wasn't able to escape Steveson's heavy-handed offense in a 12-4 loss in the Big Ten finale.
The point spread in that bout was important to Steveson, who had previously only managed to outlast the talented Wolverine in an 8-6 win last season. Steveson enters the tournament with a handful of impressive wins against wrestlers in the bracket.
He's 19-0 against them with two falls, two techs and seven majors.
"I wanted to take what (Lee's) done and put it in the heavyweight division and make sure that people can understand that I can do the same thing and create that separation myself and make sure that there is no other title contender overall," Steveson said.
GLORY DAYS
Cael Sanderson is 41, but sometimes he might sound like a wrestling grandpa when waxing to his team about the good ol' days when he was shredding opponents en route to four-straight NCAA titles from 1999 to 2002.
"I think college wrestling probably peaked back in 2002," Sanderson said. "I'm just kidding, we always tell our guys that, 'Whenever we were in college, hey man, you're lucky you're weren't wrestling in this time period, because they were…'"
But, he might have a point. One of his colleagues has long had a reputation as a guy to steer clear of if you want to keep your confidence high. Assistant coach Casey Cunningham is a grinder in the practice room, known for helping chisel stars like David Taylor, Quentin Wright, Ed Ruth and Matt Brown, who've all mentioned Cunningham's hard-nosed approach.
The former Central Michigan national champion still carries an edgy profile in the Penn State room.
Top-seeded 184-pounder Aaron Brooks, who leads the 2019 champions' nine qualifiers, can vouch for that.
"His mentality is sharp when you go out and wrestle," Brooks said. "He's a tougher mentality. When you hear guys saying he's beating up on them, it's true. Coach Casey goes hard."
The Nittany Lions are among a handful of teams that experienced a long midseason layoff. COVID precautions wiped out their most anticipated dual against the top-ranked Iowa Hawkeyes.
"(Sanderson) talked to us about that in practice, that we're known for peaking in this tournament," Brooks said. "Even the guys we're wrestling, they know that Penn State guys are known for peaking at this tournament."
HOSTS WITH HIGH EXPECTATIONS
In more than two decades at Missouri, coach Brian Smith has learned something about being a good host when college wrestling's biggest show comes to town.
It's helped him build relationships with young, star-struck wrestling fans who've filled the venue every year. Smith sees it each year, too, this is usually the moment these kids' make their decisions to chase glory in the sport.
"I love when it's in the city," Smith said. "It has definitely helped grow the sport in the state of Missouri. When it first came, I think it was my second year here, it was amazing just how many young kids I ended up recruiting down the road saying, 'Man, I got to see wrestling at the national tournament and being there.' And how it influenced their lives."
Keegan O'Toole (165), one of 10 Tigers making the trip, is one of them. Not only is O'Toole one of three unbeaten true freshmen overall making their NCAA Championships debut, he's also someone Smith met as a youngster, though their first encounter came at an Askren Wrestling Academy practice.
O'Toole's 197-pound teammate, Rocky Elam, is another unbeaten freshman who'll wrestle his first NCAA tournament matches. Like O'Toole, Elam has been training for this moment at a high level for a long, long time.
Both have made the most of the COVID-shortened season. Missouri wrestled 10 duals and the two freshmen went 13-0 and 11-0, respectively.
"Keegan, Rocky, those guys, that's the new kid you're getting nowadays," Smith said. "Especially with USA Wrestling taking these kids abroad and they're on national and world teams, competing at high level tournaments all the time."
Smith's phone rang a few days before the Tigers got set for their final stretch of practices leading up to the tournament. It was Elam's mentor. J'den Cox.
"He was like, 'How's my guy doing?'" Smith said. "That's Rocky. When he got back to high school, he was probably bored. He was wrestling every day with J'den then had to go wrestle high school kids. Then he ends up winning the state and coming here. He's prepared for this."
The Tigers haven't won a team trophy since their fourth-place finish in 2015, but Smith thinks his team has the firepower to make a push.
"That's a big part of the identity of our program," Smith said. "Everybody just kind of overlooks us so I hope they do at the nationals too, because we're excited to wrestle and we're coming in bringing some high expectations, some guys ready to wrestle."
COWBOY UP
Count Oklahoma State's Daton Fix among those starstruck kids. He got an early taste and started attending the NCAA tournament as a kid in 2006. Since then, no tournament has topped that first one in his opinion.
There's a reason for that.
"That's the last year Oklahoma State won a team national title," Fix said. "That's the reason I came to Oklahoma State, to bring a title back to Stillwater."
So the recipe for a topper is clear. The 133-pounder and the other eight Cowboys in the field need to ascend to that top spot. The Cowboys aren't favored, and Fix is the lone top seed they'll send to the mats.
"We have yet to wrestle to our full potential," Fix said. "I don't think that's a bad thing, necessarily. We can show up and shock some people I think. A lot of our guys are in a good position to make a run and place pretty high and make the finals at a couple of weights."
If they don't win it all, that doesn't mean Fix won't appreciate what could be his last tournament, as a competitor at least.
"Going to those tournaments when I was so young, eight, nine years old, it really helped me develop a love for this sport at a young age," Fix said. "I was watching pretty high-level wrestling at a young age too. So just seeing champion after champion come through the NCAA tournament kind of gave me the mindset where I pictured myself doing that someday."
CAMEL CLUTCH
Campbell has a nice little run going in the Southern Conference. Fresh off their third straight league championship, the Camels' qualified a program-best seven wrestlers for NCAAs thanks to a handful of standout SoCon performances and a pair of at-large bids.
Leading the way is Josh Heil, who looked poised to bust up the bracket last season before the tournament was wiped out. The Camel senior had won nine of his last 10 bouts following a neck-and-neck battle with Iowa's Max Murin at the Midlands Championships.
Campbell's first four-time NCAA qualifier is on a similar run this season. He's won seven of nine matches, often going away. But he's coming off a loss to Appalachian State's John Millner in February's SoCo tournament.
Heil opens his tournament as the No. 20 seed at 141 against Oklahoma's Mitch Moore.