2021 PIAA Individual State Wrestling Championship
Raging Mega Huge Championship Weekend Round Up
Raging Mega Huge Championship Weekend Round Up
A run down of all the wrestling championship events that took place the weekend of March 13, 2021, of which there were a lot.
Mar 15, 2021
by Andrew Spey
Unlock this article, live events, and more with a subscription!
Get Started
Already a subscriber? Log In
Not long ago, after what seemed like an eternity, the whole wrestling world decided to start their postseasons all at once. Thus, what was once a competition dessert was soon awash with a flood of wrestling events. Mercifully rescued from our period of antediluvian limbo, we, at last, had wrestling championships to report on.
And report on wrestling championships we shall.
Pennsylvania High School Championship
First up is the PIAA Individual State Championship. No high school tournament is scouted more heavily than PA States (and they do call it 'states' in the Keystone State, with all due respect to our 'state' fans).
Brackets were reduced to eight wrestlers a weight class, which made for a longer qualifying process that progressed in a haphazard manner, but still eventually got us to the place we wanted to get. Which is, naturally, the finals matches.
PA is a two-class state, and recently shrank the number of weights to 13, which means we were treated to 23 glorious matches with Pennsylvanian state titles on the line.
AA Finals
106: Louie Gill (Hickory) DEC Cooper Hornack (Burrell), 6-2
113: Jaden Pepe (Wyoming Area) DEC Gavin Bradley (Athens), 3-2
120: #9 Brett Ungar (Notre Dame Green Pond) F #5 Mason Gibson (Bishop McCort), 4:12
126: #19 Joey Fischer (South Park) DEC Scott Johnson (Muncy), 3-2
132: #7 Jackson Arrington (Forest Hills) DEC #11 Brandan Chletsos (Notre Dame Green Pond), 10-3
138: Brock McMillen (Glendale) DEC Ian Oswalt (Burrell), 1-0
145: #10 Levi Haines (Biglerville) F Nathan Higley (Sullivan County), 2:19
152: Grant Mackay (Laurel) DEC Dalton Gimbor (Hamburg), 1-0
160: #19 A.J. Corrado (Burrell) F #17 Avery Bassett (Midd-West), 6:20
172: #16 Rune Lawrence (Frazier) DEC Malachi Duvall (Penns Valley), 9-7
189: Cael Crebs (Montoursville) F #18 Ethan Finch (Sheffield), 5:00
215: #18 Dayton Pitzer (Mount Pleasant) DEC Dylan Bennett (Montoursville), 6-1
285: Nathan Taylor (Brookville) DEC Riley Robell (Bishop McDevitt), 5-3
AAA Finals
106: #4 Kaedyn Williams (Manheim Township) DEC Cael Nasdeo (Williamsport), 3-0
113: Jake Van Dee (Cathedral Prep) DEC Zachary Jacaruso (Delaware Valley), 3-1
120: #15 Mac Church (Waynesburg) DEC Karl Shindledecker (Chambersburg), 2-1 TB2
126: #16 Tyler Kasak (Bethlehem Catholic) DEC Carter Dibert (Franklin Regional), 3-2
132: Briar Priest (Hempfield Area) DEC Dylan Chappell (Seneca Valley), 6-0
138: Finn Solomon (Franklin Regional) DEC Cole Homet (Waynesburg), 7-5
145: #3 Wyatt Henson (Waynesburg) DEC John Altieri (Norwin), 5-3
152: #3 Alejandro Herrera-Rondon (Seneca Valley) DEC #7 Rocco Welsh (Waynesburg), 3-1
160: #4 Jagger Condomitti (Northampton) DEC Jack McGill (Spring-Ford), 7-3 SV
172: #10 Luca Augustine (Waynesburg) DEC #6 Trey Kibe (Mifflin County), 3-2
189: #10 Joey Milano (Spring-Ford) MD Justin Hart (Hampton), 15-5
215: Jake Lucas (Cumberland Valley) DEC Josh Harkless (Wilson), 3-1 SV
285: Nate Schon (Selinsgrove) F Sean Kinney (Nazareth), 6:26
Brackets, complete results and more are available here, inside FloArena. National high school rankings are here.
Brett Ungar, who already had a New Jersey state title to his name before crossing the Delaware in Washingtonian fashion, stole the show, with a win over #8 Gary Steen in the semifinals and this astounding pinfall of #6 Mason Gibson in the finals.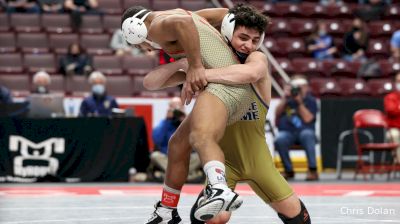 Unlock this video, live events, and more with a subscription!
Get Started
Already a subscriber? Log In
Other states holding their championships last weekend include Ohio, Missouri & Colorado. 33 nationally ranked wrestlers participated.
Links to the tournament brackets are below.
Missouri: MSHSAA State Championships
Colorado: CHSAA State Championships
Ohio D1: OHSAA D1 State Tournament
Ohio D2: OHSAA D2 State Tournament
Ohio D3: OHSAA D3 State Tournament
And a special shout out to Olivia Shore of Miami East High School in Ohio. The future Tiffen student-athlete placed sixth in the 106lbs D3 boys' bracket.
Olivia Shore: confirmed deadly with a headlock!!!
-
Olivia Shore guaranteed top 5 in the state!!! @olivia_shore2 @GOhioCasts @zzsmiller @MiamiEastHS pic.twitter.com/arpNhm0nsR

— Hannah Mears (@hanmears_) March 14, 2021
---
The NWCA Division III National Championship
For all the Division III wrestlers in the country, 2021 began much as it has a year ago, with the NCAA deciding that there would be no postseason for their non-scholarship division.
But that didn't stop the wrestling community from rallying and hosting their own DIII championship, thanks to some very determined people at the NWCA and elsewhere. In record time, an entire event was created from scratch and completed, dare I say, flawlessly.
One only has to watch the celebrations at the end of these finals matches to see why folks decided to roll up their sleeves and make sure the event take place, and why all the hard work that went into hosting was so very worth it.
125: #3 Alex Friddle (Coe College) DEC #4 Brady Kyner (Wartburg), 6-3
133: #2 Brock Henderson (Coe College) DEC #1 Robbie Precin (North Central), 4-2
141: #2 Jimmy McAuliffe (Elmhurst) DEC #1 Kristian Rumph (Wartburg), 6-3
149: #4 Josh Gerke (Coe College) DEC #2 Brady Fritz (Wartburg), 4-2
157: #2 David Hollingsworth (Wartburg) F #4 Brady Henderson (Coe College), 4:17
165: #1 Bradan Birt (Millikin) TF #3 Zane Mulder (Wartburg), 15-0 5:24
174: #1 Kyle Briggs (Wartburg) MD #2 Solomon Nielsen (Augsburg), 8-0
184: #2 Shane Liegel (Loras) DEC #1 Paul Detwiler (Coast Guard), 4-1
197: #5 Cody Baldridge (North Central) MD #4 Gabriel Zierden (Concordia-MN), 10-2
285: #6 Wyatt Wriedt (Loras) DEC #8 Tyler Kim (Augsburg), 4-3
No official scores were kept, but as you can see from the number of finalists, it was Wartburg University and Coe College that led the way in the unofficial team scores. Wartburg, with their eight All-Americans, that 'won' the event, over Coe, with their three champs.
But really, just having this event in the first place meant that we are all winners. And perhaps the real championships were the friend we made along the way.
Full brackets, team finished and more are here, inside FloArena.
My favorite match of the finals? A thrilling overtime upset in sudden victory 2 by Brock Henderson over Robbie Precin.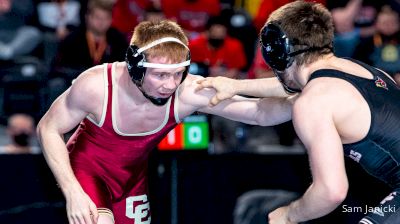 Unlock this video, live events, and more with a subscription!
Get Started
Already a subscriber? Log In
That's right, I said it. It was a wrestling match that went into overtime and it was awesome. Which is something that sometimes happens!
---
NCAA Division II National Championship
Unlike their DIII counterparts, the NCAA actually allowed Division II to hold their post-season. You can read the full recap of the championship tournament by the always accommodating and amply empowered Andy Hamilton here.
The headline is that St. Cloud State courageously eked out a title over the valiant efforts of Nebraska-Kearny, much to the dismay of our own resident Loper, JD Rader.
Existence is pain

— JD Rader (@rader_jd) March 14, 2021
The top ten team scores are below.
| | | |
| --- | --- | --- |
| PLACE | TEAM | POINTS |
| 1 | St. Cloud St. | 107 |
| 2 | Neb.-Kearney | 105.5 |
| 3 | Lindenwood (MO) | 72.5 |
| 4 | West Liberty | 72 |
| 5 | McKendree | 71.5 |
| 6 | Central Okla. | 65.5 |
| 7 | Ashland | 48 |
| 8 | Colorado Mesa | 31 |
| 9 | Gannon | 30.5 |
| 10 | Minnesota St. | 25 |
---
NAIA Women's National Championship
Let us not forget the distaff collegians who also held a championship over the weekend. The NAIA schools had their annual championship, featuring some of the top talents in the nation.
Finals results
101: #1 Nina Pham (Wayland Baptist) VFA Ivy Navarro (Providence), 8-0 2:19
109: #3 McKayla Campbell (Campbellsville) VPO1 #11 Asia Ray (Wayland Baptist), 16-14
116: #3 Peyton Prussin Las Vegas, NV (Life) VSU #5 Charlotte Fowler (Campbellsville), 10-0 3:45
123: #6 Jasmine Hernandez (Lyon) VFA #8 Julia Vidallon (Life), 13-4 4:35
130: #6 (136) Bridgette Duty (Cumberlands) VSU1 Angela Vitiritti (Campbellsville), 12-2 3:33
136: #2 Desiree Zavala (Wayland Baptist) VSU #20 Randi Robison (Campbellsville), 10-0 0:51
143: #8 (130) Waipuilani Estrella-Beauchamp (Midland) VPO1 #10 Erin Redford (Eastern Oregon), 4-3
155: #4 (143) Sienna Ramirez (Southern Oregon) VSU Morgan Mayginnes (Baker), 10-0 3:27
170: #9 Jordan Nelson (Life) VPO1 #2 (191) Alexandra Castillo (Campbellsville), 5-1
191: #4 Nkechinyere Nwankwo (Oklahoma City) VFA Elisa Robinson (Baker), 6-2 1:48
Rankings are from our Women's Multi-Division College Rankings by our friends at American Women's Wrestling. You can find full brackets and more inside FloArena.
Team Race
| | | | | |
| --- | --- | --- | --- | --- |
| Place | Team | Points | Champ | AAs |
| 1 | Campbellsville | 185 | 1 | 0 |
| 2 | Life | 134.5 | 2 | 0 |
| 3 | Wayland Baptist | 100 | 2 | 0 |
| 4 | Oklahoma City | 96.5 | 1 | 0 |
| 5 | Southern Oregon | 94.5 | 1 | 0 |
| 6 | Cumberlands | 89 | 1 | 0 |
| 7 | Jamestown | 77 | 0 | 0 |
| 8 | Grand View | 76.5 | 0 | 0 |
| 9 | Baker | 72 | 0 | 0 |
| 10 | Midland | 70 | 0 | 3 |
Desiree Zavala was named Outstanding Wrestler of the tournament.
CONGRATS Desiree on being named the NAIA National Championship Tournament Oustanding Wrestler! #TeamWa #TeamWaWrestling @WrstleLikeAGirl @FloWrestling pic.twitter.com/F6v2agUTLd

— Grow Washington Wrestling (@wrestlewa) March 14, 2021
A week earlier the NCAA schools with women's wrestling programs hosted their own championship event. You can read a recap of that tournament here.
---
Russian Men's Freestyle National Championship
Finally, we need to discuss RusNats, which unequivocally the deepest annual freestyle tournament outside of the World Championships or Olympic Games. Indeed, some would venture to say even deeper.
Finals
57kg: #1 Zaur Uguev defeats Nachyn Mongush
61kg: Abasgadzhi Magomedov defeats Muslim Mekhtikhanov
65kg: #1 Gadzhimurad Rashidov defeats Zagir Shakhiev
70kg: Israil Kasumov defeats Evgeniy Zherbaev
74kg: #3 Zaurbek Sidakov defeats #1 Razambek Zhamalov
79kg: Malik Shavaev defeats Akhmed Usmanov
86kg: #5 Artur Naifonov defeats #4 Dauren Kurugliev
92kg: Magomed Kurbanov defeats Anzor Urishev
97kg: Alikhan Zhabrailov defeats #18 Aslanbek Sotiev
125kg: Sergey Kozyrev defeats Atsamaz Tebloev
A whole bunch of individual matches are available to watch here, with more on the way. Included in one of those already prepared for viewing matches is the most anticipated match of the tournament, Sidakov vs Zhamalov, which you can watch right now.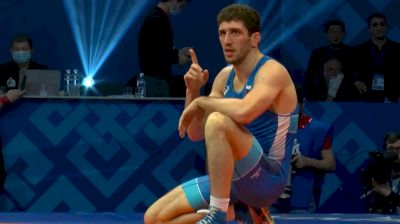 Unlock this video, live events, and more with a subscription!
Get Started
Already a subscriber? Log In
Zhamalov beat Khetag Tsabolov at 2020 Russian Nationals and then defeated two-time world champ Frank Chamizo at the 2020 Individual World Cup finals. Tsabolov had to defeat Sidakov in the first round of the 2020 RusNats before he could make it to the showdown with Zhamalov.
Finishing third at 74kg at 2021 RusNats were Magomed Kurbanaliev and Magomedrasul Gazimagomedov, both of whom possess world gold medals. As does Tsabolov, who did not participate in the 2021 national tournament because it would appear he has transferred to Serbia and will try and make the Olympics competing for that federation.
So yeah, Russia is good at wrestling.
As for who we will see in Tokyo, nothing has been made official, but in most instances, Russian Nationals also serves as the team trials for whichever is coming up next, the World Championships or Olympic Games. As such, you can expect to see Uguev, Rashidov, Sidakov and Naifonov on the Olympic team.
Sadulaev was given an exemption, because he's Abdulrashid Sadulaev, so he didn't have to participate in RusNats nor earn his spot in a wrestle-off or in some international tournament. 97 on the Russian men's freestyle team is Sadulaev's until he starts losing, so don't hold your breath.
Heavyweight still has to be determined, nor is it qualified for Tokyo, for that matter. Individual world cup gold medalist Shamil Sharipov will try and do exactly that at the Euro Olympic Games Qualifying Tournament (LIVE on FloWrestling) next weekend in Budapest. After that, he'll wrestle-off with 2021 RusNats winner Kozyrev for the Olympic spot, or for the privilege of trying to qualify the weight at the Last Change Olympic Qualifying Tournament (also like on Flo) in Bulgaria in May, should Sharipov not get the job done in Hungary.
Assuming they qualify, whoever gets tabbed as Russia's heavyweight in Tokyo is going to be a medal threat. Which goes to show how good they are when that's considered a weak link on the team.
We now have a pretty clear pictures of Russian men's freestyle team.
57: Uguev 2X🌎🥇
65: Rashidov 2X🌎🥈,🌎🥇
74: Sidakov 2X🌎🥇
86: Naifonov 🌎🥉
97: Sadulaev 🌎🥈,5X🌎🥇
125: TBD
Pretty gnarly squad
📸 @Tony_Rotundo pic.twitter.com/NjUntIscHJ

— Oolawn Oodayman (@SpeyWrestle) March 14, 2021
So that was Championship weekend.
Oh yeah, it's also NCAAs in like, two days. So we got that going for us as well.