2021 UWW Ranking Series: Matteo Pellicone
Pellicone Recap: Greco-Roman Edition
Pellicone Recap: Greco-Roman Edition
Recapping the performances of the American Greco-Roman wrestlers at the 2021 UWW Ranking Series: Matteo Pellicone.
Mar 10, 2021
by Timmy Hands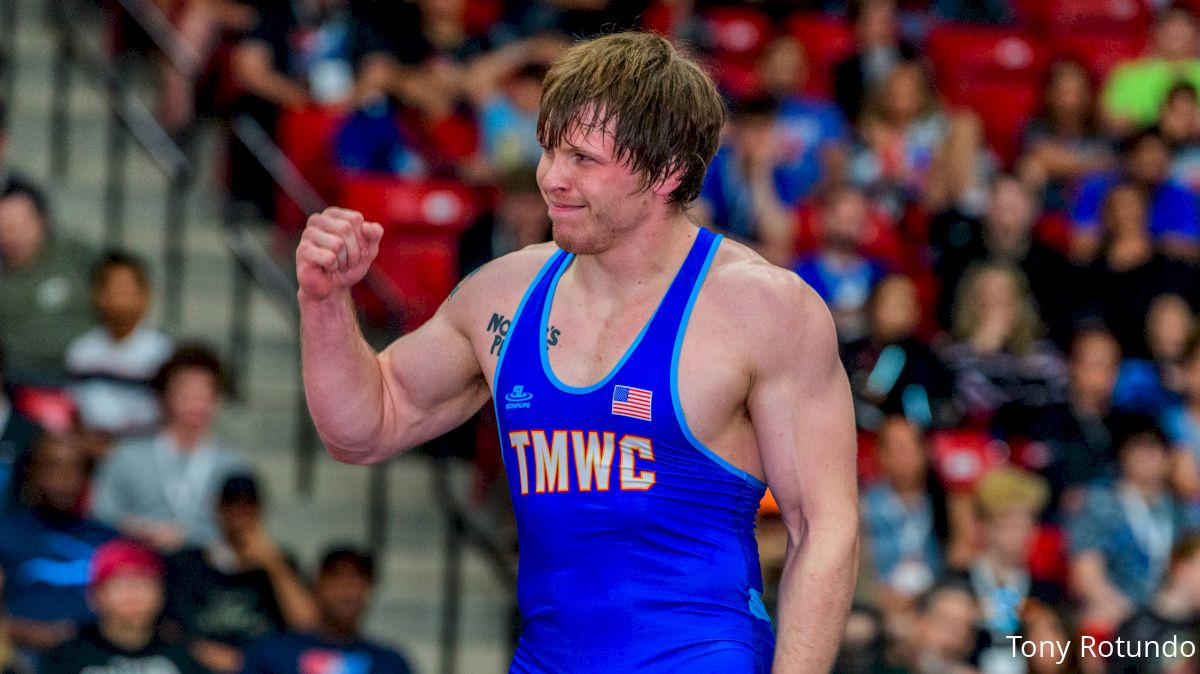 Unlock this article, live events, and more with a subscription!
Get Started
Already a subscriber? Log In
Only a few seconds had expired after the mat chairman yelled "Stop!" when Peyton Walsh rose to his feet and hurriedly tried to make his exit. They don't just let you walk away, either in victory or defeat. Mandatory post-match rituals do not change based on outcome, nor are they adjusted depending upon the demeanor of the participants. Walsh, who had just been gutted out in :41 by well-traveled and decorated vet Ashkat Dilmukhamedov of Kazakhstan, just wanted to get the forced handshake over with and head to the back where it would become permissible to fully embrace his exasperation.
Patrick Smith? He wasn't in the same rush to depart stage left following his similarly-short vanquishing at the hands of another Kazakh, Tamerlan Shudukaev. Smith didn't fall victim to a gutwrench chain like Walsh. The methodology was different. Instead, Shudukaev had pulled the cord on a textbook arm spin, caught Smith on his back, and eventually came away with a pin. At the bout's conclusion, Smith sat for a moment as if to absorb the suddenness of the circumstances. Then he, too, mustered up the resolve to go through the motions of compelled sportsmanship.
This pair of 77-kilogram bronze bouts, for as brief as they were, provided all the proof one might need as to how the 2021 Matteo Pellicone Memorial was actually perceived by the American Greco-Roman delegation. Any insistence that the first "Ranking Series'' tournament of the year was demoted to "practice event" status turned into a straw-man declaration each and every time a US athlete tasted defeat.
In a few days, the emotional responses will soften. Results will be compartmentalized in their own ways, on their own time. Training will ramp up, and then all anyone will care about is ensuring that they are in an improved state of mind prior to arriving in Fort Worth some three weeks and change from now.
But the idea that Pellicone represented nothing more than a mere warm-up opportunity on the part of US athletes in advance of the Olympic Trials? It was always half nonsense.
No, the matches didn't really matter, and the curve deepened due to the sparseness of competition during this, the most trying and tumultuous Olympic Year in modern history. Even the most ardent of USA Greco-Roman detractors and skeptics have to make room for these concessions.
Room also has to be made for the realization that the goings-on in Italia carried at least a little extra weight compared to the typical mid-season overseas jaunt -- primarily because it wasn't one. For a handful, it was their first legitimate event in a year, or more. For others, it was an additional testing mechanism against a skewed sample size.
Weight-by-Weight Overviews
60 kg
Ildar Hafizov (Army/WCAP, 5PM #1) -- 5th
One dominant win, two tough-to-swallow losses. But putting that aside, Hafizov performed beautifully and appeared even more explosive than the last time we saw him, which was when he qualified 60 in Ottawa. He should have been awarded four for that last-gasp front headlock in the bronze match. That he didn't get it was appropriately discouraging. Still, Hafizov's barrel fired hot and in succession. Will certainly present a severe obstacle for whoever meets him in the Trials finals.
Dylan Gregerson (UVRTC) -- 8th
Lost to the same two athletes as Hafizov, Emin Sefershaev (RUS) and Zhanserik Sarsenbaev (KAZ), and by somewhat similar scores. The difference was in the mechanics. Gregerson doesn't have Hafizov's polish just yet, so in order to stay competitive he had to fight tooth and nail each and every moment of his matches. Wouldn't you know it, but sometimes that's all it takes. One of the true bright spots for the US delegation in the tournament.
---
63 kg
Sammy Jones (NYAC/UVRTC, 5PM #5 at 60 kg) -- 5th
The offensive-minded approach was there; so too better-than-expected conditioning. Jones was one of several whose last official bout came in '19, but dust wasn't as big of an issue for him in Italy as the fact that he shuns tightly-woven pummels and refuses to slow down the action. Iffy on his last sequence for bronze as he did all he could to stave off a step-out against Neeraj Neeraj (IND) by uncorking a throw. Physically, technically, looked promising. Would have preferred the Olympic weight over 63, however, but that's knit-picking.
---
67 kg
Jamel Johnson (Marines, 5PM #4) -- 8th
Johnson continued his progress from January, when he put together a 2-2 run in Nice, which offered an equally-challenging bracket. He went 1-1 in Rome, bombing Julinho Correia Dju (POR) before falling to World medalist Almat Kebispaev (KAZ) in the next round. The bout with Kebispaev was predictably close. Johnson was down 2-0 but then capitalized on the passive chance with a correct throw and step-out to take a 4-2 lead. In the second, Kebispaev's passivity/PT gave way to a chest-wrap deal that altered the bout's trajectory. Johnson dropped the 5-4 decision -- but through six matches this season has already put forth a healthy amount of nice moments.
---
72 kg
Ray Bunker (Marines, 5PM #3 at 67 kg) -- 5th
The kind of workrate Bunker prefers means his body has to be in superb condition. There is no other way to do it and, unsurprisingly, Bunker's pace was formidable in his bouts, which included a typical Bunker-esque grinder (against Kaharman Kissymetov of KAZ) and a decision loss to World-decorated Chingiz Labazanov (RUS). He hung in there with the Russian, did Bunker, succumbing only to a pair of guts. In his third match of the pool, this time versus Robert Fritsch (HUN), Bunker appeared to twist his knee (early reports are he'll be fine for TX). What you wanted out of Bunker in Italy, save a medal, you got.
---
77 kg
Patrick Smith (Minnesota Storm, 5PM #1) -- 5th
By now, Smith has surely managed to let go of his defeat to Shudukaev, and he should. It was an anomaly. His opening bout was more aligned with his capability. Against '20 Euro silver Zoltan Levai, better known currently as Tamas Lorincz's heir apparent, Smith's signature push was all the rage, he just couldn't fabricate a decent offensive chance on the feet. Which happens. Levai won 2-0 on two passives, and Smith defended both of those. Another good sign.
It is also the main reason why you wanted more match time out of him. Going into the bronze round, Smith was all warmed-up, and that's when he's at his best.
Peyton Walsh (Marines, 5PM #9) -- 5th
Walsh didn't nail down an easy victory against Marciano Ali (PUR). To characterize it that way is a disservice to both athletes. Walsh battled hard throughout and the most positive development is that he converted from top to secure the victory. That is big, considering how matches are usually won at this level.
Yunus Basar (TUR) and Dilmukhamedov both ran away via guts -- and that's another way matches are won, too. Walsh lost his two matches mainly from an inability to defend. That song plays in the USA Greco jukebox quite often, but there's something to be done about that.
---
82 kg
RaVaughn Perkins (NYAC, 5PM #4 at 77 kg) -- 8th
Make it easy: Perkins' first bout is an automatic 'Match of the Year' candidate. Despite that it was sloppy in spaces, the sheer volume he and Singh Gurapeet (IND) brought to bear was nothing short of thrilling, even if Gurapeet came on late to threaten with a fall. Bright side, really in totality, was that Perkins had more than enough wind to throw down in that kind of barnburner.
Tamas Levai (HUN) piled on in the proceeding round, par terre points the killer in that one. Dismiss that a little if only because this was the heaviest Perkins had ever weighed in for a sanctioned event.
Ben Provisor (NYAC, 5PM #3 at 77 kg) -- 13th
Originally, everyone assumed that Pellicone was to represent Provisor's first 77-kg weigh-in of the season. That didn't happen, as "Big Ben" is instead going to taper his way down to weight for Texas. One match is all he got, '18 World silver and prolific reverse-lifter Emrah Kus (TUR), who used his go-to in the first period to yield four points in what wound up a 7-0 loss for Provisor. Nothing to overreact about here. Provisor is far too game and experienced for anyone to think he's carrying this result around in his head.
Terrence Zaleski (Marines, 5PM #10 at 87 kg) -- 10th
Zaleski, who will compete in the Trials at 87 kilos, was down at 82 mostly because the US had to shake up its roster a little bit, or something like that. Semi-long story. What isn't, unfortunately, is Zaleski's ledger from Rome. Zaleski was doing a fine job of jousting with elder statesman Laszlo Szabo (HUN) in the first period of their contest, but then Szabo went haywire from par terre and that was a wrap. Zaleski might have been irked, but he's got bigger fish to fry, for he is a potentially deadly sleeper next month at the mega show.
---
87 kg
Joe Rau (TMWC/IRTC, 5PM #2) -- 5th
Bite-down victories are Rau's speciality, and he logged one in the qualification round by outworking Nursultan Tusyrnov (KAZ) 3-0, passive and gut responsible for the points haul. It didn't go as well after that. Rau lost to David Losonczi (HUN) 10-1, but not because of a string of PT scores. It was mostly because the match simply unraveled. Between a few step-outs and a land-on-top for Losonczi, as well as a takedown mixed in, Rau somewhere along the way began overthinking and overreaching.
Losonczi was good enough on Thursday to down '18 Russian National gold Beckhan Ozdoev, whom Rau met in the bronze round. Ozdoev, unlike Losonczi, was able to go on a gutwrench spree to cut the bout short. Rau has had a tough go of it in the three overseas tournaments in which he has participated this season, but he also has a lot of data files stored by now to update his hard drive before April.
John Stefanowicz (Marines, 5PM #5 at 77 kg) -- 7th
Not enough will be made of Stefanowicz's 1-1 criteria win over Dogan Goktas of Turkey, but it was yet one more Stefanowicz victory over a stout foreigner that was made possible by his vice-grip mentality. He could have come loose and overextended in the second period; instead, he stayed within himself and fought till the end. Goktas is more of a turn-and-not-be-turned type, but still. Impressive win. Ozdoev did to Stefanowicz what he did to Rau, so it wasn't all rosy for the Marine.
The only question worth asking: is this Stefanowicz's weight for Trials? It is starting to seem like it is. And, if indeed that is the case, wow. 87 in Fort Worth will be outstanding.
---
97 kg
Daniel Miller (Marines) -- 7th
Three exceedingly tough matches. Miller's performance in Rome, which was capped at 1-2, deserves a closer look. He brought the physicality in each of his three bouts, and came very close to clipping Hungarian stud Evrik Szilvassy, who squeaked by 2-1. Miller's third and final match of the tournament was a winnable affair. Points were there for the taking but Ondrej Dadak (CZE) did just enough to do nothing, in Greco-speak. If we're talking momentum, however, Miller may have some. Despite not exactly on a winning streak, the Marine Captain is improved from his season debut in January and seems like he's beginning to click on all cylinders.
---
130 kg
West Cathcart (NYAC/IRTC, 5PM #6) -- 12th
You shouldn't feel "bad" for Senior athletes, but it had been a long while since Cathcart last competed overseas and it would have been nice to watch him get a longer day at the office. Alas, Cathcart drew Russia's #2 Zurabi Gedekhauri and was gutted out in the first period. The loss likely won't make a lasting impact on Cathcart's consciousness, if only because he wasn't the only US heavyweight to experience Gedekhauri's grasp of par terre efficiency.
Adam Coon (NYAC/Cliff Keen, 5PM #1) -- 7th
It could have been predicted. It was right there in front of everyone's face, and no one called it out. But, of course, Coon and Schultz were paired together first-round, which was both intriguing and demoralizing at the same time. On one hand, you wanted to see it. On the other, nah, not really. Not there. And it was not a great match. 10-5 in Coon's favor, though Schultz did a better job of controlling position, particularly in the first period. Coon was fresher in the second, oddly, and drummed up a couple of takedowns, and etc, and so forth. Neither were at their apex, so a reasonable takeaway is to dismiss it along with most of the other performances. Next for Coon was Gedekhauri and the memo was the same as it was for most of Coon's teammates: shore up the PT defense.
Cohlton Schultz (Sunkist, 5PM #2) -- 9th
As described above, Schultz fell to rival/recent training partner Coon in what was a strange, surprisingly messy bout that went to Coon via 10-5 decision. Schultz -- PAC-12 champ and undefeated this collegiate season heading into the D1 Nationals -- has obviously been training consistently for months, and was in fine shape prior to Rome. In other words, there were enough extraneous factors to take their result with a grain of salt. Both are significantly better than what they showed in Rome.
Then again, that is true for just about all of them.