2021 Big Ten/Big 12 Championship Watch Party
Brooks Looks To Repeat In A Wild 184 Field At Big Tens
Brooks Looks To Repeat In A Wild 184 Field At Big Tens
Aaron Brooks looks to repeat as Big Ten champ, and the rest of the field is sure to provide chaos. Here's what you need to know about 184 lbs at Big Tens.
Mar 4, 2021
by David Bray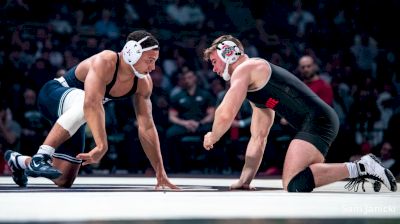 Unlock this article, live events, and more with a subscription!
Get Started
Already a subscriber? Log In
Aaron Brooks, the 2020 Big Ten champ at 184 lbs, is back and looking to win his second conference crown in as many attempts. He's the top seed, and after that, it's pure chaos. While the action is live on the Big Ten Network, we'll be breaking it down from Flo HQ on a watch party. Here's everything you need to know about this 184 lbs bracket.
Watch the Big Ten/Big 12 Championships Watch Party LIVE on FloWrestling
Pre-Seeds (8AQs)
1. #4 Aaron Brooks, Penn State
2. #10 Christopher Weiler, Wisconsin
3. #12 Layne Malczewski, Michigan State
4. #6 Owen Webster, Minnesota
5. #9 John Poznanski, Rutgers
6. #15 Taylor Venz, Nebraska
7. #11 Max Lyon, Purdue
8. #16 Zach Braunagel, Illinois
9. #17 Nelson Brands, Iowa
10. #18 Rocky Jordan, Ohio State
11. Kyle Cochran, Maryland
12. Jaden Bullock, Michigan
13. Jon Halvorsen, Northwestern
14. Santon Cantu III, Indiana
Brooks at the Top
Since winning a Big Ten title as a true Freshman, Aaron Brooks has been basically untouchable. In his six matches this season, he has four majors and a tech, and he appears to have separated himself from the field.
Based on pre-seeds, he could see Nelson Brands or Zach Braunagel in the quarters. He's 1-0 against Braunagel but has yet to face Brands in his career. A quarterfinal win would likely give him Owen Webster or John Poznanski in the semis. He hasn't seen Poznanski yet, but he has two majors over Webster.
There's no telling who will come out of the opposite side of the bracket. It could be Chris Weiler, Layne Malczewski, Max Lyon, or Taylor Venz. Brooks hasn't seen Malczewski or Lyon, and he's 2-0 against Weiler. Taylor Venz has actually handed Brooks the lone loss of his Penn State career, but Brooks got revenge last year at Big Tens with a fall in the semis.
Aaron Brooks' 2020 Big Ten semi victory over Taylor Venz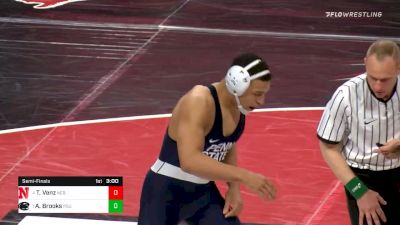 Unlock this video, live events, and more with a subscription!
Get Started
Already a subscriber? Log In
Predicting the Podium is a Fool's Errand
Brooks is a clear favorite to win this bracket, but with the next nine guys being ranked between #6 and #18 in the country, there are a lot of reasonable podium outcomes that make sense.
Rocky Jordan may be the most likely guy to wreck the seeds. He's way down at the #10 seed but has wins over Max Lyon who he's supposed to see in the round of 16 and Chris Weiler who he's seeded to see in the quarterfinals.
The bottom line is that all of the guys in the top ten are capable of both winning and losing to each other, and with just eight automatic qualifier spots, every match will matter.
Top Early Matches
#18 Rocky Jordan vs #11 Max Lyon - Lyon has the higher seed, but Jordan has won this match in their three previous meetings 7-1, 6-1, and 7-2. History favors Rocky, but Lyon's victories over Braunagel, Brands, and Malczewski suggest he's capable.
#17 Nelson Brands vs #16 Zach Braunagel - Braunagel has a 2-1 record against Brands, but all three of their meetings have been razor thin. Brands won 3-1 during his true freshman year, but Braunagel won 3-2 at Midlands last season and in sudden victory in a dual this year. This one could go either way.
#12 Layne Malczewski vs #15 Taylor Venz - Malczewski and Venz have yet to square off in their college careers. Coming into the season, the All-American Venz would have been a heavy favorite, but he's taken a couple losses this year. Malczewski has looked solid with just one loss to Max Lyon on the season.
#6 Owen Webster vs #9 John Poznanski - Webster beat Poznanski 6-4 when these two met in January, so he's the favorite, but their tight match from last time suggests this one could be close again.
#10 Chris Weiler vs #18 Jordan/#11 Lyon - Second seed Chris Weiler will see either Max Lyon who he beat this year or Rocky Jordan who beat him. His Lyon win was 4-2, and his Jordan loss was 9-4.
---
Predictions: 1) Brooks 2) Venz 3) Webster 4) Poznanski