Unlock this article, live events, and more with a subscription!
Get Started
Already a subscriber? Log In
In order for Penn State to maintain its run of dominance, a new crop of youngsters will need to get up to speed quickly. That's a tall order for a number of reasons, but if anyone can lead a fresh group of wrestlers to a title, it's Cael Sanderson and company. Here's why this crop of Nittany Lions has a number of obstacles in its way, and why they just might be up for the challenge.
Unprecedented Challenges for Penn State
This NCAA season presents extra hurdles for every team in the country, but Penn State has been hit especially hard, having been forced to miss their first two competitions of the season because of COVID-19. These missed competitions have delayed the varsity debut of half or more of Penn State's starting lineup. Still, the Nittany Lions want to win an NCAA team title, but they'll have to overcome some hurdles they haven't seen before.
Starters Still Waiting for NCAA Experience
During the last five years, Penn State has never rolled out a set of starters with as few NCAA tournament appearances or podium finishes as the group they're expected to send out this year. Roman Bravo-Young, Nick Lee, and Brady Berge are the only athletes who have wrestled at an NCAA Championships, and only Bravo-Young and Lee have stood on the podium.
An obvious part of the reason for their reduced tournament appearances and podium finishes is that the 2020 NCAA Championships didn't happen. Even if they had, Penn State's returning NCAA Appearances would only move from four to seven or eight (depending on whether Verkleeren starts at 149), and their podium finish count based on 2020 seeds would climb to six.
It might seem unfair to compare Penn State's returning stats this year to their previous years' stats, but it's undeniable that part of the value of qualifying for the NCAA Championships and finishing on the podium is the experience wrestlers gain from competing in the season's most loaded and intense event.
Returning From Previous Years




NCAA Appearances
Podium Finishes
NCAA Titles
2016
13
5
0
2017
9
5
1
2018
13
10
6
2019
12
12
7
2020
13
11
4
2021
4
3
0
Freshmen Still Waiting for Varsity Action
The other reason Penn State is returning so few NCAA tournament appearances and podium finishes is that six of its probable starters this year have yet to wrestle a varsity match. Robbie Howard and Beau Bartlett are fresh out of high school, and Joe Lee, Carter Starocci, Michael Beard, and Greg Kerkvliet are redshirt freshmen.
Not only are these six freshmen, but they are also competing in a season that has denied them the opportunity to wrestle in tournaments, and now, just six weeks from the Big Ten Championships, they're still waiting for their first dual meet of the year.
Their dual meets against Rutgers and Michigan State have been postponed which means PSU freshmen have missed opportunities to test themselves against ranked opponents. Howard would have seen #22 Nic Aguilar and #10 Rayvon Foley, Lee would have seen #17 Jake Tucker, Starocci would have seen #17 Drew Hughes and #24 Joe Grello, Beard would have seen #7 Cam Caffey, and Kerkvliet (if he were healthy) would have seen #14 Bill Janzer.
It's hard to bet against Penn State, but even some of their best performers have taken their time in adjusting to varsity competition. Mark Hall lost the first match of his freshman year before eventually winning a title. Vincenzo Joseph lost to Keaton Subjeck before eventually winning his title. Bo Nickal dropped a bout to Nate Jackson before punching his ticket to the NCAA finals.
Experience matters, so Penn State will have to do their best to simulate that in other ways. Despite these hurdles, Coach Sanderson spoke confidently about his young squad last week during Penn State media day, and his history of building successful teams should give Penn State fans plenty of reasons to be optimistic.
Why Penn State is Still Dangerous
Even though Penn State's team has a major experience deficit compared to previous years, Coach Sanderson's history with young teams, PSU's small but solid core, and caliber of these freshmen suggest that wrestling fans shouldn't count Penn State out just yet.
Cael's Incredible Track Record
Even though Penn State hasn't had a team this inexperienced in recent memory, it has done well with young squads. The last time they rolled out a starting lineup without any returning champs was the 2015-2016 season. And how did they finish? Well, they put 5 in the finals, had two NCAA champs, and won a team title by 25.5 points.
After graduating Nico Megaludis, Jordan Conaway, and Morgan McIntosh at the end of that season, they were left with a squad for 2016-2017 that only had five All-American honors between them and won another team title with 146.5 points and five NCAA champs. To put it simply, they have a track record of success, even with inexperienced teams.
Small but Solid Core
While more than half of Penn State's starters could be freshmen, their returners are incredibly seasoned. Roman Bravo-Young and Nick Lee have been All-Americans in every attempt, and Aaron Brooks earned the #3 seed for the 2020 NCAA Championships that were canceled. Brady Berge has battle injuries, but was 2-2 at NCAAs as a freshman and has the ability to do well this year.
No Ordinary Freshmen
The group of freshmen Penn State plans to roll out is an incredibly credentialed bunch with a ton of potential. Both Robbie Howard and Greg Kerkvliet are world class, having won Cadet World gold medals. Rumors of an injury to Greg Kerkvliet have swirled, but if he's competing at the end of the year, he'll be a major problem at heavyweight. Beau Bartlett was the #4 recruit in the class of 2020 and showed promise this summer with a close match against two-time NCAA finalist Bryce Meredith.
Joe Lee and Michael Beard had solid redshirt seasons and should make solid contributions this year, and Carter Starocci's outstanding redshirt year has many wrestling fans believing he can compete for an NCAA title this year. This team has a steep hill to climb, but they just might have the personnel to get it done.
Carter Starocci's 2020 Southern Scuffle Final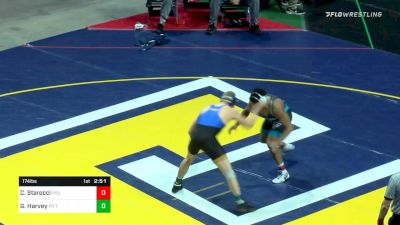 Unlock this video, live events, and more with a subscription!
Get Started
Already a subscriber? Log In