4 Takeaways & 2 Questions From Penn State Media Day
4 Takeaways & 2 Questions From Penn State Media Day
Cael Sanderson and company addressed the media before the start of Penn State's season. Here are big takeaways from that conference call.
Jan 12, 2021
by David Bray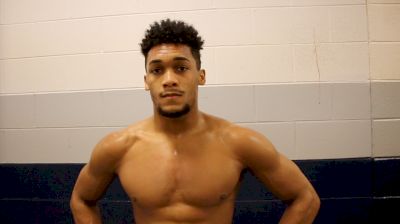 Unlock this video, live events, and more with a subscription!
Get Started
Already a subscriber? Log In
Unlock this article, live events, and more with a subscription!
Get Started
Already a subscriber? Log In
Earlier today, Penn State released their media day press conference call featuring Cael Sanderson, Aaron Brooks, and members of the media. The full press conference is available on Penn State's site. Here are four big takeaways and two questions after that call.
The Lineup Will Be All Hands On Deck
Ever since the NCAA announced that this season would not count against athletes' eligibility, wrestling fans have assumed that most teams would roll out their best wrestler at every weight regardless of eligibility status. Still, rumors have swirled that high profile Penn State wrestlers would skip this season.
Cael put those rumors to rest and emphasized multiple times that he plans to roll out the best lineup possible. He mentioned guys like Howard, Lee, Bartlett, and Kerkvliet. It's safe to say that Penn State is all in for the 2021 season.
Cael Is Confident In His Youngsters
During the conference call, Coach Sanderson repeatedly emphasized that this year's team was both young and capable of high levels of success. He specifically named Robbie Howard, Beau Bartlett, Joe Lee, Carter Starocci, Aaron Brooks, Michael Beard, and Greg Kerkvliet as guys who could make an impact.
Sanderson emphasized that this will be a season where they'll depend on a new crop of wrestlers to step into the lineup and lead the program to a new generation of success. Of course the standard at Penn State is high as they've won eight of the last nine NCAA Championships that were contested. If they hope to replicate that success, they'll need the underclassmen to make it happen. Cael thinks they can.
Berge is Back
Brady Berge suffered a head injury at the 2019 U23 World Championships and hasn't been able to remain healthy since then. That appears to have changed as Coach Sanderson explained that Berge is finally healthy and ready to compete.
Sanderson described Berge as a "peacemaker" and a guy who unites the team. At his best, Berge has always been a threat to do serious damage on a national level. A healthy Berge could mean good things for Penn State.
Penn State Believes They Can Win NCAAs
After Cael Sanderson took the mic, sophomore Big Ten champ Aaron Brooks answered questions. His expectations for the team were simple. He believes they can win an NCAA title in 2021.
Their strong belief should come as no surprise to anyone, even though Iowa is the current favorite in the NCAA rankings. Penn State has made a habit out of winning titles. This year they'll have to attempt that feat with a lineup that only includes two guys, Roman Bravo-Young and Nick Lee, who have been on the podium at NCAAs.
What's The Starting Lineup?
The question about the starting lineup was a question that neither Sanderson nor Brooks was able to answer. The plan is to finish the season with the strongest lineup possible, but what does that look like? Based on Penn State's current roster, here's a guess:
125 - Robbie Howard
133 - Roman Bravo-Young
141 - Nick Lee
149 - Beau Bartlett
157 - Brady Berge
165 - Joe Lee
174 - Carter Starocci
184 - Aaron Brooks
197 - Michael Beard
285 - Greg Kerkvliet
That's a pretty salty squad. One of the biggest questions has been where Bartlett and Lee fit. Since Lee is only listed at 141 while Bartlett is listed at both 141 and 149, it makes sense that Lee will probably compete at 141.
Can Penn State Really Compete For A Title?
This is the question we won't really be able to answer until the season is over. It's hard to believe that only two of Penn State's ten starters have set foot on the podium at NCAAs, and none of them have stood on the top spot. When is the last time Penn State returned a lineup like that?
Despite their current lack of achievements, Cael Sanderson has a history of creating teams that overcome the odds and win titles. Can this squad make it happen? They're confident that they can, they have a ton of potential, and we'll find out soon enough.