2021 Utah Valley Round Robin Tournament
5 Reasons To Watch ASU, Utah Valley, & Wyoming
5 Reasons To Watch ASU, Utah Valley, & Wyoming
Utah Valley hosts Arizona State and Wyoming in a tri where nearly a third of the starters are ranked. Here are the biggest stories to follow in Utah.
Jan 21, 2021
by David Bray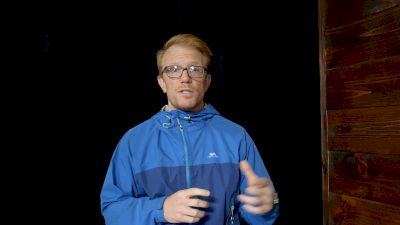 Unlock this video, live events, and more with a subscription!
Get Started
Already a subscriber? Log In
Unlock this article, live events, and more with a subscription!
Get Started
Already a subscriber? Log In
Some of the best wrestlers in the west will be meeting up in Utah for a strong round-robin event this Saturday, January 23. Arizona State and Wyoming travel to Utah Valley where they'll forgo the typical dual meet structure for individual round-robins that should set up some fantastic individual matchups. As always, COVID-19 could change the starting lineups, but if all teams are full strength, here are the biggest stories we expect to see.
Watch Arizona State & Wyoming at Utah Valley LIVE on FloWrestling
Saturday, January 23, 2021 | 12:00 PM EST
1) 174 is Tough as Nails
If all teams are full strength, we'll see three ranked 174-pounders who have never met in competition. Demetrius Romero is back after a medical redshirt last season. He currently sits at #6 in the country. He'll look to maintain that ranking against two tough competitors.
Hayden Hastings is a two-time NCAA qualifier who's been a staple in the 174 rankings for the past couple of seasons. He's currently ranked #14 and will be looking for an opportunity to show that he's ready to content for All-American honors.
ASU's Trey Munoz has wrestled just once this season, but his match was an 8-3 win over Oklahoma's Anthony Mantanona who was #6 at the time. Now, Munoz sits at #19. We'll see how prepared the freshman is to contend with two more ranked 174-pounders.
Demetrius Romero's win over Joe Smith at the 2019 Big 12 Championships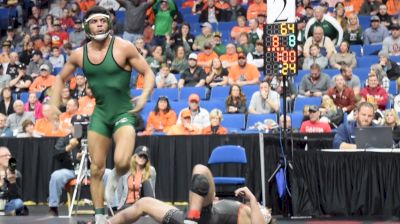 Unlock this video, live events, and more with a subscription!
Get Started
Already a subscriber? Log In
2) Freshmen Knocking On The Rankings Door
In this season with limited competition, ranked opponents provide huge opportunities for unranked wrestlers, particularly freshmen who haven't had the opportunity to build much of a resume. Two guys who could be poised to make moves are Wyoming 133-pounder Job Greenwood and Arizona State heavyweight Cohlton Schultz.
Greenwood already has one upset on the year from Wyoming's dual with Central Michigan. Greenwood pinned then #19 Andrew Marten. He has lost close matches to Missouri's #19 Matt Schmitt and Northern Colorado's #8 Mosha Schwartz and seems to be ready to make a move. He could have a big test on Saturday against #10 Michael McGee of Arizona State, and if he wins, he'll have a very strong case to be ranked.
Arizona State freshman Cohlton Schultz is the top Greco heavyweight in the country, and he was one of the biggest recruits in the class of 2019. Now he's looking for a ranked win to propel himself into the rankings. He'll have a big challenge with Big 12 champ #10 Brian Andrews of Wyoming. Many people expect big things out of Schultz, but Andrews has proved to be very solid at this level.
3) Taylor Lamont Looks To Stay Hot vs #4 Courtney
Utah Valley Junior Taylor LaMont has had incredible moments throughout his career, but he hasn't found his way onto the podium thus far. He started this season with a 10-6 victory over #20 Theorius Robison, and he'll have a big opportunity this weekend with #4 Brandon Courtney.
Courtney and LaMont have yet to square off in their college careers, and in a year where 125 has a ton of parity, this match between #4 and #13 feels like a toss up.
Taylor LaMont's 10-6 victory over Theorius Robison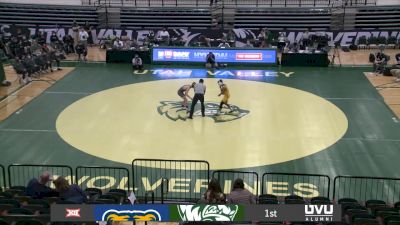 Unlock this video, live events, and more with a subscription!
Get Started
Already a subscriber? Log In
4) 6 Ranked Matchups
If all team's starters stay healthy, we'll see six matches between ranked opponents. Check them all out here:
125 - #4 Brandon Courtney, Arizona State vs #13 Taylor LaMont, Utah Valley
157 - #12 Jacori Teemer, Arizona State vs #19 Jacob Wright, Wyoming
174 - #6 Demetrius Romero, Utah Valley vs #14 Hayden Hastings, Wyoming
174 - #6 Demetrius Romero, Utah Valley vs #19 Trey Munoz, Arizona State
174 - #14 Hayden Hastings, Wyoming vs #19 Trey Munoz, Arizona State
197 - #8 Kordell Norfleet, Arizona State vs #16 Stephen Buchanan, Wyoming
5) 14 Ranked Wrestlers
Nearly a third of the starters in these lineups are ranked. Here are all 14 starters who currently sit in the top 25 of our NCAA Rankings:
125 - #4 Brandon Courtney, Arizona State
125 - #13 Taylor LaMont, Utah Valley
133 - #10 Michael McGee, Arizona State
141 - #23 Peter Lipari, Arizona State
157 - #12 Jacori Teemer, Arizona State
157 - #19 Jacob Wright, Wyoming
165 - #4 Anthony Valencia, Arizona State
174 - #6 Demetrius Romero, Utah Valley
174 - #14 Hayden Hastings, Wyoming
174 - #19 Trey Munoz, Arizona State
184 - #21 Tate Samuelson, Wyoming
197 - #8 Kordell Norfleet, Arizona State
197 - #16 Stephen Buchanan, Wyoming
285 - #10 Brian Andrews, Wyoming