Big Ten
#1 Iowa Handles Nebraska, 31-6
#1 Iowa Handles Nebraska, 31-6
#6 Nebraska heads to Carver Hawkeye Arena to take on the top ranked Iowa Hawkeyes.
Jan 16, 2021
by Christian Pyles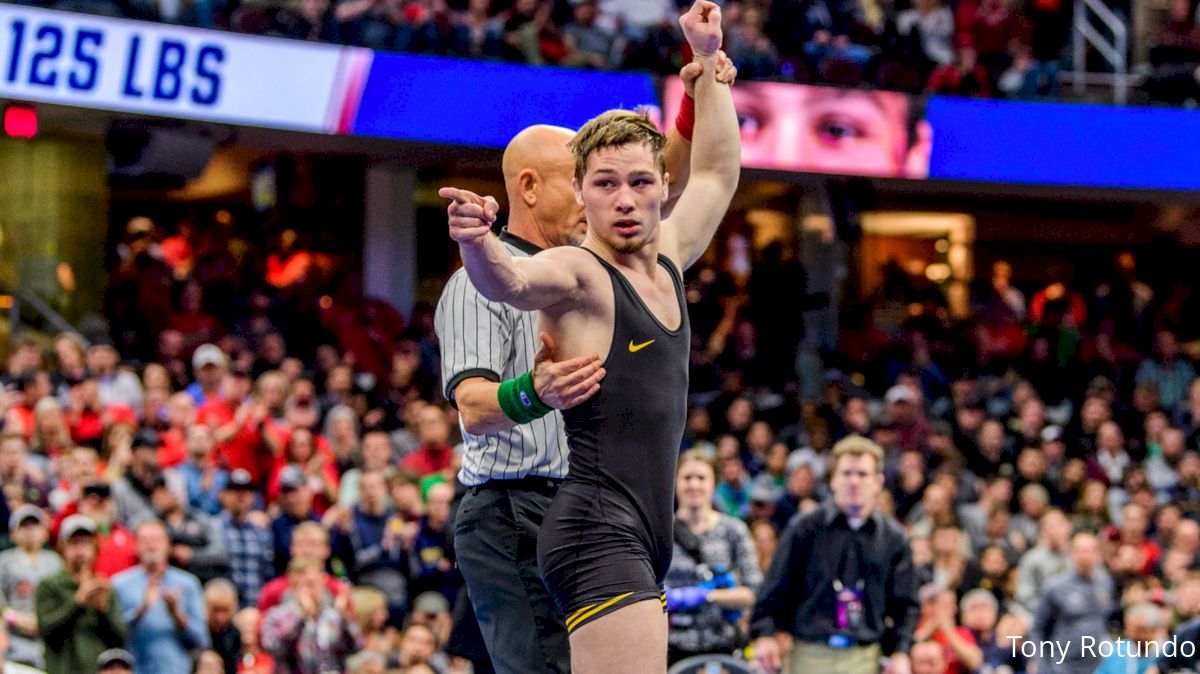 Unlock this article, live events, and more with a subscription!
Get Started
Already a subscriber? Log In
#1 Iowa cemented they would be the team to beat this year with a dominant performance against the 6th ranked Nebraska Cornhuskers.
The Hawkeyes won 31-6 in Carver Hawkeye Arena. For full details check out the match notes below!
While I have your attention, Thomas Gilman, Vito Arujau, Nick Suriano, James Green, Yianni, Kyle Dake, Zahid Valencia, Kyle Snyder and Nick Gwiazdowski compete tomorrow at 4:30 AM ET live on Flo at the Henri Deglane tournament in France. Brackets and details here.
Both teams look to be at full strength with the exception of #1 Michael Kemerer out at 174. He'll be replaced by blue chip True Freshman, Patrick Kennedy out of Minnesota.
First thoughts are it's pretty bittersweet to see a completely empty Carver Hawkeye Arena. This place would be wild for a dual of this magnitude.
National Anthem time. Terry Brands in an awesome USA Wrestling 1/4 zip. Going to be a great night of wrestling.
125 - #1 Spencer Lee, Iowa vs #12 Liam Cronin, Nebraska
1st Period: Terry in Spencer's ear right before he walks out. Handshake and we're underway! High crotch to a double for Spencer and he's got 2 in the first 10 seconds. Immediate chop and Cronin is flat. Bar on the left for Spencer. Cronin warned for stalling. Spencer takes him over and gets a 4 count. 6-0 already. Head lever breakdown to a double armbar and there's the fall! My goodness what a monster.
Iowa: 6
Nebraska: 0
133 - #4 Austin DeSanto, Iowa, vs Alex Thomsen, Nebraska
1st Period: Desanto forward already. On the head and getting to his tie up already. Lefty high crotch and doubled off for DeSanto and he's up 2-0, 1 minute in. Close to swipes with a side headlock but can't get them yet. 1 count on a tilt, but nothing doing. Classic DeSanto dump for 2 more after he releases Thomsen. 4-1 with 45 left. He cuts again, shot by DeSanto and Thomsen is warned for stalling. Finish for Desanto makes it 6-2 after the first.
2nd Period: DeSanto starting on bottom. Up to his feet quickly and he's away and right in Thomsen's face. Low shot by DeSanto and a quick finish and it's 9-2, now 9-3 after the cut. DeSanto runs behind to make it 11-3, 11-4 after the escape and I think you get how this one is going. Another snap, go behind. 13-4 ADS. Legs in and power half and DeSanto gets the 4 to make it 17-4. 29 left. DeSanto cutting Thomsen, left side High C for two more. DeSanto with the rear standing foot sweep a la Marinelli. Another shot and finish and there's the tech. 21-6 final.
Iowa: 11
Nebraska: 0
141 - #2 Jaydin Eierman, Iowa vs #5 Chad Red, Nebraska
1st Period: Head taps and movement from Red as he fires off an attack, now a double leg right through Eierman for two. No chance at stopping that one, even for Eierman. 2-0 Red with 2:30 to go. Eierman up to his feet and away. FAST single from Red, trying to finish between the legs as Eierman jumps over. Red not able to finish as it's stalemated. Eierman getting som fakes off now they're tied up in the middle of the mat. Potentially dangerous for hands to the face. Next one will be a point for Eierman. Eierman looking for short offense but nothing doing. Snap by Eierman, has Red on the edge but nothing doing. 2-1 after 1.
2nd Period: Eierman takes bottom. Tripods up and looks for hand control and gets away. 2-2 early in the 2nd. Eierman hs him on the edge and looks for a drag go behind off his own attack, it looked imminent but Red fought it off! Still 2-2. Red in on a shot and Eierman locks up a cradle and gets 2 and 2! 6-2 Eierman just like that! Tom Brands thinks it should have been 4 NF. That cradle was so tight I'm pretty surprised Red was able to get away. Post to the leg attack for Eierman but runs out of time in the period. 6-3 after 2.
3rd Period: Red takes bottom. Up to his feet and away. 6-4 after the escape. Single by Red but Eierman scrambling around. Nearly has the two but Red fighting hard. There's the two. 8-4 for Eierman now. Eierman ridding Red tough. Has a bar and half. Red warned for stalling. 8-4 final for Eierman.
Iowa: 14
Nebraska: 0
149 - #6 Max Murin, Iowa vs #18 Brock Hardy, Nebraska
1st Period: Probably my most anticipated match of the evening for me. We'll learn a lot about Brock Hardy. Tied up in the middle of the mat. Quick shot and Murin doubles off for 2. Quick escape for Hardy makes it 2-1. 1:40 to go. Lefty collard for Murin. Single by Hardy. Nothing doing. Murin taking ground well but Hardy centers up. Short time and that's how the first will end.
2nd Period: Hardy takes bottom. He's up and away quickly. 2-2. Low double by Murin, switches to a single. Hardy gets his leg back. Murin trying to finish back side but they go out of bounds first. 1 minute left now. Head to head in the middle of the mat with 22 to go. Time out in the 2nd. 2-2 into the 3rd.
3rd Period: Murin takes bottom. Hardy stops the first move but Murin right back to his feet and he's away. 3-2 Murin, RT not a factor. Beautifully timed single by Murin, looking drape finish. Hardy stops the finish. 1:05 to go. Little throwby, Murin drops down and gets the finish. 5-2. Someone is screaming like an absolute banshee for Murin and it's pretty hilarious haha. Hardy Granby's but Murin covers and rides out for the win for the 6-2 final.
Iowa: 17
Nebraska: 0
157 -#9 Kaleb Young, Iowa vs #25 Caleb Licking, Nebraska
First Period: Here we go. Elbow control from Young, then switches to inside control. More hand fighting, but no attempts yet. Slick knee pull single by Young, finishes high for 2. Escape for Young and it's 2-1. Head in the hole to near side cradle for Young, Licking breaks out of that but gives up the two. 4-1 Young with 41 to go. Licking escapes to make it 4-2 after 1.
2nd Period: Young takes bottom. Quick reversal by Young and Licking is on his back! Fighting hard, close to the fall but Licking bellies down and it's 10-2 Young. Escape for Licking and it's 10-3. Same head in the hole to cradle and same result. 2 more makes it 12-3. RT nearly 2 minutes now. Rideout for Young.
3rd Period: Licking takes top. Leg comes in but Young once again reverses. 14-3 now. 14-4 after a Licking escape. 1:14 to go. Single from space, Young is very extended and it gets stalemated. 48 to go. Shot by Licking and Young runs behind easily. 16-5 after Young cuts him. 17-5 with riding time.
Iowa: 22
Nebraska: 0
INTERMISSION: Get a snack or rip out as many pushups as you possibly can in these 10 minutes.
165 - #2 Alex Marinelli, Iowa vs #17 Peyton Robb, Nebraska
First Period: Alright here we go! Shot by Robb and a beautiful re attack by Marinelli. Scrambling a little bit. No knee brace for the Bull. Robb now on the leg and finishes! No two given! It's really close and they're reviewing. Refs decide no TD for Robb. 90 seconds in still no score. Blood time for Robb. FAST single but Robb gets away. Holy cow. Now Marinelli gets on the board off a nice post double and he'll get the ride out. Just kidding, blood time for Robb first. Beautiful granby and Robb is away for 1. 2-1 Bull after 1!
2nd Period: Marinelli takes bottom and gets away. Terry Brands yelling "It's a LOOOOOOOOONNNG Match!" repeatedly. He's right imo. Another shot by Marinell and he gets the finish to make it 5-1. Bull has him flat now. Robb is a granby'n son of a gun and he gets away again. 5-2 now and RT at 1:02. Period ends 5-2.
3rd Period: Robb takes bottom. Robb is away and it's 5-3. RT at 1:21. Another shot by Bull and Robb kicks out. Robb warned for stalling. Robb backs out and there's the stall point. 6-3 Bull. Double for Bull and it's 8-3. He's working that brutal 3/4 nelson but lets go. RT locked. 9-3 final for Marinelli. "Get him a pillow!" - Terry Brands just said that. No crowds actually adding at least one thing to the broadcast hah.
Iowa: 24
Nebraska: 0
174 - Patrick Kennedy,, Iowa vs #3 Mike Labriola, Nebraska
First Period: Holy cow we get a very early look at Patrick Kennedy. Hard club early by Kennedy. Single for Labriola and he gets the finish for a 2-0 early lead. Kennedy is away. 2-1, 2:15 to go. Kennedy's hands must be heavy because his snaps are having pretty solid impact on a beast like Labriola. This is Nebraska's first lead of the evening. Fakes from Labriola now they're locked up in the center again. Pop double attack but Kennedy stops it. Period ends 2-1 Labriola
2nd Period: Labriola takes bottom. He's up quickly and away to make it 3-1. Labriola looks big big. Big snap by Labriola. Left side high crotch by Kennedy, now trying to finish between the legs. Kennedy in a decent spot but Labriola passes the leg and gets the td! Great exchange makes it 5-2 Labriola after Kennedy immediately escapes.
3rd Period: Kennedy takes bottom and escapes. 5-3 now. Another attack by Kennedy but Labriola jumps over and attacks the far ankle. NOw trying to come around. Looks like a stalemate position and just as I type that Labriola improves his position and finishes for 2 more! 7-4 after another quick escape for Kennedy. Kennedy attacks again but Labriola wins 7-4. Fun match!
Iowa: 24
Nebraska: 3
184 - Nelson Brands, Iowa vs #6 Taylor Venz, Nebraska
1st Period: Hand fighting hard, a few hard clubs from Nelson getting some reactions. Beautiful and brutal counter TD by Nelson as he pops his hips off the Venz attack, and runs behind for two. 2-1 Nelson after the escape. Man a great re-attack high crotch for two for Nelson and it's 4-2.
2nd Period: Venz starts bottom and escapes. 4-3 Nelson. Nelson's hips must weigh about 450 pounds because when Venz attacks he gets heavy and runs behind and there's two more to make it 6-3. Riding Venz tough now. 1:40 RT. Nelson gets the rideout and it's 6-3 after two.
3rd Period: Nelson starts underneath. Venz is tough on top, so this will be a good test. Venz throws in a boot and Nelson immediately reverses him. 8-4 now after the Venz escape. Sweep single for Nelson but it's potentially dangerous due to Venz's knee. 44 to go. High crotch for Nelson and he plants him for 2. 10-4. He cuts him and now pushes for the major with another td and he's got it! 13-5 final! What a performance. Not sure Nelson is remotely tired.
Iowa: 28
Nebraska: 3
197 - #3 Jacob Warner, Iowa vs #4 Eric Schultz, Nebraska
1st Period: Underway in this one. Big match! Just hand fighting. Schultz fighting for an underhook. Now Warner has an underhook but they go out of bounds. Not much going on right now sorry gang. First period ends scoreless.
2nd Period: Schultz takes bottom. Good mat return by Warner, Schultz bounces up but they go out of bounds. 1:38 to go. Escape for Schultz and it's 1-0. 1:05 to go. Club and underhook attempt by Schultz. Nothing happening. Period ends.
3rd Period: Warner takes bottom. Quick escape for Warner. 1-1. RT not a factor. Warner running behind and almost as two. Loses the leg now Schultz in position and there's the two! Huge TD. 3-1 Schultz with 24 to go. Warner sits out and Schultz runs him out of bounds. Mark Manning telling Schultz "Deep Breath" Warner is away and dives in on a shot but Schultz sprawls on top and wins 3-2.
Iowa: 28
Nebraska: 6
285 - #3 Tony Cassioppi, Iowa vs #12 Christian Lance, Nebraska
1st Period: Big Ton' back on the mat! Hand fighting in the middle of the mat. Cassioppi pulling on the head. Cassioppi lookin for a high single but it isn't there. High single and quick finish for Cassioppi and he's up 2-0 and Lance is flat on his belly. Restart with 9 to go. Rideout and it's 2-0 after 1.
2nd Period: Lance takes bottom. Lance is flat as riding time is now over two minutes. There's the rideout as riding time is at 2:58 after 2.
3rd Period: Cassioppi take bottom and Lance cuts him. Smooth single by Lance but Cassioppi spins then kicks out. Another shot by Lance but Cassioppi hanging tough. Another nice single by Lance but Cassioppi times the pass perfectly and hangs on for the stalemate as time expires and there's the final!
FINAL SCORE
Iowa: 31
Nebraska: 6