Unlock this article, live events, and more with a subscription!
Get Started
Already a subscriber? Log In
Team USA had high expectations for its women heading into day one of competition at the Henri Deglane Grand Prix in Nice, France. Their performance was outstanding. The US racked up four gold medals, three silvers, and a bronze. Here's a breakdown of the action from France.
Watch the Henri Deglane Grand Prix LIVE on FloWrestling
Friday-Sunday, January 15-17 | 4:30 AM EST
At 50 kg, both Sarah Hildebrandt and Amy Fearnside took the mat. Fearnside fell in the first round to World bronze medalist and U23 World champ Evin Demirhan of Turkey. Fearnside nearly pulled off the upset but fell in a 4-4 criteria battle. Fearnside won three matches on the back side to take bronze.
World silver medalist Sarah Hildebrandt dominated all day. She had four technical superiority wins and beat her four opponents by a combined score of 43-2. Her finals opponent was Demirhan, the same woman who beat Fearnside in the first round.
Jacarra Winchester brought home silver for the US at 53 kg. Her finals opponent was World champ and six-time World medalist Sofia Mattsson of Sweden. Mattsson has controlled Jacarra in the past, but this match was different. Down 5-0, Jacarra took Mattson down and gutted her. She was close to a second turn but was unable to get it. She gave up a last second takedown on her final shot, so the match ended 7-4, by far the closest match Jaccarra has had with Mattson.
Both Helen Maroulis and Lauren Louive were in action at 57 kg. Louive went 2-2 and fell one win shy of reaching the bronze medal match. Maroulis looked incredible throughout the tournament. She gave up just one point in her four matches and had three techs.
Helen Maroulis' Henri Deglane Final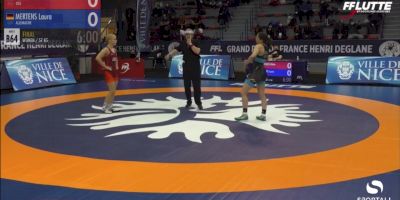 Unlock this video, live events, and more with a subscription!
Get Started
Already a subscriber? Log In
It was an all US final at 62 kg. Macey Kilty scored the first takedown in the finals on Kayla Miracle, but it was all Miracle after that. She scored 8 straight to maintain her status as the leader in the US at 62 kg. Both Miracle and Kilty had impressive victories in the semifinals to set up that gold medal match. Miracle took out age level super star Luisa Miemesch of Germany while Kilty beat World champ and four-time medalist Yulia Tkach.
It was another Red, White, and Blue final at 68 kg. World Champ Tamyra Mensah-Stock beat World teamer Forrest Molinari in a gold medal match featuring one of the hardest hand-fights of the tournament. In the end, Molinari's physicality wasn't enough to overcome Mensah-Stock who took the victory 6-1.
At 76 kg, Victoria Francis dropped two tough bouts to the eventual gold and bronze medalists. She was originally listed at 68 kg but competed at 76 kg instead.