2021 Henri Deglane Grand Prix
USA Women Receive Henri Deglane Draws
USA Women Receive Henri Deglane Draws
The women get things started at the Herni Deglane tomorrow. Here are the draws for Team USA.
Jan 14, 2021
by David Bray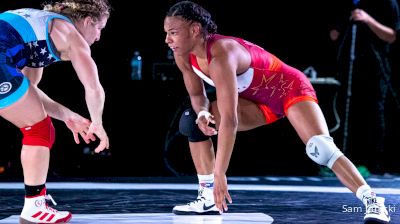 Unlock this video, live events, and more with a subscription!
Get Started
Already a subscriber? Log In
Three days of world-class international wrestling kick off tomorrow at the Henri Deglane in Nice, France. The women will start things off, and we now have brackets. Here are the draws for Team USA.
Watch the Henri Deglane Grand Prix LIVE on FloWrestling
Friday-Sunday, January 15-17 | 4:00 AM EST
Original Release by Taylor Miller of USA Wrestling
NICE, France – For the first time in nearly a year, Team USA will compete in an international wrestling tournament as the Henri Deglane Grand Prix kicks off Friday in Nice, France.
Action begins with the women's freestyle division which will be completely contested in one day.
Representing the USA is 2016 Olympic champion Helen Maroulis (57 kg), 2019 World champions Jacarra Winchester (53 kg) and Tamyra Mensah-Stock (68 kg), 2018 World silver medalist Sarah Hildebrandt (50 kg), past World Team members Kayla Miracle (62 kg), Forrest Molinari (68 kg) and Victoria Francis (76 kg) and National Team members Amy Fearnside (50 kg), Lauren Louive (57 kg) and Macey Kilty (62 kg).
Below is who each athlete will face in their first match. Click HERE for full brackets.
Wrestling begins at 10:30 a.m. local time (4:30 a.m. ET) live on FloWrestling.org. Fans can also follow @USAWrestling on Twitter for live updates.
U.S. women's freestyle draws
50 kg: Sarah Hildebrandt (New York AC/USOPTC)
vs. Aynur Erge (Turkey), bronze at 2020 Yasar Dogu, silver at 2018 Junior European Championship
50 kg: Amy Fearnside (Titan Mercury WC/USOPTC)
vs. Evin Demirhan (Turkey), 2017 U23 champion, fifth at 2020 Individual World Cup,
53 kg: Jacarra Winchester (Titan Mercury WC/USOPTC)
vs. Esra Pul (Turkey), bronze at 2020 Yasar Dogu, 10th at 2015 Cadet World Championships
57 kg: Helen Maroulis (Sunkist Kids)
vs. Ambra Campagna (Italy), 10th at 2020 Senior European Championships
57 kg: Lauren Louive (New York AC/USOPTC)
vs. Arianna Carieri (Italy), fifth at 2020 Individual World Cup, bronze at 2015 Junior World Championships
62 kg: Kayla Miracle (Sunkist Kids)
vs. Andrea Grasrueck (Germany), gold at 2019 Grand Prix of Germany, fourth at 2020 Matteo Pellicone
62 kg: Macey Kilty (Sunkist Kids/Tarheel WC)
vs. Annie Nuernberger (Germany), seventh at 2019 Junior World Championships
68 kg: Tamyra Mensah-Stock (Titan Mercury WC/USOPTC)
vs. Laura Godino (Italy), second at 2018 Cadet European Championships
68 kg: Forrest Molinari (Sunkist Kids)
vs. Veronica Braschi (Italy), fifth at 2019 Cadet World Championships
76 kg: Victoria Francis (Titan Mercury WC)
vs. Martina Kuenz (Austria), bronze at 2018 Senior World Championships, silver at 2017 U23 World Championships