2020 FloWrestling 8-Man Challenge: 150 lbs
150-Pound 8-Man Challenge Match Notes
150-Pound 8-Man Challenge Match Notes
Live updates of the FloWrestling 8-Man Challenge: 150-Pounds. All the action, all in real time!
Dec 18, 2020
by Andrew Spey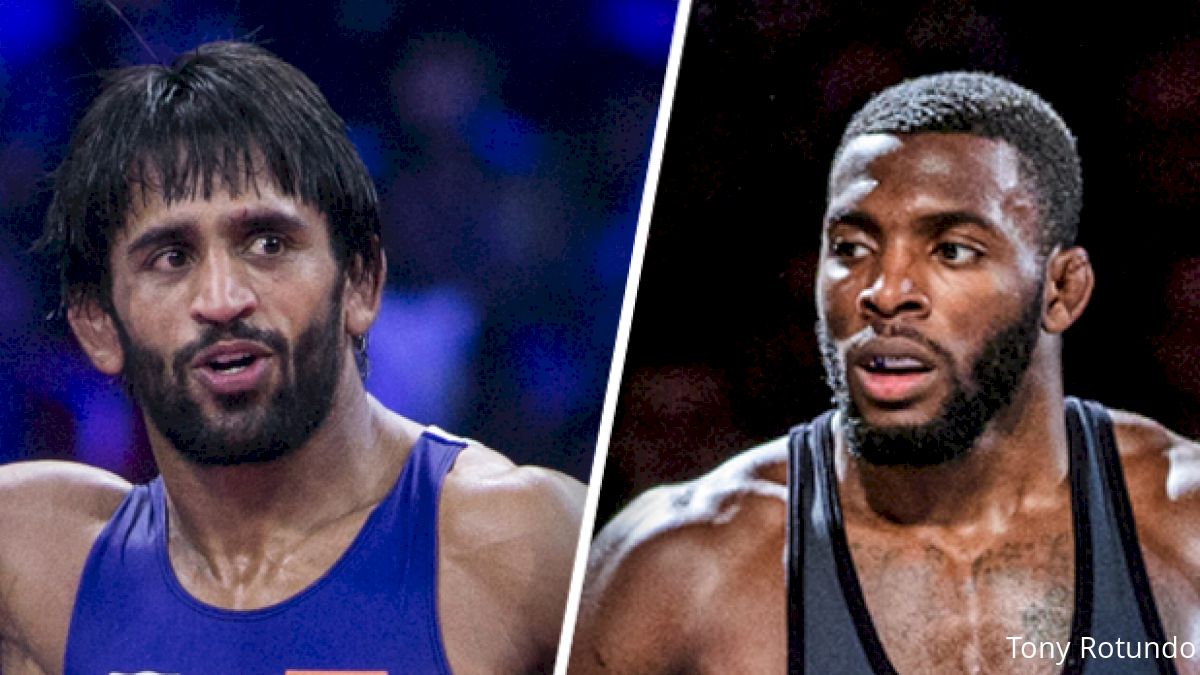 Unlock this article, live events, and more with a subscription!
Get Started
Already a subscriber? Log In
We're in fabulous Dell Diamond, home of the Round Round Express, and tonight only, the FloWrestling 150-Pound 8-Man Challenge! We're going to bring you all the action in real time with live updates!
Watch the FloWrestling 8-Man Challenge: 150 lbs LIVE
As the link above says, we're starting the action at 8:00PM eastern time. Nearly $60,000 in prize money is on the line!
1st: $25,000
2nd: $15,000
3rd: $10,000
4th: $5,000
5th-8th: $1,000
Who will secure the bag? Let's find out together!
Quarterfinal: Bajrang Punia vs Pat Lugo
1st period: Quite a way to start an event! A three-time world medalist and 2020's #1 NCAA seed. Bajrang is representing the Indian Railroad, which is wonderful. Sponsorships for wrestlers is a good thing! Lugo is representing the Hawkeye Wrestling Club and has some rather famous coaches in his corner.
Lugo with some physical snaps. Takes a swing at Bajrang's leg but gets nothing from it. Bajrang is warned for passivity. Now Lugo gets a warning. 2 minutes to go and no scores yet. Bajrang goes on the clock. Bajrang in on a leg, Lugo sits and defends. Clock expires giving Lugo a point. Bajrang whips a leg over for a two point turn in the scramble. Lugo in on a shot late in the period but can't convert. Lugo had him in a quadpod when time expires. 2-1 Bajrang leads.
2nd period: Cautious first minute. Bajrang goes for a trap foot single but Lugo underhooks him out of the way. Another passivity for Bajrang and he goes on the activity clock a second time. An inside trip gets Bajrang a leg, which he converts for a takedown just before the clock ran out. In par terre traps a bent leg and gets a turn to extend his lead. It's 6-2 with a minute to go. Lugo grabs a single leg but Bajrang kicks free and is out of danger. Neutral with 30 seconds to go. Lugo continues to attack but Bajrang denies him.
Bajrang proves to be too crafty for Lugo and wins 6-1 in the 8-Man Qtrs. Ashnault vs. Henderson up now.

— FloWrestling (@FloWrestling) December 19, 2020
Bajrang Punia gets the first win of the event and is guaranteed at least fourth place!
---
Quarterfinal: Evan Henderson vs Anthony Ashnault
1st period: This event goes from strength to strength with match number 2. Ashnault walks out to no music, just the ominous sound of wind blowing. Slideby attempt from Ashnault after a half shot from Henderson, no score though. Seatbelt whizzer at the edge of the mat, the go out of bounds and its ruled one for Hendo, then reversed and the point is awarded to Ashnault. Henderson gets a passive warning that stops what was the makings of a scramble. A violent shrug by Ashnault gets him behind Henderson who drops to the mat and gives the New Jerseyan a 3-0 lead. We pause the action as the trainer attends to Henderson. He seems good to go in short order and we're back in business. One minute left in the period. No more score and we go to the break still 3-0.
2nd period: Ashnault drops in on a leg, he drives and gets two, but Henderson counters with an exposure from a whip over and it's 5-2. Back in neutral with two minutes to go. They walk towards the edge fo the mat, Henderson using his underhook to bump Ashnault out of bounds for a step out and he closes the gap a little. It's 5-3 in favor of Ashnault with 90 seconds to go. Another slideby for Ashnault and he's behind Henderson but can't convert, and in fact, Henderson wrestles him savvy on the edge and picks up another step out. Ashnault attacks again, is in on a leg but Henderson again counters. It's 2-1 like the first exchange. That gives Ashnault the slimmest lead via criteria, 6-6. He fends off Henderson's furious short time assault and advances to the semis.
You can't get any closer than that! Ashnault wins on criteria 6-6, he's got Bajrang in the Semis.

— FloWrestling (@FloWrestling) December 19, 2020
Ashanult in a 6-6 nailbiter!
---
Quarterfinal: Jordan Oliver vs Alec Pantaleo
1st period: Another massive matchup. JO was a lot of people's picks to win it all, but Pantaleo is going to be a handful. Oliver sporting a slick Adidas singlet with his 610/6JO logo, a play on the area code of his hometown of Easton, PA. Not a lot of action in the first period. Pantaleo goes on the clock with a little less than 2 minutes left in the first. JO grabs a leg but Pantaleo counters. He's got JO hopping. Oliver runs the clock down in time but gives up a step out, so it's 1-1, Pantaleo leading on criteria, but there's a lot of time left in this match. That's how the period ends.
2nd period: Level changes for both wrestlers. A good amount of shots but no scores. 2 minutes remaining and Pantaleo goes on the clock. Oliver keeps him at bay for 30 but Pantaleo strikes right after he conceded the point. Looked like Pantaleo was going to get a step out but then swings JO to the center and covers for two and the 3-2 lead. Oliver answers with a low single of his own and claims the lead back with a little over 30 seconds to go. 4-3 JO leads. Pantaleo in on a shot. He's got Oliver hopping again.Pantleo drives Oliver out of bounds with 12 seconds left on the clock! Pantaleo holds criteria and will get the upset and at least fourth place and five thousand bucks!
JO throws everything he's got at him, but Pantaleo walks away with the upset on a 4-4 criteria win.

— FloWrestling (@FloWrestling) December 19, 2020
Clutch performance from Alec Pantaleo to win 4-4 on criteria!
---
Quarterfinal: James Green vs Bryce Meredith
1st period: Still just the quarterfinals and yet another huge match. Green in his clean white Nike's and Meredith in his green and purple signature shoes from Wrestling Boutique. Green taking ground early but no scores after a minute. Meredith goes on the activity clock shortly thereafter. Meredith can't solve Green who fires off a shot after collecting his point. He's got two, looking for the lace. Meredith avoids that but gives up a trap arm gut wrench and it's 5-0 just like that. Meredith stands up and tries to escape to avoid more par terre wrestling but unfortunately or him he's at the edge of the mat and gives up a step out to make it 6-0. On the restart Meredith looks like he's appealing the step out but the whistle has blown and Green charges ahead. He power doubles Meredith to his back for four and just like that the match is over.
James Green hits a BIG double to get the tech. Green vs. Pantaleo in the Semifinals.

— FloWrestling (@FloWrestling) December 19, 2020
10-0 tech for Greezyin our first early ending to a match! Two-time world medalist James Green looking sharp.
---
Amy Fearnside vs Tiare Ikei
1st period: Our first of two all-star women's matches. Fearnside is a U23 world teamer and 2020 Senior Nationals finalist. Ikei is a cadet world medalist and a 2019 US Open champ. Front headlock for Ikei but Fearnside wrestles out of it. No scores after a minute 20, both have been warned for passivity. Fearnside going on the clock. Fearnside can't get through Ikei's defenses and concedes the point. Ikei goes for a fronts-side trip/hip toss but Fearnside doesn't go for it. We end the period with Ikei leading 1-0.
2nd period: Ikei looking to go back to her upper body stuff and lat drops Fearnside to her back as she charges forward. Fearnside is on her back. Ikei gets the fall!
Move of the night?! Tiare Ikei hits a lateral drop and locks up the fall 👀

Watch Live: https://t.co/7T9TPWezGv pic.twitter.com/UXntKJZAu4

— FloWrestling (@FloWrestling) December 19, 2020
Big move from Ikei and the first fall of the evening!
---
Semifinal: Bajrang Punia vs Anthony Ashnault
1st period: Semifinals will get underway as soon as we finish this short break. And here we go. A spot in the finals and a minimum of $15K on the line! No scores after a minute. Heavy hands though. Ashnault will go on the clock with 1:36 in the period. Bajrang's hands keep Ashnault at bay and he picks up the first point of the match. Bajrang keeps taking ground and then gets a step out to make it 2-0. 30 seconds in the period. Arm drag from Bajrang and he chases Ashnault out of bounds for another point. That's how the period ends.
2nd period: Excellent work from Bajrang's corner with the towel. Strong alternating shoulder flaps. Also, I believe it is a Sesame Street towel. Crafty slide by and Bajrang has Ashnault's back. In the quadpod Bajrang takes Ashnault backward for four. Then traps a leg and gets a turn to race out to a 9-0 lead. Two minutes remaining. Ashnault in on a shot, but can't convert. He'll need a lot of points in a hurry to get back in this match. Another single leg secured by Ashnault but Bajrang eludes the takedown, frustrating Ashnault yet again. Another stot form Ashnault and a stalemate with 8 seconds left.
Bajrang keeps it rolling against Ashnault, Bajrang awaits the winner of Green vs. Pantaleo.

— FloWrestling (@FloWrestling) December 19, 2020
Bajrang pitches a shut out! Wins by 9-0 and secures at least a $15K windfall. Solid business trip so far!
---
Semifinal: Alec Pantaleo vs James Green
1st period: Our second semifinal match will determine the matchups in our final two bouts. Pantaleo with heavy hands, looking for a slideby. Green holding the center. Using an under hook, he gets Pantaleo to the edge, who attempts an arm spin but Green controls him and covers for two and an early lead. Pantelo gets another passivity warming and goes on the click with about 90 seconds left in the period. He drops down on a single and has Green hopping. Pantaleo secures the step out and wipes the activity clock off the board, it did its job and spurred action and a point-scoring sequence. 45 seconds left in the period. Pantaleo makes a few more attempts but the period ends with the score still 2-1 in favor of Green.
2nd period: Green's moving Pantaleo around the mat with an under hook. Pantaleo trying to circle. Green gets a step out. Again cnagles and an under hook works for Green and he now holds a 4-1 lead. Pantaleo responds by dropping down on a single and driving Green out to narrow the score. It's 4-2 with a minute to go. Pantaleo stays attacking, but Green keps him from getting in too deep on his legs. Time runs out and we will see Bajrang and Green in the finals!
James Green holds on to the 4-2 victory over Pantaleo setting up the $25,000 Finals match against Bajrang.

— FloWrestling (@FloWrestling) December 19, 2020
Solid positioning for a hard won victory for James Green.
---
Jacarra Winchester vs Lauren Louive
1st period: Our second women's match of the night. The world champ hits a blast double right off the bat and Winchester leads 2-0. A gut wrench later makes it 4-0. Back in neutral with 2 minutes left in the period. Single leg for Winchester and she adds another two points to her total by running the pike to finish. Another single (possibly double, was looking down at the time) and a clean finish gives Winchester a commanding 8-0 lead. Louive looked like she was going to make it to the break but Winchester hit a slick footsweep snap-down go-behind for a clean 10-0 victory.
Jacarra takes care of business and gets the 10-0 tech. 3rd place match coming up, followed by the Finals.

— FloWrestling (@FloWrestling) December 19, 2020
Jacarra Winchester looking very much like an Olympic medal contender.
---
3rd Place: Anthony Ashnault vs Alec Pantaleo
1st period: Going to need a bit of a break to allow Alec and Anthony their requisite rest. Hearing we'll be on again in 5 minutes or less.
I hear the announcements which means we will be wrestling for $10K directly! $5K to fourth place so this match will decide who gets the extra $5K. Fierce hand fighting in the first minute (unsurprisingly) but no scores. Ashanult in on a leg, Pantaleo counters, they circle in a scramble and go out of bounds but with Pantaleo on top and gets the first score of the match. Pantaleo leads 2-0, now with 30 seconds to go. In short time Pantaleo fires off a double, Ashnault can't fight him off and gives up two more. Pantaleo nearly gets a turn but time runs out. Pantaleo leads at the break 4-0.
2nd period: Handfighting for 30 seconds and then Pantaleo gets put on the clock, despite having a 4-0 lead. Pantaleo wrestles cautiously through the 30 seconds and Ashnault picks up a point to make it 4-1. Sweep single by Pantaleo and he finishes cleanly. He's got time for a gut wrench and now it's 8-1. Ashnault running out of time and has a lot of points to make up. 20 seconds left. Ashnault has a small cut that needs attending. Unfortunately, that will just give him more time to think about the score and the clock. The action resumes and Pantaleo gets the victory 8-1.
Pantaleo makes a big statement as a last minute replacement & takes home 3rd place and a $10,000 check.

Watch Live: https://t.co/7T9TPWezGv pic.twitter.com/rwTIUWWwHR

— FloWrestling (@FloWrestling) December 19, 2020
From 'not in the event a couple of weeks ago' to third place and a cool $10,000. Not a bad evening for Alec Pantaleo!
---
Finals: Bajrang Punia vs James Green
1st period: Our main event comes down to the two guys with multiple senior world championship medals. Interesting style matchup too. I don't these guys could wrestle any differently. First passivity goes to Green. After a minute or so Green goes on the clock. He's in on a double, but Bajrang counters with a front head lock that he rolls Green through for the first score. Low level shot this time for Green and he converts cleanly. Looks for a lace but Bajrang able to defend. Another low shot and Green has Bajrang in the air. He settled for two and its 4-2. Green shoots again with the lead but Bajrang counters with a go behind in short time and its 4-4, Bajrang leading by criteria at the break.
2nd period: More fantastic towel work from Bajrang's corner. Bajrang snap down, front head, and works his magic until he secures the takedown and 6-4 lead. Bajrang gets a trap arm, starts one way, finishes the other and its 8-4, although Green has some time to work. Green in on a shot but Bajrang defends and chews up valuable seconds. One minute to go. Bajrang wrestling close in as Green tries to create some space. Green in on a shot, single leg up in the air, Bajrang gets back on the mat, snakes in a leg and gets a stalemate. Just 2 seconds to go now, Bajrang still leads by four. Green pouring on the shots, but Bajrang is ready for him. And that's how it ends!
Bajrang hits the nasty head pinch on his way to $25k.

— FloWrestling (@FloWrestling) December 19, 2020
Bajrang secures the bag! $25,000 going to Bajrang Punia of India! James Green walks home with a not too shabby $15,000.
What an outrageously fun night of wrestling. So appreciative of everyone for coming out and competing and so very glad we could reward the incredibly wrestling with some serious prize money. And we had an oversized check this time!
Bajrang the champ. Everyone have a safe and happy holiday and we'll see you for Burroughs vs Taylor! Sorry for all the typos and thanks for reading!