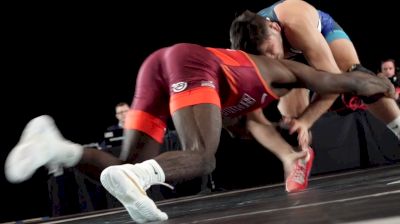 Unlock this article, live events, and more with a subscription!
Get Started
Already a subscriber? Log In
It's the money round of the RTC Cup! All the teams are still alive for the big $50,000 grand prize! Spartan Combat and Cliff Keen won their pools yesterday and have byes to the semifinals. The other four teams kick things off with quarterfinals. Follow the action below!
Watch the 2020 RTC Cup Pres. by TMWC LIVE on FloWrestling
Friday, Dec 4 - Saturday, Dec 5
Cliff Keen WC vs SERTC/NJRTC
$25k on the line for this final match!
57: Seth Gross vs. Nahshon Garrett
1st Period: Gross heavy hands off the bout, wide circling. Nashon snatches a single and runs it down out of bounds for 2. Another single from Nahshon but Gross fends it off. Ref gives Garrett a caution and 1 (point to Gross) for grabbing fingers. Another Shot from Garrett, scrambling on the edge and Gross snags the takedown as they roll out. 3-2 Gross. Gross in on a low single now, this time Nahshon counters for the takedown and an exposure. 6-3 Nahshon with 25 to go. Double attempt Garrett, period ends before a score. 6-3 Garrett.
2nd Period: Shot Gross, counter Nashon, no points. Double leg Garrett and Gross goes to his back. 10-3 Garrett. Single from Garrett, lifts it up, drops it. Gross taking ground and now Nahshon gets dinged with another caution and 1 for finger clasping. 10-4, but now Nahshon shoots and scores to make it 12-4. Shot Nahshon, a finish will be a tech, no score by the end. 12-4 final, Garrett.
65: Alec Pantaleo vs. Matthew Kolodzik
1st Period: James Green will sit out this time, with the recent Princeton grad filling in for him. Kolodzik warned for passivity. Panteleo with a double leg, finish, tries to gut and Kolodzik steps over but the ref says they were out of bounds. 2-0 Pantaleo. 1:15... Kolodzik with a double now for a takedown, and is on his own gut, which he can't convert. 2-2 Kolodzik, and Panteleo right back in on his own double leg, immediate finish to end the period 4-2.
2nd Period: Pantaleo with a swing single, Kolodzik with a head pinch for an exposure, then Pantaleo exposes him back. SE/NJ is challenging, saying they think Kolodzik completed a feet to back 4-point. Score reads 6-4 Pantaleo going into the challenge. Call stands, and score will move to 7-4 after lost challenge. Panteleo double legs Kolodzik to his butt, Kolodzik wraps a chest lock and pops his feet out, then exposes Pantaleo! Very game Kolodzik on the mat tonight. 1:30... and blood time. Another double for Pantaleo and he drives Kolodzik out for a point. 8-6 Pantaleo. 45... Kolodzik can't get a clean shot off to threaten before the match ends. Pantaleo wins.
74: Logan Massa vs. Mekhi Lewis
1st Period: Massa early single. Up in the air with the leg, forces a step out. 1-0. 2:00.... Lewis in on a high single gets around to quad pod and breaks it for 2. Has leg lace, can't roll. 2-1 Lewis. Another step out for Massa makes it 2-2 Lewis. 30... Shot Massa, FHL Lewis, Massa back in and momentarily knocks Lewis off his feet but a TD is not awarded. He later gets a step out and 3-2 lead at the buzzer.
2nd Period: 2:30... Massa underhook, Lewis warned for passivity. 2:00... 1:00... A lot of hand fighting and circling. Double Lewis, backs out of it. 30... 10... over. Massa wins 3-2.
86: Myles Amine vs. Nate Jackson
1st Period: Amine low single, score, leg lace 3x. 8-0 lead early. Jackson shooting ferociously. Ref and Jackson exchange words and Jackson gets dinged with caution and 1. 9-0 Amine. Amine closes it out with a go behind. 11-0.
97: Tim Dudley vs. Ty Walz
1st Period: Passivity warning on Dudley at 2:13. Shot Walz, back to feet. Dudley goes on the clock at 1:32. Point awarded. Walz swims from a tie for a single but Dudley steps out of it. Trading a few shots/reshots as the period ends. 1-0 Walz.
2nd Period: Walz on a single, converts TD. Dudley working on reversal and gets it. 3-1 Walz. 2:15... back to feet. Shot Dudley, Walz snaps, back up. Dudley shot, same dance. No points. Wals with a single leg on the edge for 2. 5-1 Walz. 50... Some flurries out of shots from both guys. Dudley working hard but can't get any offense going. Match ends 5-1 Walz.
125: Mason Parris vs. Jordan Wood
1st Period: Final bout of the night. Wood hustling and motivated against the red-hot Parris. Wood jumps out of a couple single attempts from Parris. Wood going on the clock for passivity. Parris times some hand action from Wood to take Wood feet-to back. Wood gets back up and Parris quickly does it again. 8-0 suddenly. 1 minute left in period. 20... Wood sinlge leg, head inside, finishes it as they go out of bounds. Judges advise that it's just 1 point, and that's confirmed. 8-1 Parris to end the period.
2nd Period: Low single from Wood off the whistle. Parris FHL, spinning behind, back to their feet. Head outside single from Wood. Parris crotch lifts him for 2. Tries another, no avail. 10-1 as they return to their feet. Shot Parris, stuffed by Wood. Another wood shot and Parris re-attacks for the final takedown to finish the tech. 12-1 Parris.
And Cliff Keen "Money" WC wins this one big, 5 matches to 1. Big payday for CKWC.
That's all, folks!
---
3rd Place: Wolfpack WC vs Spartan Combat RTC
57: Darian Cruz vs. Vito Arujau
1st Period: Both guys here are just lightning quick. Passivity warning on Cruz 45 seconds in. Now at the 1:45 mark, Cruz will go on the clock for passivity. Vito will collect that point. Then Vito catches an arm and drags for the takedown, working a lace and converts it twice before they are reset. 7-0 Vito. 45... Vito slapping Arujau's head repeatedly and drives him out of bounds for a step out before the period ends 8-0 Arujau.
2nd Period: Shot Cruz, re-attack Vito. Shot Cruz. Arujau controlling center of mat. Vito forces another step out. 9-0. 1:50... And Vito polishes it off with a double leg, 11-0 final.
65: Tariq Wilson vs. Yianni Diakomihalis
1st Period: Yianni with an early takedown, back up at 2:42. Shot Tariq, reshot Yianni. Wrestling from space early. 2:00 and Tariq is in on a swing single, Yianni whizzers out. 1:49... Yianni grabs a Russian tie and pulls Tariq by for another takedown, 4-0. 1:20... Wrestling near the edge and Wilson steps out. 5-0. Yianni in on a single, Tariq sprawls but Yianni pulls him in for a takedown. Period ends 9-0.
2nd Period: Tariq goes upper body and looks great but somehow Yianni comes out on top, and bout ends 11-0.
Spartan Combat leads 8-0 in classification points after 2 matches.
74: Hayden Hidlay vs. Jevon Balfour
1st Period: A lot of ties early on. Not a lot of shots. Balfour warned for passivity at 1:50 mark. Hidlay with the first takedown midway through first period, works for a gut wrench but can't convert. 2-0. Double leg from Balfour but Hidlay stands him up and runs him out of bounds. 3-0 Hidlay. 40... Hidlay works a hook to a hi-crotch but can't finish before period ends 3-0.
2nd Period: Hidlay swims for a hi crotch takedown, leg laces twice, moves to gut wrench but can't turn him. 9-0 now at 2:07 mark. Single leg from Balfor, does not go to mat. Hidlay closes it out 11-0 with a go behind. Hidlay collects 4 classification points with that.
86: Trent Hidlay vs. Drew Foster
1st Period: Hidlay is just so forceful with his body. Loves the collision. Not a lot of action in first minute. Foster warned for passivity at 2:00 mark. Single leg Foster, Hidlay tries to pancake him, winds up throwing him by for a takedown out of bounds. 2-0. 1:30... Souble leg Foster, Hidlay tries chest wrap but Foster finishes takedown into gut wrench, gets one turn. 4-2 Foster. Foster tries to lat drop Hidlay out of bounds but falls on his back and ref awards Hidlay 4 points. Spartan coaches are challenging that scoring. Turns out video is not available so no challenge. Score is 6-4 Hidlay.
2nd Period: Lot of circling from space here. Hidlay fishes for a hook. Single from space for Foster, finishes as they head out of bounds. 6-6 Hidlay. Double from Foster but hits hips, reshot Hidlay and Foster fishes out and reshots his own. Now back to ties. 1:30... Hidlay hooks an arm and throws by, Foster fights with whizzer, Hidlay limp arms out for takedown. 8-6 Hidlay. Foster single and finishes out of bounds, 8-8 Hidlay. 37... Foster pushing Hidlay around the mat and Hidlay tosses him out of bounds for 2. 10-8 Hidlay. But now we have video back and Spartan coaches are challenging--they say it's just a step out. 21 seconds on the clock. Call is confirmed and Hidlay gets an extra point. 11-8. Hidlay steps out. 11-9. Foster charges again with 3 seconds left and gets pushed out. 12-9 Hidlay, final.
97: Timmy McCall vs. Jacob Cardenas
1st Period: Timmy McCall filling in here as Macc will bump up to heavy weight and Gwiz will chillax from the bench. Cardenas with a double from space and 2 for exposure. However, Wolfpack is challenging. Call is confirmed, Cardenas gets another point for the lost challenge. 3-0 Cardenas after a minute. A lot of hanging out in the ties, occasionally dropping to a leg. Not a lot of risks. 45... 30... 15... over.
2nd Period: Cardenas shot from his knees, McCall snaps him down, spins behind, grabs a gut for an exposure. Back to their feet 4-3, McCall. 1:45... 1:00... McCall on a front headlock, reset. 22... Cardenas on a single and McCall is sprawling hard. Cardenas drops him on his back on the edge for 4 with 4 seconds left! Cardenas wins 7-4.
125: Michael Macciavello vs. Dom Bradley
1st Period: Macc will be spelling Gwiz this time. Bradley with an early take down, gut attempt. 2-0 after 30 seconds. Another Bradley shot stuffed by a Macc sprawl. Bradley has a Russian now, and Macc maneuvers him out of bounds. 2-1. 1:45... 30.. Over.
2nd Period: The guys are threatening shots early on, but not committing. 2:30... 1:30... Macc the aggressor, wants an opening. 1:00... Bradley unyielding, not easily moved. 30... 20... Over. Bradley more or less stood in his square stance the entire period like an offensive lineman as Macc tried to jostle him any which way, and the match ends 2-1.
Spartan Combat takes the dual and 3rd place.
---
NJRTC/SERTC vs Spartan Combat RTC
57: Nahshon Garrett vs. Vito Arujau
1st Period: Another rematch dual from pool play in the semis. We'll see how day 2 Garrett does against day 2 Arujau. Arujau won yesterday. Single leg from Garrett and he's off to a great strat. A gut wrench gives Garrett a 4-0 lead before they're brought back up. Vito on the attack now, drives Garrett out of bounds for a step out point. A minute left in the period. Arujau in on a single leg, he's got Nahshon up in the air, has to settle for one though. Beautiful drag to set that sequence up for Arujau. Garrett double leg, drives Arujau out of bounds for a point. It's 5-2 at the end of the period in an action-packed first period.
2nd Period: Lots of fakes from space by both guys but no scores after a minute, Nahshon picks up a passivity. Garrett goes double, switches to a single, a wild scramble and somehow there were no points. The pace is absolutely scorching right now. One minute remaining. Nashshon in on a double, Arujau goes chest wrap out of bounds. It's four for someone. Ref says Vito, judge says Nahshon, chair says Vito. It's challenged, and Arujau keeps his four and picks up one more on the failed challenge. Huge swing and it's 7-5 in favor of Vito. 30 seconds to go. Heavy hands to match the furious pace. Garrett attacking like a mad man. Arujau holding on for dear life. And that's how it ends. 7-5, Arujau comes from behind to get his second victory over Garrett this weekend. Great start to the dual!
65: James Green vs. Yianni Diakomihalis
1st Period: Another dream matchup gets run back on day 2. Green throw by early, almost has the takedown but take Yianni over for an exposure. Yianni catches Green for an exposure of his own and it's 2-2 after a wild flurry, Yianni with criteria but lots of match to go. Things slow down a bit as they both wrestle a bit more cautiously. Short drag for Green and he gets a single leg but Yianni kicks free. Green tries another throw by but Yianni gets lower and counters with his own throw by and he covers for two more. 4-2 at the break.
2nd Period: Good action but no scores after 45 seconds. Green drops and hits a double but Yianni somehow gets hip to hip, throws in a whizzer and wrestles to a stalemate. Great defense. 90 seconds to go, Yianni still leads by two but a takedown or turn for Green will give him the lead on criteria. Green driving Yianni out of bounds, Yianni trying to stay grounded but can't and gives up the step out. Green still needs more than one more. Green drives Yianni out but that next one is ruled grounded. After a restart Green charges ahead and does pick up a caution and one, but with only 4 seconds to go, Yianni will take it 4-4, another criteria win between these two evenly matched hammers.
74: Mekhi Lewis vs. Jevon Balfour
1st Period: Lewis will try and get the SERTC/NJRTC a win to have a shot at advancing to the finals. Balfour gets a dump to pick up a quick four points and has Mekhi on his back. Lewis fights free but that's not the start he was looking for. 4-0 lead for Balfour who was beaten 12-2 by Lewis yesterday. Lewis can't get penetrate Balfour defenses and Jevon takes a 4-0 lead to the break.
2nd Period: Lewis picks up his pace but Balfour counters, jumps behind and scores two more. He extends his lead to 6. 2 minutes remaining. Lewis working hard but Balfour hanging tough. A step out with about 9 seconds to go gives Lewis his first points. A downblock go-behind gives Lewis 2 more and its a more manageable 3 point deficit. Another takedown and its 6-5. Now Lewis locks up a lace and it's trouble for Balfour. Mekhi gets going and he doesn't stop until he picks up 17 points. Down 6 late Mekhi digs deep and gets it down. Balfour is understandably displeased with the result.
86: Nate Jackson vs. Drew Foster
1st Period: Foster won this one 4-3 yesterday. A flurry to start and Jackson ships Foster over for an early 4 points, exceeding his offense from last match already. A step out makes it 5-0 before a minute has come off the clock. Double leg CRAMM for Jackson into a lace for two more turns and just like that, Nate Jackson runs through Foster for the revenge 11-0 tech!
97: Ty Walz vs. Jacob Cardenas
1st Period: Two techs have SE/NJ leading Spartan in technical points 10-7. Walz will be favored to extend that lead as he beat Cardenas 10-1 in pool play. An early takedown gives Walz a 2 point with lots of time left in the first. A couple flurries initiated by both wrestlers but no more scores as we enter short time. And the period ends 2-0.
2nd Period: We begin the second, both wrestlers take center with a grim countenance. A determined Walz shoots and reshoots Cardenas out of bounds to make it 3-0. Walz follows it up with a single leg for two more and a 5-0 lead. 1:27 left in the match. Spartan needs a point by Cardenas or else SE/NJ will have the dual locked up and the extra $17,500 guaranteed for making the finals. Cardenas throwing everything he's got at Walz but Ty counters and collects two at the boundary. Cardenas keeps coming but Walz does his job and fends off the young Cornellian. That clinches is for SE/NJ as the bench celebrates
125: Jordan Wood by forfeit
With the dual sinched up, Spartan Combat will save Dom Bradley's strength for the 3rd place bout, coming up in less than 30 minutes. SERTC/NJRTC gets revenge and will wrestle Cliff Keen in the finals.
---
Cliff Keen WC vs Wolfpack RTC
57: Seth Gross vs. Jakob Camacho
1st Period: Quick shot from Camacho off the whistle, parried away from Gross. Camacho in team again, gets underneath and drives Gross into the mat for 2. A scramble after that ends in zero points so a 2-0 lead for Camacho early, not an unfamiliar position for Gross to be in, who grows stronger and more dangerous the deeper he goes into a match. Gross works his way behind for a methodical 2 in the next scramble, then his par terre game takes over and just like that its 8-2. Camacho steps over the last turn attempt to get two back to make it 8-4. A takedown in short time for Gross and we got to the break with 14 points on the board, Gross leads 10-4.
2nd Period: Camacho takes the bait as Gross leads with his left leg. He scrambles for two and then does his thing on top and it's a 14-4 tech fall for Seth Gross.
65: Alec Pantaleo vs. Tariq Wilson
1st Period: Pantaleo has been looking sharp all weekend and starts things off with a low single leg that he converts for the first score on his initial shot. A shot from Tariq and Pantaleo pounces on a reattack go behind but there are no scores. The next time Tariq shoots in though Pantaleo picks a knee and collects two more. No turns so its 4-0 in favor of Pantaleo with about a minute to go in the first. Single leg for Pantaleo and he runs the pike and thunders Tariq to the mat for four big points. A gut wrench later and that'll do it. Pantaleo with the 10-0 tech and Cliff Keen is rolling after two bouts.
74: Logan Massa vs. Tommy Gantt
1st Period: Massa lunges right on the whistle and they're in a scramble. Massa has both arms behind Gantt's but needs to get a leg out to secure the two. It's stalemated before he can finish the sequence and the Cliff Keen bench disagrees. No scores after 90 seconds, Gantt goes on the clock. Massa thumb blocks Gantt to keep him off his legs and out of danger and picks up the first point from the activity clock. Massa gets a passivity warning but no other scores in the period and we go to the break, Massa leading by a point.
2nd Period: Lots of movement but no more scores and Massa goes on the clock with about 2:30 to go in the match. Massa concedes the point. Gantt and Massa trade attacks and both come close but no scores. It's 1-1 with a minute to go, Gantt leads on criteria. Massa circling, cutting off angles and gets a step out to take the lead. Gantt finds a single, switches to a double and regains the lead. A bent leg bow and arrow leads to two rather painful-looking turns and Gantt gets some insurance points. Its 7-2 with under 30 to go. Massa gets a caution and one as Gantt backs out of bounds but that's how the match ends, 7-3. Impressive work from Gantt and the Wolfpack get back in the dual.
86: Myles Amine vs. Trent Hidlay
1st Period: The pivotal bout gets underway. No surprise to see Trent throw in underhooks early. He gets through Amine's defenses to take an early 2-0 lead. Collar ties for the next 90 seconds or so. Handfighting but not much in the way of attacks. Passivity warnings but that's it for the period. Still 2-0 Hidlay in the lead.
2nd Period: A tactical bout continues. Reattack from Hidlay lands again and he's got a 4 point leads with over 2 minutes left in the match. Amine gets on his offense, reaching for a single, adjusting, and finishing for two to cut the lead in half. 90 seconds remaining. Hidlay jabs in a hook, Amine clutches a tricep and tries a firemans. Its stalemates. 30 seconds to go. Amine furiously attacking, he gets a step out for one. More attacks, Hidlay circles. And time runs out. Hidlay instructs the Wolfpack bench to get fired up as he raises the roof. Raucously fun bout and the Wolfpack are smelling blood in the water.
97: Dom Abounader vs. Mike Macciavello
1st Period: Cliff Keen sends out an undersized Abounader as TJ Dudley appears to be dinged up. Mach wastes no time, driving Abounader to the far side of the mat and then turning him for two, chucking Dom into the scorers table in the process. A brief interlude as we reconnect some cables and action resumes. Still 2-0 with 2 minutes in the first. Mach keeps the pressure on, drive Abounader towards the Cliff Keen bench and gets a step out. Dom gets in on a single but can't finish. In the scramble its Macchiavello who seizes the advantage and he extends his lead to 5-0, which is the score at the break.
2nd Period: Lots of wrestling in short offense but Dom more scores after two minutes. Abounader trying to score a single bound for classification purposes while also avoiding giving up a tech. A mad scramble as Abounader bounces from one side of Mach to the other and finally he collects a takedown. 25 seconds to go, the Wolfpack want a tech, Cliff Keen wants to keep it to a decision. Mach gets two more but that's how it ends, 7-2 in favor of Macchiavello.
125: Mason Parris vs. Nick Gwiazdowski
1st Period: It'll come down to heavyweight with a spot in the finals on the line. Second place is a guaranteed $17,500 extra for the winners of the dual. It's 11-10 in technical points in favor of Cliff Keen so it's winner take all no matter what. Last time these two wrestled it was a wild 18-8 tech for Gwiq. Parris scored the first 8, Gwiz the next 18.
We start with a scramble, Gwiz collects the two, then more scrambling but no scores in par terre. An active first minute for these athletic heavies. We'll pause to restart the clock, wires came loose again. The technical team recovered quickly and we're back in action. An attack by Gwiz but it's Parris who counters to collect the two and leads via criteria, 2-2. Gwiz was in on a single but the period expires before much of anything can happen. Both benches are fired up!
2nd Period: Final period, winner take all. Low shot by Parris and he converts cleanly. It's 4-2. Gwiz can take the lead with a two-point move. 2:30 remaining. Gwiz taking ground, Parris drops ona shot, he circles and finishes for two on the boundary. It's 6-2 Parris in the lead with 90 seconds left in the bout. Snatch single and Gwiz picks up a step out point. FInal 60 seconds, 3 point lead for Parris. Misdirection single and Gwiz converts. He transitions to a gut wrench and takes the lead, 7-6. Now Parris on a low double and he retakes the lead. A lace for two more and that could ice it. 5 seconds to go and that's it. Heroic effort by both heavies but it's Cliff Keen that takes the dual on classification points!
What a dual! The Cliff Keen bench goes wild!
---
Ohio RTC vs Gopher WC
57: Jack Mueller vs. Zach Sanders
1st Period: Early hand fighting, Mueller attack to a takedown, grabs ankles but can't lace. Back to feet. Mueller in again for a takedown, working for a high gut, back to feet. 4-0. Sanders shot, Mueller head pinches him, then Sanders exposes Mueller off that. Back to feet at 6-2. Mueller in on sweep single, tries to throw leg in across the back of the body but Sanders grabs the ankle and pivots for a takedown as they run out of bounds. 6-4. Blood time Mueller. 1:14 to go. Collar ties. Mueller shoots, Sanders backs out. Period ends.
2nd Period: Sanders in on a single, Mueller grabs a chest lock, Sanders slips out of it so Sanders scores the takedown and a 6-6 lead. 2:00. Mueller shot, Sanders spin behind, then Mueller spins out to prevent a score. 1:30. Mueller in deep on single, Sanders tries to kick out, Mueller working up, working for back ankle, ref resets them. 40... Shot Mueller, FHL Sanders, grabs cross ankle, working behind back, Mueller attempts to roll out but fails, Sanders extends lead to 8-6 and wins.
65: Sammy Sasso vs. Mitch McKee
1st Period: McKee breaks tie for a single, Sammy grabs a elbow to attempt a dump but McKee exposes him out of it. Tries for another pinch over but can't get it. 2:00... Sammy has an overhook he tries to use to whizzer/merkle, but McKee slips out of it to snag another takedown. Back to feet. 1:15... Sasso swims to head outside single, collects hips for a takedown, has lace lock over and exposes McKee once before ref resets them. 4-4 Sasso. 23... over.
2nd Period: Collar ties, shrug attempt from McKee. Now McKee dives for leg and Sammy trying to crotch lift. Back to feet. 2:30... McKee collects double overs and pulls Sammy right on top of him, so Sammy gets 4 points. 8-4 Sasso. 2:00... Ankle pick McKee, Sammy scrambling for cradle, ref resets them. 1:30... McKee shot, Sasso scrambling for cradle and locks it up, rolling McKee over and McKee breaks the cradle so they are head-to-ankle. Reset. 45... Double leg for Sasso into a series of leg laces to tech in short time. Big bonus win for the Buckeye.
74: Carson Kharchla vs. Elroy Perkin
1st Period: They exchange single attempts, Perkin tries to crotch lift Kharchla's, but Kharchla finishes and traps an arm for a gut, and rolls Perkin numerous time. Refs stop action and trying to figure out how they want to score it. They will call it 8-0. But now Gophers are challenging, thinking Perkin got an exposure before Kharchla started rolling. Call upheld, score is 9-0 after challenge point. Kharchla dumps Perkin to his back to end it after 1 minute of match time.
86: Sammy Brooks vs. Brett Pfarr
1st Period: Pfarr has Russian tie, drops to single, nothing. A lot of heavy collar ties, Brooks working for what looks like cement mixers. Nothing. 1:20... Brooks now on shot clock, Pfarr drops from tie to a head inside single, receives shot clock point and drops leg. 1-0 Pfarr. 30... Pfarr warned for passivity before time expires.
2nd Period: Single leg for Brooks, Pfarr fishing leg between brooks', Brooks breaks him to the mat. 2-1 Brooks. 2:30... Sammy to a leg again, and Pfarr puts it back on the mat. Ties. 2:00... 1:00... Pfarr to a single, Brooks bouncing and gets his leg free. 10... Arm spin attempt by Pfarr, match ends. 2-1 Brooks.
97: Kollin Moore vs. Hayden Zillmer
1st Period: Moore double from space, Zillmer catches his arms. Back to feet. Moore with a dump for a takedown. Working gut but can't turn. 2-0 Moore, 1 minute in. Moore drags to a shot but Zillmer dances out. 1:00... 45... Zillmer attack, nothing. 15... over.
2nd Period: Moore darts in on a high head inside dingle, Zillmer trying to crotch lift, Moore gets up to his knees, through the legs, ref resets. 2:11... 1:30... 1:00... Moore warned for passivity. Double leg Zillmer, works up and Moore backs up into a caution and 1. 2-1 Moore. Zillmer pushing hard, Caution and 1 again on Moore, 5 seconds left. Moore wins 2-2.
125: Amar Dhesi vs. Tony Nelson
1st Period: Collar tie. Dhesi swims a couple time for a cross knee pick but can't get to it. 2:30... Nelson warned for passivity. Nelson goes on clock at 1:40. Point awarded. 1:00... 30... 20... Nelson single, Dhesi draping high, Nelson comes around back and gets the takedown at the buzzer. 2-1 Nelson.
2nd Period: Dhesi digs a hook and tries to sweep a leg. No luck. Dhesi dives for a low double, stuck under Nelson's FHL. Back to feet. Dhesi deep on single, around back, Nelson turning in, reset. 1:30.. Dhesi shot, under Nelson again. Reset. 1:10... Nelson single, Dhesi buries him and spins behind for a 3-2 lead with 50 seconds left. Back to feet. Shot Nelson, Dhesi dances out. Another shot, Dhesi FHL. Reset. 16... Over.
Dhesi wins 3-2. Ohio RTC wins 5 matches to 1.
---
Wolfpack WC vs Ohio RTC
57: Darian Cruz vs. Jack Mueller
1st Period: Passivity warning on Cruz. 2:20... 2:00... Cruz goes on shot clock. 1:45... Shot clock point awarded to Mueller. 1:00... Passivity warning on Mueller. 50... 30... Half shot from Mueller, then Cruz. 20... 10... Over. Not a risk-heavy period.
2nd Period: Cruz bouncing more in this period. Hi-C from Mueller will be first committed attempt of this match but nothing comes of it. Now Cruz with a head inside single of his own, but gets stuffed under hips. 2:20... Passivity puts Mueller on the clock at 1:54... Cruz awarded point. 1-1. 1:20... Cruz with a takedown, 3-1. Back to feet, 55 seconds remain. 30... 20... over.
65: Kevin Jack vs. Sammy Sasso
1st Period: Jack with early head inside single from space, collects second leg but Sammy has his ankle. Jack breaks it free to score 2-0. Back to feet at 2:30. Now Sasso scores with a go behind. Back to feet at 1:55. Sasso with another go behind takedown, 4-2. Back to feet at 1:23. Jack in on low single, trying to spin around, Sammy trying a crotch lift but Jack breaks the lock, Sasso defending with a split. Sammy works around and steals the takedown, 6-2 lead. Back to feet at 37... Period ends.
2nd Period: 2:15... Fake Sasso, sprawl Jack. Push out for Sasso, extends lead to 7-2. 1:55.... Sasso drops to a low single from tie, Jack draping over back, Sasso dumps him to side, comes around back for 9-2 lead. 1:17... Sasso pushing Jack around, working. 45... 30... Another takedown for Sasso. 11-2 with 18 seconds remaining. Sasso goes for duck under and SCORES for the tech with a few seconds remaining. 13-2.
74: Tommy Gantt vs. Carson Kharchla
1st Period: Gantt keeping distance with heavy hands. Kharchla taps a leg. And again. Gantt warned for passivity. 2:14. Kharchla grabs a wrist. 2:00... Single attempt from Kharchla, no dice. Gantt on shot clock for passivity at 1:37. Still Kharcha the one shooting. No score though, until Carson is awarded the shot clock point. 1:00... Kharchla tapping legs again. Passivity warning on Kharchla now at 30 seconds. Over. 1-0 Kharchla.
2nd Period: Not much action early, Kharchla drops to a knee, back up, reshot Gantt, back up to tie. Gantt goes on clock again. Gantt leg tap, Carson sprawls, ref resets them. Point awarded to Kharchla at 1:43. 2-0 Kharchla. Double attempt from Gantt but Kharchla lowers level to prevent penetration. Gantt deep on a single now, has leg in air, step out. 55... Gantt shot, Carson on defensive. 17 seconds left. Gantt pressing hard. Carson holds him off for 2-1 win. Not pretty.
86: Trent Hidlay vs. Sammy Brooks
1st Period: Hidlay very forceful with an underhook, drives Brooks to an early takedown out of bounds. 2-0. Brooks has FHL, trying for push out but Hidlay is grounded. Back to center. 2:00... Brooks trying to drive out again, snaps Hidlay down, on edge, locks up cradle out of bounds but only awarded a push out. 2-1 Hidlay. 1:00... Hidlay drops to a Hi-C, Brooks jumps out of it, another attack scores a takedown for Hidlay. 4-1, 30 seconds left. Brooks with a nice throw by to hi-c, but clock runs out before he can lift.
2nd Period: Brooks with double underhooks, drives Hidlay out for a step out is called, but judge calls 4-point feet to back for Hidlay on the roll out. They are reviewing video. 2:34... Call comes back that Hidlay gets a step out and 5-1 lead. Hidlay scores another takedown, then goes for a cross ankle pick. Brooks goes upper body and throws Hoagie to his back for 4 points! Near pin. Reversal exposure for Hidlay. 7-5 lead for Hidlay as we return to feet. Locked up upper body again. Brooks steps out. 8-5. 1:00... Brooks tries for a push out but Hidlay swings to a single on edge and completes a feet to back on edge for 4. 12-5 Hidlay. 30... Sloppy shot from Brooks on whistle gets him schucked by for a takedown. 14-5, Hidlay. 10... Takedown brooks. 14-7 final. Hidlay wins a brawl.
97: Michael Macchiavello vs. Kollin Moore
1st Period: Moore a definite favorite here, and his team needs him to get a tech fall to keep them in control heading into the heavyweight finale. Early dump for dump for Moore called for 2 but corner overturns it. Macc attacks now and gets a takedown out of bounds. 2:30... 1:30... Lot of hand fighting.... 1:00... Shot Moore, Macc drops on top of him, Moore gets back to feet, no score. 30... Nice Single from Moore but he paused when he got to it, giving Macc time to react out. Period ends 2-0 Macc.
2nd Period: Duck under attempt from Moore, back to feet. Now a single attempt from Moore but he's buried under hips. Back to feet. 2:15.. Moore attacks again and scores, 2-2. 2:00... Another single attempt from Moore, Nothing. Another, deep this time, working hard and finishes. Impressive effort here from Moore. Back to feet, 1:25. 1:00... Moore nasty step-in trip for a takedown, 6-2. 36... Macc half shot. Again... Moore shoots, Macc throws by for takedown and leg lace and exposure to win it 6-6, criteria of last score. Barring a significant upset from Dhesi, that gives the dual to Wolfpack.
125: Nick Gwiazdowski vs. Amar Dhesi
1st Period: Dhesi shot, Gwiz on FHL, drives out for step out. 1-0 Gwiz. 2:00... Gwiz single, Dhesi wraps up chest, falls off it and Gwiz scores, leg lacing twice for a 7-0 lead. Shot Dhesi, go behind for Gwiz. 9-0. Another shot from Dhesi, another score from Gwiz to end it 11-0.
Wolfpack wins it 4 matches to 2.
Gopher WC vs NJRTC/SERTC
57: Zach Sanders vs. Nahshon Garrett
1st Period: Single from Garrett, plows through Sanders right to a gut wrench for an exposure rolling out of bounds. 4-0 Garrett. Garrett in again and right into another single leg, transitions to gut and another for a 25 second 10-0.
65: Brayton Lee vs. James Green
1st Period: Lee taps knee a couple times, a couple half shots, no commitments. Now drops to a knee for a shot, but no penetration. Passivity warning on Lee. 2:00... Green warned for passivity now. Single attempt from an underhook for Green, eventually drives Brayton out for a 1-0 lead. 1:20... Half shots from collar ties, 1:00... 45... Snaps, 30... Beautiful Green reshot for a takedown, straight to leg lace to tack on an extra 2. 5-0 as they head back to center with 4 seconds left. Period ends.
2nd Period: Lee digging for hooks, heavy pummeling from both guys. Green whizzers off a shot and limp arms out to a takedown, straight into a gut wrench and couple exposures for an 11-0 win.
Big classification points for NJ/SERTC so far.
74: Evan Wick vs. Mekhi Lewis
1st Period: Wick drops from a tie to a low single, works behind to quad pod and breaks it for a takedown at 2 minute mark. Back to feet. Mekhi half shot, Wick throws him by, they square up to neutral. Another low single from Wick, same situation as before. Lewis trying to keep wrist control. Now Lewis is bouncing on his foot and Wick drives him out of bounds for a 3-0 lead at 1 minute mark. Double leg from Lewis, picks Wick up in air by lower legs and finishes, transitions to leg lace exposure and time runs out. 4-3 lead for Lewis.
2nd Period: Hand fighting and half shots, Wick now on FHL and ref resets them. 2:37... Wick swims to low single, finishes feet to back, then another exposure before Lewis reverses him. 9-5 as they return to their feet with 1:54 to go. Another single from WIck, clean finish but Lewis bellies down this time. Back to feet. 1:00... 11-5 Wick. A tech would be very helpful to Gopher's team hopes. Shot from Mekhi, Wick grabs a FHL, which he can't do anything with. 13... over. 11-5 Wick.
86: Brett Pfarr vs. Nate Jackson
1st Period: Nate Jackson quick double takedown to leglace exposure, exposure, exposure, back to feet. 8-0. Another quick double for a 10-0 tech in 32 seconds. Locks up the dual for SE/NJRTC.
97: Hayden Zillmer vs. Ty Walz
1st Period: Bulky bros here. Head inside single attempt from Zillmer, back to his feet. Fakes from Zillmer, the early aggressor. Passivity warning on Walz. 2:00... Double leg for Zillmer, comes up to the gut as he slips around the back. Takedown, gut wrench exposure, 4-0 lead for Zillmer. Back to feet. 1:00... Some shots from Walz, not close to scoring. 30... Fake from Zillmer. 10... Half shot from Walz, over. 4-0 Zillmer.
2nd Period: Walz half shot, Zill clamps on to a FHL and tries to pinch him over but Walz fends it off and gets back to feet. 2:30... Guys are working hard, breathing heavy. Passivity warning on Zillmer. Shot Zillmer, back to feet. 2:00... Zillmer goes on clock with 1:06 left. 1:00... On collar ties, Walz shot, throw by counter for Zillmer, no points. Walz awarded shot clock point. 30... Walz shot to end, Zillmer thows him by to get one last takedown as clock runs out. 6-1 Zillmer.
125: Gable Steveson vs. Jordan Wood
1st Period: Gable gets early FHL, snap down, go behind, gut wrench attempt but no exposure. 2-0, back to feet. 2:40... Step out for Steveson. 3-0, 2:00... Gable with an underhook throw by takedown. 5-0. 1:30... Steveson now stands up and bounces feet. 1:00... Snap down Gable, Wood pops back up. Now a nice double leg for Steveson, 7-0. 30... Another double attempt from Steveson backs Wood out of bounds for a push out. 8-0. 15... over.
2nd Period: Single attempt from Wood, Gable sprawls. Gable gets final counter takedown off another Wood attempt shortly into the period.
SE/NJRTC will win this on account of their multiple technical superiority wins.