Unlock this article, live events, and more with a subscription!
Get Started
Already a subscriber? Log In
For decades, 74 kg has been America's best weight class. From Dave Schultz to Kenny Monday, and from Brandon Slay to Jordan Burroughs, the USA has been deep at the middleweights in men's freestyle. That depth will be on display this weekend, as some of the top talents in the nation look to settle old scores at the RTC Cup.
Watch the 2020 RTC Cup Pres. by TMWC LIVE on FloWrestling
Friday, Dec 4 - Saturday, Dec 5
Here are the projected 74kg competitors from each of the six wrestling clubs that will be competing in Cincinnati with over $200,000 on the line.
Pool A
Cliff Keen WC: Logan Massa or Cam Amine or Malik Amine
Gopher WC: Evan Wick or Elroy Perkin
Wolfpack WC: Hayden Hidlay or Tommy Gantt
Pool B
NJRTC/SERTC: Mekhi Lewis
Ohio RTC: Carson Kharchla
Spartan Combat RTC: Jevon Balfour
Each team in pool A has at least one backup, while the pool B teams has only one 74 kilogrammer on their rosters.
For the CKWC, Logan Massa is the most credentialed wrestler on the team, with cousins Cam and Malike Amine providing ample support. Cam has four years of eligibility left (plus one bonus covid year) and is the projected 165-pound starter for the Wolverines, while Malik is a two-time NCAA qualifier at 149-pounds who used up his eligibility in 2019.
The Wisconsin RTC is lending the services of Evan Wick to the Gophers for the weekend. The Minnesotans also have the option of sending out Elroy Perkin, a two-time DIII All-American at Wisconsin-Whitewater.
NC State's Hidlay has one year of eligibility, plus another potential covid year to take a crack at an NCAA title, while Gantt graduated from NC State in 2016. Both All-Americans are excellent options for the Wolfpack.
NCAA and UWW junior world champ Mekhi Lewis will hold it down for the combined forces of NJ and the Southeast, while redshirt freshman and bluechip prospect Carson Kharchla will represent the Buckeyes. Canadian world-teamer Jevon Balfour will have some mighty big shoes to fill on the Spartan Combat team as he is a replacement for late-scratch Kyle Dake.
Will Massa Party Like He Did At Two Consecutive Senior Nationals?
Logan Massa went back-to-back at Senior Nationals, winning the 2019 edition that qualified him for the Olympic Team Trials and then again in 2020 in Coralville, Iowa.
The 2019 finals were revenge for Massa, who had previously lost to Mekhi Lewis at the 2019 Bill Farrell.
Watch Lewis beat Massa at the Bill Farrell, and especially watch for the big throw from Mekhi after the 1:27 mark: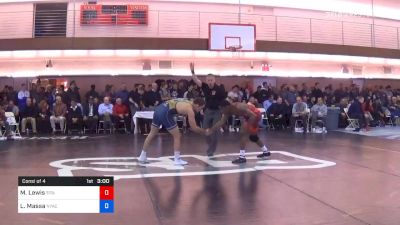 Unlock this video, live events, and more with a subscription!
Get Started
Already a subscriber? Log In
But it was Massa gained the upper hand in Fort Worth. The Michigan man also beat Nazar Kulchytskyy and Anthony Valencia at that tournament. In Coralville, it was Massa's experience over the youth of Danny Braunagel and David Carr, and then another punishing victory over Anthony Valencia in the finals.
Observe the finals from October in Iowa. It appears as though Massa gets meaner with every match: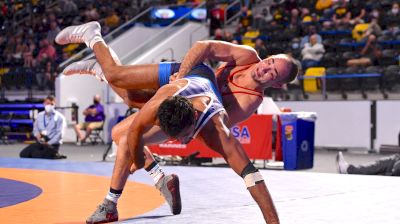 Unlock this video, live events, and more with a subscription!
Get Started
Already a subscriber? Log In
All this winning has helped Massa climb up the USA 74kg ladder. He currently sits at #6 on the Domestic Freestyle rankings.
Or Will Wick And The Wolfpack Slow Him Down?
Assuming Massa gets the starts, his first opponent of the event will be the third match of the fourth dual of day one, potentially against Evan Wick. Massa won two stop signs at two Senior Nationals while Wick only managed two fourth-place finishes at the same tournaments, yet Wick has two more All-American honors than Massa in the same number of varsity seasons and holds a lifetime 3-2 lead in their collegiate series
Massa will also be challenged in his subsequent match if he takes the mat against either Hayden Hidlay or Tommy Gantt. Both Wolfpackers placed third at Senior Nationals, Hidlay in 2020 and Gantt in 2019. Both also defeated Wick en route to their trophies.
Watch Hidlay defeat Wick for third in Coralville: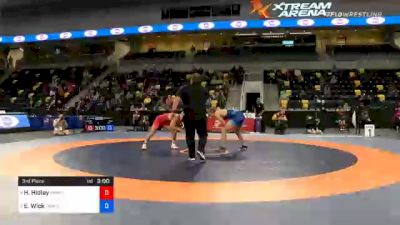 Unlock this video, live events, and more with a subscription!
Get Started
Already a subscriber? Log In
So it is also Wick who could get a potential revenge match against whoever the Wolfpack RTC sends out in his second match of the day.
Can Kharchla Hang With Lewis?
In Pool B (which wrestles the first three duals of day one), the big question is how a young and relatively untested Carson Kharchla will do against an NCAA and UWW junior world champ in Mekhi Lewis. Though the Hokie has the credentials, there are reasons to believe the Buckeye will make this a battle.
Kharchla went 16-0 while redshirting, winning the very competitive Michigan State Open to start the season. He also tore through his Fargo freestyle bracket the year before that. That puts his trajectory at a very lofty pace, not unlike Mekhi Lewis' own when he was a redshirt freshman for Virginia Tech two years ago.
Lewis is not to be underestimated, of course. We've yet to see the upper bounds of his potential, and he may have jumped another level since we last saw him compete.
Here's Mekhi at his last major competition, beating Tommy Gantt in the semifinals of the 2019 Senior Nationals: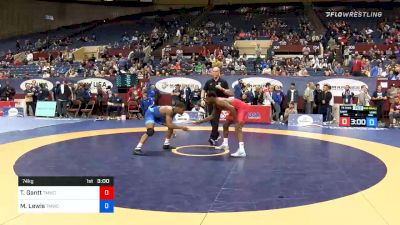 Unlock this video, live events, and more with a subscription!
Get Started
Already a subscriber? Log In
And Jevon Balfour may have something to say about how these day one duals go. Losing one of the pound-for-pound best wrestlers in the world in Kyle Dake will certainly lower the Spartan Combat RTC's odds of winning the big $50,000 check on Saturday, but Balfour brings plenty of high-level international experience, having represented Canada in two senior world championships.
How Will Day Two Play Out?
With the last-minute changes to the lineups, predicting how this event would play out gets a little more complicated. Spartan Combat is not a clear favorite, nor might they be a favorite at all. There will be no easy paths for anyone, but a dual between the CKWC vs the NJRTC/SERTC is a distinct possibility. That will also be a treat for 74kg aficionados as we'll potentially get the rubber match between Massa and Mekhi.
We might also see the Wolfpack WC make the finals, which would mean the NJRTC/SERTC would likely wrestle the CKWC in the semifinals (and vice versa), in which case we would potentially get a Hayden Hidlay and Mekhi Lewis match. That would be the first time those two wrestle in freestyle, but now we're talking about an ACC grudge match.
Regardless of how things play out, in a weight class with three top 10 domestic freestyles (#9 Gantt, #8 Lewis, & #6 Massa), two three-time All-Americans (Wick & Hidlay), a rising star (Kharchla) and a seasoned pro from up North (Balfour), there's no shortage of reasons to tune into the 74kg matches in Cincinnati.