FloWrestling 2: Burroughs vs Zahid
Complete FloWrestling: Burroughs vs Zahid Card Preview
Complete FloWrestling: Burroughs vs Zahid Card Preview
Bratke takes an in-depth look at each match going down on the FloWrestling: Burroughs vs Zahid card.
Nov 9, 2020
by Kyle Bratke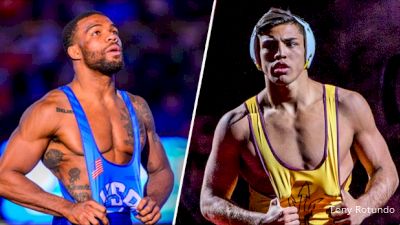 Jordan Burroughs makes his return as he takes a big jump up in weight, Anthony Echemendia gets a Senior level test, the biggest Greco-Roman match of the year, and two of the biggest women's freestyle stars will be in action. Saturday night can't get here soon enough. Take an in-depth look at each match in the order they will be contested deep in the heart of Texas.
Watch Burroughs vs Zahid LIVE on FloWrestling
97kg - Kyven Gadson vs Kollin Moore
A rematch of the Senior Nationals finals to start the night? That's how you set the tone for an awesome card. While Moore is 2-0 against Gadson in the past year, their 2019 Senior Nationals match was a one-point margin with under 10 seconds to go, and Gadson was leading their match last month with under a minute to go in the first period. Moore is currently ranked fourth domestically, and Gadson is ranked sixth.
Watch their match from the 2020 Senior Nationals finals.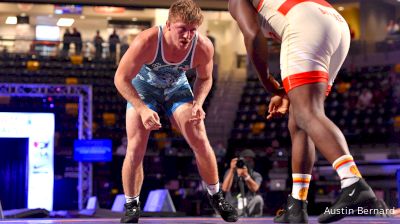 Unlock this video, live events, and more with a subscription!
Get Started
Already a subscriber? Log In
62kg - Kayla Miracle vs Ana Godinez
Our second match of the night will feature a little international flavor and will be a battle of top 10 placers at the 2019 World Championships when Kayla Miracle takes on Ana Godinez of Canada. While they were on the same side of the bracket in Nur-Sultan, they did not hit. Miracle would finish eighth and Godinez tenth.
Miracle hasn't competed since March when she qualified 62kg for the Olympic Games for the U.S. in Ottawa. Godinez's last competition came in March as well when she won the 143 lbs National Collegiate Women's Wrestling Championships for Simon Fraser.
Both wrestlers have also won age level world medals before. Miracle is a U23 World silver medalist, a two-time Junior World bronze medalist, and a Cadet World silver medalist. Godinez was a Junior World bronze medalist the same year she also made the Senior world team.
Watch Miracle punch her ticket to the Matteo Pellicone finals back in January.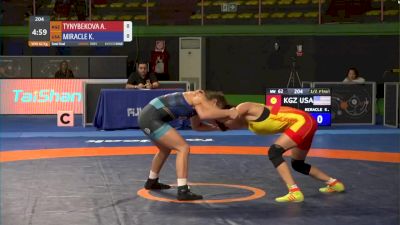 160 lbs - Sammy Sasso vs Tyler Berger
Ohio State hammer Sammy Sasso gets to test himself against three-time All-American Tyler Berger who will try to keep his winning ways going after picking up a big win over Joey McKenna back in August.
While Sasso is obviously extremely accomplished in folkstyle, he's well versed in freestyle as well. The two-time Pennsylvania state champion is a multiple-time Fargo All-American, was in the Junior World team trials finals, and was top four in a 2019 Dave Schultz Memorial International bracket that was loaded with Senior-level wrestlers.
Watch Sasso beat Brayton Lee in the 2019 Junior Open finals.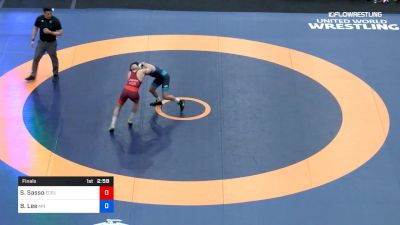 Unlock this video, live events, and more with a subscription!
Get Started
Already a subscriber? Log In
Berger is not only one of Jordan Burroughs training partners and the volunteer assistant for the Cornhuskers, but he's a guy training to work his way up the 74kg ladder. Berger was 3-2 at the 2019 Senior Nationals with notable wins over Carson Kharchla and Dylan Ness and was 2-2 at the 2019 Bill Farrell Memorial International.
Watch Berger tech Ohio State stud Carson Kharchla.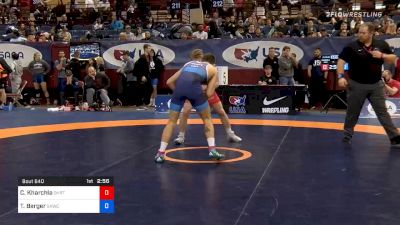 Unlock this video, live events, and more with a subscription!
Get Started
Already a subscriber? Log In
Will Berger add another big win or will Sasso pick up some big momentum heading into the upcoming folkstyle season?
59kg - Alli Ragan vs Lauren Louive
Our second women's freestyle match of the night will be a showdown between two top-five ranked wrestlers in the U.S. who are very familiar with one another. Not only did Alli Ragan and Lauren Louive train together at the Hawkeye Wrestling Club, but they also met at Final X - Lincoln in 2019.
Watch Ragan beat Louive in the second match of their best of three series at Final X - Lincoln.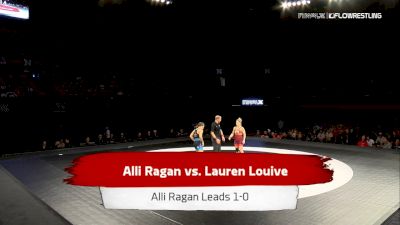 Unlock this video, live events, and more with a subscription!
Get Started
Already a subscriber? Log In
Another aspect of this match that is very interesting is that Ragan was third last month in the same Senior Nationals bracket that Louive was the champion of. Furthermore, Ragan was pinned in a huge upset by Xochitl Mota-Pettis who Louive would then pin in the finals.
Watch Louive pin Mota-Pettis in the 2020 Senior Nationals finals.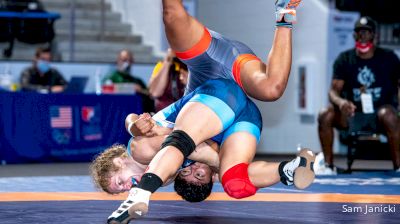 Has Louive closed the gap or will Ragan show Senior Nationals was a fluke?
103kg - G'angelo Hancock vs Alan Vera
The most anticipated Greco-Roman match of the year. The top-ranked wrestler in America at 87kg, Alan Vera, will square off with the top-ranked wrestler in the country at 97kg, G'angelo Hancock.
Vera is coming off a Senior Nationals title where he dominated Joe Rau in the finals who qualified the weight for the Olympics back in March and is a two-time world team member. Vera defected from Cuba back in 2016 and is working to obtain an American passport so he can compete for the United State at the Olympics.
Watch Vera roll past Rau in the Senior National finals.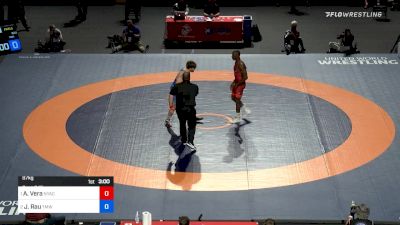 Unlock this video, live events, and more with a subscription!
Get Started
Already a subscriber? Log In
Hancock is not only the top-ranked 97kg Greco-Roman wrestler in the country, but is arguably the best regardless of weight. Hancock has been dominant in the U.S. making three straight Senior world teams and has also won a Junior World bronze medal. Hancock also has a massive win over four-time world and Olympic champion Artur Aleksanyan.
Watch Hancock beat World & Olympic champion Aleksanyan.
67kg - Anthony Echemendia vs Evan Henderson
Despite only being a freshman in college and having not yet wrestled a match for Ohio State, Anthony Echemendia might be the wrestler on this card that fans want to see most. He took the wrestling world by storm last summer when he beat Ed Scott, Caleb Henson, and Victor Voinovich just to name a few, on his way to double Fargo titles. Little did any of us know what he had been through just to get to the United States. In case you somehow haven't seen it, Echemendia's story is must watch.
Watch the incredible story of how Echemendia got to the United States.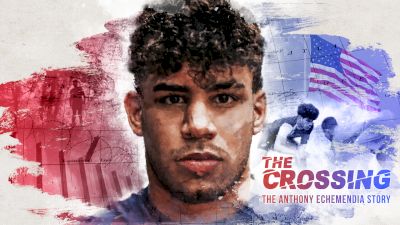 We'll quickly find out where Echemendia stands as his opponent Evan Henderson is coming off a Senior Nationals runner-up performance and dating back to the beginning of 2019, has wrestled in eight tournaments and in seven of them finished in the top five. Breaking that streak down even further, Henderson made the finals of half of those tournaments. The former North Carolina All-American is currently ranked seventh in the U.S. at 65kg. This will be the first of at least two more times we'll get to see Henderson before the end of the year as he will also be competing in the 150 lbs 8-man bracket in December.
Watch Henderson beat three-time All-American Jaydin Eierman at Senior Nationals.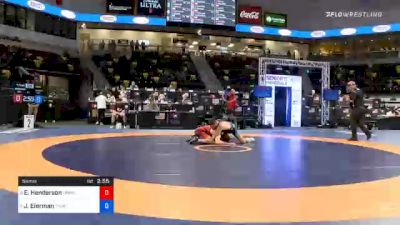 Unlock this video, live events, and more with a subscription!
Get Started
Already a subscriber? Log In
Will Echemendia show that he's ready to compete with the best on the Senior level or will Henderson stay hot as he heads into the 8-man with a shot at bringing home $25,000.
185 lbs - Jordan Burroughs vs Zahid Valencia
The king is back. Five-time World and Olympic champion Jordan Burroughs will take the mat for the first time since March when he won the Pan Am Championships. Burroughs is known for never shying away from a challenge and Valencia will present a new challenge for the champ. Burroughs has reigned supreme at 74kg which is 162.8 lbs. Valencia competes at 86kg which is 189.2 lbs. They'll meet at a catchweight of 185 lbs where Burroughs will likely be undersized. A win and Burroughs continues to add to his legacy.
Watch Burroughs explain in his own words why he wanted to wrestle Valencia.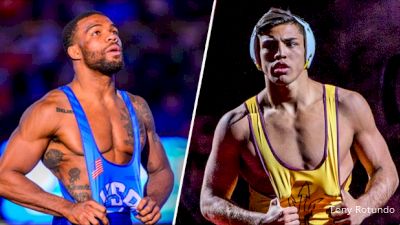 His opponent is Junior World silver medalist and two-time NCAA champion, Zahid Valencia. Valencia hasn't competed since February when he wrestled for Arizona State against Dylan Wisman of Missouri shortly before it was announced he would miss the rest of the year due to a suspension for failing a drug test for a recreational substance.
Not only has Valencia been elite at folkstyle, but he's been legit on the Senior level freestyle circuit since 2018. That summer he beat Alex Dieringer twice to make Final X - State College where he wrestled eventual world champion Kyle Dake tough. Valencia also has freestyle wins over Mark Hall, Nate Jackson, Aaron Brooks, and Myles Martin. Not to mention, in January he beat Faith Erdin of Turkey who made the 2018 World Championship finals where he lost to David Taylor.
Watch Valencia beat World finalist Erdin in the 2020 Matteo Pellicone semifinals.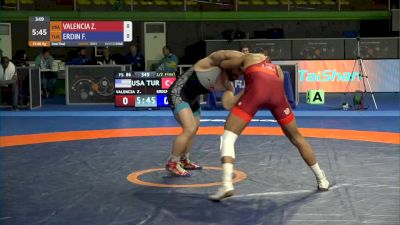 Unlock this video, live events, and more with a subscription!
Get Started
Already a subscriber? Log In
This isn't just a challenge for Burroughs because Valencia is an 86kg wrestler, this is a challenge because Valencia is the seventh-ranked 86kg wrestler in the world.