2020 FloWrestling 8-Man Challenge: 195 lbs
195lb 8-Man Challenge Match Notes
195lb 8-Man Challenge Match Notes
All the action from the FloWrestling 195-pound 8-man challenge live in blog form!
Oct 31, 2020
by Andrew Spey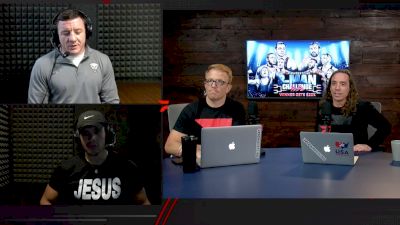 Unlock this article, live events, and more with a subscription!
Get Started
Already a subscriber? Log In
Eight elite 195-pound wrestlers have made their way to Austin for a shot at $20,000 and a piece of total purse worth over $40,000. We'll also see two bouts between up-and-coming stars from the women's division. And I'm here to bring you all the action, as it happens, live in the form of this blog.
Watch the FloWrestling 195 lbs 8-man LIVE
All right boils and ghouls its, it's time for a mat mash of monstrous proportions. Quarterfinals are about to begin, dig in and enjoy the show!
Quarterfinals
Shakur Rasheed vs Keith Gavin
1st period: Rasheed the recent Nittany Lion grad against Gavin the current head coach and former NCAA champ at Pittsburgh. Quick level change early on and Rasheed finishes a double leg for two. Another shot from Rasheed, Gavin catches and works from short offense. Rasheed falls into a single leg. Rasheed keeps working and collects another two. 90 seconds left in the first and Rasheed has a 4-0 lead. Now Gavin fires off a double, Rasheed pulls him up and throws in a whizzer, they're hip to hip on the edge of the mat. And we'll get a restart, good defense from Shakur. 30 seconds left, and there's the crafty windmill limp arm from Gavin, he'll get two. But Rasheed has his hips in good position, he'll cover for a one-point reversal. Excellent flurry and it's 5-2 at the break, Rasheed leading by three.
2nd period: Early shot by Rasheed, Gavin stops him, he tilts Rasheed in a front head pinch for two. Now Gavin covers and he's got a gut wrench. Turns for two more. Now a trap arm and two more for another exposure. And just like that it's 8-5 in favor of the crafty vet. Rasheed will challenge the head pinch. If this gets overturned, the two subsequent turns come off the board too. And the challenge fails. 9-5 lead for Gavin now. 90 seconds left in the match. A fake one way, slide-by/duck under (will need to see it again to be sure) and Rasheed is within two points. Back in neutral its 9-7, a two point move will give Rasheed criteria, so he's one takedown away. 30 seconds to go. A flurry and back in neutral. 15-second sprint. Rasheed attacking, but Gavin won't let him through.
Excellent first match! Everyone will leave here with $1,000 fourth place is guaranteed $2,500 and only semifinalists wrestleback for third so that's a $1,500 win for Keith Gavin.
Shakur came out of the gate firing and looked solid from neutral but Gavin used his experience and par terre advantage to come from behind and hold off Rasheed to advance.
What an opener!!! Gavin and Rasheed put up 16 points in the first match of the night.

— FloWrestling (@FloWrestling) November 1, 2020
---
Taylor Lujan vs Gabe Dean
1st period: Lujan has unfinished business after receiving the #1 seed at the canceled 2020 NCAA championship. Dean is fresh off a title at Senior Nationals from earlier this month. These two met in the quarterfinals of that tournament which Dean won. We'll see if Lujan was able to make the necessary adjustments. Hand fighting from both, Lujan gets a passivity warning a minute in, then Dean lowers his level and times a clean double leg. Two turns and Dean races out to a 6-0 lead. They'e back in neutral. 60 seconds left in the period. Lujan gets in deep on a shot, but Dean's concrete hips have squashed the attack. More handfighting and pummeling but no scores as we go to the break, Dean still leading 6-0.
2nd period: Dean snapping down, he's got his short offense going, he's got two more and is a turn away from the techfall. Here comes the gut attempt but Lujan steps over. He's got Dean in trouble. He'll pick up two, now Dean is fighting off his back! Lujan gets the fall! What an upset!
Incredible. I don't think it's possible to have a bigger upset in this tournament. What a shocker, Taylor Lujan picks up the fall and an extra $1,500.
😳

— FloWrestling (@FloWrestling) November 1, 2020
---
Nate Jackson vs Sammy Brooks
1st period: These guys have has some WILD matches in the past. Both of our matches so far have been pretty wild so don't be surprised if we go three for three. Quick shot from Jackson, he's driving with a hand behind a knee, he drive Brooks toward one of the tables and will get the first two as they go tumbling to the mat. Jackson keeps the pressure on. He's got a body lock, Brooks with a whizzer, but Jackson muscles him to the mat to make it 4-0. Repeating the same sequence and it's 6-0 for Jackson. We pause as Nate has to put a contact lens back in place. Again a shot and a takedown and it's 8-0. No turns but Jackson is a takedown away from a tech fall. Less than a minute to go. Dueling body locks, Jackson close to another takedown, instead he just gets a step out. Reece Humphrey is in Nate's corner and wants a challenge. It's denied, the score is 9-1 with 30 seconds left in the period. Nate's long arms once again get behind Brooks legs and runs his legs and finishes the takedown with 3 seconds left int he period. There will be no comeback for Brooks this time. Jackson gets over the hump and advances to the semis, $1,500 richer than how he started the day.
Impressive stuff from Nate Jackson, who shows off his Black Wrestling Association singlet after the first-period tech-fall.
MyMar looking strong and closes out the first round with a win.

— FloWrestling (@FloWrestling) November 1, 2020
---
Myles Martin vs Drew Foster
1st period: We've seen one UNI Panther make the semis via upset, we'll see if Foster can join Lujan with an upset of his own. Two NCAA champs going at it right now. Foster gets a passivity warning less than a minute in. Myles now picks up a passivity. 90 seconds into the match and no scores. Martin shoots, Foster reattacks but Martin snaps and goes behind to get the first score. Foster stays aggressive, shoots again but Martin is too quick with the reattack and he wins the position to make it 4-0. Short time in the first. No more scores for the rest of the period.
2nd period: Foster not slowing down, he's deep on a single. But Martin frustrates his shot and Foster can't stop him from running behind to make it 6-0. Martin looks sharp. Foster to his credit keeps attacking. Has Martin sprawling. Belly whizzer keeps Foster at bay. No score from Martin. In a scramble now with about a minute to go. Foster so close but still can't get an exposure or a takedown. 50 seconds to go, still 6-0 Martin. Myles is so sneaky with his short drags, he's able to counter year again and make it 8-0. Less than 30 to go. Foster has no quit in him but Martin is going to win 8-0. Great effort by Foster but Martin was too quick. Myles Martin is into the semifinals with an extra $1,500 in his pocket.
Big CRAMMM from Nate Jackson

— FloWrestling (@FloWrestling) November 1, 2020
---
Stefana Jelacic vs Emily Shilson
1st period: Shilson got the better of Jelacic the last time they met, we'll see what happens in the rematch. Shilson will be the heavy favorite based on that last match and her many world level credentials, but as we've seen today, anything can happen. No scores after a minute. Shilson controlling center and the ties a bit more. As such, Jelacic goes on the activity clock with about 90 seconds to go in the period. Shilson on a sweep single but Jelacic muscles her way out of danger. She gives up the shot clock point though and Shilson leads 1-0. And that's how the period ends. Very good period for Jelacic, she's obviously very much still in this bout.
2nd period: Shilson has been taking more shots but she hasn't been able to get into too deep. Until just now. Shilson has a single leg elevated. She walks Jelacic out of bounds and picks up another point. 2-0 Shilson with two minutes left on the clock. Now Jelacic shoots but Shlson effectively sprawls. In the same sequence Shilson gets the go-behind and looks for a gut. She won't get a turn but she leads 4-0 with 1:35 left in the match. Shilson chewing up clock with a front headlock. But now Jelacic slips out and gets behind and cuts the score in half. Jelacic is a takedown from the lead with 30 seconds to go. A step out from Shilson will make it tougher for Jelacic as it's 5-2 now Snap down from Jelacic but Shilson collects a leg, finishes for two more.
That's the match, Stone Cold Shilson finishes strong and gets the 7-2 victory!
It was close but Emily Shilson pulls out the victory over Stefana Jelacic.

— FloWrestling (@FloWrestling) November 1, 2020
---
Semifinals are set and they look 🔥

Watch Live: https://t.co/Cakft6mcAB pic.twitter.com/1X7j9WyBUS

— FloWrestling (@FloWrestling) November 1, 2020
---
Semifinals
Keith Gavin vs Taylor Lujan
1st period: We'll see if Lujan can keep the momentum going after his wild upset of Gabe Dean. A win here is a guaranteed $10,000 for the runnerup so essentially $7,500 on the line right here. Arm drag for Gavin doesn't land. Lujan fires of a single that he finishes fairly cleanly to take the two-point lead. Front head for Gavin and he puts his head in the hole and works to come around. Lujan in a quad-pod, he grabs a leg and picks up two more to make it 4-0. Great start for Lujan. Short drag to a level change double leg but Lujan defends. 30 seconds left in the period and it's still 4-0. That's how things stand at the break.
2nd period: Gavin came back from a four-point deficit in his last match, can he do it again? Gavin hit's his patented windmill and Lujan is in trouble. But Lujan holds on to his head and refuses to let Gavin come around for the score. Gavin drops to a single, but Lujan funks out of it, frees his leg and it's 6-0 Lujan now! Gavin wants a review though. He wants that initial two I believe. That would be a massive point swing. The challenge fails and it's 7-0 now in favor of the young Panther. Head pinch for Keith Gavin, he throws Lujan over and he picks up his first points, 7-2 with less than a minute to go, in neutral now. Gavin going kitchen sink. Lujan will hold off that late charge and Taylor Lujan is into the finals of the 8-man challenge!
Who picked Lujan to make the finals? Very few of you, that's who.
Taylor Lujan will make at least $10,000 tonight. Keith Gavin will wrestle for third-place with a $5,000 total prize on the line.
Lujan does it again!

— FloWrestling (@FloWrestling) November 1, 2020
---
Myles Martin vs Nate Jackson
1st period: For a shot at Taylor Lujan and $20,000, it's MyMar vs Jackson. And a double like Nate Jackson CRAM and Martin goes to the mat. But Martin gets up in time to avoid a score? I was thinking feet to back but the ref saw it otherwise and they had a better view them me so it's somehow still 0-0. One minute down. Martin quick fire low single, Jackson gets free and reattacks but they wrestle to a stalemate. Now Nate goes on the activity clock with just a minute left in the period. Plenty of action but it's our first activity clock of the 8-man bracket. Martin gets the shot clock point and that's how the period ends.
2nd period: Jackson fires off a shot early but Martin has been feasting on reattacks and go behinds and he scores to make it 3-0. Pace slows down a bit. Jackson pressuring in. Martin tightrope walking at the edge of the mat. But pivots just in time, lowers his level and gets a takedown. Less than a minute to go and Martin is leading 5-0. Single leg from Martin. Jackson's turn to counter. He's looking for a cradle! Martin wrestles out of danger and that scramble ate up a lot of clock. Jackson scores late but it's as time expires and Martin gets it done, advancing to the finals and guaranteeing himself at least $10,000.
Our finals will be Myles Martin vs Taylor Lujan. Martin was the favorite of his side of the bracket while Lujan is the Cinderella of the top half.
The finals are set!!! Martin vs. Lujan for $20k 💰

— FloWrestling (@FloWrestling) November 1, 2020
---
Deisree Zavala vs Macey Kilty
1st period: Out second of two women's matches coming up. Both of these women are ranked in the top 10 nationally at 62kg. Kilty is ranked #6 and Kilty is ranked #8. Kilty strikes first with a single to a double. Working a trapped bent leg but can't get a turn. Kilty goes right back in on the whistle and has a single leg. Takes a bit longer to convert but she gets another takedown to make it 4-0. Leglace goes one way then the other for Kilty and she'll run it up to 6-0. Zavala shoots on the restart but Kilty defends. One minute to go. And Kilty scrambles for two more and looks to end it with a leg lace. Kilty can't get the turn and we go back to neutral, Kilty leading 8-0. Kilty shoots a couple times but solid defense from Zavala keeps the score at 8-0 and we'll at least start the second period after the break.
2nd period: Kilty again able to get in on a single. Zavala puts up a heroic defense but Kilty is too powerful and she gets it done for the tech-fall. Efficient and impressive work from Macey Kilty.
Macey Kilty dominates on her way to a 10-0 victory. pic.twitter.com/cdY5KJksvw

— FloWrestling (@FloWrestling) November 1, 2020
---
Third-place
Nate Jackson vs Keith Gavin
1st period: Both these guys lost very tough battles in the semifinals. We'll see who's got more in the tank with $2,500 extra going to the winner. Jackson times a wonderful double leg and he scores first with an explosive takedown. Gavin gets up, no restart he stands on his won and Jackson lets him go. No escape points in freestyle so still 2-0. One minute down. Nifty fake to a snatch single and he converts again. It's 4-0 and Jackson gets warned for letting Gavin up. Jackson gets warned for hands to the face after the restart but no penalty points awarded. Jackson staying the aggressor, but there's an arm drag by Gavin and he's close but Jackson spins out of danger. Short time and no more scores. 4-0 into the break.
2nd period: Now it's Gavin in on a shot but Jackson hits a switch and covers for two after almost locking up a cradle. Back to neutral, Jackson up 6-0. Gavin with the crafty windmill again, they're on the mat. Gavin looking for a peterson but he can't hit it. A little more scrambling and back to the center, still 6-1. Gavin runs Jackson off the mat and a caution and one for fleeing the mat is awarded. Another step out point but that's all he can muster. Jackson's offense is too much and Nate will head back to Princeton with $5,000 for his third place effort!
Kudo to Gavin for coming out of retirement, grabbing $2,500 and helping raise the profile of his Pitt Panthers. Both guys wrestled three matches today and put on a show in all three.
Nate Jackson takes 3rd and takes home $5,000. #CRAMM

— FloWrestling (@FloWrestling) November 1, 2020
---
Finals
Myles Martin vs Taylor Lujan
1st period: Here we go. For 20 boxes of ziti. Lujan the surprise finalist. Martin the favorite to make it this far. One more obstacle for them both. Lujan attacks first but Martin has been about the counters all day and quickly turns the sequence into points for himself. It's 2-0 early. Martin swims in for a single leg, he converts cleanly and it's 4-0 in a hurry. One minute into the match. Snap go behind for Martin but Lujan spins to face Martin just in time. Martin slips underneath for a deep double but Lujan has a tight chest wrap and has Martin up after the ground! Martin regains his balance and methodically works to get the takedown and it's 6-0. Short time in the period. We go to the break. J Jaggers and Bo Jordan in Myles' corner. Lee Roper cornering Taylor.
2nd period: Lujan came back from an 8-0 deficit to beat Gabe Dean so it's not over yet. It is 8-0 now though, As Martin speedily gets behind Lujan. Taylor has a little over 2 minutes to make it happen. But it's Martin again, to fast and too precise. Myles Martin wins the big check with a dominant 10-0 victory!
A great night of matches comes to a close. It was both spooktacular and ghoulishly fun in my opinion. Thanks for following along and apologies for the typos. Congrats to all our competitors, we'll see you next time bye bye!