Unlock this article, live events, and more with a subscription!
Get Started
Already a subscriber? Log In
Razambek Zhamalov. Get familiar with the name if you aren't already. He is pictured above. He won a bracket today with two-time World champions Zaurbek Sidakov and Magomedrasul Gazimagomedov as well as one-time World champions Khetik Tsabolov and Magomed Kurbanaliev. He will most likely be the 74 kg World Team rep for Russia in December.
All the results, takeaways, notes, and commentary from day two, which included 70 kg, 74 kg, and 79 kg, are below. The brackets, completed up to the finals, are courtesy of FloWrestling international men's freestyle ranker Jon Kozak. He is posting them, with many other updates, to his Twitter (@KozakJon)
Champions
70 kg: Cherman Valiev (Ossetia)
74 kg: Razambek Zhamalov (Dagestan)
79 kg: Akhmed Usmanov (Dagestan)
70 kg
The most loaded non-Olympic weight class of the weekend, 70 kg featured a top-20 pound-for pound guy in the world, a 2020 Yarygin champ, a 2019 U23 World medalist, a multiple-time Russian silver, a 2018 Russian silver, and a 2019 Junior World medalist, among many others.
Most were probably picking 2019 World champion David Baev to win this weight. However, Cherman Valiev defeated him at the 2019 Ali Aliev and was the #1 seed. Baev did get his revenge at the 2019 Yarygin, but it was Valiev's day today. He now leads the series 2-1.
Bronze medalist Kurban Shiraev is a kid you should keep an eye on. After finishing second at the 2019 Junior World Championships in 2019, he won both the Yarygin and Euros in 2020. He lost to Baev 8-0 in the semifinals, but with another year or so of training, he could be Russia's guy at 70 kg moving forward. Still quite young, he could also grow into yet another world class 74 for them.
Crimea's Akzor Zakuev was absolutely smashing people in his first few matches and had a late lead over Murad Kukhkaduev in the quarterfinals before giving up multiple head pinches to lose. Here's some action from his 1/8 final match.
Zakuev going hulk smash pic.twitter.com/8AlR6cAOWQ

— JD Rader (@rader_jd) October 17, 2020
Medals
GOLD: Cherman Valiev (Ossetia)
SILVER: David Baev (Ossetia/Khanty-Mansi)
BRONZE: Rusian Zhendaev (Moscow)
BRONZE: Kurban Shiraev (Dagestan)
Bracket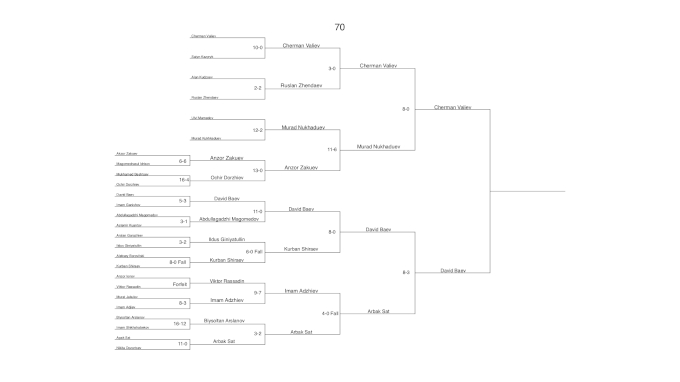 ---
74 kg
The best bracket of the entire tournament, 74 kg remains entirely absurd in Russia.
The 74kg Russian Nationals Bracket is incredible.

I have 6 guys ranked in the top 10 and 8 in the top 20 🤯

Oh...and 4 World Champs pic.twitter.com/o8ZRCNTZx7

— Jon Kozak (@KozakJon) October 16, 2020
I don't even know where to begin. To quote @Ivan_FSwrestling on Twitter, "In Russia, it is, as usual:nothing is possible but in principle everything is possible".
Ok, the final. It started out similar to yesterday's 57 kg and 65 kg final; not much action. The second period, however, more than made up for it. Being put on the shot clock twice forced Tsabolov to attack and a slick reattack for Zhamalov (6:58 mark below) got it done.
This result shouldn't be completely shocking as Zhamalov took silver last year, silver at Yarygin, and is 2019 U23 World champion.
Watch Razambek Zhamalov defeat Khetik Tsabolov in the 74 kg finals below.
The story from day two of Russian Nationals was Tsabolov defeating two-time defending World champion and P4P #2 wrestler in the world Zaurbek Sidakov. While this was an upset, Tsabolov is a World champion himself and actually beat Sidakov at the 2018 Yarygin, Sidakov's last loss. It really just speaks to the depth in Russia. Sidakov came back through repachage to earn bronze. He defeated 2016 World champion #9 at 74 kg Magomed Kurbanaliev 9-1 in the bronze medal match.
Similar to James Green in America, Kurbanaliev's best weight class is 70 kg, but he is choosing to go up to 74 kg for the Olympics. He gave Tsabolov all he could handle in the top-half semifinal in what was my personal favorite match of the day. More on that below under the Awards section.
2019 European 23 champion and 2018 Russian bronze Nikita Suchkov looked great in repachage after losing to Zhamalov in his very first match. However, he was defeated by Krasnodar's timur Bizhoev for bronze. This was Bizhoev's third-straight Russian bronze. He came up with a big win over two-time World champion Magomedrasul Gazimagomedov in the quarterfinals.
Medals
GOLD: Razambek Zhamalov (Dagestan)
SILVER: Khetik Tsabolov (Ossetia)
BRONZE: Zaurbek Sidakov (Ossetia/Khanty-Mansi)
BRONZE: Timur Bizhoev (Krasnodar)
Bracket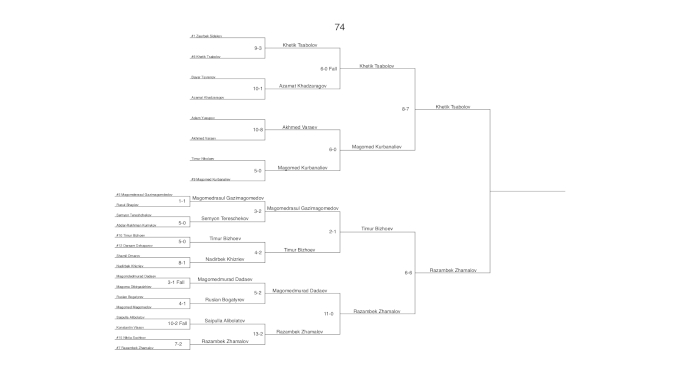 ---
79 kg
A non-Olympic weight class, 79 kg didn't quite have the star power 70 kg did. Akhmed Usmanov got the first big tournament win of his career since moving up to 79 kg in 2019. He took out 2019 World bronze and #1 seed Gadzhi Nabiev in the first round 6-0 and only gave up three points the entire tournament. Nabiev did come back for bronze in repachage.
Medals
GOLD: Akhmed Usmanov (Dagestan)
SILVER: Gadzhimurad Alikhmaev (Bryansk Oblast)
BRONZE: Gadzhi Nabiev (Dagestan)
BRONZE: Amanula Gadzhimagomedov (Dagestan)
Bracket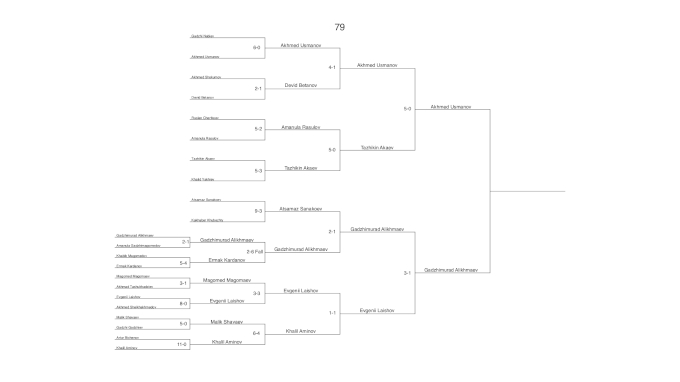 ---
Awards
OW: Razambek Zhamalov
Pretty obvious here.
Biggest Upset: 74 kg 1/8 final - #6 Khetik Tsabolov over #1 Zaurbek Sidakov
It might not be a huge upset on paper, but it was still shocking to see Sidakov lose.
Best Nonfinals Match: 74 kg semifinal - #6 Khetik Tsabolov vs #9 Magomed Kurbanaliev
This one was wild. Just watch.
I do not agree with the controversial call. It should have been just two blue in my opinoin.
Here's the sequence in question.

Was originally scored 2-0 for blue (Kurbanaliev) to put him ahead 6-6

Re-Scored 2 blue, 2 red, 1 blue
Tsabolov goes ahead 8-7 and wins by that score pic.twitter.com/OHoxcUj0YI

— Jon Kozak (@KozakJon) October 17, 2020
Move Of The Day: Alan Kudzoev on Cherman Valiev
Valiev got straight-up choked out pic.twitter.com/I1aOB3kDC6

— JD Rader (@rader_jd) October 17, 2020
Ok, not a legit wrestling move, but very Russia. Props to Valiev for not only winning this match, but the entire tournament.