2020 Who's #1
The Ultimate Who's #1 Preview & Predictions Article
The Ultimate Who's #1 Preview & Predictions Article
Get a breakdown of each match at Who's #1 along with the entire FloWrestling team's predictions.
Oct 2, 2020
by JD Rader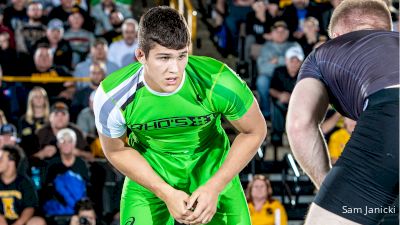 Unlock this video, live events, and more with a subscription!
Get Started
Already a subscriber? Log In
Unlock this article, live events, and more with a subscription!
Get Started
Already a subscriber? Log In
The premiere high school event of the year is here. Every year since 2013 the top two-four wrestlers in the country at selected weights have competed for the right to declare themselves #1. On Saturday evening, 27 wrestlers from 18 different states will partake in 14 phenomenal matches.
Watch Who's Number 1 LIVE on FloWrestling
Below is a short breakdown of each match in the order they will be wrestled along with the FloWrestling team members' picks.
138: Jesse Mendez vs Jordan Williams
Who's #1 will be kicking things off with a bang. While Jordan Williams will be making his debut at both Who's #1 and 138, Jesse Mendez will be returning for the second-straight year and has several results this summer up a weight from 132 last season.
Williams is known for being tough to score on and late-match heroics that have led him to two state titles, two Fargo titles, one Super 32 title, and a win over P4P #1 Richard Figueroa. However, Mendez is a full-sized 138-pounder and not afraid to open up and put some points on the board.
Picks
Christian Pyles: Williams
Kyle Bratke: Mende
Ben Askren: Mendez
JD Rader: Mendez
David Bray: Williams
Andrew Spey: Mendez
---
145: Kylie Welker vs Skylar Hattendorf
The only bout on the card between two World medalists, Welker and Hattendorf both returned home from the 2019 World Championships with some hardware. Hattendorf, who is currently ranked #1 at 132, could be slightly undersized but was more than open to competing at 145 lbs.
Hattendorf also made a judo world team in 2019 and it shows in her style. She is very good with trips and throws. Welker, on the other hand, is a little more traditional with control ties and snapdowns. Don't be surprised if this match ends a pin no matter who pins as both are great pinners.
Picks
Christian Pyles: Welker
Kyle Bratke: Welker
Ben Askren: Welker
JD Rader: Welker
David Bray: Hattendorf
Andrew Spey: Welker
---
182: Lenny Pinto vs Rylan Rogers
Although Pinto was 2-0 against Rogers in 2019, the team is evenly split on this one.
Watch Pinto defeat Rogers in the 2019 Fargo finals below.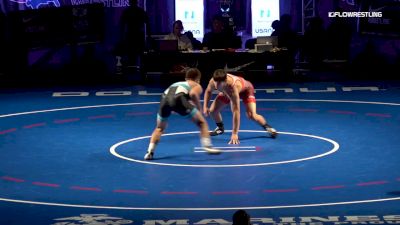 Unlock this video, live events, and more with a subscription!
Get Started
Already a subscriber? Log In
The team is split for good reason: Rylan Rogers had a strong 2020 winning National Preps and Ironman at 182. Pinto took a couple of losses in 2020 but finished the season strong winning a loaded Pennsylvania State AAA 170 bracket, and although he's coming up from 170, he has the horsepower to do so. Pinto has wins over Tate Picklo, Mac Stout, Tyler Stoltzfus, and many other top guys.
Picks
Christian Pyles: Rogers
Kyle Bratke: Pinto
Ben Askren: Pinto
JD Rader: Pinto
David Bray: Rogers
Andrew Spey: Rogers
---
126: Jordan Titus vs Dean Peterson
Another rematch at 126, this one from 2019 Super 32.
Watch Titus and Peterson's first match from Super 32 below.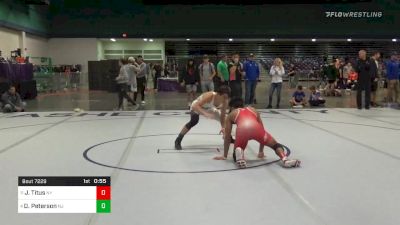 Unlock this video, live events, and more with a subscription!
Get Started
Already a subscriber? Log In
That shin whizzer/Jonesy tilt position will be crucial once again. It's a New York vs New Jersey rivalry with the #1 ranking at 126 when Titus and Peterson take the mat on Saturday night.
Picks
Christian Pyles: Titus
Kyle Bratke: Titus
Peterson: Titus
JD Rader: Titus
David Bray: Titus
Andrew Spey: Titus
---
152: Victor Voinovich vs Jagger Condomitti
An interesting clash of styles at 152. Victor Voinovich is notoriously tough on top; it's what got him the win over four-time California state champion Jesse Vasquez at last year's Who's #1. However, Nebraska commit Jagger Condomitti is very well aware of this and thinks he is a better neutral wrestler. I'm not sure if Condomitti is right, but I will say he is a very active and very good neutral wrestler. Can he score enough points and avoid getting turned to pick up the W?
Picks
Christian Pyles: Voinovich
Kyle Bratke: Voinovich
Ben Askren: Voinovich
JD Rader: Voinovich
David Bray: Voinovich
Andrew Spey: Condomitti
---
285: Kyonte Hamilton vs Chase Horne
The first heavyweight match in Who's #1 history! Outside of a 2-0 loss to Noah Pettigrew at Ironman last season, Kyonte Hamilton basically had his way with 220-pounders. So much so that he earned the #1 ranking when he moved up to heavyweight. We won't get to see how Hamilton will do against the real big boys as Chase Horne is coming up from 220 as well.
Horne earned his spot in Who's #1 by defeating Illinois commit Hayden Copass earlier this summer. Both of these young men have already committed: Chase Horne recently to North Carolina State and Hamilton plans to both wrestle and play football at Rutgers.
Picks
Christian Pyles: Hamilton
Kyle Bratke: Hamilton
Ben Askren: Hamilton
JD Rader: Hamilton
David Bray: Hamilton
Andrew Spey: Hamilton
---
220: Kyle Haas vs Nick Feldman
Haas has the better overall resume (he made the Cadet Freestyle World Team and won Greco-Roman World Team Trials in 2019); however, a few recent losses and a lack of national competition for Haas gives Feldman the #1 ranking at 220.
Haas has a great lat drop that he used to win the World Team Trials in both styles last year, but Feldman is a very controlled wrestler and Fargo champ as well. If there is anyone that can match the strength of Haas, it's Feldman who is coming up from 195 last season.
Picks
Christian Pyles: Haas
Kyle Bratke: Feldman
Ben Askren: Haas
JD Rader: Feldman
David Bray: Feldman
Andrew Spey: Feldman
---
145: Cody Chittum vs Wyatt Henson
Everybody, including myself and Cody Chittum, is expecting this one to be an all-out hard hand fighting brawl. Chittum, just a sophomore, is already an extremely mature wrestler. He wants to get to your head, beat you up, snap your face into the mat, run behind for the takedown, and then do that again but then cow-catcher you to your back.
Chittum wasn't able to get the pin, but Chittum did use a variety of takedowns and a couple turns to beat Henson 13-3 when they met at Beast of the East last season. However, Henson finished the season with a Pennsylvania state title and Chittum took several losses, so it's the Iowa commit Wyatt Henson that sits in the #1 spot.
Picks
Christian Pyles: Henson
Kyle Bratke: Henson
Ben Askren: Chittum
JD Rader: Chittum
David Bray: Henson
Andrew Spey: Henson
---
195: Seth Shumate vs Tate Picklo
Ohio State commit Seth Shumate has looked great the past 12 months. Both his grit and offensive ability were on full display when he defeated Nick Feldman in a crazy 10-8 match in the Ironman finals.
However, Shumate does love to go upper body and this could play right into 2019 Greco World Team member and Oklahoma commit Tate Picklo's hand. Either way, this is a sneaky exciting matchup and I expect a lot of points.
Picks
Christian Pyles: Shumate
Kyle Bratke: Shumate
Ben Askren: Shumate
JD Rader: Shumate
David Bray: Shumate
Andrew Spey: Shumate
---
112: Sage Mortimer vs Mia Palumbo
Another women's matchup with two #1s. Sage Mortimer #1 at 100 and Mia Palumbo is #1 at 106, but the two are both coming up and wrestling at 112 lbs. With five Fargo titles between the two of them, this should be an excellent technical matchup. Palumbo will most likely have a slight size and strength advantage, but watch out for Mortimer's headlock.
Picks
Christian Pyles: Mortimer
Kyle Bratke: Palumbo
Ben Askren: Mortimer
JD Rader: Palumbo
David Bray: Palumbo
Andrew Spey: Palumbo
---
160: Paddy Gallagher vs Travis Mastrogiovanni
It's Ohio State vs Oklahoma State as both wrestlers are looking for redemption from last year's Who's #1. The size advantage for Ohio State commit Paddy Gallagher has been talked about quite a bit, but Travis Mastrogiovanni is a savage who always brings intensity. He even has wins over both wrestlers in the 170 lbs main event.
Picks
Christian Pyles: Gallagher
Kyle Bratke: Gallagher
Ben Askren: Gallagher
JD Rader: Gallagher
David Bray: Mastrogiovanni
Andrew Spey: Gallagher
---
138: Joel VanderVere vs Williams/Mendez
VanderVere and Mendez split in the two matches they wrestled in 2019. In freestyle, Mendez won the first 14-11, and in folkstyle, Vandervere won the second in the ultimate tiebreaker 1-1. That is why VanderVere currently sits at #2 and Mendez at #3. Williams has yet to compete against any of the top three at 138 as he is coming up from 126 lbs.
Watch VanderVere and Mendez's first match from 2019 FloNationals below.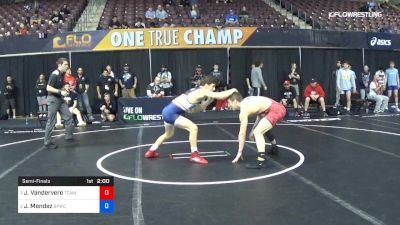 Unlock this video, live events, and more with a subscription!
Get Started
Already a subscriber? Log In
VanderVere brings a nice double leg and hard leg riding to the table. That riding proved to be the difference in Joel and Jesse's folkstyle match as he rode Jesse out to win.
Whether it's Williams or Mendez who ends up taking on VanderVere, I don't anticipate another 1-1 match. These boys will open up and put at least one takedown on the board.
Picks
Christian Pyles: Williams
Kyle Bratke: Mendez
Ben Askren: VanderVere
JD Rader: Mendez
David Bray: VanderVere
Andrew Spey: VanderVere
---
120: Richie Figueroa vs Drake Ayala
The pound-for-pound king, Richie Figueroa vs the pace of Drake Ayala.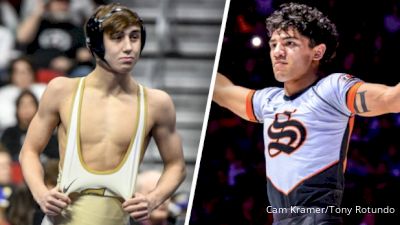 Unlock this video, live events, and more with a subscription!
Get Started
Already a subscriber? Log In
If Drake Ayala is going to beat Richie Figs, he's going to have to get him tired. With Richie's top game that broke Stevo Poulin last year, there's been some debate whether or not Ayala will and/or should choose bottom in this match. Not many people can say they even stand a chance against Figuerora. Ayala has the size, speed, and skill to make the co-main event incredibly intriguing. Gameplans and execution will be huge in this one.
Picks
Christian Pyles: Figueroa
Kyle Bratke: Figueroa
Ben Askren: Figueroa
JD Rader: Figueroa
David Bray: Figueroa
Andrew Spey:Figueroa
---
170: Alex Facundo vs Cael Valencia
The main event of the evening. Two-time Cadet World medalist Alex Facundo vs Super 32 champion Cael Valencia.
Penn State commit Alex Facundo has been very good for a very long time. He can put up a bunch of points or win a gritty one-point match, which is what happened when these two squared off at 2019 Folkstyle nationals; Facundo won 3-2. However, Cael has shown a lot of improvement since then. He looked his best at Doc B when he defeated Paddy Gallagher 9-5 in the finals.
Picks
Christian Pyles: Facundo
Kyle Bratke: Facundo
Ben Askren: Facundo
JD Rader: Facundo
David Bray: Facundo
Andrew Spey: Facundo
---
For even more preview articles click HERE and for over 40 preview videos including; interviews, breakdowns, and hype videos; click HERE.