Unlock this article, live events, and more with a subscription!
Get Started
Already a subscriber? Log In
For a time in Dean Heil's college career, he owned the 141-pound weight class.
In his sophomore year, he faced a gauntlet of a schedule that put him up against the likes of Joey McKenna, Seth Gross, Kevin Jack, Bryce Meredith, and many others. With the exception of one mid-season loss to Joey Ward, he beat all of them. Multiple wins over McKenna, a Big 12 title win over Gross, and his first NCAA title with a win over Bryce Meredith.
Watch 2020 Senior Nationals LIVE on FloWrestling
Heil came back his junior season to put together the most dominant year of his career. He went 32-0 with wins over future NCAA champion Anthony Ashnault, Jaydin Eierman, Bryce Meredith, and more. This all culminated in another NCAA title with a 6-3 win over Virginia's George DiCamillo.
Then came the neutral danger zone rule.
Some will say this rule was not directly targeted at Heil . . . in reality, it wasn't, but there's no doubt that he was the college wrestler that this impacted the most. His ability to scramble and wrestle in positions that put himself on his back was unbelievable. The rule change took his ability to do that away and his senior season was nothing of the level of his first three.
Then came his transition to senior level wrestling. Most, including myself, weren't really sure what to expect from him. He was dominant in those years before the danger zone rule, but generally it didn't seem like his style would be one that would translate well to the senior level. The scrambling, the leg passes, and other funk that he's always been so good with don't always work well in freestyle as it creates back exposure and gives up points.
After college, Heil went to the Oklahoma RTC, then split time with the Campbell RTC, and eventually made the move over to the Naval Academy RTC when Cary Kolat became the head coach at Navy.
His senior-level career thus far has had some ups and downs, but overall has been better than many expected. One of his most notable bracket wins was at the Last Chance Senior World Team Trials Qualifier last year.
He started out by dominating Bryce Meredith in the semifinals with a 10-0 tech.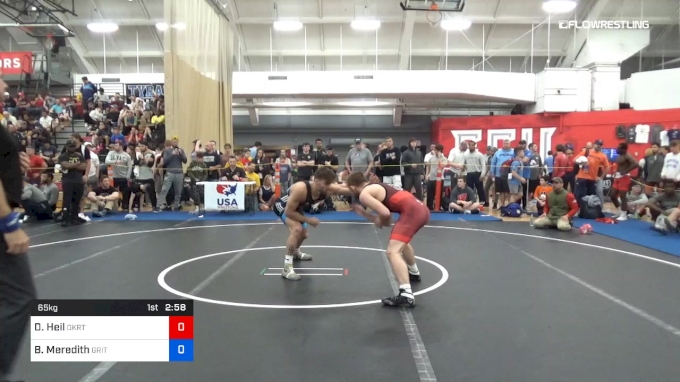 Unlock this video, live events, and more with a subscription!
Get Started
Already a subscriber? Log In
He followed that up with a finals win over Joey McKenna which gave him the tournament title and a bid to the Senior World Team trials.
Unlock this video, live events, and more with a subscription!
Get Started
Already a subscriber? Log In
Interestingly, his bracket at this weight for Senior Nationals is setting up to possibly be a similar one to what he saw at the last chance qualifier. The biggest names currently registered at 65 KG are Heil, McKenna, Luke Pletcher, Sean Fausz, and Nick Dardanes. All are certainly formidable talents, but currently it doesn't look as though Yianni, Jordan Oliver, Eierman, Retherford, and some of the other top talents at this weight will be competing here. If the registrations stay similar, this opens the door for Heil and others to have a very real chance and possibly be the favorite to win a Senior National title.
---
Seth Duckworth is a Stillwater-based writer who covers Oklahoma State University wrestling for Pistols Firing Blog, the best OSU news and community site on the internet. Follow Seth on Twitter.