Unlock this article, live events, and more with a subscription!
Get Started
Already a subscriber? Log In
One year after being held in historic Carver-Hawkeye Arena in Iowa City, Iowa, Hawkeye fans will once again have several reasons to tune in, watch, and get excited for Who's #1.
Watch Who's Number 1 LIVE on FloWrestling
Below are the three big reasons for Hawkeye fans tune in: recruits committed to Iowa, recruits who may commit to Iowa (because they included the Hawks on their school list), and commits Hawkeye fans should get familiar with as they'll be seeing plenty of them on the college scene as well.
Future Hawkeyes
Drake Ayala (Fort Dodge, IA)

Wyatt Henson (Waynesburg, PA)
For the second-straight year, the Hawkeyes will have two wrestlers who have committed to further their wrestling careers in Iowa City. Last year both Jesse Ybarra and Patrick Kennedy left Iowa with victories and the #1 ranking at 120 and 160. This year Wyatt Henson and Drake Ayala will be vying for the top spot at 145 and 120, respectively.
Hawkeye fans are probably already at least somewhat familiar with two-time 3A Iowa state champion Drake Ayala. Ayala committed to the Hawkeyes back in April. The Fort Dodge native is the highest-ranking commit to come out of the Hawkeye State in quite some time. In addition to his two state titles, Ayala has picked up two Fargo titles and is a Super 32 finalist. Projected as a 125/133, Ayala could be the replacement for Spencer Lee after he graduates.
Ayala will be taking on three-time California state champion Richie Figueroa at 120 lbs. in the co-main event of the evening. Richie Figs is the current #1 pound-for-pound high school wrestler in the country.
Both a Missouri and Pennsylvania state champion, Wyatt Henson projects as a 149-pounder for the Hawkeyes. A top-20 Big Boarder, Henson has finished third at Fargo in both 2019 and 2018 as well as 2019 Super 32.
Watch Wyatt Henson defeat Jesse Mendez at 2019 Super 32 below.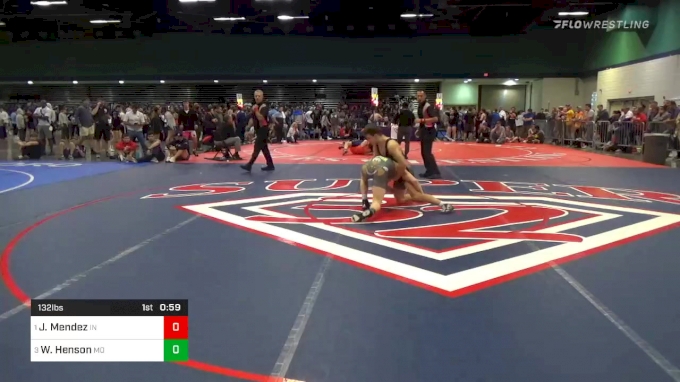 Unlock this video, live events, and more with a subscription!
Get Started
Already a subscriber? Log In
Henson will be taking on another future potential Hawkeye (more on that below) in Cody Chittum at 145 lbs.
---
Potential Future Hawkeyes
Jesse Mendez (Crown Point, IN)

Cody Chittum (Blairstown, NJ/Chattanooga, TN)

Cael Valencia (Bellflower, CA)
Although Mendez did take a loss to Wyatt Henson at Super 32, Hawkeye fans should still be hopeful about picking up the Indiana native. Mendez made it through a gauntlet at the 2019 Cadet World Team Trials, including Anthony Ferrari, Dom Serrano, and Iowa commit Caleb Rathjen, to make the World Team. Mendez wrestles with an exciting style. At last year's Who's #1, he defeated Ryan Jack 9-8 before falling, 10-9, to Shayne Van Ness in the match of the night.
While Mendez won't be able to get revenge over Van Ness this year, he could once again be part of multiple matches. Mendez will be taking on Super 32 and two-time Fargo champion Jordan Williams in the first match of the evening. The winner of said match will take on #2 Joel Vandervere, who is a Northwestern commit.
Mendez isn't the only former Wyatt Henson opponent that could turn into a teammate. Henson's 145-lb opponent listed the Hawkeyes on his first-ever school list earlier this month. With heavy hands and a hard pace, Chittum wrestles a very stereotypical Iowa-style. A Tennessee native, Chittum also used to be coached by new Hawkeye Wrestling Club coach Dan Dennis while Dennis was the coach of the RTC South in Chattanooga.
Club teammates with Ayala's opponent Figueroa is 170-pounder Cael Valencia. A California state finalist, Valencia put the Hawkeyes on his potential school list along with Arizona State, Michigan, North Carolina, Ohio State, Oklahoma State, and Penn State. The 2019 Super 32 champion will be taking on Penn State commit and #4 P4P wrestler in the country Alex Facundo in the main event of the evening.
---
Future Hawkeye Competition
Joel Vandervere: 141/149 - Northwestern

Victor Voinovich: 149 - Oklahoma State

Jagger Condomitti: 157 - Nebraska

Travis Mastrogiovanni: 157 - Oklahoma State

Paddy Gallagher: 165/174 - Ohio State

Alex Facundo: 174 - Penn State

Lenny Pinto: 174/184 - Nebraska

Seth Shumate: 197 - Ohio State

Kyonte Hamilton: 285 - Rutgers

Kyle Haas: 285 - Oklahoma State
Hawkeye fans should get familiar with these names as they could be seeing them quite a bit in the future. These are all of the wrestlers already committed to Big Ten schools and Oklahoma State. Big Ten wrestlers at the same weight can wrestle as many as five or six times per year depending on their schedules. And while Oklahoma State is in the Big 12, they still dual once a year, and what Hawkeye doesn't love beating the Cowboys?