Big Ten
Nathan Tomasello's Greatest Hits: Remembering The Buckeye's Stellar Career
Nathan Tomasello's Greatest Hits: Remembering The Buckeye's Stellar Career
Nathan Tomasello was one of the best lightweights in recent memory. Here's a stroll through memory lane looking at some of the Buckeye's best bouts.
Sep 24, 2020
by Andy Vance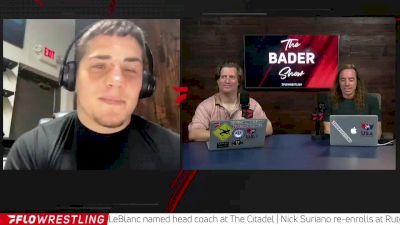 Unlock this video, live events, and more with a subscription!
Get Started
Already a subscriber? Log In
Unlock this article, live events, and more with a subscription!
Get Started
Already a subscriber? Log In
"Nate was a true gladiator."
Ohio State head wrestling coach Tom Ryan can talk about his favorite wrestlers for hours. He exudes love for the men who have wrestled in his programs, a love born of shared sacrifice — what he calls "chosen suffering" — and of countless hours spent drilling with some of the best wrestlers in the sport over the past few decades.
Nathan Tomasello is one of those men. When you ask Ryan about the man affectionately called NaTo, the first thing he mentions is Tomasello's character.
"He approached all aspects of his training like a professional," Ryan said of Tomasello's time in the Buckeye wrestling program and at the Ohio Regional Training Center. "He loved to train and connected to the 'chosen suffering' needed to become elite."
Tomasello announced via Instagram last week that he was stepping away from competition to focus on his budding career as a coach. The lifelong Buckeye joined the Duke Wrestling staff as an assistant last month.
A four-time Big Ten champion and four-time All-American, the 2015 NCAA champion was consistently one of the top competitors in the sport. He closed his collegiate career with an overall record of 100-8, 31 major decisions, 19 technical falls, and 11 pins.
As Ryan put it, "He's earned the right to be recognized as one of the elite lightweights in Big Ten and NCAA history."
FloWrestling asked Ryan and Ohio State assistant head coach J Jaggers to pick some of their favorite NaTo matches over the years. Here are the bouts they said showcased what makes Tomasello one of the best to ever put on a scarlet and gray singlet.
2018 Big Ten Semifinals: Spencer Lee, Iowa
Spencer Lee is as good as it gets when it comes to elite lightweights, and he and Tomasello had some all-time scraps. But if ever there was a match that epitomized Tomasello's toughness as a combatant, it was wrestling a future Hodge Trophy winner and two-time NCAA champ on a torn ACL.
A defensive struggle through most of regulation, Lee appeared to have the upper hand with a 1-0 lead heading into the final minute of the match. But with a scant 30 seconds remaining, Tomasello fired off a high-crotch takedown that put Lee on his back and gave the Buckeye the go-ahead score that sealed the match.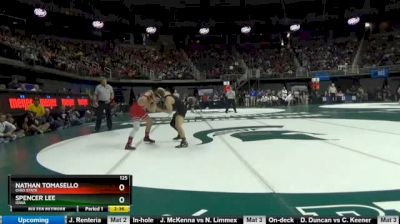 2015 NCAA Finals: Zeke Moisey, West Virginia
Tomasello got off to a fast start as a Buckeye, going 33-4 in his debut as a starter with eight major decisions, six tech falls, and four pins to his credit. He won the first of his four Big Ten conference crowns and then capped off the season with a big-time match against fellow freshman Zeke Moisey.
Moisey kept pace with NaTo through most of the first two periods, but a late takedown by Tomasello in the waning seconds and a flurry of action midway through the third broke things open. Tomasello not only won the 125-pound NCAA title, but was integral to Ohio State winning the school's first NCAA wrestling national championship as a team.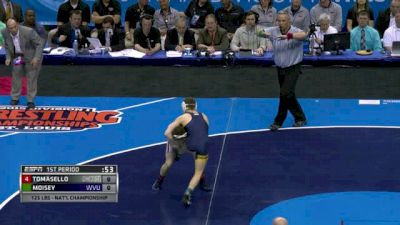 Unlock this video, live events, and more with a subscription!
Get Started
Already a subscriber? Log In
2015 Big Ten Finals: Thomas Gilman, Iowa
Before his date with destiny in St. Louis, Tomasello won the first of his four Big Ten titles by avenging one of the few losses he suffered that season. Gilman won in the tiebreakers when the two teams faced off in dual meet action shortly after New Year's, and the two battled a close one again at the conference tournament.
In front of a friendly crowd inside Ohio State's St. John Arena, NaTo scored when he needed to and fended off Gilman's efforts to score a takedown of his own. Ohio State went on to tie the Hawkeyes for the team title thanks in no small part to Tomasello's gutsy performance.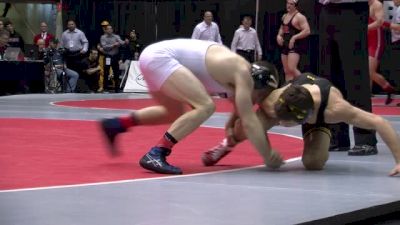 2016 Big Ten Finals: Nico Megaludis, Penn State
The Buckeyes and Nittany Lions have combined for some of the biggest matches in college wrestling over the past decade. When the two schools' highly-touted 125-pounders met in the conference championship in 2016, it was like the proverbial unstoppable force meeting the immovable object.
Knotted up at a point apiece at the end of regulation, Tomasello's agility and athleticism were on full display in sudden victory. Working off a Megaludis shot attempt, NaTo not only fended off the shot but was able to go-behind and catch the future NCAA champ on his back for the points and the title. Although Megaludis would go on to win the NCAA Tournament in Madison Square Garden two weeks later, Tomasello won both times the two squared off that season.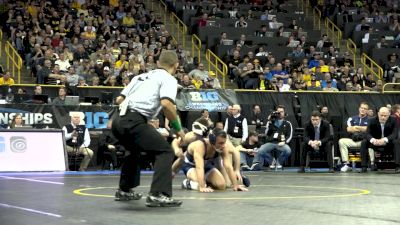 ---
Andy Vance is a Columbus-based journalist who covers the Ohio State University wrestling program for Eleven Warriors, the largest independent sports site on the internet for Ohio State news, analysis, and community. He is co-host of the site's Eleven Dubcast podcast. Follow him on Twitter @AndyVance.