Unlock this article, live events, and more with a subscription!
Get Started
Already a subscriber? Log In
The current #1 wrestler in the country at 220 lbs, #11 on the Class of 2022 Big Board — although I expect that to improve when David Bray updates the ranking — and the #14 P4P high schooler, Nick Feldman, is a National Prep champion out of powerhouse PA high school Malvern Prep. The Friars finished in third at both Ironman and National Preps behind historic programs in Blair and Wyoming Seminary. Feldman will put his #1 ranking on the line against Oklahoma State commit Kyle Haas October 3rd in Austin, TX, at Who's #1.
Watch Who's Number 1 LIVE on FloWrestling
Feldman walks around right at about the 220 mark and projects as a heavyweight in college. The junior has narrowed his potential school list down to eight teams.
Nick Feldman School List (in alphabetical order)
Cornell

Franklin & Marshall

Michigan

Navy

North Carolina State

Purdue

Ohio State

Virginia Tech
While it might surprise some people to see Franklin & Marshall on a top recruit's school list, Feldman grew up less than 25 miles from Lancaster, PA, and F&M's campus. He has been working out in that wrestling room since he was in eighth grade.
Last month I wrote an article about how Cary Kolat and Navy have been picking up recruits left and right this offseason. They already have two top-50 recruits from the class of 2022 in Nick Vafiadis and Evan Tallmadge. The Midshipmen are also bringing in two potential Pennsylvania heavyweight recruits from the class of 2021 in Ryan Catka and Jake Lucas. At this time, Feldman would be a higher ranking recruit than both of them.
Another school having a successful recruiting season is NC State. In the past couple weeks Pat Pop and co. have picked up big time commitments from Stevo Poulin and Joey Milano in the class of 2021 and Dylan Fishback and Finn Solomon in the class of 2022. The latest pickup for the Wolfpack could pose a conflict for Feldman, however. #2 at heavyweight and also a competitor at this year's Who's #, Chase Horne, just committed. Unless Feldman can go 197, one will be sitting on the bench.
Virginia Tech also presents another lineup conflict in Ryan Catka's older brother, Hunter. A two-time PA state champion and Cadet World Team member, Hunter was a highly sought after recruit and is expected to be very good in college. However, Nick's father was an All-American for the Hokies in 1994, finishing 7th at heavyweight. The legacy component is always compelling.
Watch Nick Feldman win his 2020 National Prep title below.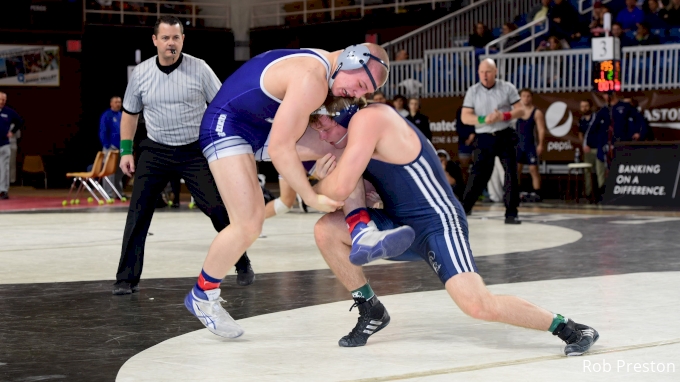 Unlock this video, live events, and more with a subscription!
Get Started
Already a subscriber? Log In
Another very generally compelling factor for recruits is an Ivy League education. Cornell, the only Ivy on Feldman's list, will most likely go with Lewis Fernandes at heavy for the next four years. Fernandes was a New Jersey state champion and went 26-4 in his greyshirt season with Finger Lakes. The four losses came to Gerg Kerkvliet, Demetrius Thomas, Gannon Gremmel, and Gary Traub. Assuming Feldman takes a greyshirt season as well at Finger Lakes, that has his eligibility overlapping for one season with Ferandes.
If Ohio State can pick up Feldman they could have a solid closing 1-2 punch in Feldman and #4 in the class of 2022 and #1 at 195 Seth Shumate at 197. Shumate, who is taking on Tate Picklo at Who's #1, actually defeated Feldman in the Ironman finals at 195 last season. Could former rivals become teammates and training partners?
Speaking of rivals, Michigan will need to reload after Mason Parris uses all of his eligibility. This could be anywhere between two and four years, however, depending on how Parris uses his redshirts.
Last, but certainly not least, Purdue. The Boilermakers are coming off a 2020 where they put together a top-15 recruiting class including Indiana state champion Dorian Keys. While Purdue hasn't had an All-American at heavyweight since Jake Vercelli took fourth in 2002, coach Tony Ersland is doing great things in West Lafayette. He was even awarded Flo's Midseason Coach of the Year last season.