2020 Beat the Streets Matches Live
Beat The Streets Men's Freestyle Preview
Beat The Streets Men's Freestyle Preview
Get the lowdown on every men's freestyle match going down at Beat the Streets.
Sep 15, 2020
by JD Rader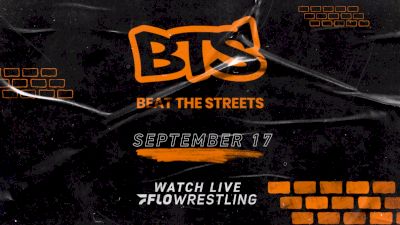 Unlock this article, live events, and more with a subscription!
Get Started
Already a subscriber? Log In
The 2020 Beat the Streets Benefit is just days away. A great event for a great cause, you can tune in Thursday evening at 7:30 PM ET to watch 12 athletes put on a very entertaining night of wrestling. And if even that isn't enough for you, you can tune it at 6 PM for the Virtual Telethon to hear Jordan Burroughs, J'den Cox, Helen Maroulis, Henry Cejudo, Ben Askren, and Justin Gathje speak.
Watch 2020 Beat the Streets LIVE on FloWrestling
Four men's freestyle matches and two women's for a total of six matches will take place. Kyle Bratke already previewed the women's freestyle matches, so let's take a look at the men's freestyle matches.
Seth Gross vs Joe Colon
These two wrestled two wild matches in 2017 with Colon coming out the victor in both. However, both of these men have improved a lot since then.
Watch Seth Gross and Joe Colon square off in a 28-point match at the 2017 US Open below.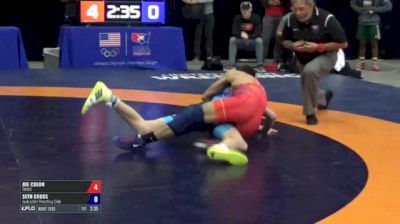 Unlock this video, live events, and more with a subscription!
Get Started
Already a subscriber? Log In
Since 2017, Gross has won an NCAA title and Colon has won a World bronze medal. While some things have changed, some things have remained the same. Colon's chest wrap and gut wrench are still incredibly lethal. Gross made huge improvements in 2017 to avoid these two things. In their first match, Colon scored 12 points using only those two moves. However, in the second match, Colon was only able to get one chest wrap and zero gut wrenches. This match won't just be entertaining because of the huge Olympic Team Trials seeding implications. Both of these guys can wrestle a hard pace and aren't afraid of deep waters.
Odds
ML: Colon -120
ML: Gross +100
OU: 14.5
Spread: Colon -1.5
---
Rustam Ampar vs Jack Mueller
In a late switch of opponents due to injury, Rustam Ampar will be replacing Vito Arujau to take on Jack Mueller. While it is disappointing we will not get to watch Vito wrestle, Rustam is a great replacement. The Russian has actually been training with Vito for a while now and helped him prepare for his July 25th match with Sammy Alvarez.
Ampar has an electric style. This style was on display at the 2016 Yarygin when Ampar tech falled 2016 Olympian Dan Dennis in an absolutely wild match.
Watch Ampar tech fall Dan Dennis below.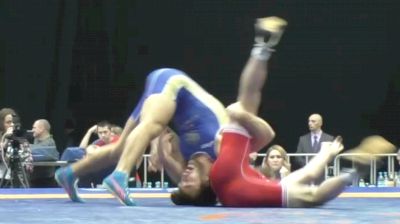 Unlock this video, live events, and more with a subscription!
Get Started
Already a subscriber? Log In
While Ampar finished in second place in 2016, he did win the very prestigious tournament in 2014. Now 29 years old, Ampar will be seven years older than Mueller when the two step on the mat Thursday.
Ampar isn't the only one who has been wrestling freestyle their whole life. Mueller won Fargo twice and made an additional final as a prep. In 2018 the Texas native made the U23 World Team where he wrestled for a bronze medal. If Ampar is looking for a game plan on Mueller, he should start with defending the chest wrap and single leg as those are Mueller's two main attacks.
Odds
ML: Ampar -150
ML: Mueller +110
Spread: Ampar -1.5
OU: 8.5
---
Gable Steveson vs Trent Hillger
Gable Steveson is the biggest favorite on this entire card for a reason: he has beaten Trent Hillger soundly four times. If you're looking for a reason to pick Hillger, however, he has closed the gap each time. Their last meeting this past season the score was 10-5. However, all of Hillger's points were escapes, which are not awarded in freestyle wrestling.
Watch Gable Steveson and Trent Hillger's lone previous freestyle match from 2018.
Unlock this video, live events, and more with a subscription!
Get Started
Already a subscriber? Log In
Hillger is no slouch. In 2019 Hillger earned his first All-American status as a redshirt freshman when he finished eighth. Going into the 2020 NCAA Championships, Hillger earned himself the sixth seed. Gable is just so quick, strong, and can score so many different ways.
Odds
ML: Steveson -1,000
ML: Hillger +900
Spread: Steveson -7.5
OU: 13.5
---
Yianni Diakomihalis vs Vladimir Khinchegashvili
The main event of the evening. This will be a fun one.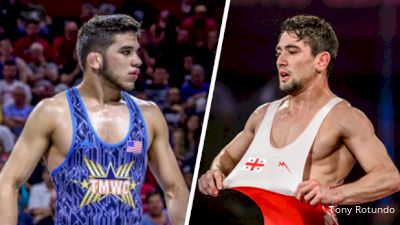 Unlock this video, live events, and more with a subscription!
Get Started
Already a subscriber? Log In
This one could turn into a scramblefest with some weird and awkward positions. In his prime circa 2015-2017 at 57 kg, Vladimir Khinchegashvili was one of the best wrestlers on the planet. He has five World/Olympic medals to his name including gold in 2015 and at the 2016 Rio Olympics. This doesn't happen by chance or accident. While Khinche has taken a step back in the win/loss column, he is still capable of great things.
Yianni is also capable of great things. While he stumbled a bit at Senior Nationals with a loss to Joey McKenna, this man is still a two-time NCAA and Cadet World champion. With his stinginess and scrambling ability, the New York native can be very frustrating to wrestle. Yianni beat a World medalist at last year's Beat the Streets event. Can he do it again this year?
Odds
ML: Khinchegashvili -125
ML: Diakomihalis -115
Spread: Khinchegashvili -0.5
OU: 10.5
---
For even more content surrounding the event such as more betting lines, breakdowns, and interviews, click HERE.