Unlock this article, live events, and more with a subscription!
Get Started
Already a subscriber? Log In
Seth Gross and Joe Colon met at the US Open and then again at the US World Team Trials in 2017. Colon won both matches, but the results of those matches weren't nearly as interesting as the action that took place. In 12 minutes of wrestling, Colon and Gross hung an incredible 44 points on the board.
Fans of Gross and Colon probably aren't surprised to hear that their matches were high-scoring. Both are dynamic. Don't be surprised if their Beat the Streets match on September 17 is similarly exciting, but keep in mind that a few things have changed since they last competed against each other.
Watch Beat the Streets LIVE on FloWrestling
What Happened in 2017?
Colon and Gross both scored a lot of points in 2017. That's obvious. The real story is the way in which those points came in bunches for each guy. Take, for example, their first meeting: the quarterfinals at the US Open. In that bout, Colon got out to an 8-0 lead, then Gross scored five straight followed by six more for Colon and then four in a row for Gross.
Those point-scoring streaks were the result of each guy combining takedowns and turns, but they also indicate that Colon and Gross had some par terre defense work to do. Both Colon and Gross have potent turns on top, but back in 2017, they were also still finding their way when it came to senior-level freestyle.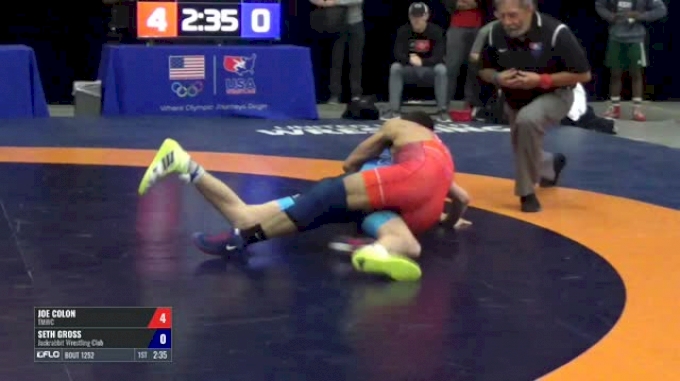 Unlock this video, live events, and more with a subscription!
Get Started
Already a subscriber? Log In
Insane Improvement For Colon & Gross
For both Colon and Gross, their greatest wrestling accomplishments have come since those meetings in 2017. The following year, Gross went on to have a dominant folkstyle season for South Dakota State that culminated with an NCAA title at 133 pounds. His NCAA finals win came against a man who became increasingly relevant for these two, Michigan standout and World fifth-place finisher Stevan Micic.
Colon had a similar upward trajectory in 2018. After falling to Nahshon Garrett at Final X, Colon earned the World Team spot when Nahshon was injured. He took full advantage of the opportunity by winning a bronze medal that established him as one of the most dangerous freestylers in the world. The commitment Colon made to his craft in the year after 2017 paid off then, and it's still paying off now.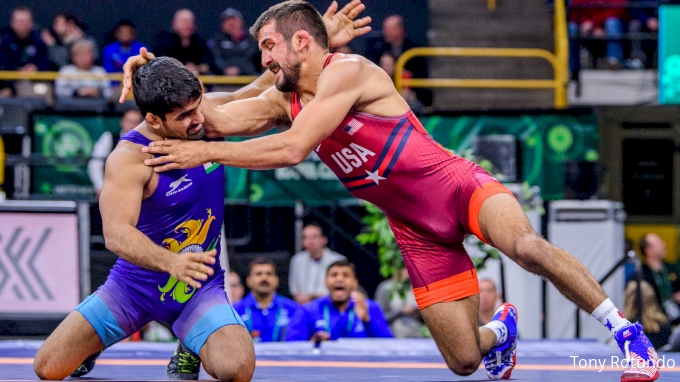 Unlock this video, live events, and more with a subscription!
Get Started
Already a subscriber? Log In
Getting it Done at 57kg
Both Gross and Colon had massive success in 2018, but they were stuck at the non-Olympic weight of 61kg, so a major question loomed for each man: could they successfully navigate the cut to 57kg and replicate the success they had seen? Without a doubt, both guys did that.
Gross attempted to simultaneously win an NCAA title at 133 and qualify for the Olympic Trials at 57kg. While we'll never know what would have happened at the 2020 NCAA Championships that were canceled due to COVID-19, Gross did qualify for the trials, and he did so in impressive fashion at the 2019 Bill Farrell Memorial International. Making a weight-class he hadn't seen since high school was the first challenge, but after that, he had to navigate a loaded bracket. His path to victory included three straight wins over NCAA champions. He took out Nick Suriano with a last-second exposure, but then teched both Darian Cruz and Nathan Tomasello.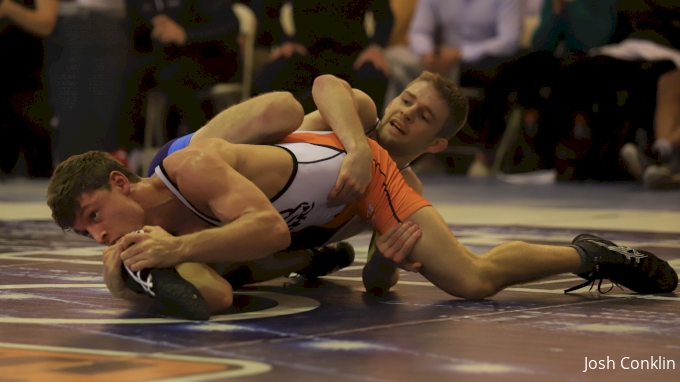 Unlock this video, live events, and more with a subscription!
Get Started
Already a subscriber? Log In
When Colon entered the bracket at the 2020 Matteo Pellicone in Italy, similar questions swirled about how the weight cut would impact the 61kg World bronze medalist. Like Gross, he looked outstanding at the lower weight. Colon took home a silver medal from Italy falling in a tight 4-3 contest to Thomas Gilman but not before an impressive 10-4 win over 2020 Olympic Games qualifier Stevan Micic and a fall over World bronze medalist Andrey Yatsenko of Ukraine.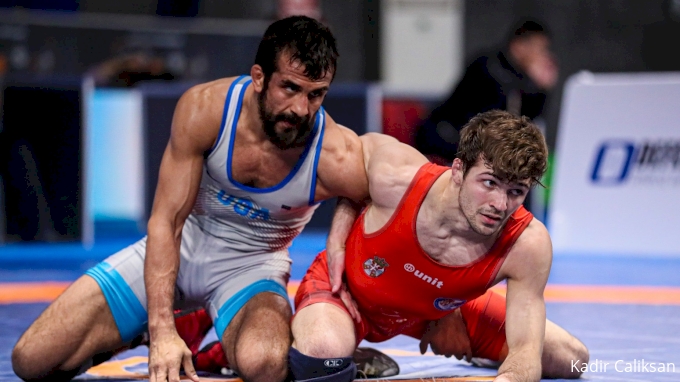 Unlock this video, live events, and more with a subscription!
Get Started
Already a subscriber? Log In
While the cut to 57kg is no cakewalk for either Colon or Gross, both have navigated it well and appear to be legitimate contenders to make the 2021 Olympic team in April.
So What's Different About This BTS Match?
The improvements and sustained success from Colon and Gross suggest that this match should be as exciting as their two meetings in 2017, but it would be surprising to see one guy rack up a pile of points in a row. Both have addressed tendencies that made them vulnerable to streaky sections of matches, and that could result in even better wrestling than we saw before.
In 2017, a match between Gross and Colon was an interesting proposition because they were wild point-scorers who would put on a show. Now, three years later, they're still entertaining to watch, but they are also legitimate contenders for the US Olympic team spot at 57kg.