Metcalf, Caldwell & The Shove Etched In The History Of NCAA Wrestling
Metcalf, Caldwell & The Shove Etched In The History Of NCAA Wrestling
If there ever was a moment that left wrestling fans everywhere in disbelief, this was it: Metcalf, Caldwell, and the shove.
Sep 9, 2020
by Brendan Scannell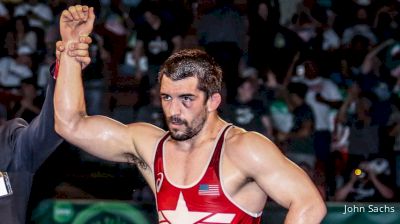 Unlock this article, live events, and more with a subscription!
Get Started
Already a subscriber? Log In
If there ever was a moment that left wrestling fans everywhere staring blankly at their televisions with hands on their heads and mouths hung open in disbelief, this was it.
The 149lb final between Brent Metcalf and Darrion Caldwell at the 2009 NCAA Championships was not only one of NCAA wrestling's most shocking upsets in history, but a moment that fans would argue over for years.
I remember watching with my high school wrestling team at a teammate's house. Living in New Jersey, the room leaned pretty heavy in favor of the three-time NJ state champ Caldwell. Still, regardless of any home-state allegiance, few actually expected him to take out returning Hodge Trophy winner, Brent Metcalf.
Metcalf — whose relentless, physical style led many to christen him as the apparent heir to Iowa legend Dan Gable — came in as the biggest lock of the finals. This match was supposed to just be another step along the way to legendary status.
Instead, Caldwell dominated the Hawkeye superstar in a way no one had ever seen before. A total of four takedowns, including a brutal lefty headlock early, set the tone for the match. A physical ride accumulated over a minute of riding time. We'd never seen Metcalf get beat like this. When Caldwell shot, Caldwell scored. When Metcalf shot, Caldwell scored. The ESPN broadcasters began preparing the viewers at home . . .
Caldwell is shocking the wrestling world!
When the final seconds began ticking off the clock, most wrestling fans familiar with Caldwell had a feeling what was coming next. His signature backflip, made famous in his New Jersey high school days, would put an exclamation point on what was a mind-blowing performance.
As Caldwell raised his hands and began rolling into a cartwheel, Metcalf pursued like a bull seeing red. Just when Caldwell reached the apex of his flip, nearly six feet in the air, Metcalf delivered a hard shove forcing Caldwell to land awkwardly on his backside.
We all let out a collective, "OOOOOH!"
Boos rang out from the St Louis crowd. I leaped out of my chair, cursing at the screen, as the rest of the living room continued to roar with disapproval.
We watched in disbelief as referees and coaches attempted to quell the chaos happening on the mat. The shock of seeing Metcalf lose on the scoreboard was nothing compared to seeing him lose his cool like this on wrestling's biggest stage. Iowa and Metcalf were penalized with a team point, and the team title was suddenly in jeopardy.
Despite the uproar, Metcalf wasn't quite villainized in the way that others might have been. Some scoffed at the idea that the push was unsportsmanlike. Others even pointed the finger at Caldwell for his flamboyant celebration and claimed the flip was premature. Just listen to broadcaster Tim Johnson in the aftermath urging Caldwell to get off the mat and to "win right, too." It was clear where he stood on this one. He wasn't alone. Immediately, everyone had an opinion.
So where do you stand?
In Their Own Words
"That match wasn't over. There was still time on the clock and I'm going to continue to wrestle."

—Brent Metcalf
"There was time on the clock . . . get the **** outta here."

—Darrion Caldwell
Only one person could get away with the shoving someone, mid-celebration, in the name of "wrestling to the whistle." That's Brent Metcalf. That was, and remains, the expectation around the Iowa-style developed by Gable, passed along to the Brands Boys and then onto Metcalf. Push the pace. Never be satisfied. In an interview with Flo last year, Metcalf reminded us all of his mentality on the mat.
"I don't really do the play wrestling. I do wrestling. It's a battle. It's a war," he said.
So, was Metcalf just caught in the heat of battle? Remember, this is the same guy who was known throughout his career for expressing disappointment, and sometimes even disgust, after bonus-point victories. For that reason, it's difficult not to believe him when he says that, in his mind, this match wasn't over.
But let's be real: it was over. Caldwell held a four-point lead, plus an additional point of riding time as the final seconds began to tick off the clock. There was nothing Metcalf could do in those last three seconds to change the result. He knew it, and so did Caldwell.
Just imagine if Caldwell were to land differently. It could've been ugly. Then again, if Metcalf is the only guy who could get away with shoving someone mid-backflip, Caldwell might be the only guy who could get shoved mid-backflip and, like a cat, land safely on the ground.
Ultimately, it turned out to be pretty harmless and provided us all with one of wrestling's biggest moments.
Caldwell on the 2009 final with Metcalf: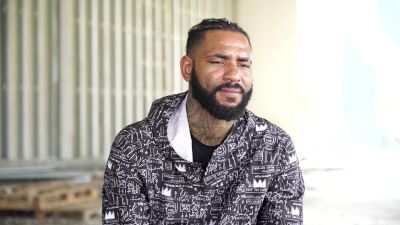 Unlock this video, live events, and more with a subscription!
Get Started
Already a subscriber? Log In
In Your Words
I talked to some people in my own wrestling circle to see how they felt about the iconic shove. As expected, the responses were mixed.
"Wrestle to the whistle."
"He got beat. He knew it, and he suckered him"
"You ain't doing no backflips on my watch."
"Ha! Let him flip. What was the final score of the match?"
"Either way, Darrion walked off the mat an NCAA champ . . . Emotions got the best of him."
"If there's time on the clock, there's time to wrestle."
I asked my Dad.
"How much time was left? Three seconds? I'm pushing him."
I should have expected that . . .
I asked my high school wrestling coach. He was in the room that night with me and my team.
"We all teach our wrestlers to keep wrestling when time is still on the clock and I believe that was what Metcalf was trying to do . . . I would probably say the push was uncalled for, but things like that happen in the heat of the moment."
These responses really say a lot about how people felt about Metcalf back in 2009. Did Metcalf lose his cool a bit? Probably. But no one is partying like that on an Iowa wrestler. Especially not this one. Not when there's still time on the clock.
Still, it was this moment that allowed many of us to empathize with the always-stoic Metcalf in a way we never had before. It was sort of like the final fight in Rocky IV when Rocky cuts Drago, draws blood, and comes to the realization his opponent is a man — he's not a machine. Suddenly, there was a vulnerability that some fans never knew existed.
Metcalf, of course, is no movie villain. In fact, he's been candid about his persona while at Iowa. It was this attitude that made him not only the best guy in college wrestling at the time, but also the most feared.
"I was on this roll . . . I kind of had this mantra. To me, it was a matter of keeping that. Keeping the fear in the opponents," Metcalf said.
Although he and Caldwell will forever be linked, that loss does not define Brent Metcalf. Neither does the controversial shove. Metcalf has earned unconditional respect from wrestlers everywhere, not because of his wins, but because of his will to win. No matter the score or the circumstance, he never stops wrestling.
That's Metcalf. Get on board, or get out of the way.
Be sure to tune into FloWrestling's Metcalf film coming soon!