Big Ten
10 Famous Transfers Before The Transfer Portal
10 Famous Transfers Before The Transfer Portal
The transfer portal made changing colleges easy, but it wasn't always that way. Here are some big-time moves that altered the course of wrestling history.
Jul 9, 2023
by Kyle Klingman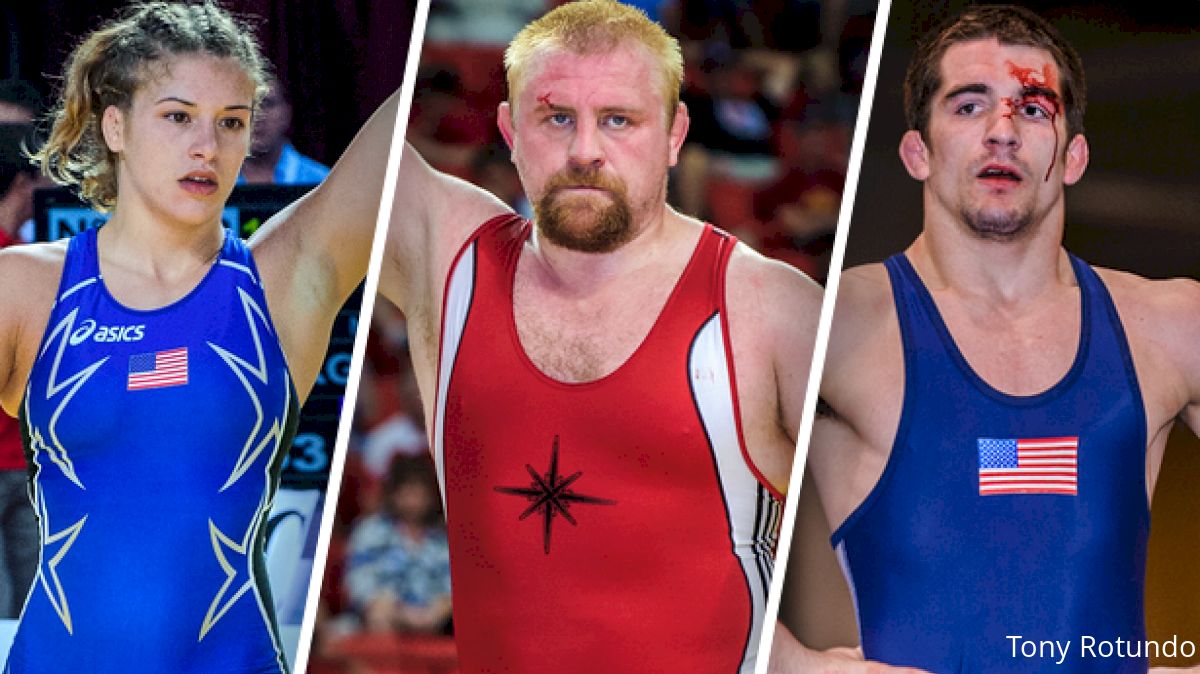 College athletics changed when the NCAA developed the transfer portal in 2018. This became a streamlined tool for athletes to seamlessly transfer from one institution to another without losing eligibility.
This led to a steady stream of wrestlers starting their careers at one school but finishing at another. Transfer news can happen daily during the off-season.
It wasn't always that way, though. Transferring could come at a cost if a school didn't release an athlete. That often led to lost eligibility if a wrestler didn't have a redshirt year to use.
Below are 10 significant transfers prior to the transfer portal.
Dale Anderson
Transferred from Iowa State
Transferred to Michigan State
Anderson's style did not mesh well with Iowa State coach Harold Nichols. That's why he left the Cyclones to wrestle for Grady Peninger at Michigan State. The result was the greatest era in Spartan wrestling history, which yielded NCAA titles for Anderson in 1967 and 1968 and an NCAA team championship for Michigan State in 1967. It was also the first time a Big Ten school won the NCAA tournament.
The Spartans placed first and the Cyclones placed third in 1967. Anderson won the NCAA tournament at 137 pounds and Iowa State didn't have a wrestler win a match at that weight class. Anderson's transfer made the ultimate difference and it gave Michigan State its only NCAA team title in program history.
Dave Schultz
Transferred from Oklahoma State
Transferred to Oklahoma
Shultz began his collegiate career at Oklahoma State by placing third at the 1978 NCAA Championships at 150 pounds. Stan Dzeidzic, a current United World Wrestling vice president and 1977 World champion, was supposed to be an assistant but, at the last minute, didn't move to Stillwater. The departure affected Schultz's reason for attending OSU.
Jichiro Date, a 1976 Olympic champion for Japan at 74 kg (163 pounds), was hired as an assistant during Schultz's freshman year. This provided the Palo Alto, California, native a training environment that focused on international wrestling, which is what Schultz loved.
Date left Oklahoma State after one year and so did Schultz. He eventually re-emerged at Oklahoma when Jim Humphrey — another coach with World and Olympic ambitions — was hired as an assistant. Shultz finished second at the 1981 NCAA championships at 158 pounds then won the 167-pound title the following year prior to a freestyle career that included seven World and Olympic medals (two gold, three silver, and two bronze).
Kevin Jackson
Transferred from Louisiana State
Transferred to Iowa State
Jackson attended Louisana State for one reason: it was warm in Baton Rouge. The Lansing, Michigan, native got things cooking during his first three seasons with the Tigers by placing third, third, and seventh at the NCAA Championships from 1983-85.
LSU dropped the program so Jackson transferred to Iowa State for two reasons: wrestling was shown live on Iowa Public Television and he wanted to beat the Hawkeyes. He finished second at the NCAA Championships but the Cyclones won the team title in 1987, which prevented Iowa from winning 10 in a row. Jackson won World titles in 1991 and 1995, and an Olympic gold medal in 1992.
Tom Ryan
Transferred from Syracuse
Transferred to Iowa
Ryan's dream was to wrestle for Iowa so he spent every summer as a high schooler training at Iowa Intensive Camps in Iowa City. He took a full scholarship at Syracuse so he could wrestle alongside his brother, but after two years and an appearance at the 1989 NCAA Championships, he trekked back to Iowa City in an attempt to become a Hawkeye.
Iowa coach Dan Gable didn't know who Ryan was when he arrived unannounced in the Iowa wrestling room during a summer practice.
"Who are you?" Gable asked Ryan.
"My name is Tom and I'm going to be wrestling here next year," Ryan responded.
"You're not going to get any better sitting there so go wrestle with Troy and Terry Steiner," Gable said.
The Steiners dismantled their new teammate but the beatdown eventually led to second- and third-place finishes at the NCAA Championships from 1991-92 for Ryan.
Ray Brinzer
Transferred from Oklahoma State
Transferred to Iowa
Brinzer left Oklahoma State for Iowa after sanctions against the Cowboys forced the program to miss postseason competition in 1993. Brinzer transferred to Iowa and placed third at NCAA Championships at 177 pounds in 1993 and 1995, but it was his second-place finish at the 1993 Big Ten Championships that shaped wrestling history as we know it. Brinzer entered the Big Ten tournament with a 0-0 record. The NCAA cleared him to wrestle for the Hawkeyes just as the team departed for the tournament in Columbus, Ohio.
Penn State had just entered the Big Ten and was looking to break Iowa's stranglehold on the conference and on the country. The Nittany Lions came close.
Iowa won both the 1993 Big Ten and NCAA titles. However, the Hawkeyes eked out a win over the Nittany Lions at the conference tournament, 128-123.5.
The conference title was Iowa head coach Dan Gable's 17th straight, which culminated with Gable winning 21 conference championships in a row when he retired in 1997.
Part of Gable's legacy can be attributed to the points from Brinzer's second-place finish at the Big Ten tournament. There's a big difference between winning 20 out of 21 conference titles and 21 in a row.
Dan Gable gets to say he won every conference team title when he was head coach — and Brinzer is a reason why.
Cary Kolat
Transferred from Penn State
Transferred to Lock Haven
Kolat is still considered by many to be the greatest high school wrestler ever. Too bad he didn't follow college wrestling. He knew Iowa was on top at the time but nothing beyond that. Hawkeye coach Dan Gable never recruited the Pennsylvania star — likely because he recently sign Bill Zadick at his weight.
The Rices Landing native chose Penn State over Minnesota and made an immediate impact on the team. He placed second at the 1993 NCAA Championships as a true freshman and placed third in 1994 — both at 134 pounds.
A disappointing third-place finish as a sophomore after a dominant year was a mental setback for Kolat. He approached Penn State coach John Fritz about redshirting but Fritz was having none of it. That didn't sit well with the Nittany Lion star so he took his redshirt year and transferred to Lock Haven (45 minutes away from State College) and won NCAA titles in 1996 and 1997.
Steve Mocco
Transferred from Iowa
Transferred to Oklahoma State
Heavyweight Steve Mocco Mocco reached the NCAA finals twice at Iowa, winning a title in 2003 as a sophomore after placing second as a true freshman. He took an Olympic redshirt in 2004 and transferred to Oklahoma State for his final two college seasons, which netted a 2005 NCAA title and a runner-up finish in 2006.
With Mocco's move, Iowa lost its biggest and most marketable star and Oklahoma State gained one of the best heavyweights in the country. Mocco's departure was a critical move for both programs.
John Smith and the Cowboys ran their NCAA title streak to four during Mocco's time in Stillwater. Meanwhile, Jim Zalesky and the Hawkeyes placed seventh at the NCAA championships in 2005 and fourth in 2006 in Mocco's absence. Zalesky was replaced by Tom Brands following the 2006 season.
Marcus LeVesseur
Transferred from Minnesota
Transferred to Augsburg
LeVesseur started his college career as a Golden Gopher but never tasted the starting line-up. He was behind Jared Lawrence and Luke Becker, both of whom became NCAA champions. LeVesseur and Lawrence reached the finals of two early season-tournament but were declared co-champions, so they never faced each other in competition.
The Minneapolis native transferred to cross-town Augsburg after one semester since he didn't feel like he was getting a fair shake at Minnesota. The result was the greatest wrestling career in Division III history. LeVesseur won four NCAA titles (2003-05, 2007) and was 155-0 during college.
Brent Metcalf
Transferred from Virginia Tech
Transferred to Iowa
Metcalf began his career at Virginia Tech when Tom Brands was in his second season with the program. The Davison, Michigan, native redshirted as a freshman and transferred to Iowa when Brands accepted the head job in 2006.
Virginia Tech did not grant Metalf's release, which meant he lost a full year of eligibility. The Hawkeye star didn't disappoint once he entered the line-up. He reached the NCAA tournament finals from 2008-10 and won titles as a sophomore and as a senior. Iowa also won team championships every season Metalf was in the line-up.
Helen Maroulis
Transferred from Missouri Baptist
Transferred to Simon Fraser
Before she became the first women's freestyle Olympic gold medalist in U.S. history in 2016, Maroulis wrestled for Missouri Baptist in Creve Coeur even though she had never visited the campus prior to her arrival. She spent the 2010 season there and won a WCWA title at 130 pounds.
The Rockville, Maryland, native transferred to Simon Fraser University in Burnaby, British Columbia, and won titles in 2011, 2013, and 2014 — joining teammate Victoria Anthony as the first four-time WCWA titles in history.