2020 Who's #1
#3 Sophomore Cody Chittum Releases Top Six Schools
#3 Sophomore Cody Chittum Releases Top Six Schools
#3 sophomore, Cody Chittum, has released his preliminary top six schools.
Sep 9, 2020
by JD Rader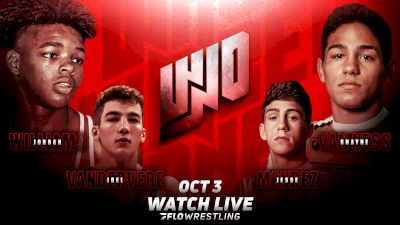 Unlock this video, live events, and more with a subscription!
Get Started
Already a subscriber? Log In
Unlock this article, live events, and more with a subscription!
Get Started
Already a subscriber? Log In
Currently #2 at 145 and #3 on the Class of 2023 Big Board, Cody Chittum should have the eye of every college coach and fan in the country. Just a sophomore, Chittum already has a legitimate argument at the top spot at 145 lbs. The Tennessee native defeated current #1 Wyatt Henson 13-3 at 2019 Beast of the East. Henson closed out the season strong and the two will run it back and settle the dispute in Austin, Texas, on October 3rd.
Watch Who's Number 1 LIVE on FloWrestling
Being just a sophomore, Chittum is not allowed to be contacted by college coaches. However, he has already come out with an unofficial preliminary school list. Being as young as he is, this list is not the be-all-end-all and could change once coaches start contacting Cody.
Cody Chittum School List (in alphabetical order)
Iowa

Maryland

Michigan

Minnesota

Oklahoma State

Penn State
No surprise to see the three heavy hitters — Penn State, Oklahoma State, and Iowa — on a blue-chip recruit's top-six list. Penn State just picked up a huge commitment from Chittum's Blair Academy teammate Shayne Van Ness. If Chittum can fill out 165, he could fill in nicely behind Joe Lee at 165.
With three top-15 recruits, Oklahoma State just brought in the #1 recruiting class of 2020 and is slated to bring in another monster class this year with three more top-15 recruits. With Victor Voinovich at 149, Teague Travis and Travis Mastrogiovanni at 157/165, and Luke Surber at 174, the Cowboys are probably pretty set in the middleweights for the next five years. This is a problem they frequently run into and overcome, however.
Chittum wrestles a very stereotypical Iowa style. He wants to put his hands on, put your face through the mat, run behind you for a takedown, do that a couple of times, and then plant you on your back and pin you. A prime example of this is his 2020 National Prep semifinal vs Luca Errico of Brunswick.
Watch Cody Chittum's National Prep semi final victory below.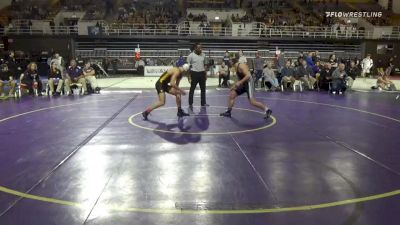 Unlock this video, live events, and more with a subscription!
Get Started
Already a subscriber? Log In
Iowa fans should be rooting for Wyatt Henson on October 3rd, but keep in mind the incredible things the Brands Brothers can do with a recruit like Chittum. Chittum also trained under Hawkeye Wrestling Club coach Dan Dennis while Dennis was in Tennessee at the RTC South.
Now the three Ms: Maryland, Michigan, and Minnesota. Hard to imagine the lineup would be an issue at any of these three. Although Michigan and Minnesota have the history and Big Ten on their side, Coach Alex Clemsen is doing a great job in his first 18 months at Maryland. The Terps have three top-100 recruits already signed from the class of 2021 including Georgian Jaxon Smith. Chittum also has a connection with assistant coach Nick Brascetta as he used to coach at Tennessee Chattanooga. Picking up a recruit like Chittum could really catapult a squad like Maryland and help them lock down the southeast region.