FloWrestling 1: Dake vs Chamizo
Dake vs Chamizo Betting Lines Reviewed
Dake vs Chamizo Betting Lines Reviewed
We review the results from Flo's July 25th card and determine who won the Pick Em contest.
Aug 3, 2020
by Andrew Spey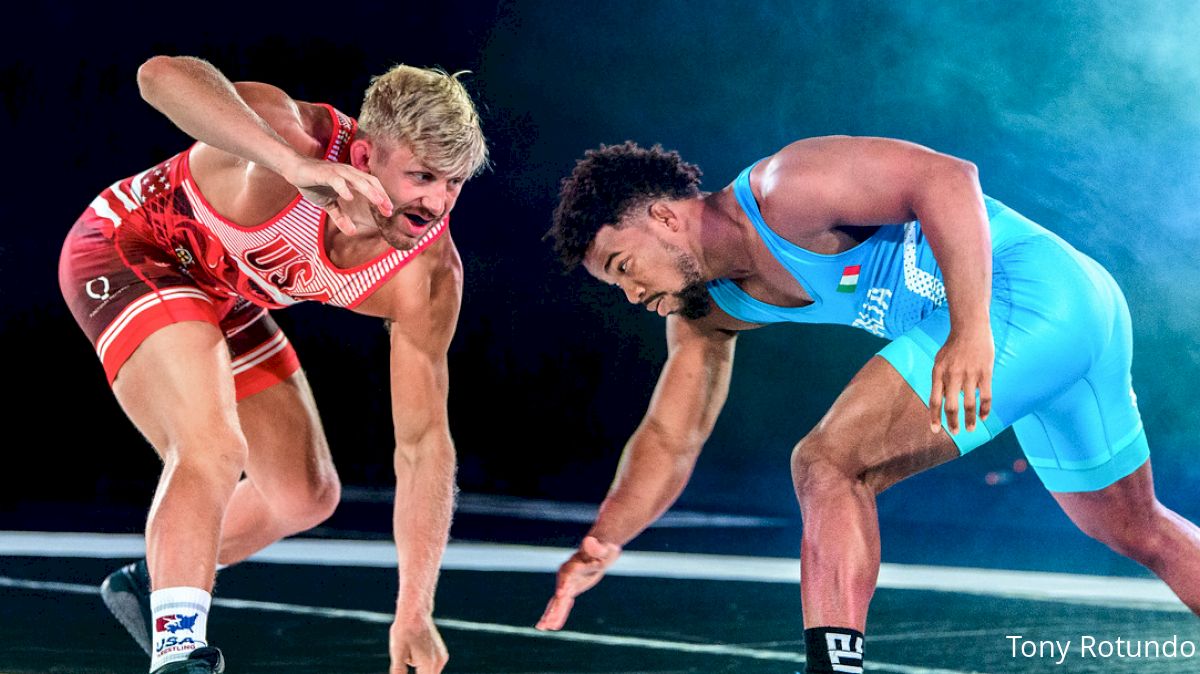 Unlock this article, live events, and more with a subscription!
Get Started
Already a subscriber? Log In
The results are in the books. Now to see how our fictional sports book did and determine who won a coveted FloWrestling t-shirt after entering our Pick Em Contest.
First, let's review the original betting lines from our five-bout all-star wrestling card.
The Betting Lines
Vito Arujau vs Sammy Alvarez
140 Pounds
Spread: Vito -6.5
Money: Vito -600
O/U: 10.5
Jack Mueller vs Roman Bravo-Young
137 Pounds
Spread: Mueller -1.5
Money: Mueller -125
O/U: 12.5
David Taylor vs Myles Martin
200 Pounds
Spread: Taylor -9.5
Money: Taylor -1100
O/U: 11.5
Kyle Dake vs Frank Chamizo
79 Kilograms
Spread: Dake -0.5
Money: Dake -110
O/U: 7.5
As a reminder as to how the odds work, for the point spread, subtract the number of points from the favorite at the end of the match; for the money line, bet on the underdog, and 100 units wins you the number listed, bet on the favorite, and the number of units in the money line wins you 100; and for the over/under, your betting whether the total number of points in the bout go over or under the amount listed.
Now to review the official results.
The Results
140 lbs - Vito Arujau over Sammy Alvarez, 16-5
137 lbs - Roman Bravo-Young over Jack Mueller, 8-1
149 lbs - Luke Pletcher over Darrion Caldwell, 9-2
200 lbs - David Taylor over Myles Martin, 11-0
79kg - Kyle Dake dec Frank Chamizo, 4-3
Overall a good day for the favorites. The only underdog to win was RBY, and it's safe to say that Bravo-Young would be the favorite in a rematch.
Now let's see how people did in the Pick Em Contest.
Pick Em Contest Results
Below you will find the winning point spread and over/under bets, as well as the percentages for each pick from everyone who played our massively popular contest.
| | |
| --- | --- |
| Line | Pick Pct |
| Sammy Alvarez | 28.09% |
| Vito Arujau -6.5 | 71.91% |
| Over 10.5 | 71.32% |
| Under 10.5 | 28.68% |
Sammy went into the break up 5-3, perhaps worrying the folks who picked Vito to win by seven or more. Those folks could all breathe easier toward the end of the match, as Arujau owned the second period, ultimately winning by an 11-point tech just before time expired.
The over was obliterated fairly quickly, and our theory that long scrambles would chew up the clock and keep the total score low proved to be misguided, at least in this instance.
In a rematch, I think the line would move maybe a point or two higher, but I don't think much more than that, as I don't think we see a tech fall for Vito over 50% of the time. However, the O/U would definitely go up.
| | |
| --- | --- |
| Line | Pick Pct |
| Jack Mueller -1.5 | 36.50% |
| Roman Bravo-Young | 63.50% |
| Over 12.5 | 43.17% |
| Under 12.5 | 56.83% |
It's easy to say in hindsight that RBY was no underdog in this match. But given the information available before the match, we think the line was still justifiable. We'd also say that if Flo was actually taking action on this bout, we would have moved the point spread and money line in favor of Bravo-Young due to the expectation of the voluminous Penn State fan base piling into the RBY side of the line.
The Over/Under ended up being just about where it needed to be, if not a point or two too high.
| | |
| --- | --- |
| Line | Pick Pct |
| Darrion Caldwell | 37.97% |
| Luke Pletcher -2.5 | 62.03% |
| Over 8.5 | 66.54% |
| Under 8.5 | 33.46% |
This was the most difficult bout to handicap, as we knew so little about where Caldwell's wrestling level was at. His last serious match was at the 2013 Midlands.
Based on the wisdom of the crowd, however, we can admit that we should have nudged the lines a little bit more in favor of Pletcher and the over. Vegas would be none too pleased with these ratios, as they want things as close to 50/50 as possible. However, it should also be noted that those ratios would also likely change if people had to actually place down a cash wager.
| | |
| --- | --- |
| Line | Pick Pct |
| David Taylor -9.5 | 80.25% |
| Myles Martin | 19.75% |
| Over 11.5 | 62.87% |
| Under 11.5 | 37.13% |
The point spread implied that David Taylor would tech Myles Martin around 50% of the time, which is about as high as a freestyle wrestling match spread can go. But because David Taylor is both immensely popular and insanely good at wrestling, in hindsight the 9.5 somehow looked too low. Over 80% of the pickers predicted the Magic Man by technical superiority.
Vegas would've likely pulled this line down if it was getting that kind of action, or else have never set a point spread to begin with.
What our fictional book would've lost via the point spread would have been at least partly made up by the Over/Under. 11.5 turned out to be both accurate and favorable in terms of the house's payouts. We'll pat ourselves on the back for that one, even though we got taken to the virtual cleaners elsewhere.
| | |
| --- | --- |
| Line | Pick Pct |
| Frank Chamizo | 15.36% |
| Kyle Dake -0.5 | 84.64% |
| Over 7.5 | 57.98% |
| Under 7.5 | 42.02% |
We'll also take credit for nailing both the point spread and the over/under for the main event. We knew that the preponderance of American fans would hammer the Dake pick, but we were striving for getting as close to the actual result as possible, not what would balance the fictional books.
Believe it or not, had we been handicapping for a real sportsbook, we'd have nudged the point spread up to 1.5, which would have still gotten the majority of the picks (we're assuming) but would have resulted in Chamizo beating the odds.
But of course, it was all pretend. So we will only pretend to take credit for having such incredible foresight. We require no adulation in real life.
So who won the Pick Em Contest?
Pick Em Contest Winners
Of the 5,457 entries that came in before 8:00 PM ET on Saturday, July 25, just 43 of them got all 10 picks correct. Of those 43 perfect pickers, no one guessed the tiebreaker of 59 match points correctly, but four guessed within one point, so we will have four winners in our first-ever FloWrestling Pick Em Contest. Well done our four champions!
We hope the four of you used a working email address, because that's the only way you're going to be able to claim your prize!
Congrats to our winners and thanks to everyone for playing. Let's do it again sometime soon!