NCAA Wrestling Legend & NFL Pro-Bowler Carlton Haselrig Dies At 54
NCAA Wrestling Legend & NFL Pro-Bowler Carlton Haselrig Dies At 54
Six-time NCAA wrestling champion and NFL Pro-Bowler Carlton Haselrig is dead at age 54.
Jul 22, 2020
by Andrew Spey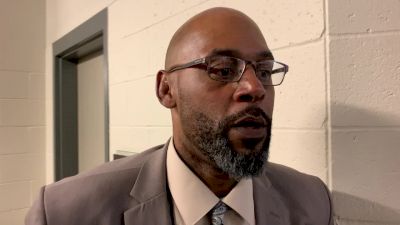 Unlock this video, live events, and more with a subscription!
Get Started
Already a subscriber? Log In
Six-time NCAA wrestling champion and NFL Pro-Bowler Carlton Haselrig died this morning at age 54. Haselrig competed for Pitt-Johnston, winning Division II and Division I titles from 1987, 1988, and 1989. Haselrig's success prompted the NCAA to create a rule disallowing wrestlers from Division II or III from accepting bids to the Division I tournament.
Haselrig was the last heavyweight to win three consecutive titles before Kyle Snyder matched the feat in 2018.
As reported by the Tribune-Democrat, Haselrig collapsed at home at 8:15 this morning and was pronounced dead at 9:19 am.
Haselrig grew up in Johnston where he was a PIAA state champ. After his legendary collegiate career, the Steelers took a chance and drafted him in the 12th round of the 1989 draft, despite Haselrig having never played football while at UPJ. Haselrig played five seasons in the NFL, four with the Steelers, and was named to the AFL Pro Bowl in 1992.
Haselrig was inducted into the National Wrestling Hall of Fame in 2016.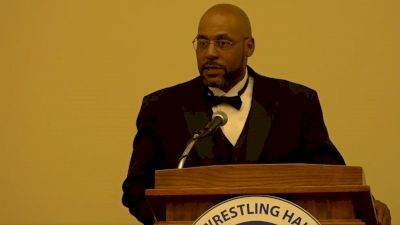 Haselrig was an immensely popular figure in the wrestling community, especially amongst those from Johnstown and Western Pennsylvania. Mike Mastrovich at the Tribune-Democrat has more about 'Cambria County's Greatest Athlete' here. Below are a few of the reactions to the tragic news from twitter.
Rest In Peace to the legendary Carlton Haselrig, the only 6x NCAA Champion in wrestling history. He was 54. pic.twitter.com/hndvnWyMSi

— Jordan Burroughs (@alliseeisgold) July 22, 2020
So sad to hear of the passing of Carlton Haselrig. Carlton was an unbelievable athlete, capturing 6 NCAA Titles in college wrestling (3 div 1 and 3 div 2). He was also a pro bowler for the Pittsburgh Steelers in the 90's,although he never played college football. #RIPCarlton pic.twitter.com/Y6Ysf7NcWW

— Kurt Angle (@RealKurtAngle) July 22, 2020
Carlton, you inspired so many kids in this area. From getting your autograph when we were young to you calling Jody and I after we won NCAA titles and telling us welcome to the club. We always looked up to you buddy. You are a true legend! You will be missed! pic.twitter.com/jKBb89R2G4

— john strittmatter (@johnms133) July 22, 2020
My friend and brother Carlton Haselrig passed today💔. Rest In peace my man https://t.co/XNWK3E0KtW

— Kevin Jackson (@CoachKJ__) July 22, 2020
Very sad news about Carlton Haselrig passing away. A badass on the mat, the football field, and in the octagon and truly one of the nicest people I've ever known. If you're not familiar with his story it is truly amazing and worth the time to look into. RIP BigRig

— Legend Wrestling (@BisonLegend) July 22, 2020
Man, this is a huge punch to the gut. Haselrig was one of my heroes growing up, even though he competed before I was born. A mythical figure in Western PA not only for his athletic achievement, but also for his charisma and being an outstanding human. RIPhttps://t.co/Ul6wrbc5ho

— Mason Beckman (@beck_diggity) July 22, 2020
An unrepeatable feat: Carlton Haselrig won 6️⃣ NCAA titles (three in DII and three in DI) to become the most decorated wrester in NCAA history: https://t.co/7PXjoDPzYN #NCAAWrestling pic.twitter.com/h5srMv73bG

— NCAA Wrestling (@ncaawrestling) January 26, 2018
The wrestling world has lost a legend with the untimely passing of six-time NCAA champion and @NWHOF inductee Carlton Haselrig after an extended illness. His story is one for the ages, and he will be greatly missed in his hometown of Johnstown, PA. #RIPCarlton #BigRig pic.twitter.com/F9BArduUh1

— Knops Knotes (@KnopsKnotes) July 22, 2020