Haselrig Hex: No Three-Timers At Heavyweight Since 1989
Haselrig Hex: No Three-Timers At Heavyweight Since 1989
Since Carlton Haselrig won his third NCAA title in 1989, there have been nine two-time champs at heavyweight, but no three-timers.
Feb 15, 2018
by Wrestling Nomad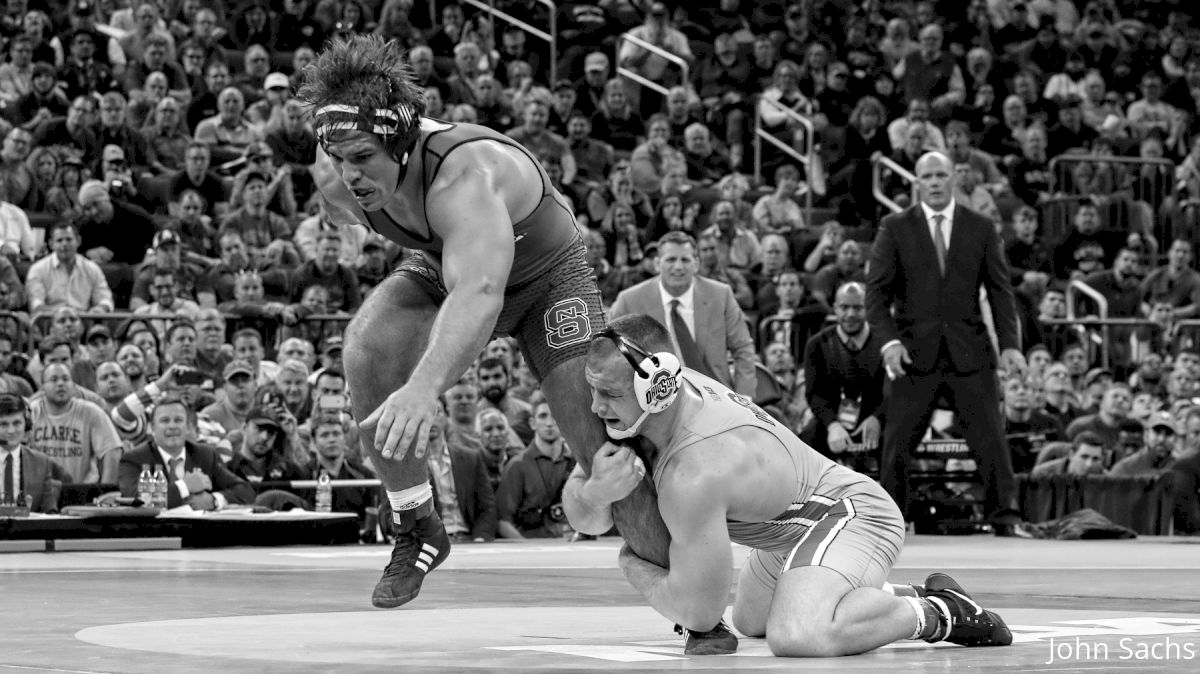 Carlton Haselrig is one of the greatest NCAA wrestlers of all time and is also the last man to ever win three Division I titles at heavyweight.
Heading into this year, the assumption was that, for the first time in nearly 30 years, we'd finally get to see a three-time heavyweight champion. Then Ohio State's Kyle Snyder lost to Michigan's Adam Coon on Sunday evening in Ann Arbor, MI.
We must first point out that Snyder could of course win NCAAs, with his first collegiate loss since March 2015 being a mere aberration. Also, there have only been 47 men to win three national titles, at any weight, among the thousands of wrestlers who have competed at the Division I level.
Is it the Haselrig Hex? Is the Pitt-Johnstown legend's shadow still looming over the 285-pound weight class? Why have there been nine men to win two titles since Haselrig graduated from UPJ, but none so far have won a third?
Let's go through nine heavyweights who were prevented from winning a third title, with special focus on Steve Mocco, Tony Nelson, and Nick Gwiazdowski.
Kurt Angle, Clarion
NCAA Titles: 1990, 1992
After Haselrig graduated, fellow PSAC wrestler Kurt Angle would take the heavyweight mantle. But in his junior year, the future Olympic gold medalist would fall twice to Jon Llewellyn of Illinois: 6-4 in overtime at the end of January in the All-Star Classic and 6-3 in the 1991 NCAA finals.
Kerry McCoy, Penn State
NCAA Titles: 1994, 1997
McCoy continued the trend of multiple-time heavyweight NCAA titlists from a Pennsylvania university. Everyone thought that would come in his junior year of 1995, when he was 41-0 and the top seed heading into the NCAA semis. But Justin Greenlee of Northern Iowa took out McCoy 4-3. After an Olympic redshirt year, McCoy closed his career as an undefeated champion in 1997, beating our next champ in the finals.
Stephen Neal, Cal-Bakersfield
NCAA Titles: 1998, 1999
Neal is the prototype for any football coach who wants their team to wrestle. After losing to McCoy in the 1997 finals, he peeled off 83 wins in a row, then a world title, before retiring from wrestling and playing football. Neal would go on to win three Super Bowls with the New England Patriots.
Tommy Rowlands, Ohio State
NCAA Titles: 2002, 2004
Just like Angle and Neal, Rowlands would make three finals appearances. As a redshirt freshman in 2001, he finished second and then went on to beat Steve Mocco in the 2002 finals. An ankle injury at NCAAs helped derail Rowlands' attempt to win back-to-back titles, before ultimately capping his career a championship in 2004.
Steve Mocco, Iowa/Oklahoma State
NCAA Titles: 2003, 2005
The only four-time NCAA finalist of the bunch, Mocco had an epic international and collegiate rivalry with Rowlands. Their only finals meeting went to Rowlands, with Mocco winning both an NCAA title and the Hodge the following year. Rowlands' second title came in Mocco's Olympic redshirt year, after which time Mocco transferred from Iowa City to Stillwater. He began the trend we see today, which is a heavyweight going for his third, losing in the finals as a senior.
Cole Konrad, Minnesota
NCAA Titles: 2006, 2007
As a junior, Konrad beat Mocco three times en route to an undefeated season. Much like Neal, Konrad made the finals as a sophomore and ended his career on a 76-match winning streak. He continued the long line of Minnesota heavyweight greats, which transitioned into Tony Nelson (who we'll see later) and soon to be Gable Steveson.
Tony Nelson, Minnesota
NCAA Titles: 2012, 2013
After four different champs in four years between Konrad and Nelson, the Gophers heavyweight won as a sophomore and junior. He was the favorite his senior year, that is until a previously unheralded transfer from Binghamton to NC State shocked us all.
Nick Gwiazdowski, NC State
NCAA Titles: 2014, 2015
Now a world bronze medalist, it's strange to think that Gwiz was a "surprise" champion once upon a time. He dominated his junior season, with 25 bonus-point wins among his 35 victories. He walked into the 2016 NCAA championships, in his home state, as the #2 pound-for-pound guy in the country. And then along came the youngest world champ in United States history.
Kyle Snyder, Ohio State
NCAA Titles: 2016, 2017
The stat that will always live on is Snyder winning a world title before he won an NCAA title. Is he the best wrestler in the world? Probably, which means if Coon or anyone else dethrones him in Cleveland, we might need to start checking Haselrig's home for voodoo dolls.