Unlock this article, live events, and more with a subscription!
Get Started
Already a subscriber? Log In
Wrestling matches have been few and far between since sports came to a screeching halt in mid-March. We didn't have the NCAA Championships, the Olympic Trials, or Fargo, just to name a few. Wrestling competitions have started to come back in recent weeks, and on July 25, we will have the match of the year between Kyle Dake and Frank Chamizo.
Watch Dake vs Chamizo LIVE on FloWrestling
July 25, 2020 | 8:00 PM EST
It is not hyperbole to call Dake vs Chamizo the match of the year. Not only are Dake and Chamizo the #3 and #4 74kg wrestlers on the planet, they are both among the best pound-for-pound wrestlers in the world with Dake sitting at #5 and Chamizo at #11. Here are a few reasons this is the biggest match of 2020 so far.
Both Have Two World Titles
Behind a gold medal at the Olympics, a world title is the highest accomplishment anyone can receive in freestyle wrestling. Dake and Chamizo have both done it twice. Dake's titles have come at the two most recent World Championships in 2018 and 2019.
Chamizo's world titles are on either side of the 2016 Olympics. He won world gold at 65kg in 2015 at the Las Vegas worlds and won it again in 2017 at 70kg.
Both Have Wins Over Burroughs
Jordan Burroughs has been the standard in freestyle wrestling for the last decade, and not just at 74kg. A win over Burroughs is a great predictor for future success. While Burroughs has controlled the Dake and Chamizo rivalries, both athletes have found ways to topple the five-time World and Olympic champ.
Chamizo's win over Burroughs came at the Yasar Dogu in 2018. Burroughs had beaten Chamizo earlier that year at Beat the Streets, but Chamizo got his hand raised in a wild and controversial 20-point affair.
Dake's win over Burroughs came in 2017 during their best-of-three series at the World Team Trials. Dake would ultimately lose that series but did take match 1 with a 6-6 criteria win.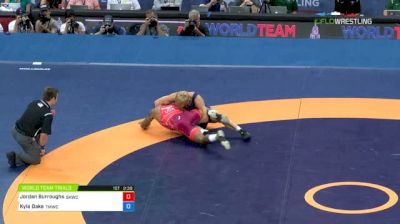 Unlock this video, live events, and more with a subscription!
Get Started
Already a subscriber? Log In
Both Win Across Multiple Weight Classes
Frank Chamizo and Kyle Dake in a unique group of wrestlers who have demonstrated to jump weight classes and still produce high-level results. Dake famously won four NCAA titles at four different weights from 141 to 165. Since college, he has continued to climb in weight, even making the finals of the US Olympic Trials in 2016 where he took a match from J'den Cox before ultimately falling short of making the Olympic team. For the last two years, Dake has settled in nicely at 79kg where he has won his two world titles.
Chamizo's first senior-level world medal came at 55kg in 2010. Since then, he has won medals at 65kg, 70kg, and 74kg. That's about a 42-pound jump for Chamizo, but he hasn't skipped a beat. This success across weight classes for Dake and Chamizo means that both wrestlers have been exposed to the best wrestlers in the world, not just at one weight, but at many.
Both Have A Path To Victory On July 25
Mike Mal outlined a path to points for both Dake and Chamizo. Dake's power is undeniable, after all, he is the champ at 79kg, the weight above where Chamizo has been competing the last few years. Dake's power is especially evident once he gets on top. His gut-wrench could prove to be unstoppable and could bring points against Chamizo.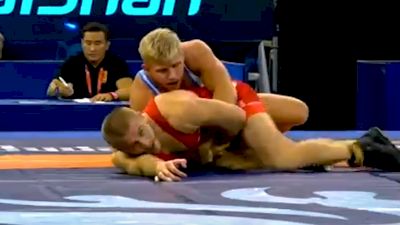 Unlock this video, live events, and more with a subscription!
Get Started
Already a subscriber? Log In
Despite Dake's power, Chamizo can score with his unconventional approach. Check out Mike Mal's breakdown of how Chamizo has been able to rack up points on some of the best wrestlers in the world.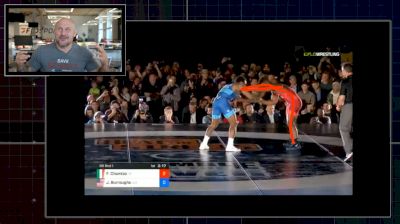 Unlock this video, live events, and more with a subscription!
Get Started
Already a subscriber? Log In