The Top 10 Wisconsin Wrestling Storylines Of 2019-20, Ranked
The Top 10 Wisconsin Wrestling Storylines Of 2019-20, Ranked
Ranking the top 10 Wisconsin Wrestling storylines from the 2019-20 season that was cut short by the coronavirus.
Jun 18, 2020
by Luke Louison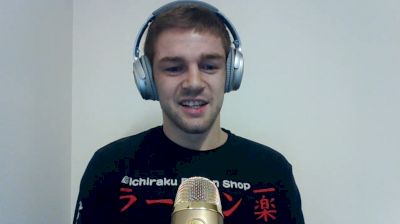 Unlock this video, live events, and more with a subscription!
Get Started
Already a subscriber? Log In
Unlock this article, live events, and more with a subscription!
Get Started
Already a subscriber? Log In
Although Wisconsin always flies a little under the radar in the Big Ten when compared to programs like the Hawkeyes, Nittany Lions, and Buckeyes, the Badgers are a program headed in a great direction under the regime of Chris Bono.
Below we continue our "top 10 storylines" series with the Badgers. If you want to dig into the series more, you can check out Iowa, Penn State, Oklahoma State, and Ohio State.
Let's dive in!
10) It's A GREAT Day To Be A Badger!
It is a GREAT day to be a badger. Let's go ! #JumpAround

— Chris Bono (@ChrisBono) September 13, 2019
This was the tweet that started it. At first glance, just simple optimism, but to those in the know, this was the signal — Bono's version of papal white smoke. Reinforcements were on the way!
On September 13, 2019, the (then) #3 overall 2020 recruit, Braxton Amos, had committed to Wisconsin. On September 28, another tweet: Joey Zargo, the #36 recruit in the 2020 class (at the time), was coming to Madison. On September 29, the tweet was for Hayden Copass. The following day it was Dean Hamiti. You can see where those two both rank in the 2021 class here.
Two months before the Badgers first toed the line for the 2019-20 season, the excitement was already at near-record highs.
9) Cole Martin & The Class Of 2015
The Badgers' Class of 2015 had several top-100 guys. After starting for the Badgers in both his redshirt freshman and sophomore campaigns, Eli Stickley was tragically killed in a car accident in July of 2018. Hunter Ritter, a close friend of Eli, also started for the Badgers in each of his first two seasons, making the NCAA tournament in both. After the accident and the coaching change, Ritter left the team.
Several other guys from that class made contributions as well. Walk-on Ben Stone filled the heavyweight slot for the Badgers in 2017-18 (Medbury/Hillger gap year). Mason Reinhardt started the following year at 184, making the NCAA tournament in his only year in the lineup. Even Mikey Cullen was tabbed the starter to begin the 2019-20 campaign, as you will read about soon.
From the 2015 class, though, it was Cole Martin who left the biggest mark. An unranked, in-state, small-town recruit, he qualified for the NCAA tournament in each season. That had only been done by 12 Badgers in the 22 years of the current weight classes. When Senior Night rolled around and four senior transfers were honored (Gross, Moran, Sebastian, Watkins), it was Cole (and Mikey) left to represent for the entire 2015 class.
8) Barnett Dons The Motion 'W' For The First Time
Chris Bono was hired in March of 2018, replacing long-time head coach Barry Davis. Less than three months later, prized in-state recruit Eric Barnett flipped his commitment from North Carolina to Bono and the Badgers.
Eric's attached career at Wisconsin began sooner than originally planned, after redshirt senior Michael Cullen was injured at the end of his Spencer Lee match at the December 1 dual. Barnett, a former Fargo champ, swapped out his redshirt for a "Motion W" and stepped in at 125. With a first-period headlock in his first Badger dual, Barnett let Badger Nation know what to expect for years to come. In his next home dual, against NCAA qualifier Alex Thomsen, Barnett turned a third-period switch into another stick, helping jump-start the Badgers' biggest dual win of the season. (More on that in a bit.)
Barnett ultimately fell just shy of qualifying for the NCAA tournament in his true freshman season, going (21-11) with four wins over 2020 NCAA qualifiers.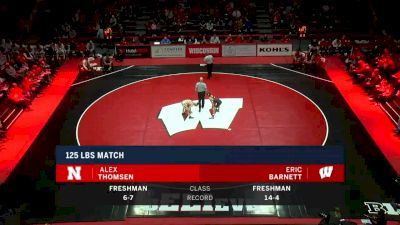 Unlock this video, live events, and more with a subscription!
Get Started
Already a subscriber? Log In
7) The Ups & Downs Of The Dual Season, Part I
Being a top-heavy tournament team, wrestling a rigorous dual schedule is stressful, but exciting. You can beat anyone. Anyone can beat you. Never was that more apparent than the 2019-20 season, as the Badgers drew a stiff Big Ten schedule, missing only Northwestern, Illinois, Maryland, and Rutgers.
With both Ohio State and Penn State making the trip to The Fieldhouse, the sense of excitement was palpable. The outcome, for once, was not predetermined. It was not a stretch to imagine five Badger wins.
Unfortunately, against Ohio State, they only got four. Johnny Sebastian sat, and the Badgers lost a couple of four-point matches. Then, versus Penn State, hopes were again high. Ending up on the wrong side of two 3-2 matches left only three Badger dual wins before heavyweight, at which point the Badgers sat Trent Hillger for precautionary injury reasons.
While the results were disappointing, the excitement the matches created was far from it.
6) The Ups and Downs of the Dual Season, Part II
While a couple of Big Ten Fridays did not go Wisconsin's way, there were still plenty of dual successes in 2019-20. What the Badgers could be, at their best, became evident early in the season, when they had four pins and three techs (eight total wins) against Kent State in a mid-December dual.
As the competition stiffened, the Badgers responded, winning convincingly over Purdue in West Lafayette and knocking off Michigan at home. The highlight of the dual season, though, was a Sunday home date with Nebraska. The match started with Eric Barnett putting six on the board in his first Big Ten home dual and was followed by a Seth Gross major and Tristan Moran upsetting then-#6 Chad Red. After Cole Martin made it four in a row to start the match with a first period pin over Collin Purinton, the dual result was all but in the books. Bono was now 2-for-2 against the Cornhuskers, as a Badger head coach.
Unlock this video, live events, and more with a subscription!
Get Started
Already a subscriber? Log In
5) Tristan's & Johnny's Quest For The Steps
One of the hallmarks of Bono's first two seasons has been how active he has been in the transfer market. Connor Brown, Anders Lantz, and Seth Gross all followed their coach from South Dakota State. But, for Tristan Moran and Johnny Sebastian, the move to Madison was to take the next step. Johnny was a two-time NCAA qualifier, making the Round of 16 in 2018. Tristan, after missing the tournament his only year in the Oklahoma State lineup, fell one round short of the podium for the Badgers in 2019. In 2020, the last chance for both, making the steps was the goal.
To do it, they both had to overcome a lot physically. Johnny was put on a "pitch count," wrestling a light schedule to try to be healthy when March rolled around. Still, each time he was out there, the trainer was on the edge of his seat. Tristan started the season healthy but had an array of injuries and illnesses over the second half of the season. It got to the point where, at a press conference when asked about Tristan's injury, Coach Bono's response was, "Which injury?"
Both transfers were robbed of the chance to make the podium after COVID-19 shut down NCAAs (and everything else).
Chris Weiler, a Round of 12 guy from Lehigh, will be the next transfer to don a "W" and try to make the big step up the steps, this upcoming season.
4) Best. Season. Ever.
In 2020, hyperbole is commonplace. The acronym GOAT ("Greatest of All Time") means better than average nowadays. It would be understandable if you thought this section was mere exaggeration.
For the Badgers, though, a program established in 1911, their best-ever NCAA tournament finish was fourth place. They finished there three times: 1976 (winning 3 of 10 weights!), 1978, and 2010. That target, to tie or beat, was in their sights as they spent the entire season in the team trophy discussion.
Wisconsin was tied for fifth, heading into the tourney, but was denied the chance to put their mark in the program record book. The excitement along the way, though, was the best!
3) 4-Timers
Lee Kemp – 2nd-1975, 1st-1976, 1st-1977, 1st-1978
Matt Hanutke – 7th-1992, 6th-1993, 5th-1994, 4th-1995
Donny Pritzlaff – 6th-1998, 5th-1999, 1st-2000, 1st-2001
Tyler Graff – 5th-2010, 5th-2011, 3rd-2013, 2nd-2014
Isaac Jordan – 7th-2014, 7th-2015, 2nd-2016, 4th-2017
That's it. That's the list. Only five guys in Wisconsin history have stood on the podium four times in their four seasons in Cardinal and White.
For Evan Wick (3rd-2018-rFR, 4th-2019-rSO) and Trent Hillger (8th-2019-rFR), the opportunity to be #6 and #7 was ever apparent throughout the 2019-20 season. Both spent most of the season ranked in the top eight, but until March, there was no certainty that either or both could keep their personal streaks alive.
Of course, neither was afforded that opportunity.
Evan and Trent were named National Wrestling Coaches Association (NWCA) First Team All-Americans, but both would have preferred to fight their way to the podium, instead of it just being awarded to them.
2) Braxton Watch
The 197-pound weight has been a weak spot for Coach Bono in his first two seasons in Madison. After Hunter Ritter left the team, the weight went (2-13) across 15 duals in 2018-19, running Brady Wetter, Andrew Salemme, and Beau Breske out to the center circle.
For the 2019-20 season, the Badgers brought in graduate transfer Taylor Watkins, and later pulled off the redshirt of the #23 2019 Big Boarder, Pete Christensen. Those two combined to go (1-16) in duals, bringing the two-year total to (3-29), scoring 10 dual points, while giving up 109 at the weight.
But Badger fans spent all year knowing that that weakness would soon become a strength, as they kept one eye to the Mountain State — on Braxton Amos. In his senior year at South Parkersburg, he notched his third Super 32 title in three tries, his third Ironman championship, and his third Powerade crown. Despite that schedule, he still hasn't allowed a single offensive point over his entire three-year high school career!
At a weight where help is sorely needed, the 2020 Dave Schultz High School Excellence Award Winner will fit in nicely in the Badger lineup for years to come.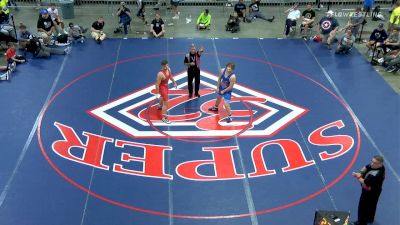 Unlock this video, live events, and more with a subscription!
Get Started
Already a subscriber? Log In
1) Seth Gross – Back From His Back
Coming off back surgery, there was only one reason for Seth Gross to go through the rigors of getting an extra year of eligibility and a transfer to Madison approved: an NCAA title.
Unfortunately, thanks to a global pandemic, that opportunity was taken away from him. He was set to enter the NCAA tournament as a #2 seed, with at least one win over every guy he met during the 2019-20 season (splitting with Sebastian Rivera and taking two of three from Austin DeSanto).
From his year in Madison, he still piled up a (16-1) dual record and took home a Midlands title. Now, he will slide over to a corner chair as a Badger assistant, while he and his new fiancé, Ronna Heaton, chase their international wrestling dreams for the Wisconsin Regional Training Center.
She said yes!!! @heaton_ronna I Love you so much!!❤️❤️❤️ #foreverandalways pic.twitter.com/WECoyL5I8t

— Seth Gross (@GodsWrestler133) April 4, 2020
---
Luke Louison is an avid Wisconsin Badgers fan and a cheese curd connoisseur. You can find him on Twitter.