Unlock this article, live events, and more with a subscription!
Get Started
Already a subscriber? Log In
Between the talent, history, and personalities surrounding Iowa Wrestling, I'm not sure there was a more news-worthy team than the Hawkeyes over the course of the 2019-20 coronavirus-shortened season. I mean, seriously: Tom Brands and Austin DeSanto alone generate a good amount of headlines, then you have Spencer Lee, a few hundred past national championships, a lot of salty rivalries, and much more.
Lots of stuff happened to the Hawks this year: good stuff, bad stuff, surprising stuff, sad stuff. There were chaotic moments and moments of clarity. The full expression of the season was, of course, nipped in the bud when a global pandemic robbed us of the 2020 NCAA Wrestling Championships in Minneapolis, but I hope — and wrestling fans everywhere hope — that we remember what did happen much more than what didn't.
So without further ado, these are the 10 biggest storylines surrounding the Iowa Hawkeyes this year, a list that is definitive and not up for debate. I don't make the rules!
10. Jaydin Eierman's Transfer
Former Missouri stud Jaydin Eierman announced early in the season that he was departing the Tigers and heading for new waters. Those new waters turned out to be located in Iowa City, where he joined up with the Hawkeye Wrestling Club in attempting to qualify for the 2020 Tokyo Olympics, which are now happening in 2021 (though they're still going to be called the "2020" Olympics!).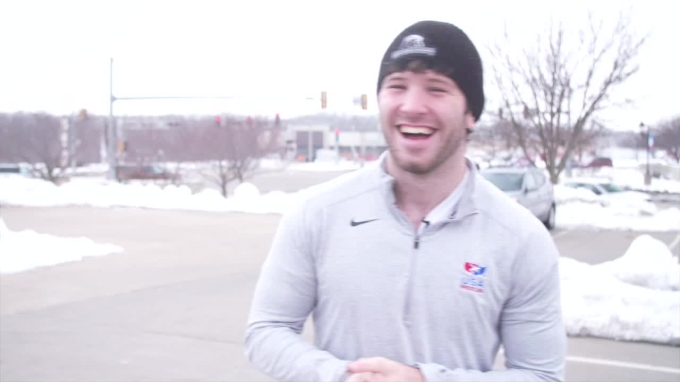 Unlock this video, live events, and more with a subscription!
Get Started
Already a subscriber? Log In
This story is a big deal in a few different ways, but it's mostly a big deal for the 2020-21 team race, as Eierman fills the shoes of a departing Pat Lugo or wrestles at 141.
9. Max Murin's Pet Situation
Max Murin is awesome, and he has a pet snake named Miss Hiss:
But wait! When COVID-19 locked us all down, he got a pet turtle:
Gordon Ramsey meets Joe Exotic? There is a lot going on in a Murin quarantine.

Full interview: https://t.co/MVH78SPVAY #Hawkeyes #FightForIowa pic.twitter.com/Cq3cge7bUB

— Iowa Hawkeye Wrestling (@Hawks_Wrestling) April 30, 2020
Personally, I think a hedgehog could be a cool next addition.
8. Abe Assad Cracking The Lineup
There were always questions about 184 over the course of the campaign for the Hawkeyes. In the beginning it was Cash Wilcke, sprinkled in with some Nelson Brands, but when Iowa faced Indiana head coach Tom Brands elected to pull the redshirt off Abe Assad and set the Illinois product loose.
"We need maybe something to shake, rattle, and roll this thing a little bit," Brands said at the time.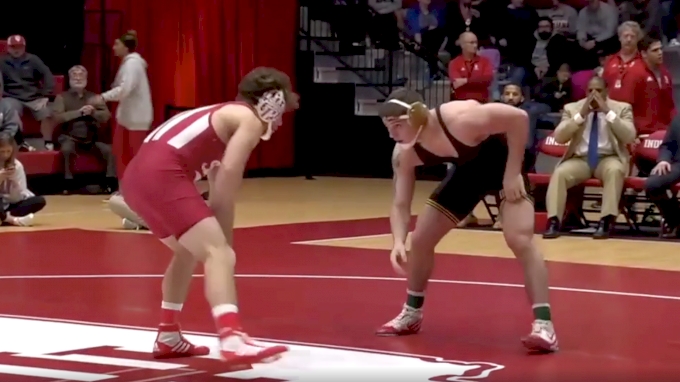 Unlock this video, live events, and more with a subscription!
Get Started
Already a subscriber? Log In
As the season wore on, Assad seemed to lock down the starting position at 184 when healthy, and we'll never know whether he had the ability to make a surprise run during NCAAs.
7. Tom Brands Saying Stuff At Press Conferences
Tom Brands says funny stuff at press conferences, but I can personally attest to the fact that the Cambus in Iowa City is definitely the most efficient organization of all time.
Ladies and gentlemen, @TomBrandsHAWK. ? #BrandsBites@Hawks_Wrestling | @FloWrestling pic.twitter.com/tmi6keO7Yi

— Iowa On BTN (@IowaOnBTN) April 2, 2020
6. The Austin DeSanto Injury-Default
The Iowa-Penn State dual was everything, and it makes another appearance on this list, but one of the crazier things that happened to Iowa this year was when Austin DeSanto injury-defaulted against Roman Bravo-Young.
Here's the scene:
In a dual with stakes that high, unpredictable things always happen. That was the unpredictable thing, and it meant a huge point swing in favor of the Nittany Lions that the Hawkeyes would need to compensate for in some way if they wanted to defend Carver-Hawkeye Arena.
DeSanto's health remained a bit of an open question for some time after that, as did the question about what exactly happened. I'm not much for conjecture or speculation, but this was definitely one of the more interesting and strange things to happen. DeSanto bounced back eventually and finished fourth at 133 in the Big Ten Championships — a loaded weight class with SeaBass, RBY, and Seth Gross.
5. Pat Lugo vs Sammy Sasso
There was, of course, another great Big Ten battle between Alex Marinelli and Vincenzo Joseph, but that one is already a classic in some ways. But the emergency of Ohio State's Sammy Sasso and the rivalry he developed with Pat Lugo was fantastic to watch. Sasso won the first bout in the Hawkeyes-Buckeyes dual, Lugo won the second at the Big Ten Championships, and the grudge match never came to fruition because of the virus.
4. What did Spencer Lee Do This Time?
Spencer Lee is the guy for Iowa, not just because he's already won two national championships, but because he's the kind of talent who could go on to be an NCAA all-timer and an Olympic champion.
The Pennsylvania native did not lose a match this year, going 18-0 over the college campaign while simultaneously winning Senior Nationals in a star-studded freestyle field. In NCAA competition he rolled through his matches with an 89-percent bonus-point clip, including a major decision over Nick Piccininni to avenge last year's loss in Stillwater. Every week I wondered what he'd do next.
Here's Lee dismantling Michigan's Jack Medley in the Big Ten semifinals (Lee was probably mad that Medley held him to a regular decision in Ann Arbor):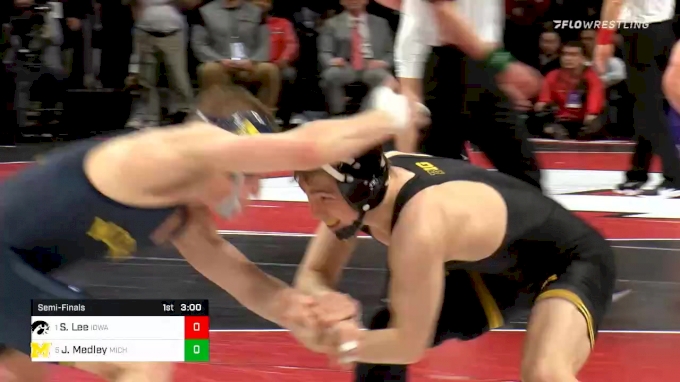 Unlock this video, live events, and more with a subscription!
Get Started
Already a subscriber? Log In
3. Michael Kemerer's Dual-Shifting Win vs Penn State
If there was an on-mat emotional climax to Iowa's season, this was it. In the biggest dual of the year against the four-time defending national champions with the momentum hanging in the balance after the DeSanto injury-default, Kemerer came up huge against No. 1-ranked Mark Hall.
With 47 seconds left in the third period, Hall went down to his knee and got stuck in an awkward position — and Kemerer seized the opportunity, blasting through a takedown and putting the bout just out of reach by a score of 10-6.
Hall avenged the loss in the Big Ten Championships, and the third battle was left incomplete.
2. Rallying Around Brandon Sorenson
In early December, former Iowa wrestler Brandon Sorenson was diagnosed with acute lymphoblastic leukemia, starting treatment immediately at the University of Iowa Hospital and Clinics.
"I am prepared to beat this disease, and there is no wait," the Hawkeye said in a statement at the time. "The challenge is right in front of me, and I am all-in. I know I am not alone in this fight."
For a college sports team, you hope to be able to focus on your sport, on your training, on your competition and goals. But for NCAA teams everywhere in spring and winter sports this year, COVID-19 brought home the harsh reality that the world is, indeed, bigger than sports.
For Iowa, that lesson was brought home much earlier when Sorenson was diagnosed and the team, staff, and wrestling community rallied around him. The good news is that treatment has been effective, and Sorenson is in remission.
Tom Brands provides an update on Brandon Sorensen at his weekly press conference which was held Wednesday afternoon. pic.twitter.com/GNPb0UfP0W

— Iowa Hawkeye Wrestling (@Hawks_Wrestling) January 15, 2020
1. The Streak That Wasn't Broken
The Nittany Lions have won four straight national championships, but the biggest developing story over the course of the year might have just been the Iowa takeover. In the offseason, it looked like Penn State may be dialing up for a fifth-straight title. By the end of November, we were asking if Iowa had taken over control of the team race, and Penn State had dropped a dual to Arizona State. By the Big Ten Championships, Iowa looked like the prohibitive favorite to break the streak.
There's no way of knowing what would've happened at the NCAA Championships. The Nittany Lions could've surged to another level and made the race competitive, maybe even beaten the Hawkeyes, but at the end of the day Iowa would've needed to flop pretty hard to lose that race.
Then COVID-19 happened — and the Penn State streak lives on.
Next season the Hawkeyes lose Lugo, add Eierman, and once more take aim to break the streak.