Create a free account to unlock this article!
Get Started
Already a subscriber? Log In
On Friday, a racially charged statement appeared on the official ScrapLife Facebook page only to be quickly removed. The damage had been done, however, as screenshots of the post began to circulate throughout the wrestling community.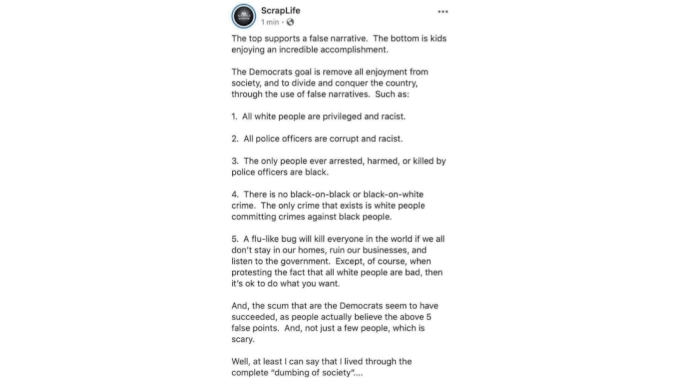 Members of the wrestling community, including two-time World Medalist James Green and two-time All-American Dylan Palacio quickly reacted in opposition to the ScrapLife Post.
Thank you for telling us how you feel @ItsAScrapLife https://t.co/HQFHDp8lWL

— James Green (@WhoIsJamesG) June 6, 2020
Ultimately, this led to a ScrapLife post that was eventually removed claiming that one of their employees mistakenly posted a personal statement to the ScrapLife Facebook page.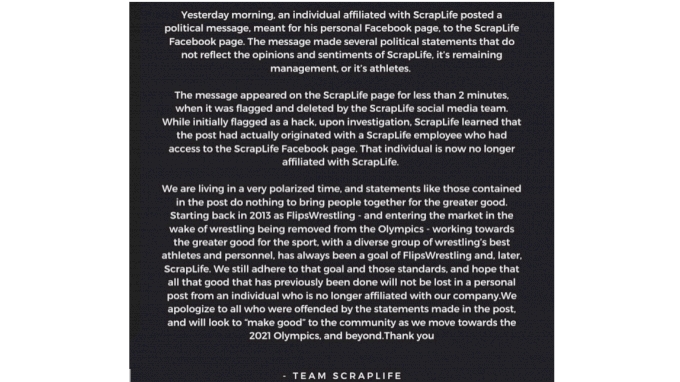 This explanation was met with criticism from James Green and others. Green specifically called out Don Beshada as the potential author of the problematic post. Beshada confirmed that he was the original poster.
You are correct. It was my words and my thoughts, alone. I own it and have, correctly, paid for it. I will simply try to improve.

— Don Beshada (@donbeshada) June 6, 2020
Later this morning, ScrapLife explained that the post came from Don Beshada, a former partner at ScrapLife.
June 6, 2020
ScrapLife also explained that, as a result of the post, Don Beshada would no longer be affiliated with ScrapLife.
A number of ScrapLife athletes have posted responses to Beshada's deleted post. While the athletes arrived at different decisions about how to move forward, the common thread was unification against racism.
Anthony Ashnault was quick to announce that he would no longer represent them with the following tweet.
I have informed ScrapLife that I am terminating our relationship effective immediately

— Anthony Ashnault (@AnthonyAshnault) June 6, 2020
Ashnault's decision to leave ScrapLife was met with support from members of the wrestling community including UFC Champion and NCAA finalist Daniel Cormier who has agreed to cover the ScrapLife compensation Ashnault would have been counting on to train.
Good on you Anthony. Please contact me on what you were getting. I am gonna make sure whatever you're walking away from you will get! #moralsovermoney DC https://t.co/7SvTE8Ky4y

— Daniel Cormier (@dc_mma) June 6, 2020
Like Ashnault, Seth Gross, a recent addition to the ScrapLife team, decided to break ties with the organization.
Please take the time to read my statement regarding my affiliation with ScrapLife and the current state of USA Wrestling. pic.twitter.com/eGZPmoT5ng

— Seth Gross (@GodsWrestler133) June 6, 2020
David Taylor, one of the longest standing members of the ScrapLife team, denounced Beshada's post but opted to stay with the company in the following post.
June 6, 2020
The newest member of the ScrapLife team, Thomas Gilman, has also denounced Beshada's divisive post while opting to remain with the company.
June 6, 2020
On Saturday, Zain Retherford also spoke out against Beshada's post on Instagram. A day later, he decided to end his contract with Scraplife.
After a lot of reflection I have decided to end my contract with ScrapLife.

— Zain Retherford (@zaintrainusa) June 7, 2020
Jason Nolf issued a statement on Saturday evening that also opposed Beshada's post.
June 6, 2020
On Sunday Morning, Joey McKenna also issued a statement denouncing Beshada's post.
June 7, 2020
Early Monday morning, McKenna posted a second statement officially ending his partnership with ScrapLife.
Right now in the world, the need for true self reflection and honest evaluation of our core principles is absolutely critical.

Through deep reflection and personal evaluation, I have confirmed a number of these values that lead me to take action. pic.twitter.com/Q5lBTa1Ajq

— Joseph McKenna (@Joey_McKenna) June 8, 2020
Bo Nickal also released a statement condemning racism on Instagram on Monday.
Beshada's post and the ensuing reactions have sparked conversations and decisions within the wrestling community that could have longstanding implications.
---
Earlier this week, FloSports issued a statement on the police brutality and racism that has contributed to the nationwide protests and unrest:
The events of the last week have been tremendously painful to us all.
The murder of George Floyd was appalling and our hearts break for his family.
To our friends and families in the FloSports community we want you to know, no matter your race - you are valued, you are seen, you are heard. We are with you.
In these difficult times, it is more important than ever that we stand together - as friends & families, as athletes & coaches, as one community & as one nation.
There is no stronger bond than those formed with your brothers & sisters in sports.
We are best when we share a common purpose and live as one team.
FloSports is committed to equality and the fair treatment of every citizen of this country.
We will not accept prejudice in our community and will use our platform to celebrate Black athletes and coaches to amplify their stories, their lives, and their experiences.
We will continue to listen to each other and look inward to improve our own culture.
In our commitment to be part of the solution, FloSports will be donating to rebuild communities that have been broken by these tragic events. More to come.