Unlock this article, live events, and more with a subscription!
Get Started
Already a subscriber? Log In
Rivalries and wrestling go hand in hand. The one-on-one combat nature of the sport has always elevated the physical nature of rivalries while the modern age of social media and information has largely elevated the psychological nature as well as the hype around them.
Rivalries are one of the many great aspects of wrestling, and there have been some great ones over the past 10 years. I ranked the best from the past decade.
1) Jordan Burroughs - Kyle Dake
Advantage: 7-1 Burroughs
It seems strange to call a series so one-sided in terms of wins and losses the best freestyle rivalry of the past decade, but there's still no match fans want to see more. It's not so much that these two don't like each other, but rather they both want to win so bad. That became clear when they went to verbal warfare on episode 484 of FRL.
Yes, Burroughs leads the series by a staggering 7-1 record, but the two haven't wrestled since the 2017 World Team Trials. Kyle Dake has won two World titles since then, including one without giving up a point. And he is getting younger after all...
Watch Kyle Dake defeat Jordan Burroughs at the 2017 World Team Trials below.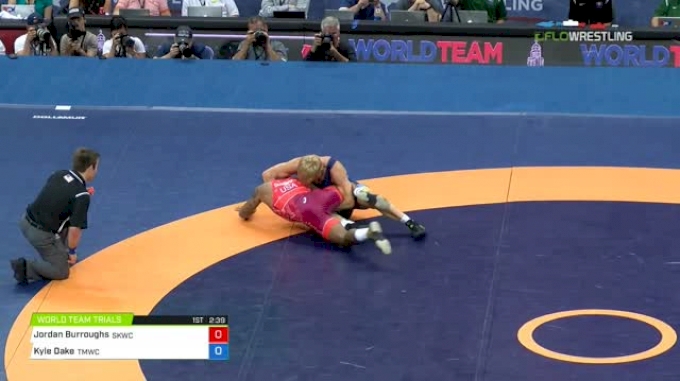 Unlock this video, live events, and more with a subscription!
Get Started
Already a subscriber? Log In
The best part about this rivalry? It's back on.
Get ready for an inside look at one of wrestlings most heated rivlaries. 'Bad Blood: Dake & Burroughs' dropping next Wednesday 6/10. pic.twitter.com/S6MRzp5dQI

— FloWrestling (@FloWrestling) June 3, 2020
---
2) J'den Cox - David Taylor
Advantage: 2-1 Cox
While these two only wrestled three times at one event (the 2017 World Team Trials) a LOT of drama came from it. First, a controversial match three victory for J'den in which he slid all over the mat due to sweat. This got both David and Cael as mad as we have ever seen them. Cael threw several items from the corner and David yelled to USA Wrestling Executive Director Rich Bender from the mat. Then, we get this tweet from David after J'den was upset in his World semifinals match to Boris Makoev.
Cox had the golden goose served on the Golden platter to be WC w/ that draw. He is too talented to have no fight down 6-1. Makes me sick.

— David does Bitcoin (@magicman_psu) August 25, 2017
J'den immediately responded, unprovoked, calling David Taylor out after winning bronze, saying that was the motivation he needed. J'den then double-downed on his statement in a later interview saying, "Taylor needs to do some soul-searching."
After 2017 J'den bumped up to 92 kg where he won World titles in both 2018 and 2019. David stayed at 86 kg where he won in 2018 and sat out 2019 due to injury. There were still rumors before J'den announced his decision to move up 97 kg that J'den was going back down because of his disdain for David. So, while we won't see this match at the Olympic Trials, I still hope to see this match again one day. Special FloWrestling event at a catchweight?
To watch J'den technically break down his series with David, click HERE.
Watch J'den Cox and David Taylor's 2017 WTT match 3 below.
---
3) The entire Hawkeye Wrestling Club 57 kg saga
From 2014-2019 a member of the Hawkeye Wrestling Club held the 57 kg World/Olympic Team spot. The transition between the three (Tony Ramos, Dan Dennis, and Thomas Gilman) was not so pretty, however.
After Tony Ramos was defeated by Dan Dennis in the 2016 Olympic Team Trials, he didn't hold back to the media. He had the following to say...
"I feel I was stabbed in the back. I feel like I was loyal to a fault to coaches and athletes. The first thing I'm thinking right now is that I need to move on. I need to get out of this program." - Tony Ramos after the 2016 OTT
You can watch the entire interview HERE.
Dan Dennis retired after the 2016 Olympics, Ramos headed out to North Carolina, and Thomas Gilman entered the picture for the HWC. Prior to the 2017 WTT, Thomas Gilman stated, "I know how to freaking beat him, and he knows that.," in regard to Ramos. That statement lead to this tweet from Tony:
Haha 😂 maybe in his dream but in reality he never has and never will!

— Tony Ramos 🐏 (@T_Ram133) May 25, 2017
Ramos elaborated even further on his tweet, going on the record with FloWresting saying the following:
"Tom and Terry better make sure he gets to the finals so I can stomp a mud hole in him!" - Ramos on Gilman
Ramos' tweet led to possibly the best Gilmanism of all-time when he said, "I'm not running my fingers on Twitter. I'm not peacocking on Twitter, I'm peacocking in real life."
Despite some animosity leading up to matches between the two, Ramos gave Gilman the respect he earned after he won two matches to none.
We're not exactly sure what Tony was saying to Gilman, but we imagine it was inspirational... pic.twitter.com/1PqmCqLnNW

— FloWrestling (@FloWrestling) June 11, 2017
Fast forward to 2020 and it's Spencer Lee's turn to enter the picture. Lee wins the 2019 Senior Nationals and becomes a clear threat to Gilman. When asked about his and Lee's training together Gilman said, "Keep your friends close and your enemies closer."
However, Gilman shocked the wrestling word and made a move to the Nittany Lion Wrestling Club. Despite citing his relationship with Mark Perry and Zain Retherford as the main motivators, this move only adds to the speculation and the allure of the Hawkeye Wrestling Club 57 kg saga.
---
4) Yianni Diakomihalis - Zain Retherford
Advantage: 2-2 tie
This storyline basically dominated the wrestling world all of last summer. It would take a while for me to break it down, so just watch Bader and Mike do it instead.
While all the rivalries on this list involve some heat, this is the only one that had to involve lawyers (at least to my knowledge).
To view Mike Mal's technical breakdowns on this rivalry click HERE, HERE, HERE, HERE, HERE, and HERE.
---
5) Daton Fix - Thomas Gilman
Advantage: 4-3 Gilman
Hawk on Hawk crime hasn't been the only beef Gilman has played a role in the past 10 years. Between two Final Xs, a US Open, and a UWW Ranking Series Event, these two have managed to wrestle seven times with all but match 1 of 2019 Final X being fairly close.
This rivalry goes beyond just Fix and Gilman's matches, however. Prior to Mark Perry's departure from the HWC, both men were coached by a Perry brother. Plus, the added Oklahoma State vs Iowa effect. Ask 10 random OSU fans what they think of Thomas Gilman and I don't think you're going to get one positive response. Gilman's rivalry with Oklahoma State lightweights goes back to his college days.
Watch Thomas Gilman talk about the time he got into it with Oklahoma State below.
Gilman also changed his Final X walkout song in 2019 to "Mammas Don't Let Your Babies Grow Up to Be Cowboys." A tremendous troll IMO.
To view Mike Mal's technical breakdowns on this rivalry click HERE, HERE, and HERE.
---
6) Jordan Burroughs - David Taylor
Advantage: 4-0 Burroughs
This rivalry was short but intense. After Burroughs beat Taylor for the 2014 World Team spot he had this to say:
"In order for me to fulfill my dreams, I have to kill his." - Jordan Burroughs on David Taylor
While it was all JB in the W column, these matches were far from being noncompetitive. Burroughs came out shortly after their 2014 series talking about how he even dealt with self-doubt going into those matches. David Taylor breaks them down in great detail in the second half of episode two of the FloFilm Magic Man: David Taylor, which you can watch HERE.
Watch Jordan Burroughs and David Taylor's dramatic 2014 US Open final below.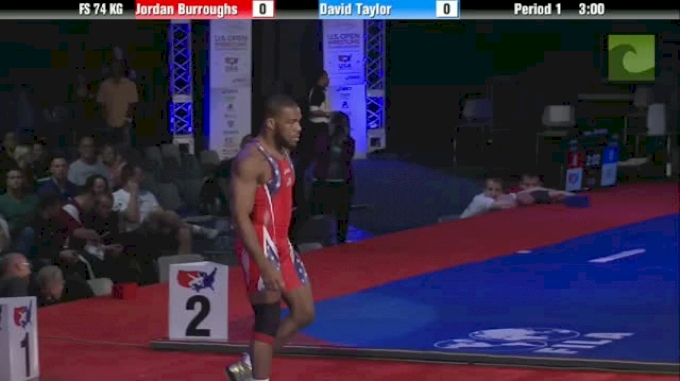 Unlock this video, live events, and more with a subscription!
Get Started
Already a subscriber? Log In
---
7) Kyle Dake - David Taylor
Advantage: 4-0 Dake
If this was a list of the greatest NCAA rivalries of the past decade, clearly this one is all the way at the top, but the animosity and hype somewhat wore off on the Senior level. Dake won each match by a score of 7-4, 8-2, 11-4, and 11-4. Just because this rivalry was dominated by Dake does not mean it wasn't good or appealing. It still had incredible lure coming from the high quality of wrestling, the time it spanned, the levels it spanned, and even the multiple weight classes it spanned. Their entire rivalry inspired the FloFilm My Best Rival.
Watch My Best Rival below.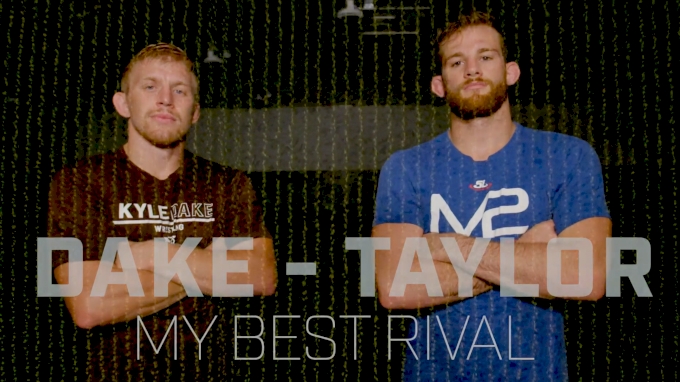 Unlock this video, live events, and more with a subscription!
Get Started
Already a subscriber? Log In
---
Honorable Mention
Jared Frayer - Brent Metcalf
Jordan Oliver - Brent Metcalf
Kyle Snyder - Jake Varner
Tervel Delagnev - Steve Mocco