2020 American vs Penn State | Big Ten Wrestling
Week 17 Roundup: Iowa Dominates In Rivalry Week
Week 17 Roundup: Iowa Dominates In Rivalry Week
In the final week of the season, teams around the country made their final push before conference weekend. Here are the biggest stories from week 17.
Feb 24, 2020
by David Bray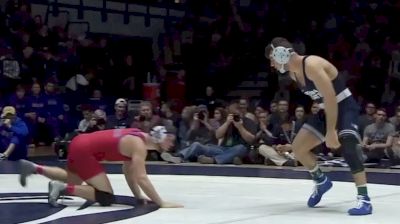 Unlock this video, live events, and more with a subscription!
Get Started
Already a subscriber? Log In
Unlock this article, live events, and more with a subscription!
Get Started
Already a subscriber? Log In
The final week of the dual meet season had plenty of great wrestling action to propel us into the postseason. Here are the biggest stories from week 17 of NCAA wrestling.
Iowa Dominates Oklahoma State, Silver Lining for Sheets
The Iowa Hawkeyes hosted the Oklahoma State Cowboys in another dual in one of the greatest rivalries in the sport. The top-ranked Hawkeyes were favored in all but one match, and, for the most part, they wrestled like the best team in the country.
They started the dual with four straight bonus-point wins including battles between All-Americans at 125 and 149. Spencer Lee started the night strong with a 12-3 major decision over Nick Piccininni. Austin DeSanto then pinned Reece Witcraft before Max Murin majored Dusty Hone 15-4.
At 149, Pat Lugo pinned Boo Lewallen in what was supposed to be the best bout of the night, a surprising result between two wrestlers who have previously been ranked #1 this season.
Wyatt Sheets responded with a 9-4 upset of Kaleb Young, a reversal of Young's 9-5 win over Sheets in last year's dual. The win was big for Sheets who has been coming into his own toward the end of the season.
Iowa took four out of five in the back half of the dual including major decisions by Michael Kemerer and Tony Cassioppi. Oklahoma State's win was an 8-2 decision by Anthony Montalvo over Nelson Brands at 184. For more on this dual, check out Andrew Spey's full match notes.
Iowa's impressive performance propels them into a postseason where they will be favored to win both the Big Ten and NCAA Championships.
Penn State Poised to Make Postseason Moves
The Nittany Lions hosted the American University Eagles for their final dual of the season on Sunday. While Penn State was favored in most of their matches, they earned a big upset at 149 where #17 Jarod Verkleeren knocked off #8 Kizhan Clarke. That upset suggests that Penn State may be able to earn points at 149, a weight that has not been considered to have high point potential throughout the season.
Seniors Vincenzo Joseph, Mark Hall, and Shakur Rasheed ended their Rec Hall careers fittingly, each earning a fall.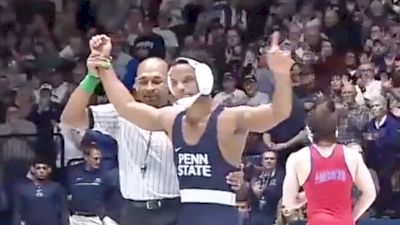 Unlock this video, live events, and more with a subscription!
Get Started
Already a subscriber? Log In
After the dual, it was reported that head coach Cael Sanderson explained that 157-pounder Brady Berge is done for season.
One question that lingers is what Penn State will do at heavyweight. Seth Nevills is currently the #18 heavyweight in the country, but star freshman Greg Kerkvliet has been confirmed to be enrolled in classes at Penn State.
He won the Mat-Town II Open on Sunday which suggests that he might be preparing for the postseason, but his Big Ten and NCAA eligibility have not been confirmed.
Nebraska and Minnesota Trade Upsets in Husker Win
In one of the premier dual meets of the weekend, #7 Nebraska beat #13 Minnesota 29-12 in a matchup that featured two minor upsets.
Nebraska's upset came at 141 where #6 Chad Red pinned #5 Mitch McKee. Red had previously been 0-2 against McKee after dropping their two bouts last year, but this upset means the two will probably trade seeds at the Big Ten Championships.
Minnesota's upset came at 174 where #8 Devin Skatzka took out #6 Mikey Labriola 7-2. Before this match, Labriola had been 4-2 against Skatzka, having won their last meeting in the third-place match at CKLV.
Blockhus' Upset and Bonus Points Power UNI Past Wisconsin
On Thursday, #24 Northern Iowa used five bonus points and a big Michael Blockhus upset to beat #14 Wisconsin 20-18 in a wild dual meet.
The Panthers' bonus points came from Jacob Schwarm's fall at 125 and a pair of major decisions by Panther seniors Bryce Steiert and Taylor Lujan at 174 and 184, respectively.
Perhaps the biggest win of the night came at 141 where freshman #11 Michael Blockhus upended #4 Tristan Moran. At 197, Isaiah Patton, who is listed at 157 on the UNI roster, put the Panthers up by five and ultimately sealed the dual meet.
Army, Princeton, and NDSU Come Up Big in Rivalry Week
The final weekend of the season was full of rivalry matchups. The Army vs Navy rivalry is one of the most important in the country, regardless of sport. The Black Knights and Midshipmen had a back-and-forth dual that, after a team-point deduction, ended in a 15-15 tie. Army won the dual on criteria by outscoring Navy in match points 29-26.
We're heading back home with an UNDEFEATED senior class against the Mids! ⭐️⭐️⭐️⭐️ #GoArmy ?‍♂️ #ChasingGreatness https://t.co/fKlsyxvlKv

— Army Wrestling (@ArmyWP_Wres) February 23, 2020
A massive trophy and New Jersey bragging rights were on the line in Sunday's B1G-Ivy Rivalry between Rutgers and Princeton. Each team had a big upset in the upper weights as #25 Travis Stefanik took out #14 Billy Janzer at 184 for Princeton and #18 Joran Pagano beat #3 Patrick Brucki at 197 for Rutgers. The teams each took five bouts, but a fall from Matthew Kolodzik at 149 was the difference for Princeton.
First-period pin for #4 Matthew Kolodzik at 149! Tigers up 9-6!
157: #4 Quincy Monday vs. Rutgers' Mike Vanschenkbrill.
Watch the match here: https://t.co/PrkxBRjDoQ pic.twitter.com/iCC068YhRH

— Princeton Wrestling (@tigerwrestling) February 23, 2020
In the Battle for the Border Bell, the dual between North Dakota State and South Dakota State came down to the final match. Brandon Metz sealed the deal for NDSU with his fifth win over SDSU's Blake Wolters.
Unlock this video, live events, and more with a subscription!
Get Started
Already a subscriber? Log In
Complete box scores for the week available here.