Unlock this article, live events, and more with a subscription!
Get Started
Already a subscriber? Log In
Iowa and Oklahoma State have been two of the most dominant wrestling programs in the history of the sport, and their dual meet rivalry is one of the staples of the season. When they meet on Sunday night, Iowa will be favored in every single match which rarely, if ever, has happened.
On FRL, we discussed the likelihood of Oklahoma State winning any matches, but it's interesting to consider the impact that any single Oklahoma State win could have on the post-season.
Lewallen vs Lugo Could Shape the #1 Seed at 149
Pat Lugo and Boo Lewallen is the hardest match to predict in this dual. These two All-Americans have never wrestled, and they're both serious NCAA title contenders in a weight class with incredible top-level parity.
Lugo and Lewallen were both ranked #1 this year before taking their lone losses of the season. If #6 Lewallen can upset #2 Lugo, the ranking and seeding picture will become murky. It is even possible that Lewallen could earn the top seed at NCAA's with a win over Lugo and a conference title. Of course conference weekend will also have a lot to do with who ends up at #1, but the result of this match will be huge.
A Repeat Upset by Piccininni Would Drop Lee to #4
Last year, Nick Piccininni pinned Spencer Lee in one of the most surprising moments of the season. Lee went on to beat Piccininni at nationals where he won his second NCAA title. He has looked dominant this year, but the possibility of another upset remains.
The current top 4 at 125 each come from a different conference, and it is likely that #2 Jack Mueller and #3 Pat Glory will remain undefeated through conference weekend.
As the rankings currently stand, Piccininni and Lee are on a collision course for the NCAA semifinals. An upset here would drop move Picininni to #3, drop Lee to #4, and keep them on opposite sides of the bracket in March.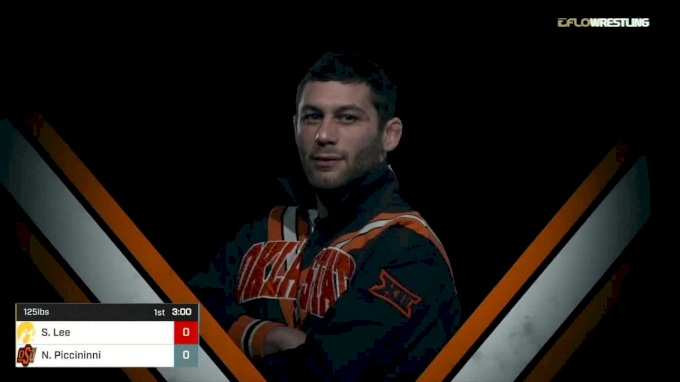 Unlock this video, live events, and more with a subscription!
Get Started
Already a subscriber? Log In
#15 Montalvo Can Further Jumble the Field at 184
Like 149, the parity at 184 has made it nearly impossible to predict what the top 8 will look like at NCAA's, especially since the announcement of #1 Zahid Valencia's indefinite suspension.
Oklahoma State freshman Anthony Montalvo is ranked lower in this matchup, but he's on a six-match winning streak including 4 wins over opponents who are either NCAA qualifiers or nationally ranked.
Assad, on the other hand, has had a solid true freshman campaign but is on a two match losing streak. If Assad gets the win, it will be back to business as usual for the Hawkeye. If Montalvo wins, he'll establish himself as an All-American contender this year.
Dakota Geer Can Get Back in the All-American Conversation
Both Dakota Geer and Jacob Warner finished 7th at last year's NCAA Championships, Geer at 184 and Warner at 197. Since that time, Warner has put together a season that has him ranked #4 while Geer has slid to #16 after being upset in his last two matches.
Despite recent struggles from Geer, a win over Warner would put him back in the picture at 197 as an All-American contender.
Any Oklahoma State Upset Drops Iowa's Projected Team Total
To be sure, Oklahoma State is under pressure to avoid giving up the first shutout in program history, but for Iowa, being ranked higher at every weight means that even one upset in this dual will lower their projected point total for NCAA's.
As the nation's #1 team, Iowa's season frequently led to discussion about their likelihood of winning their first NCAA title since 2010. This dual will be no different, and in a contest featuring 9 ranked matches including 4 between All-Americans, Iowa will need to be perfect to maintain the size of their current 66.5 projected team point lead over #2 Penn State.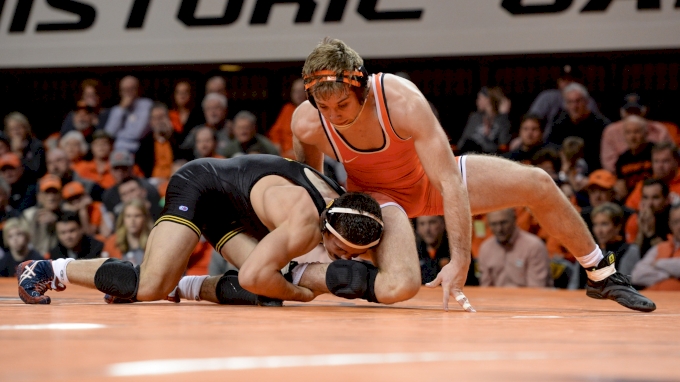 Unlock this video, live events, and more with a subscription!
Get Started
Already a subscriber? Log In