Coach Myers Wrestling S&C: Medicine Ball Partner Circuit With Tomasello
Coach Myers Wrestling S&C: Medicine Ball Partner Circuit With Tomasello
Coach Myers completes a medicine ball partner circuit with partner Nathan Tomasello.
Feb 18, 2020
by Dustin Myers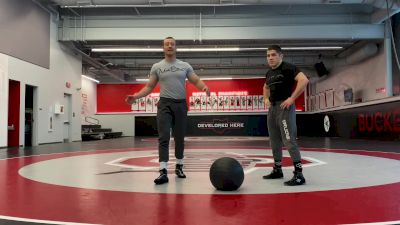 Unlock this video, live events, and more with a subscription!
Get Started
Already a subscriber? Log In
Unlock this article, live events, and more with a subscription!
Get Started
Already a subscriber? Log In
Coach Myers is back with another strength and conditioning video this week. If you missed last week's make sure to check it out here.
This week, we're doing some conditioning with the medicine ball. Here's the drill:
Two minutes each station, trading off with a partner:
Med Ball Slams
Med Ball Suplex
Med Ball Body Lock Walk
A heavy medicine ball is one of my favorite conditioning tools, and when utilized correctly they are great for building power and speed as well. The key is using a heavy enough medicine ball to be challenging, but one light enough so that you can still move fast and explosively through the full range of motion.
In this video with four-time All-American Nathan Tomasello, we are using a 70-pound med ball to demonstrate the basic form and pace for this killer conditioning circuit — perfect to use in the room after practice.
Slam
Squat down and grab the medicine ball. Stay in good position as you pick it up, clean it and push press it overhead. Concentrate on triple extension — the ankles, knees and hips — almost as if you were jumping. Don't just lean back and lift it up. Sit down hard as you slam the ball off the ground.
Suplex
Squat down with a wide stance and grab a med ball. In one swift motion pick the ball up, arch back and extend your hips as you come up onto your toes and slam the ball behind you. Try to look at the wall directly behind you.
Body Lock Walk
Grab a heavy medicine ball in a body lock. Keep your chest up and back straight as you walk for the prescribed distance. Whereas you can still build explosive power on the first two movements with a light med ball, this is more of a strength position so it's best to use something heavy (relative to strength and ability). A heavy boxing bag or sandbag also works great for this exercise and really mimics the grip and lower back strength needed for upper body positions.
---
Coach Myers is the strength coach for the Ohio Regional Training Center at The Ohio State University. With the Ohio RTC since 2012, he served as Ohio State Wrestling's primary strength coach from 2014-18, helping the Buckeyes win three Big Ten titles, their first-ever team NCAA championship, and two runner-up finishes.
A certified strength and conditioning specialist (CSCS), Coach Myers owns the Old School Gym in Pataskala, OH, and is a founding partner of top supplement company Max Effort Muscle. Follow him on Instagram and Facebook, and learn more about his strength and conditioning programs for wrestlers of all ages here.