2020 Penn State vs Iowa | Big Ten Wrestling (Audio Only)
Week 14 Roundup: Penn State vs Iowa Slugfest & Two New #1's
Week 14 Roundup: Penn State vs Iowa Slugfest & Two New #1's
Week 14 of NCAA wrestling had the #1 vs #2 dual we've been waiting for all year. Read about that and all of the week's top stories.
Feb 3, 2020
by David Bray
Unlock this video, live events, and more with a subscription!
Get Started
Already a subscriber? Log In
Unlock this article, live events, and more with a subscription!
Get Started
Already a subscriber? Log In
Penn State and Iowa put on the best dual in recent memory on Friday night. That dual headlined a slate of action that gave wrestling fans plenty to chew on until next weekend. Here are the biggest stories of the week.
Iowa Remains #1, but Needed a Win In The Final Bout
Friday night's dual between the nation's top two teams was better than the hype. And there was a lot of hype. Spencer Lee started things with an unsurprising tech fall of Brandon Meredith, but then things started to get wild.
At 133, #4 Roman Bravo-Young got an injury-default win over #2 Austin DeSanto. The injury itself has caused speculation about how injured DeSanto is. He did not take the mat in Sunday's match against Michigan State. Before the injury, RBY looked to be in control of the match, though we'll never know how it might have played out.
The next three bouts went according to the script. Nick Lee teched Carter Happel followed by 6-1 decisions for both Pat Lugo and Kaleb Young.
After intermission, Vincenzo Joseph and Alex Marinelli had a match that was even wilder than their first two bouts which would have seemed impossible before Friday night. Cenzo came out on top for the first time against Marinelli.
Mark Hall and Michael Kemerer followed that up with another outstanding match. Hall started things off with a massive throw that looked like it might put Kemerer in danger but didn't end up producing points for Hall. Kemerer won the dog-fight and established the 174-pound Big Ten finals as tentatively one of the most anticipated rematches of the year.
Aaron Brooks took out Abe Assad, and Jacob Warner beat Shakur Rasheed to set up a winner-take-all bout at heavyweight. Tony Cassioppi capped off the Iowa victory to a chorus of "Tony" chants with a 7-0 decision over Seth Nevills.
While the dual gave Iowa fans a lot to be excited about, Penn State demonstrated that they might be closer to the Hawks than the 63-point gap in the current NCAA rankings suggests.
New #1's at 174 & 149
Michael Kemerer's victory over #1 Mark Hall plus his undefeated record should vault him into the top spot in the rankings. That will make him the fourth Hawkeye to have been ranked #1.
Missouri's Brock Mauller used third-period and sudden-victory takedowns to beat #1 Boo Lewallen. Mauller's one loss on the year is to unranked Jaron Jensen of Wyoming, which will likely keep him out of the top spot. This week's #1 is likely to be Ohio State's Sammy Sasso who also beat a #1 ranked wrestler last week in Pat Lugo and followed it up with a win over #4 Brayton Lee. We'll know for sure when the rankings come out on Tuesday.
Isaiah White's Come-From-Behind Walkoff Pin
Sunday's dual between Ohio State and Nebraska kept fans in the Devaney Center on the edge of their seats until the very end. Heading into the final match, Nebraska had won five out of nine matches but was tied with Ohio State due to a team-point deduction and two Buckeye major decisions.
Isaiah White toed the line against a familiar foe in Ethan Smith, a wrestler he has defeated in overtime earlier this season. White sustained an ankle injury in the first period and then trailed Smith 4-3 with less than ten seconds left in the match.
With the dual on the line, White stuffed Ethan Smith's shot, locked up cradle, and earned a fall as time expired sending Nebraska fans and the Husker bench into pandemonium.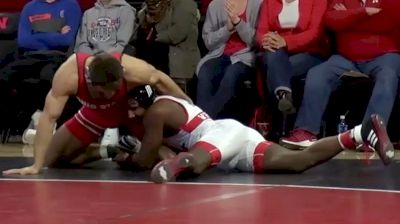 Unlock this video, live events, and more with a subscription!
Get Started
Already a subscriber? Log In
Continued Chaos at 184
On Friday, Nomad and I discussed how difficult 184 will be to seed at the Big Ten and NCAA Championships. The already murky picture became murkier in a weekend that saw seven more upsets, five of which occurred in the Big Ten.
Eighth-ranked Abe Assad dropped matches to #9 Aaron Brooks and #14 Cam Caffey. The Brooks upset was one of two for Caffey, who also beat #13 Zach Braunagel. Rocky Jordan, ranked #24, took out #9 Taylor Venz, and #23 Billy Janzer beat #15 Jelani Embree.
Outside the Big Ten, #19 Chris Weiler beat #16 Noah Stewart, and #21 Anthony Montalvo upset #17 Zach Carlson. This weight class continues to lack clarity which builds drama every single weekend.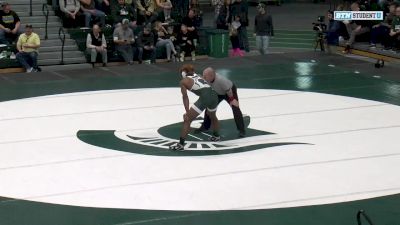 Unlock this video, live events, and more with a subscription!
Get Started
Already a subscriber? Log In