2020 Oklahoma State vs Northern Iowa | NCAA Wrestling
Week 13 Roundup: Major Shakeups At The Top Of The Rankings
Week 13 Roundup: Major Shakeups At The Top Of The Rankings
Week 13 of NCAA Wrestling saw some of the wildest results of any week so far this year. Check out the biggest stories of the week.
Jan 27, 2020
by David Bray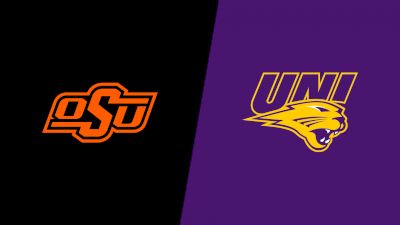 Unlock this video, live events, and more with a subscription!
Get Started
Already a subscriber? Log In
Unlock this article, live events, and more with a subscription!
Get Started
Already a subscriber? Log In
From Friday to Sunday, week 13 of NCAA wrestling was packed with dual meets between some of the nation's best teams. Plenty of results added to the intrigue of an already drama-filled season. From individual weight-class results to team dual meet results, this weekend provided all kinds of rankings shakeups. Here are the top stories of the week.
Nebraska Takes 5 Matches, but Penn State's Bonus Points Take the Dual
One of the premier duals of the weekend was Friday night's showdown between #2 Penn State and #7 Nebraska. The Huskers welcomed the Nittany Lions to the Devaney Center for a dual that appeared to have upset potential.
Alex Thomsen put three on the board for Nebraska with a sudden victory win at 125. At 133, Penn State's Roman Bravo-Young locked up a third-period cradle to secure a major decision over Ridge Lovett, and Nick Lee tacked on a second major decision with his most dominant performance to date against #6 Chad Red.
At 149, Colin Purinton shocked Jarod Verkleeren with a second-period fall to put Nebraska back in the lead. Peyton Robb added a decision at 157.
SMACK THAT MAT, COLLIN ?

PURINTON PIN ? #HUSKERS RETAKE THE LEAD pic.twitter.com/8QVP50CBBx

— Husker Wrestling (@HuskerWrestling) January 25, 2020
NCAA champions Vincenzo Joseph and Mark Hall continued to remain unbeaten in college against Isaiah White and Mikey Labriola respectively. Hall's win was particularly impressive as he worked for a fall with just eight seconds left in the match and scored the bonus points that would eventually decide the dual.
Mark Hall is a specimen. ? @pennstateWREST

Devaney gets a little bit quieter following Hall's late takedown and fall. @FloWrestling pic.twitter.com/rnZSLGYzUg

— Penn State On BTN (@PennStateOnBTN) January 25, 2020
Nebraska responded with two wins as Taylor Venz took out Aaron Brooks 9-5 and Eric Schultz defeated Shakur Rasheed 3-1, but Penn State's Seth Nevills topped Nebraska's Christian Lance 4-0 in the final bout of the night to complete the dual meet victory for Penn State.
Sammy Sasso Shakes Up 149 with Wins Over #1 Lugo and #4 Lee
Ohio State traveled to Iowa City for a dual that went mostly according to the rankings other than perhaps the biggest match of the night at 149. Sasso, who entered the weekend ranked sixth in the country, took out top-ranked Pat Lugo in a match that was decided in rideouts.
DID YOU SEE THAT? ?

SAMMY SASSO just stopped the No. 1-ranked wrestler in the country. In double-overtime. In Carver-Hawkeye Arena. Against a Senior. WOW.pic.twitter.com/jQLwmdLZKW

— NCAA Wrestling (@ncaawrestling) January 25, 2020
Sasso continued his outstanding weekend by avenging his CKLV finals loss to #4 Brayton Lee. The match started with a first-period Brayton Lee takedown, but Sasso won the bout with a third-period takedown.
Sasso and Lee have wrestled a number of times prior to their varsity NCAA careers, but are now 1-1 officially in college. Sasso's win on Sunday night was part of a 22-13 win for Ohio State over the #5 Gophers.
These impressive results for Sasso have sparked debate about who the rightful heir is to the #1 spot at 149. Is it Sasso who has perhaps the most impressive ledger of wins at the weight and who has avenged his only two losses of the year, or is it Oklahoma State's All-American Boo Lewallen who remains unbeaten? We'll have to wait for Tuesday's rankings to find out.
Kennedy Monday Techs #3 McFadden, Leads Heels Past Hokies
Without a doubt, the most impressive result of the weekend was #15 Kennedy Monday's 21-6 tech fall over Virginia Tech's #3 David McFadden, who only had one bonus-point loss in college before this match.
Monday wasn't the only Tar Heel to pick up a big upset as Joey Melendez notched his second win over #12 Joey Prata at 125, and #17 AC Headlee beat #11 BC LaPrade at 157.
North Carolina had occupied the #12 spot in the NCAA Dual Rankings but looks to move up after this 23-10 win over #2 Virginia Tech.
Northern Iowa Took Out Oklahoma State for the First Time Since 1991
At 4-3, Northern Iowa entered their Saturday night dual against #7 Oklahoma State outside the top 25 in the NCAA Dual Rankings, but they put on an impressive performance in front of the home crowd to earn their first win over Oklahoma State since 1991.
The higher-ranked wrestler got the win at nine out of 10 matches in this dual which made Northern Iowa's Keaton Geerts the star of the night with his exciting 8-6 decision over Oklahoma State's #20 Wyatt Sheets.
That win was part of a combined team effort that took six of 10 matches from the Cowboys and reminded wrestling fans that Northern Iowa is for real.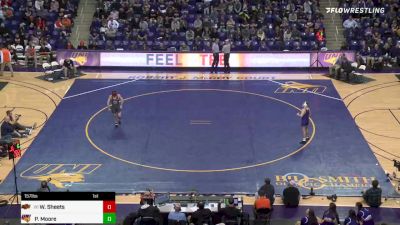 Unlock this video, live events, and more with a subscription!
Get Started
Already a subscriber? Log In
Oklahoma State, Joe Smith, Rebound Against Iowa State
Oklahoma State's wrestlers didn't have much time to sulk after their loss to UNI as they battled Iowa State in Ames less than 24 hours later. They responded with a 23-9 win over the Cyclones that included upsets at 133, 174, and 184.
At 133, Oklahoma State's Reece Witcraft gave up the first takedown to #16 Todd Small but fought back to earn a 9-8 decision. At 184, #22 Anthony Montalvo had a convincing 6-2 upset over #17 Marcus Coleman.
The most compelling upset of all came at 174 where Oklahoma State's Joe Smith, who has been looking to regain his All-American form, looked solid against #11 Sammy Colbray. If Oklahoma State is going to make an impact on this year's team race, they will expect Joe Smith to turn in results like this regularly.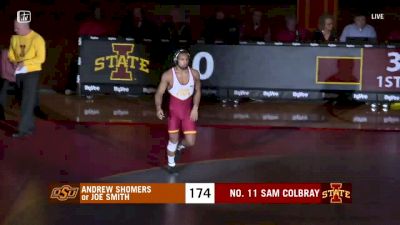 Unlock this video, live events, and more with a subscription!
Get Started
Already a subscriber? Log In