Unlock this article, live events, and more with a subscription!
Get Started
Already a subscriber? Log In
Over the weekend, two very different versions of Michael Kemerer saw the mat as Iowa completely dominated Indiana and Purdue for a combined score of 82-0.
Iowa's 174 pounder – ranked #3 in the nation – who is known for getting in early shots, wrestling loose, and scoring bonus points upon bonus points, won his Friday match against an unranked opponent by a measly decision.
After over a month off of competition, that was the only match standing between him and then #4 Dylan Lydy of Purdue. Lydy won the Kemerer-less 174lb bracket at Midlands.
Kemerer got a shot in early against Indiana's Jacob Covaciu, but it was the first match this season where he didn't look completely dominant and in control of his opponent.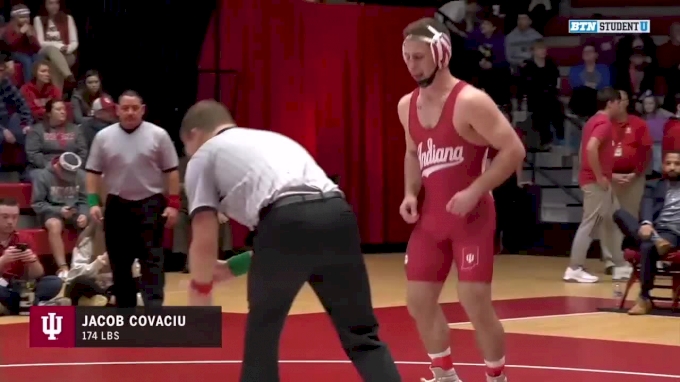 Unlock this video, live events, and more with a subscription!
Get Started
Already a subscriber? Log In
"There were four grueling stalemates in that match, and he put himself in those positions," head coach Tom Brands said. "If he just relaxes and wrestles, we'll be fine."
That match gave Kemerer a chance to loosen up before Purdue and to judge his performance so his best self would come out on Sunday.
"I mean, I won the match but I felt like I could have wrestled better," Kemerer said. "So, my plan [against Lydy] was to just do what I do best and stay in position, get to my attacks. I knew if I stayed in there and stayed on it, it would pay off."
Pay off, it did. Kemerer completely flipped on his performance from Friday, going toe-for-toe with Lydy. Despite the fact that, for the first time this season, Kemerer didn't score a takedown in the entire first period, let alone the first 20 seconds like usual, he was able to ramp up his scoring in the third period to take the match 8-4.
It was his first real test this season. His first ranked opponent came early in the campaign with Iowa State's Marcus Coleman, but even then bonus points were the result.
For Kemerer, this season marks a comeback after missing a year due to two surgeries, one on his knee and the other on his shoulder. Stepping up in big moments comes from a gratitude to even be on the mat at all.
"Whenever the nerves start creeping in, I just think about, you know, last year I couldn't wrestle at all. I think people like Brandon Sorenson or my girlfriend's dad Larry Cookman, like people in the hospital that are just – they can't do it. Last year I couldn't do it, and I'm like hey, I'm going to go out there, I'm not going to let anything get to me. I'm going to go out and wrestle hard and wrestle fun."
Kemerer and the Hawkeyes have a strong slate of wrestling coming up, all in Iowa City: #10 Nebraska, #3 Ohio State, and #2 Penn State are the next three opponents on Iowa's schedule, and they all hold a different type of challenge.
All three of Kemerer's next matchups are within the Top-10, but much like how the hype this season has seemed to be leaning towards Penn State, the biggest matchup going forward at 174 will be against #1 Mark Hall on January 31st at Carver-Hawkeye Arena.
"This is when it gets fun," Kemerer said. "I'm confident that if I do what I do best and I can get to my attacks, I can win matches."
---
Anna attended the University of Iowa, where she covered multiple sports from volleyball to football to wrestling. She went to Pittsburgh in March 2019 for the NCAA DI Wrestling Championships and did live coverage of the entire event and Spencer Lee's second-straight NCAA title. Follow her on Twitter.